The Olympus EP2 and Infrared Photography
Hi, my name is Will Langlands. I'm a full-time gardener, amateur photographer and occasional scribbler. I live in Mid Argyll on the west coast of Scotland.
I love being out and about in the Argyll countryside where we are surrounded by beautiful wild scenery, ancient forests and rugged beaches, lochs, mountains and rivers. We have a rich and fascinating history, dating back over 5000 years, from standing stones, hillforts and mysterious cup and ring markings to medieval castles and burial grounds.
In more recent history there are the remains of cleared and abandoned villages which stand as testament to turbulent times. The sadness and the atmosphere in these places is tangible and thought-provoking. The weather plays an important part in my inspiration as we can easily have four seasons in one day. Because of this, the light is constantly changing, which presents both challenges and opportunities.
I've always been interested in art and creativity and have been drawing and painting for as long as I can remember. Photography seems a natural extension of that and much of what I've learnt through art is easily transferable.
My interest in photography began when I was about fourteen years old when my dad, who is still a keen amateur photographer himself, introduced me to the magic of the darkroom. I was completely captivated by the process of developing negatives and printing my own photographs in black and white.
I will never forget the first time I saw an image appearing out of the developer tray. My first camera was a Zenit E which I got from my uncle. I then moved on to a Praktica MTL3, which I used for years. The opportunity to pursue my interest in photography dwindled due to life commitments until the arrival of digital.
I bought my first Olympus DSLR in 2008, the E510. I chose this camera specifically with infrared photography in mind because it featured the innovative live view function and came with excellent kit lenses with no "hot spots". I have always been fascinated by the otherworldliness and mysterious qualities of infrared images, in particular in the work of Simon Marsden.
I used this camera with a Hoya R72 filter and often very long exposure times of up to sixty seconds, until 2018 when I purchased an Olympus EM5 Mark 11. I was really impressed by the lightweight, solid build and portability of this MFT system and the excellent weatherproofing of the EM5 Mark 11 – handy on the west coast of Scotland!
In 2019, I purchased an already converted 720nm Olympus EP2 with a 14 – 42 mm F/3.5 – 5.6 11 R lens plus a VF2 viewfinder. I read many glowing reviews on this marvellous, mirrorless, micro four-thirds camera, and it has revolutionised my infrared photography. A compact lightweight and portable camera, that fits easily into a small bag or pocket and can be taken anywhere.
I can now shoot infrared handheld, aided by the in body image stabilisation, with no need for tripods or long exposures. This has broadened the range of subjects and lighting conditions I can now shoot in infrared, from trees and woodland scenes to landscapes and seascapes and even street scenes and portraits.
My favourite subjects for infrared photography are trees and forests. The visual impact of white foliage against dark, sometimes black skies, is what I like most about infrared. This presents the viewer with an opportunity to look again at the world around them and literally see it in a different light.
Other subjects I enjoy photographing in infrared and I feel are particularly suited to it, are ancient monuments, standing stones and medieval castles, churches, chapels and graveyards. Infrared enhances the atmosphere and mystery surrounding them, adding an ethereal quality. I feel one of the most important aspects of my photography is to try to capture the atmosphere and mood of the subject.
When capturing images in infrared with my EP2 I nearly always use aperture priority. I also always create a new custom white balance from any uniform green area, e.g. grass. I do this as the light changes when I am in the field. This enables the camera to capture the best range of tones in the infrared image.
This was a tip I learned when using the E510 when I first started taking infrared photographs and has proved to be an invaluable piece of advice. I would recommend this to anyone with interest in taking up infrared photography. My favourite lens with the EP2 is the Samyang 7.5 mm fully manual, wide-angle lens which produces almost surreal images, where, for example, I can sit underneath a spreading oak tree and can capture the whole tree as it looms over me.
Manual focus isn't a problem with such a wide-angle lens and I normally set focus to infinity. The other lens I often use is the Olympus ED 14 – 150mm F4 – 5.6 11. I use this on both the EP2 and the EM5 Mark 11 as my "shoot everything" lens. Another lens that I enjoy using is the Samyang fully manual 12mm which is excellent in low light and has a reasonable distortion free wide-angle.
For post-processing, I use Lightroom and Photoshop. I have no hard and fast rules for my workflow. I always work with raw images and approach processing them individually based on their own merits, depending on the final result I want to achieve. This feels like a more intuitive process than anything, particularly technical. I prefer to convert my infrared images to black and white, and if I do have color, I prefer to enhance selectively the colors that already exist in the raw image.
The converted EP2 is a fantastic camera for infrared photography. Its classic lines and retro design make it a real pleasure to take out and about. On a recent trip to Glasgow, I found that it attracted admiring glances and comments whilst being unobtrusive and non-threatening.
I trust that it will serve me well for many years to come.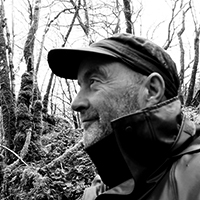 "For the past ten years, my partner and I have run a gardening business where we live in Mid Argyll, Scotland. A self-taught artist with a passion for photography in particular Infrared. I have sold prints and postcards of my artwork and photography and had the occasional piece published but now prefer to keep both as personal hobbies. Examples of my work can be found on my Instagram page."