I just bought a new Olympus, the Olympus 4
I've always enjoyed the outdoors, and hiking is part of my life whenever possible.
Outdoor life and photography will always be connected. One is inseparable from the other. That's why walking shoes are so important to me.
But road shoes are definitely not suitable, mostly due to traction problems on gravel or muddy ground. Surely the first thing that will come to your mind is waterproof hiking boots with Gore-Tex. But that's not the solution, and I learned it the hard way during a 110km hike with long periods of rain. The problem with Gore-Tex shoes is that, once the water gets in, it will take days to come out. These kinds of boots and shoes take a long time to dry, and it is obviously unpleasant to walk for days with wet feet. What then is the solution?
I'm a reasonably heavy guy, and I have certain requirements when it comes to footwear. I weigh about 100kg, and I wear size EU 46.5 (size 12 in the US), so I look for certain characteristics on my shoes, for example, durability, grip and comfort. After some research, I realized that many hikers weren't using their hiking boots anymore and replaced them with trail runners. This may sound strange because of the lack of ankle support, but as we become more experienced and our tendons stronger, it is no longer as necessary as it is for the ones just starting out.
So, what was my choice? As soon as I started looking for a new pair of trail running shoes, I quickly realized that the number of camera brands and models is largely surpassed by the number of shoe brands, with all their categories and models for trail runners. And I thought that photographers were the gear nerds!
One brand that caught my attention was Altra. Their models have two distinguishing features, their "footshape" design and zero drop. If the first one is the answer to everything I've been yearning for years, the zero drop left me with some doubts, but I decided to give it a try.
And among the various Altra models, there are different cushioning options, from the more minimalist shoes that allow you to "feel the ground" on the fastest and most technical trails, to others more directed towards long distances. That's why I went for their max cushion model, the Olympus 4, with a 33mm stack height.
Zero drop took me a bit of time to adapt, forcing a greater stretch of the tendons in the foot, but once I got used to it, I felt perfectly adapted to use the Olympus 4 on walks of any distance.
To conclude, and because this post doesn't seem to have anything to do with photography, I must emphasize that you should not underestimate the importance of a good pair of shoes. Invest energy, time and money in choosing your next shoes, as if you were choosing a new camera. In outdoor life, tired and sore feet will prevent you from reaching further and higher, which will undoubtedly impact your photography.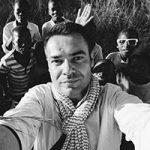 Co-founder of the Olympus Passion Project.
Travel and documentary photographer from Portugal, using mirrorless cameras since 2012.