Passionate Traveller
My name is Kathinka, I'm from the Netherlands and live in a small town in the middle of the Netherlands. Right now, I'm not working because of my physical disability and because I got diagnosed with cervical cancer in December last year.
Ever since I was a child, I have been a visual thinker. So it should be no surprise that I immediately loved photography.
Back then, you still had to develop the film, and I loved the excitement of the process. I did not have my own camera back then, so I used my father's camera. The things I love the most about photography are the emotions and the memories. One photo can take you back in time and make you feel all the emotions you were feeling at that specific moment.
It took me a while to be able to afford a camera with interchangeable lenses. And also because I was afraid of making the wrong decision. I wanted something that was not too big or heavy. Because of my disability, my joints and muscles hurt on a daily basis.
Eventually, my eye fell on the Olympus, and since I'm a sucker for everything vintage, I fell in love instantly. It looks beautiful, it's small, not heavy, the lenses are not crazy expensive, it was just perfect! So about 4 years ago, I bought myself the Olympus OM-D E-M10 Mark ll.
I started with the kit lens, and my second lens was a zoom (70-300mm) because I wanted to photograph animals. Then I got a travel zoom because when you are travelling, you don't always have the time to change lenses quickly, and the last lens I bought was a 45mm because I'm now also pursuing portrait photography. On my wishlist are the 25mm, a macro lens and a wide-angle. And hopefully a PRO lens one day!
When I was 6, I wanted to be a world traveller, and when I was 10, my show and tell was about the Galapagos Islands. No adult in my life knew the place I was talking about. I devoured every travel book in the library, but it took a long time until I got to travel. Growing up, there was no money, so I was about 25 years old the first time I was on a plane!
For the last 3/4 years, almost every penny I have has gone to travel or photography, and we have made some amazing trips. Our first trip outside of Europe was Mexico. We visited amazing Mayan ruins, swam in cenotes, snorkelled with whale sharks and ate amazing food. Our other trips outside of Europe were Bali, combined with Komodo National Park, and Egypt, visiting the temples alongside the Nile.
It was such an incredible feeling, standing in temples and tombs that were built so so long ago. The highlight of that trip definitely was our sunrise hot air balloon adventure. As the sun slowly rose above the horizon, we soared above Luxor and the Valley of the Kings.
I also had a major scare that morning. They told us we could not bring professional camera equipment, and especially no zoom lenses. So I put on my small kit lens, the 14-42mm. But when we were entering the balloon's basket, the men told me I could not take my camera because if one of the soldiers saw my camera, they would take it away from me, and I would not get it back.
So I had to give it to a guy, and then before take off, he would give it back to me. I was in a state of complete panic, I looked at our pilot, and he said it was ok. I had never met the man before, but I wanted to trust him, and basically, I did not really have a choice. But my camera is my most precious possession, so I got emotional. With tears in my eyes, I gave my camera to one of the men on the ground.
My heart was pounding, and within seconds I was scared I made the wrong decision and regretted not taking out the SD card. I lost photo's once because someone stole my phone, and to this day, it's still a sensitive subject for me. The camera can, of course, be replaced, but my photo memories can not. But just before take-off, the man that took my camera came back and secretly gave me back my camera. I was so relieved to have it back again. And thankfully, it did not ruin our experience.
Besides our three trips outside of Europe, I have, of course, also discovered some places in Europe. My favourite European cities are Sevilla and Venice. We visited Venice last year, so the crowds were not that bad.
But my favourite destination in Europe that I have visited is Madeira. Last year we finally had the chance to go to Madeira. It had been on my list for some time now. Originally we had a trip planned to Hawaii for April 2020. For obvious reasons, that did not happen.
And since Madeira is called the "Hawaii of Europe", I made it my mission to visit Madeira in the summer of 2020. My partner was not convinced, so I made a photo collage with all the amazing spots on Madeira we could visit, and of course, all the amazing food the island has to offer, and that did the trick!
From the first moment on the island, I fell in love. The bird of paradise flowers everywhere, the kind people, the climate and the rest of Madeira's nature just made me fall in love even more. There is no other place in Europe where that has ever happened to me before.
One of my favourite places on the island is the Balcões Viewpoint, it is an easy hike, and if you take bird food and go early in the morning, you can feed the birds there.
One of the most magical experiences was in Fanal Forest. We were so impressed by the fog that I totally forgot to take a lot of photos! That has never happened to me before, so that says a lot about the beauty and magic of the place.
Our most impressive experience was the sunset on Pico do Arieiro. We already tried a sunrise and another sunset. But the third time, we got the perfect conditions. We were practically alone, and I made so many pictures that my SD card was full after just one week on Madeira (64GB). And that has never happened to me before! The sky lit up in all kinds of purple/pink, and the clouds were like a thick blanket over the mountains. We really hope we can one day experience that again.
Next to the amazing nature, Madeira is also the place to be if you are a foodie. All restaurants exceeded our expectations.
The first thing you have to try is de Pastel de Nata. It's a traditional Portuguese custard tart, and the best way to eat them is warm and dusted with a little cinnamon.
Did you know Madeira has a long winemaking history? So you have to try a traditional Madeira wine somewhere!
Another drink to try is, of course, the Poncha, and you will see it everywhere. I particularly loved the passion fruit Poncha.
Talking about passion fruit, you can find this fruit anywhere on the island. They combine it with fish, drinks, chocolates, but they also include it in many desserts. Like passion fruit mousse, passion fruit tartelette or even passion fruit combined with a brownie. All are equally delicious!
I'm longing to travel and photograph again, and thankfully Europe is opening up again. Unfortunately, I still have to undergo one major surgery. So I am keeping myself busy with the editing of my travel photos from last year. I want to make multiple photo albums, so if we feel like it, we can relive our travels over and over again.
Because in the end, that is maybe one of the most important things about photography. Even if we want to remember every experience, we can't always remember everything. That whole in the wall restaurant you bought the best gado gado you have ever tasted, or pictures of the people you have met while travelling, or in my case, all the cats you have met during your travels. Even without social media, I will never stop taking photographs because, for me, they are me most valuable things in the world.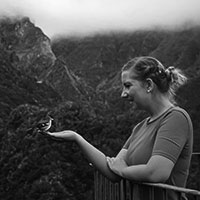 "My name is Kathinka, I'm from the Netherlands and live in a small town in the middle of the Netherlands.
Ever since I was a child, I have been a visual thinker. So it should be no surprise that I immediately loved photography. "