The recognition that Olympus deserves
Greetings, my name is Oleg Nemchenko, and I come from Kiev, in Ukraine.
My journey into photography began when I was 14. My father took passport photos, portraits and family sessions, and I was his assistant. Therefore, tech terms such as exposure, shutter speed and aperture have always been familiar to me since adolescence. But I just didn't like taking pictures back then. I went through my tasks obediently. I preferred spending time with friends, doing things that interested me much more.
I was born and raised in the city of Kremenchug in the central part of Ukraine. In 2000, I came to study in Kiev, where I have lived since then. In Kiev, I had a camera which I lent out to a good friend, and for 10 years, I did not see my camera. Everything changed with the birth of my daughter Liza. She would become my new inspiration in photography. From that moment on, every look, step, walk and birthday were filmed.
During this time, people began noticing my proficiency with the camera and started asking me to take pictures of weddings and various family events. So it seemed like there was an auspicious snowballing into a career in photography. I was quite lucky that my friend had found success working as a photographer. He kindly taught me compositional techniques and how to communicate with clients.
During this time of fruitful transformation, I experimented and dabbled in two systems: I started shooting with Nikon, then I switched over to Canon and worked with it for a long time. I was always striving for a camera with a full matrix of functionalities because I saw magic in pictures taken with high-aperture portrait lenses. When I got a Canon 5D MarkII with the 50mm f/1.4, I just reached seventh heaven.
I really, really liked the pictures that it produced. The one drawback I found was the inefficient autofocus system. The time wasted on sorting out the footage was a very annoying experience since at least 40 percent of the photos captured had to be trashed. Even though I realized that Nikon was better at focusing, I preferred the colours from the Canon.
One time a friend suggested that I try Olympus equipment, which made me curious and bewildered since I was least expecting better results from such a low-end camera. I was sure there was no competition.
Curiously enough, I accepted the challenge and took on the Olympus E-M1 with M.Zuiko 12-40mm F2.8 PRO for a test run and went off for my niece's birthday in my hometown. I was quite pleasantly surprised by the results: good speed, colour and weight. It's true that I had to figure it out a bit with the menu system, but I quickly got it down.
When he saw the results of that shooting, Dad advised me to definitely switch to Olympus, especially since it was one of his first cameras.
Upon my return to Kiev, I did more experimental shooting in the studio, and of course, naturally, as subjects, I shot my own two children, Liza and David. The conclusions I have drawn so far have been mixed, but I have decided to buy the Olympus E-P5 as a second camera. Then an opportunity came up. I spoke at the photo exhibition Photomob in front of photographers with the topic: Why mirrorless cameras are conquering the world.
At this event, I talked about my experience using Olympus technology. That was back in 2018. Since then, I had been a great fan and user of the Olympus camera system. Even though what I had was a hobby camera with the cheapest Panasonic 25mm F1.7 lens, I had become a serious enthusiast.
Gradually, the results I gathered from using both the Olympus and Canon made me see a clear difference, but it was not critical, of course. So I sold my full frame and switched up to Micro 4/3. It was a momentous decision, because less than 10 percent of all photographers use Olympus in Ukraine, since it does not have an official service centre to go to.
In fact, there is still no ambassador program to promote the company's excellent products. This caused me a lot of disappointment, but that did not totally discourage me. I bought a used Olympus PEN-F with the M.Zuiko 17mm F1.8, and an Olympus E-M5 Mark II with the M.Zuiko 45mm F1.8, which got damaged while shooting a basketball game.
At this time, I have an Olympus E-M1 Mark II with the M.Zuiko 12-50mm F3.5-6.3 EZ, M.Zuiko 45mm F1.8, 7Artisans 35mm F1.2 and Rokinon 7.5mm F3.5. It is with this equipment that I am shooting all my projects. I shoot portraits, family events and portraits, weddings, concerts, product photography, and much more are featured on my website and Instagram.
I would characterize my photography style as journalistic since I try to combine static with dynamics. I intend to learn how to shoot short videos, and dream of high-aperture Olympus optics.
I process my work in Adobe Lightroom and Photoshop. Now, I am accelerating the process of mastering Final Cut and Luminar AI. I feel and hope the Olympus will be my bread and butter as I commit myself and my professional dreams for this promising and great industry.
I have done my fair share of promoting the Olympus brand, which many people, unfortunately, have yet to give the recognition it so richly deserves.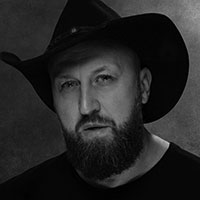 "Hello, my name is Oleg Nemchenko. I am a professional photographer, and I take pictures with Olympus equipment. I am a happy husband and father of two beautiful children and one restless dog. I believe that the best photographs will live forever in the cloud."