Doing beautiful portraits and other subjects with Olympus
Hi there, my name is Winfried Hermann. I'm German, I grew up in South Baden, close to the Swiss border and live now in Bavaria, near Munich. I'm 61 years old, married, and the father of a daughter. I work as a photographer – mainly passport photos, application pictures and portraits. Besides that, I have a freelance IT business, doing websites and content management, Excel files with complex functionalities, and consulting.
Besides photography which is also a passion and not only a profession, I'm a passionate homebrewer, about which I run an online blog. My favourite type is IPA because of its hoppy fruitiness and exotic aromatics. I love cooking and enjoying tasty food, in summer riding my motorbike, culture, arts and travelling.
My initial contact with photography was when I was a young boy through my father, who owned a 35mm Agfa Gevaert camera. When I was 9 years old, I received my first own camera, a Kodak Instamatic 133, a 126 cartridge film camera introduced by Kodak in 1968. Only 6 years later, I received my first SLR, a Ricoh TLS 401. This camera had a combined eye-level and waist-level finder. At the age of 19, I bought a Canon SLR, the AE-1, with 4 lenses from 28mm to 200 mm. I wanted to have control over the exposure.
After High School, I started to study "Media Engineering" at the Fachhochschule für Druck (University of Applied Sciences for Media) in Stuttgart. During these studies, I worked as an assistant in a fashion and advertising photo studio. I learned about professional lighting, film processing and image composition.
I bought my own studio flashes and began to take portraits and fine art nudes at the age of 21. I was interested in doing portraits and curious to do fine art since I had my first 35mm SLR. I continued so until around the year 2000, when I bought my first digital SLR. Now my love story with Olympus began, because Olympus was the first company that offered affordable digital SLR cameras where I, as the photographer, had control over the settings of exposure time, aperture, ISO and more.
It began with an Olympus Camedia E-20 P, a 5-megapixel non-interchangeable lens DSLR with all controls I wished and a lens with a focal length from 35 to 140mm (equivalent to 35mm). That was the initial spark for my "digital career". This camera was followed by an Olympus E-300, an 8-megapixel digital SLR, based on the Four Thirds System. As the lenses then were changeable, I owned 2 zoom lenses: 14-42mm and 40-150mm (28-84 mm and 80-300 mm equivalent), sold in a kit with the camera.
In 2010 I added a (used) Olympus E-3, the Olympus' flagship camera with 10 megapixels. I wanted a more sophisticated lens for portraits and full-body photos, so I bought the Olympus Zuiko Digital ED 12-60mm f/2.8-4 SWD lens. On the few occasions when I needed a telephoto zoom lens, I used the lens from the E-300 kit. With that configuration, I travelled the southwest of the USA with 7 kilos of equipment and made a hell of a lot of photos…
In the same year, I added the Olympus Zuiko Digital ED 50-200mm f/2.8-3.5 SWD, in my opinion, one of the best lenses ever built.
In 2011 I purchased my first OM-D camera, the E-M5 (Mark I). I tested it in a weekend workshop in a photo studio near my village and was heavily impressed by its light weight and the image quality from its 16 Mpx sensor. I used it in combination with the kit lens M.Zuiko ED 12-50mm 1:3.5-6.3 EZ.
When I tried the 4/3 lenses with an adaptor, I found that the autofocus system did not work, so I switched the E-3 to a (used) OM-D E-M1 in 2013, and that was the year I professionalized my photography, doing what I wrote in the beginning: passport photos, application pictures and portraits. The E-M1 is working smoothly with the adaptor, and I still have the two 4/3 lenses in my equipment.
In 2011 my job in the European headquarter of an American trading company in Germany was transferred abroad, and I started to check for other jobs, which finally ended up in starting my IT business, and a bit later, my photo business. These are the ones I still do. Additionally, I work at events like the biggest annual flyfishing fair in the DACH area and as a Segway tour guide in Munich (hopefully soon again as it's currently forbidden to do guided tours in Germany).
In 2020 I found that my E-M1 needed support from another camera that could also work with 4/3 lenses, so I bought the E-M1 Mark II. It's a huge enhancement for my creative work as this camera has a 20 Mpx sensor and some nice features such as the 50 Mpx high-resolution shot, focus stacking and a lot of setting opportunities that I can use if I wish.
In addition, I bought 2 M43 lenses from Sigma, a 30mm and a 60mm fixed focal length lenses, which I love to use for portraits because of the aperture F2.8 and, therefore, a beautiful bokeh.
You may have noticed that in the meantime that I prefer to control the aperture, no matter if I work with aperture priority or manually. I love to use the blur as a creative element in my pictures.
My favourite subjects are beauty portraits and sometimes fine art nudes, which I do mainly in my studio, sometimes outdoors. In the studio, I love to have the light under my control, I prefer to work with studio flashes (quite old ones from Mannesmann, working as if they were new), and a small studio flash from Walimex, which I can control to a minimum power to be able to work with a 2.8 aperture. Besides that, in my opinion, portraits and even more fine art (nude and non-nude) is an intimate work.
It needs a real relationship between the model and the photographer. That's how I achieve really sensual portraits like the ones you can see here. That's why I prefer the studio to work with people. Imagine such in a public park… you can be sure that it needs no time to gather an audience there, and then you can stop doing portraits or figures and start to make photos of the birds…
My newest acquisition is a LED light for portraits and product photos. For products, I use the focus stacking functionality to generate from front to back focussed photos then in Photoshop.
For my portrait work, I love to use the E-M1 Mark II with the Olympus Zuiko Digital ED 50-200mm f/2.8-3.5 SWD as it's still one of the finest lenses I know, and with the Sigma 60mm/2.8 for the excellent bokeh. The results are focused where I want and blurred where I prefer that. I also love to "see the photo" in my viewfinder monitor and quickly can decide to do a second shot if need.
As I also love to do landscape and architecture, also some street photography, I love the light weight of my equipment (except the two 4/3 lenses – these are quite heavy), and the speed of the autofocus system and therefore quick readiness of the system. When using the 4/3 lenses, I love the impressive image quality.
When you look at my images, you see that these are all processed – I use Photoshop (PS) CC. "I do images, not photos". But it needs high-quality photos to get images out of them – so I love the combination of my photo equipment and PS CC.
Enjoy my images and go on having fun doing great photos and images with your Olympus system.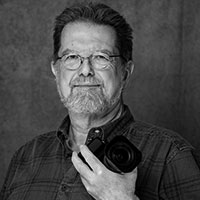 "Hi there, my name is Winfried Hermann. I'm German, I grew up in South Baden, close to the Swiss border and live now in Bavaria, near Munich. I'm 61 years old, married, and the father of a daughter. I work as a photographer – mainly passport photos, application pictures and portraits. Besides that, I have a freelance IT business, doing websites and content management, Excel files with complex functionalities, and consulting."