Apple Mac Mini M1 for photographers – A compact but powerful workstation
Hello! My name is Rikard Landberg (@landberg on Instagram), and I mostly shoot documentary projects. During the pandemic, most of my projects are on hold and instead, I have been photographing my family. I use an E-M1 MarkII with two lenses, 12mm f/2 and 17mm f/1.8.
Enough about cameras. Now let's talk about a boring (IMO) but necessary part of photography, computers! To be more specific, the Apple Mac Mini M1.
But first, you need to know my angle when writing this. Every review of the M1 Mac Mini only talks about import/export time and benchmark results. I don't care about benchmarks or how long the import/export takes. I only care about the user experience. I just want to edit my photos smoothly without spending too much time in front of a computer. Also, I want it to last, hate buying new computers. If it takes a long time to import or export, I can just take a break and hang out with my kids while waiting. My thoughts are only about my user experience.
My goal was to have a very compact workspace because space is limited in my house. After hours of research, this is what I ended up with:
• Computer – Apple Mac Mini M1 16GB
• Screen – Asus ZenScreen IPS display that only needs a USB-C/Thunderbolt to run
• Screen stand – Satechi iPad stand
• Keyboard – Apple
• Mouse – Rapoo 3510, it's cheap but feels great
• Card reader – Sandstrøm USB 3.0 SD, CF and Micro SD
• Desk – IKEA
I bought my first Mac Mini back in 2005 when it was first introduced. Back then, it was kind of a struggle to use Mac, there were way more options and apps for PC users. But I had artistic ambitions, and therefore I fooled myself to believe that Mac was my only option. I have been using Mac ever since, mainly PowerBooks and MacBooks. When my trusty MacBook Pro 2014 broke, I bought the cheapest MacBook I could find, a MacBook Air 2019 with an Intel i5 processor and 8GB of RAM.
I knew the specs weren't impressive, but how bad could it be? To be honest, it sucked! Lightroom Classic really struggled with medium/large libraries and simple tasks. Rendering times in Final Cut Pro took so long that it killed the joy of editing. I'm fine with waiting when exporting a video, but I don't want to wait while editing. I started to use an iPad Air 4 for my creative work instead. When Apple announced the Mac Mini M1, I was a bit sceptic. It sounded too good to be true.
Then I got a larger video assignment, and I needed a new computer, so I bought the Mac Mini M1 16GB. I mostly use Lightroom Classic and Final Cut Pro. Even though Lightroom Classic isn't native to the M1 chip, it runs real smooth. Best photo editing experience I ever had. I don't do heavy editing but even with my old MacBook Pros, Lightroom felt a bit sluggish at times. The tools and slides are responsive and immediate. Previews are instant when scrolling through images. The RAM is never close to max out. I honestly don't care if Adobe will release a native version or not.
Final Cut Pro is just insane. It handles 4K like it's nothing. I can add grading and effects and still playback without any dropped frames in full quality. It's a great computer, the best I have ever owned. The only negative is the USB connections. There are only two USB-C/Thunderbolt and two USB 3. I need more. But I guess that's why someone invented the USB-hub.
My Lightroom workflow is super simple. I have an import preset that converts all the images to B&W while also adding a small curve adjustment. I never see my photos in colour. After importing, I first make a selection of my favourites. When selected, I do as little as possible to my images. I mostly adjust highlights, shadows, whites and blacks. Curves, dodge/burn and, on very rare occasions, some cropping. No presets except for the import black and white conversion. Maximum two-three minutes per image, that's it!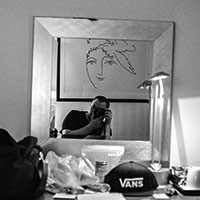 "My name is Rikard Landberg, born in 1986 in Sweden. I am a trained documentary videographer and editor who switched from video to still photography."