Through the eyes of unrelated twins: Comparing the M.Zuiko 17mm F1.8 with the Leica 15mm F1.7
I am Sebastian Strasser, a 35-year old biomedical scientist from Salzburg, Austria. When the guys from Olympus Passion asked me to write an article about two very similar lenses, I was stoked and immediately agreed. In the following text, I will do my best to summarize my personal experiences without going too much into measuring values or other technical details.
I first got hold of a camera when I was about 8 years old, when my father handed a Pentax Spotmatic over to me. But after an initial rise, my enthusiasm for photography swiftly decreased and stayed dormant for many years. Then, a few years ago, I discovered my love for travelling. In order to capture all the mind-blowing experiences I made in various countries, particularly travelling through Asia, a smartphone camera simply didn't do the trick.
So, there I was, in desperate need for a proper camera. Starting off as a travelling photographer meant my future companion had to be very compact and light, to fit conveniently into a small backpack. After extensive research and comparing, I encountered the micro four-thirds system from Olympus, which is super handy and met all my requirements. So, I opted for the OM-D E-M10 MarkII and have never regretted this decision.
Traveling with a micro four-thirds system means you potentially have the full range of focal lengths while carrying only what's necessary. And as far as I can judge, there isn't much loss in quality due to the smaller size of the equipment, compared to other bigger gear.
The lenses I use the most are the M.Zuiko Digital 17mm F1.8 and the Leica DG Summilux 15mm F1.7, plus a couple of old Sigma lenses from the 70s. And of course, the Olympus 14-150mm 4-5.6 ED II is always at my side on longer trips.
So, let's get down to business: Comparing the M.Zuiko and the Leica lenses. Let me start off by saying that this is my purely subjective experience and that I consciously avoid measuring values under laboratory conditions or talking excessively about technical data. I might work as a scientist, but as a photographer, it is my deepest belief that deciding for a lens is rather a matter of personal feelings than technical requirements, as you can easily deduce from my love for 70s glass.
The hard facts
M.Zuiko Digital 17mm F1.8
• Focal length: 17mm (35mm equivalent focal length: 34mm)
• Maximum / Minimum aperture: F1.8/F22
• Closest focusing distance: 0.25m
• Filter size: Ø46mm
• Mount standard: Micro Four Thirds
• Weight: 120g
Panasonic Leica DG Summilux 15mm F1.7 ASPH
• Focal length: 15mm (30mm equivalent focal length: 30mm)
• Maximum / Minimum aperture: F1,7/F16
• Closest focusing distance: 0.20m
• Filter size: Ø46mm
• Mount standard: Micro Four Thirds
• Weight: 115g
General first impressions
Both lenses have a solid feel and about the same weight. They're built sturdy, mostly from metal and in excellent quality. They sit comfortably in your hand and even with a lens hood attached, they do not protrude excessively from the camera body. This really helps the handling, as you want to be quick and intuitive with your camera in order to catch the decisive moment. Both lenses come with super-fast autofocus, I honestly can't make out any big difference there.
As my travels took me to various places in Southeast Asia, I mostly used my camera to capture life on the streets and outdoors. It never ceases to amaze me how people from different cultures live and work for a large part out in the open, going about with their lives in front of the most fascinating sceneries. Seeing this taught me that if you just open your eyes to the world, you have to be blind to miss its beauty. Using a camera really adds to the experience of immersing yourself deeply into the moment.
Since I already had the Leica DG Summilux 15mm lens, which is great for both street and landscape photography, I decided to devote more time to street after my return. No matter if on the other side of the world or in front of my door here – the degree of sharpness the Leica lens delivers is remarkable, especially wide open, turning it into a monster even in low light conditions.
I find it particularly strong in twilight and night scenes, as well as shady or dark places that I encounter quite often when shooting in the city. Obviously, as with all Leicas, the bokeh is beautiful, harmonious and allows for a great exposure of objects. It's quite amazing for portraits as well.
One thing I missed with my Leica lens however was a working focus ring. Even though it has got one, the full functionality of the ring is not supported by Olympus bodies. I enjoyed this feature on my old Sigma lenses so much so that it got me searching for a new lens.
The result was the M.Zuiko 17mm F1.8. This great little lens features a distance and hyperfocal focusing scale that appears as soon as you pull back the focus ring towards the mount. Olympus itself calls this the "Snapshot Focus Mechanism". You can now manually pre-focus your camera, and when a subject enters your zone, you are all ready to get a fast and crisp shot. Obviously, you will have to preset the depth of field/shutter speed accordingly, depending on which camera mode you prefer.
This technique allows you to be faster than any autofocus, which to me makes all the difference in street photography. Once you've pre-set your focus distance, you simply choose a good place where composition, distance and light are perfect. Now all you have to do is wait until something happens in front of your lens.
Getting a perfect and crisp image this way can be challenging at times, but apart from the advantages of speed, the mere fun of waiting in a good hide-out or walking the streets with an "armed" camera is amazing. For me, this technique feels almost experimental, a bit like in Lomography.
The 17mm focal length of the M.Zuiko mounted on the micro four-thirds system is almost equivalent to 35mm, the classic documentation focal length. Almost! But even though the difference does not seem particularly big, it is precisely these few millimeters that render a scene even more intimate and personal. You get a feeling of being super close to the action, while still being discreet and staying largely unnoticed by your subject.
I often heard that wide-angle lenses have trouble delivering sharp images all the way to the very edges. With the M.Zuiko 17mm, I barely notice that, apart from really deep zooms while editing. But to be honest, I am not a pixel-counter. My philosophy is that it is much more important a picture is coherent in terms of content and design than technically perfect.
To sum it up – I find it very difficult to name a clear favourite. What matters most to me is the pure joy of taking pictures and I get that from both lenses. However, if I had to choose one of the two lenses at gunpoint, the price might be the deciding factor.
As far as I know, the M.Zuiko is usually a bit cheaper than the Leica. But, it should also be mentioned that the Leica lens is designed by Leica in Germany but manufactured by Panasonic in Japan. If you are willing to pay that bit extra for the illustrious brand name and all it brings with it, this is the lens for you.
For my part, I'm glad to own both lenses and I find great joy in each one. Thanks for reading this and see you on the streets!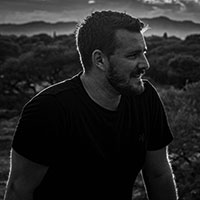 "My name is Sebastian Strasser, and I'm a biomedical scientist from Salzburg, Austria. Photography is my passion, which I discovered while traveling a few years ago."