The Print, The Frame
My name is Ian Gregory from Belper, a town in Derbyshire, England just south of The Peak District. I am now retired from my working career mostly in engineering on the rail industry. I seriously took up photography when I had an Olympus E-510 for my 50th birthday (which I still have as a sentimental item). Since then I have been Olympus through and through, currently using the E-M1 MkIII & MkII for my hobby, I do still occasionally get my E-PL5 out mainly for my twin granddaughters to have a go with as Macy does have a good eye for a 7 year old.
The reason for this article is my love of the printed and framed photo.
I used to be involved in a local photography club where we had a twice-yearly show which tied into the towns fantastic food festival, also the yearly Art Trail over the May Bank holiday.
From this beginning, I started cutting mounts to mount my own work in bought frames. This work well at the time. But you always want to progress, so I decided I would like a larger a better quality mount cutter. Things then took a turn for the better when I was looking at a certain auction website, I came across an auction for a complete kit for frame making including a better mount cutter, the decision was made and the nearly 400 mile round trip didn't deter me.
So I was now the owner of all the kit needed to not only cut larger mounts but also cut and make my own frames. I had a lot of very useful information from the seller, plus loads of boards, glass, mouldings and all the hardware you require. Believe it or not it all lives at my 12' x 8' (3.65mtr x 2.45mtr) shed which is now insulated. So the learning started.
Why do I like the print?
I think it makes the photo real, it can make the photo pop. You can feel the frame, look at it from different angles and it makes a good talking point to friends and visitors.
We all have thousands of photos on computers, tablets, hard drives and of course, Social Media, which I would say the majority never get seen again, I myself are guilty of this. But when I get something special or you were in the right place at the right time. I think yes it may need that little next step and be printed and framed. Of course, I can't do everything as walls soon fill up.
Yes, I do sell a few frames to people visiting shows and via word of mouth and as retired it's all done at minimal cost to them. It's more of a hobby so I will never get rich from my framing. You do get a buzz from a sale, especially when the buyer not only likes the interpretation of your photo but also know its location. The best example of this is this panoramic photo of Llyn Idwal in Snowdonia Wales.
The series of photos were taken during an Olympus weekend arranged by a name you may have seen in this magazine, Phil Norton. I was taking part in the Belper Art Trail a couple of years ago and I was exhibiting in my son's Patisserie on the High Street, very handy for a cuppa and a cake, late in the afternoon a woman came in looked at the frame and her words were: That's Llyn Idwal I want it.
So a conversation into the photo followed, like when it was taken, info on the stitching of 7 shots together, print information and the frame it was in suited her décor. Happy Ian and happy buyer.
So I cut the mount, cut the frame, cut the glass, the one thing I don't do is the printing. I let the professionals do that part, I have used D S Colourlabs since I started with this chapter of my photography and never had an issue, use their colour profile during export from Lightroom and all's good, first-rate quality and service.
The one point that can be a puzzle is, which mount and which colour frame moulding, I try to keep it neutral but as I can say they can also be changed. I am currently trying some more modern colours with shades of blue and greys.
One other point you can do when you mount and frame your work is freedom, by that I mean you are not stuck with standard sizes. A perfect example of this is this shot of a climber on Bamford Edge in the Peak District, just look at the dramatic view when it was cropped, after I had been in touch with the climber, he had a framed print of this for his wall.
So give a go, you do not have to go all the way like I do. You can find cheap frames and mounts and have some of your work printed and framed, they make great talking points when friends visit and they make great unique presents.
You won't regret it.
Ian.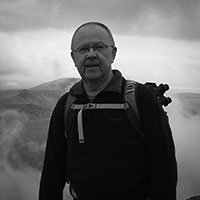 "My name is Ian Gregory from Belper, a town in Derbyshire, England just south of The Peak District. I am now retired from my working career mostly in engineering on the rail industry. I seriously took up photography when I had an Olympus E-510 for my 50th birthday (which I still have as a sentimental item). Since then I have been Olympus through and through, currently using the E-M1 MkIII & MkII for my hobby, I do still occasionally get my E-PL5 out mainly for my twin granddaughters to have a go with as Macy does have a good eye for a 7 year old."