Expressing creativity through Photography
As an engineer, Moises Cugat felt the need to find a hobby and express himself artistically. Photography was his choice, with a particular interest in landscapes.
In this interview, Moises tells us all about his passion and why he chose Olympus as his tools of choice.
---
Hi Moises, could you please introduce yourself to our readers?
Of course, first of all, let me say how much I am pleased/surprised/delighted of being here, cause I am probably a weird case in the Olympus shooters ecosystem: I am super new in photography!! And being noticed by Olympus Passion is an honor!!
Actually, although I always liked it and always understood the basics, I never used a manual camera until February in 2019 when I purchased my OM-D E-M10 Mark III.
I am an engineer, but I always needed to express my "artistic" side in some way… I tried several ways, like guitar, sports, and finally I found my passion: landscape photography.
I am proud to say that I am a photographer, I know I am starting, I know I have a lot to learn, I don't do it professionally, but I love it and enjoy it so much that I am a photographer. As most of you probably are!!
When did your interest in photography start?
I was quite young, maybe 15 or so… I was into sports, and one of my coaches had a great interest in photography. He had two cameras, and he always let me use one to catch my teammates. It was fun, but I could not imagine that now I would be so much into it almost 30 years after that.
What was your first camera, and what importance it had in your passion for this Art?
The first camera that I switched to manual mode was an Olympus OM-D E-M10 Mark III. And IT IS AWESOME. I cannot believe how Olympus is packaging so many features in such small space.
I started with the kit lenses, plus the 45 f1.8 and this was the "click" I needed. It is so easy to appreciate the beauty of photography when you can use a piece of gear so good for such a price. Shooting my daughter at f1.8 was WOW!!! I like this!!!
When you started with Photography, what genres did you try before focusing mainly on Landscape Photography?
That's a nice question. Think about it: If someone new into photography comes to you and ask you advice about which camera/brand/gear to buy, you will ask "what do you want to do?, what do you like?" and this is so unfair, because I didn't know at that time, and probably I still don't know it now!!!
I liked LITERALLY EVERYTHING. Landscapes, nightscapes, light painting, portraits, cityscapes, I loved street photography, macro… I did a bit of all, and I enjoy it all, but I found out that, for me, nothing beats the feeling of those 5 mins of awesome golden light that makes you rush to get the best of it in a sunrise or a sunset.
I love nature… so much… I love to hike and to just sit and watch… Imagine now that I not only sit and watch, but I keep it for me!! I love landscape photography above all other (and shoot my daughter when she allows me, which is not too often).
What methods do you use for scouting new locations to shoot?
Instagram mostly and the net of photographers in my place. Also, I know very well my area which is not "Iceland level" impressive, but it has literally tons of really nice and intimate photography spots.
I use a trick in Instagram which is saving in different Folders for different locations, the photos which catch my attention (of course you know that in IG, you can create folders to organize your saved photos, don't you?)
When you decided to purchase an Olympus camera, did you take into consideration the type of photography you do?
Honestly no, because I didn't know it at that time. I considered the price, size, and price of the lenses. I was so lucky!!! M43 system with its weight, stabilizer, size, DoF and technology is the perfect one for Landscapes.
I have to be honest and say that the "retro" look with the dials always got my eye, but the main reason was that one of my best friends was an Olympus user and, of course, he was/is delighted.
Since you started, how many Olympus cameras did you have, and what's your current camera?
I started with the OM-D E-M10 Mark III, but soon I realized that sealing was a must for me and I decided to go for the E-M1 Mark II, but in the way I found an E-M5 Mark II for a really good price and I got it. Then I ended buying the E-M1 Mark II anyway, and now I own the OM-D E-M1 Mark III (which is absolutely AWESOME). All this is one year and a few months. I wish I had known it and I would have saved a lot!!
Given all the experience using your equipment in the outdoors, and considering that you shoot a lot next to the ocean, what do you have to say regarding the performance and reliability of your cameras?
That's one of the points that are rarely taken into account when in front of a purchase decision. You read "sealed body" or "self-cleaning sensor" in the specs, and you are happy. Olympus should explain better how far away we are compared to other systems/brands. I love to get close to the waves (yes inside the sea) and if some wave catches the camera, I just put it under the shower when I arrive home, and we are done. Changing lenses doesn't worry me anymore… This is the perfect camera if you are clumsy or you have to photograph in harsh environments (dust, temperature, salt, mist, water…).
What lenses do you currently use?
70% of my photos are taken with the M.Zuiko 7-14mm f2.8 PRO. I also use a lot the 12-40mm f2.8 PRO (actually is the one I mount when I am hiking, because its versatility and because the polarizer lives attached to it) and I LOVE the 40-150mm f2.8 PRO.
One of my private pleasures is to use a lot the M.Zuiko 8mm f1.8 Fisheye PRO. I love so much how sharp it is, how it renders the colors, and I love to use its fisheye distortion as a composition tool.
I also LOVE (you cannot imagine how much) my M.Zuiko 17mm f1.2 PRO. I think it is so good and sharp that I feel like cheating when I am using it.
I used the 60 macro f2.8 when in confinement to shoot things inside the house… but macro is not my thing.
It's not very common to see a landscape photographer shooting with the 8mm f/1.8 Fisheye PRO, but looking at your portfolio, we see that you get some stunning results! What tips could you share about using this lens for landscapes?
That is a tricky question because I will answer the obvious here: center the subject. That minimizes the geometric distortion…
BUT, what I do is to use the geometric distortion in my favor in two different ways:
First one: you produce a kind of magnetism to the center when you use a fisheye. In this example you can see the same photo taken with the 8mm and the 7-14mm. You can see how with the fisheye, the clouds are "revolving" the subject giving more presence to it
Second One: Sometimes you can "bend the mountains up" (as an example) to add drama to the photo. In this example, I could have use the 7-14 to get a "more realistic" effect… but in this case I liked much more this approach.
Also you can exaggerate perspectives with human figures in them… it is not specifically landscape, but who says you cannot use it for portraits??
What filter system do you currently use, and why?
I currently use 3 systems:
• Threaded: Gobe polarizer in my 12-40mm, plus a 10 and 6 stops Gobe ND filters (just in case… I don't use much the 12-40 with ND's)
• Haida 150 mm Square filter System: it is the old heavy bulletproof 150mm filter holder with Haida glass for my 7-14. The glass is quite good, but not so much the holder, and together, way too heavy for my taste. Holder reflects sun if pointed directly… which I hate.
Don't misunderstand me, it is good, but it is not perfect at all. I use 2, 6 and 10 stops ND and a GND and an inverse GND (this is really tricky, but if you see how flat where I live is, you'll understand)
• The wonderful amazing lovely E-M1 mark III in-camera LiveND. It is just five Stops maximum (at this moment) but I started leaving my filter system at home. I didn't take it to the Dolomites and I only missed to use LiveComposite for the clouds with my 7-14mm. Thanks to this tool, I hike the forests to shoot waterfalls without filters and tripod. I don't need them anymore for "short" long exposures. Can you imagine a LiveGND or a LiveInverseGND or a LiveND1000???? It would be WOW!!!
I am holding to these tree systems at the moment, because I am waiting for the new future M.Zuiko 8-25mm f4. This will be the definitive weapon for landscape photographers because of its size and range, specially if you can mount a lightweight filter system (threaded maybe???? Who knows)
Could you explain your post-processing workflow, and the reasons why you use Luminar?
My post-processing workflow is too long right now. I use several tools, but I base my edits in Luminar because some of its incredible tools. The "detail enhancer", "advanced contrast", "advanced colors", "LUT's" are critical to my edition workflow.
A trick… I use the "sunrays" functionality making their length zero and taking the sun center out of the frame just because the "dark mood" that you can give to the photo with this tool.
Also the included layer functionality is making possible some quite interesting tricks (that to be honest, I don't use so much).
I also dodge and burn a lot, buy the way.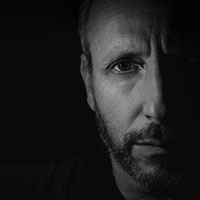 "I am an engineer, but I always needed to express my "artistic" side in some way… I tried several ways, like guitar, sports, and finally I found my passion: landscape photography.
I am proud to say that I am a photographer, I know I am starting, I know I have a lot to learn, I don't do it professionally, but I love it and enjoy it so much that I am a photographer. As most of you probably are!!"