Mill of Gombola, where time stood still
My name is Antonio Benetti, I was born seventy-three years ago in Ferrara, a small town in northern Italy.
I have been approaching photography for over forty years, a little by chance and maybe a little because it just had to happen.
I travelled a great deal, but in those days I just looked rather than observing. Even then, I was a photographer, but only with my eyes, if that counts, and I can still see many of those images, despite the passing of the years. Then, one day, the chance encounter with Airone magazine, which at the time was practically the only nature magazine around, released a hidden spring within me.
I discovered an unexpected and wonderful new world, a new way of observing and looking around myself. I was struck by the images and by the amount of "detail" that could be "observed" – "new eyes for knowing how to see" – of which Proust had spoken in his phrase that has accompanied me in all these years. What followed is today's history.
I love the world's extremities and its fascinating places and when I'm on the move, whenever possible, I always get the urge to look for setting and places where mankind has still not left its mark. Although this is becoming increasingly difficult!
Today, leaving aside the photography of animals a little, I really like to go in search of places that represent our historical memory and for this reason, they should be protected and cared for as much as possible. Places where time seems to have stopped and everything seems to move in another dimension. A little lost.
It all began in 1822, the year in which a peasant family from Gombola, a small village of the Municipality of Polinago in the province of Modena, began to build a system of canalization and locks to get water from the Mocogno and Pavullo plains up to the countryside, allowing it to turn the giant wooden wheel that gave strength to stone wheels suitable for grinding the cereals of the valley: this is how the Mill of Gombola was born.
This historical and architectural gem is one of the few mills in Italy still functioning entirely by water. Arrived at the small square, I meet Diego Veratti, ultra energetic eighty, the last miller of Gombola.
The ancestors grinded, the grandparents and the parents too, and he never backed down, not even when he was left alone against the absolute industrialization, not even when he had to fund his bank account to keep the mill up, not even when the earnings weren't enough. He, a sort of "Keeper of Memories", had only one mission: to continue to give bread to the valley, even if there was no flour left over, even if he had to do it after eleven hours as a bricklayer.
Diego has always sacrificed himself for that Mill, and the Mill has always protected Diego, but not only. This is how he tells us that during the last war, the Nazi-Fascists invaded the valley completely. The enemies advanced and destroyed everything, shooting and bombing, Gombola was almost razed to the ground but not the Mill: he resisted, he gave refuge to the Partisans, it allowed Diego to continue offering his flour, it became the "Keeper of the Memories" that still live thanks to him.
They both remember a lot well the absolute misery of those dark years, but they never gave up.
A Keeper of Memories who continues undeterred to offer his flours to the valley: from natural wholemeal to seasonal chestnuts, passing through the golden one for polenta. He resists, he says, at least until he has breath, then we must hope for a strong soul that continue the tradition because currently, after him, there is no one.
Today, the big wooden wheel no longer turns due to a technical problem, and money would be needed to make it work again, the municipality has already uttered the usual phrase: "there is no money"… We hope that soon the mill can start stroking the water again as he has done for over a hundred years…
Tools of the trade…
Old gears and movements to make the mill work.
An old tractor…
And one of Diego's little guests…
It was a nice day. I returned home with a hint of sadness knowing full well that if no one intervenes these "Jewels of Time" will be destined to be lost, making us forget a piece of our history and our roots. But that shouldn't be …
Antonio Benetti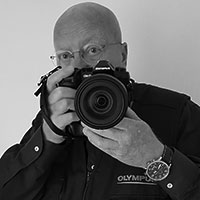 "My name is Antonio Benetti, I was born seventy-three years ago in Ferrara, a small town in northern Italy. I have been approaching photography for over forty years, a little by chance and maybe a little because it just had to happen. I travelled a great deal, but in those days I just looked rather than observing. Even then, I was a photographer, but only with my eyes, if that counts, and I can still see many of those images, despite the passing of the years. Then, one day, the chance encounter with Airone magazine, which at the time was practically the only nature magazine around, released a hidden spring within me. I discovered an unexpected and wonderful new world, a new way of observing and looking around myself. I was struck by the images and by the amount of "detail" that could be "observed" – "new eyes for knowing how to see" – of which Proust had spoken in his phrase that has accompanied me in all these years. What followed is today's history. I love the world's extremities and its fascinating places and when I'm on the move, whenever possible, I always get the urge to look for setting and places where mankind has still not left its mark. Although this is becoming increasingly difficult! Today, leaving aside the photography of animals a little, I really like to go in search of places that represent our historical memory and for this reason, they should be protected and cared for as much as possible. Places where time seems to have stopped and everything seems to move in another dimension. A little lost. Good light everyone!"