Precious time with Olympus
My name is Csaba Bakos (37) and I live with my family: wife and 2 kids in Debrecen, which is the second-largest city in Hungary. I graduated as a teacher and journalist, still, I work as an IT manager at a multinational ICT company. I am a tech nerd and hobby photographer. I learned photography on my own by reading a lot of articles, watching tutorial videos and analysing pictures from professional photographers.
I always had an interest in digital art. At first, I used Photoshop for digital picture manipulation. After a short period, I wanted to create something on my own and not using the picture from somebody else as before. I love nature and exploring the beauty of nature so when we started to take trips with my wife, I wanted to capture the memories and the landscapes.
So I purchased my first own camera which was a Fuji bridge camera and started to read "How to…" articles to learn the basics of photography. As I am quite perfectionist, I like to know what I am doing and why I am doing it and be prepared in whatever I am doing. After about 2 years I felt my camera could not serve my goals anymore, and after analyzing a lot of good pictures on Flickr, I decided to upgrade my gear and buy a DSLR. As that time Nikon was the most popular brand in Hungary I purchased a Nikon D3100 entry-level camera, and later upgraded to the D90.
This picture quality was that I was looking for, and although I was following the new features of the newer camera bodies, I did not feel the urgency to change my setup. My opinion has changed 7 years ago when my son was born. Of course, as he was our first child, I wanted to take photos of him everywhere, but I often found myself not willing to bring my heavy camera plus 1-2 lenses with us even if we just went for a short walk in the park.
So I wanted to find a new setup, smaller and lighter, but still giving me the flexibility of changing lenses and good image quality… As a tech nerd, I also liked the shiny new features of the mirrorless cameras with touch screen and WIFI and I saw the advantages it could bring to my workflow. The viewfinder was a must for me, so I have bought the Olympus OMD E-M10 at a reasonable price to give the MFT system a try.
I still have this kit and sometimes use it as a backup camera for example for event photography. Last years I have tried several other mirrorless systems, I had a Sony A6000 and a Fuji X100S, but in the end, I decided to work only with Olympus because it mostly meets my requirements. So I have sold my Sony and Fuji cameras and bought an OMD E-M1 (Mark I) instead.
My passion is taking pictures of watches and everyday carry. I have always been a watch wearing person since elementary school. But for a long time, I had only one watch. I have chosen my watch carefully to match my style but never thought about having more watches at the same time. My opinion changed 7-8 years ago before Christmas.
I have received a second watch from my wife as a present and started to enjoy changing my watches to match my outfit and style. I like collecting stuff anyway so I started to collect watches to be able to find the perfect match for my day. Then I got into "everyday carry" with the help of some Facebook groups. As I like to be prepared for different situations that might come during an average day I started to collect EDC gear also.
As watches and knives, pens, bottle openers can be well built and stylish things, I wanted to show them in my pictures. I realised earlier that most people don't really observe the objects around them, they just get used to them.
Can you describe the dial of your watch for example if you don't look at it? Does it have numbers on the dial? Are the indexes lines or dots?
I wanted to show these nice little details of watches through my pictures, and wanted to draw the attention of the audience to the great craftsmanship which is behind these watches and gears.
I have several watches and knives since then and I enjoy finding harmony between my outfit and the pieces of stuff I carry. Everyday carry means, for me, that I have the same objects with me daily, but the exact pieces vary from day to day.
As I don't have too much free time nowadays for photography, having my subjects with me at home help me to be able to plan and prepare for a shot in advance. Usually, I choose the watch first, it will be the subject of the photo. Then I look for the matching accessories and I plan the background to create the atmosphere I would like to show with my picture.
The background has to be clean and in matching color not to draw the attention from the subject. Sometimes I try to find an unusual environment where watches do not occur normally. Complementary colors in the background can also help you. Of course as always, light is the most critical part. I like using natural lights if it is possible, but it can be tricky sometimes because of the reflection on the watch.
Sometimes I use this reflection at my advantage to create a moody/atmospheric shot. Some dials are really difficult to photograph because you can't see the real/deep colors of the dial only from one specific angle.
The features of the Olympus system are a great help for me during my work and I could not find this support with my previous cameras. This is the main reason why I use only Olympus cameras now. The live view with focus peak helps me to see if the right part of the picture is in focus. Plus, sometimes I use old analog lenses to achieve a certain mood for my shot, where again focus peaking and stabilization in the camera body is a must.
As regards lume shots, live composite helps me a lot and I can use light painting as an extra, too. I usually shoot in Aperture priority mode because background separation is important for me. At the moment my favourite and most used lens are the Olympus m.Zuiko ED 30mm f3.5 macro lens. They are lightweight and small, and not so expensive.
Despite its maximum aperture being only f/3.5 which is not the best, still, it is able to produce a nice background blur. I also have an m.Zuiko 45mm f1.8 and a Panasonic 20mm f1.7 in my bag if I want a different focal length for the actual photo. So, Olympus is my companion on my journey and I enjoy shooting with it every day.
At the end of the day, I edit my pictures in Adobe Lightroom. This is the only application I use. I have some modified presets as a starting point, I choose the one which matches the planed mood the most, then I adjust it as it is needed. After finishing editing usually I do not export the pictures immediately, instead, I check the photo the next day again if I am still happy with the result and only after that can the picture be exported. As my main platform is Instagram at the moment, it is critical to use the right hashtags to be able to reach as many viewers as possible. I am still learning this and I always collect the hashtags I find useful for my pics.
To summarize my experience with Olympus, I am totally happy with my decision to keep this system only. It serves my needs well, I do not think any other systems would fit better for my work. The Olympus OMD E-M1 (Mark I) might be an older camera but still capable to capture my vision every time.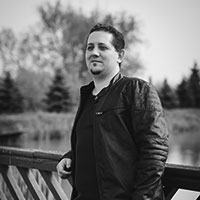 "My name is Csaba Bakos (37) and I live with my family: wife and 2 kids in Debrecen, which is the second-largest city in Hungary. I graduated as a teacher and journalist, still, I work as an IT manager at a multinational ICT company. I am a tech nerd and hobby photographer. I learned photography on my own by reading a lot of articles, watching tutorial videos and analysing pictures from professional photographers."