Macro passion with Olympus
My name is Ilaria Gavazzi, I'm 53 years old and I'm Italian. I'm a hospital nurse and work in a dialysis ward. I live in a small town in Tuscany and the countryside is very close to my home. I'm an amateur macro photographer, so I don't know much about photography. I started taking pictures of the sky with my mobile phone about a year and a half ago. It was a way for me to escape from painful thoughts and eventually the clouds and blue skies chased away my shadows.
At that point, a dear friend of mine introduced me to Instagram and I started wandering. I soon focused my interest on insects. I was ecstatic about their shapes, colours and behaviours.
I have visual difficulties, so adding a macro clip lens onto the cell phone allowed me to see and capture very small subjects I'd never seen before. I still remember my astonishment and excitement when I saw for the first time an insect through a macro lens. It was a bee (Anthidium manicatum). I had never realized that a bee could have a thicker coat than an Afghan greyhound!
I had been sharing my photographs on Instagram and the encouragement of the generous and supportive macro photography community fueled my desire to improve my skills. After seeing great shots taken with cameras and equipment of different brands, I started to wonder about buying a camera. During that time, macro photographers started to encourage me to switch from a mobile phone to a camera for my macro photography. It flattered me and my fears soon turned into temptation.
I was torn at the thought of facing that change because technology is definitely my kryptonite. Yet, seeing all those wonderful photos of others made me dream, particularly those taken with Olympus cameras. The very unique aesthetics of pictures taken with Olympus cameras embody my conception of "mood". With my Olympus camera, I can create a fairy tale world. I feel like Alice in Wonderland! The critters I see through the viewfinder become larger than life characters with enchanting traits and behaviors: it's a fascinating and exclusive universe.
Dark and muffled atmospheres are at the heart of my vision. I realize this particular aspect of my pictures is not the norm when it comes to macro photography but I enjoy "foggy" atmospheres. I've often told myself that taking photography courses could be beneficial but, in the end, the Instagram community taught me everything I need. I mostly want to "feel" what I create and not so much dwell on technical considerations. I'm immensely grateful to this amazing community. I'm quite happy about the results I get and my goal is to improve myself every time.
Once I made the decision to take the big step and buy a camera I had no doubts. It just had to be the OM-D E-M5 Mark II along with the M.ZUIKO DIGITAL ED 60mm f2.8 MACRO lens. It was the best choice of my life and I will never regret it!
Ali (@neverchangeyoufortheworld) gave me the decisive push to buy it. She's an extraordinary photographer and friend who has guided and supported me from the beginning. She practically taught me how to turn on the camera and then enter in the first basic settings to start shooting.
In addition to using the small flash supplied with the OM-D E-M5 Mark II and the M.ZUIKO DIGITAL ED 60mm f2.8 MACRO lens, I often use the RAYNOX DCR-250 Conversor Macro lens to achieve greater magnification. I've used various custom diffusers to soften the light of the flash. I'm currently using the one designed by Florian (@macroflodzl). My work is all handheld and single shots as I don't know how to do focus stacking. I work with JPEG files.
I know… I'm a naive person with a diamond in my hands: I'm fully aware of this but also deeply happy!
As I said, I'm not tech-savvy, so I don't use any kind of post-processing workflow except Instagram tools to increase the sharpness and sometimes the brightness of the shots before publishing my posts. I sometimes regret that my inexperience makes the original shot worse. I can't expect anything different since I don't spend more than 15 seconds editing a shot! Forgive me, but the free spirit inside me does not consider post-production an integral part of photography. I do prefer the action and taking dozens and dozens of out-of-focus shots in the middle of a field rather than spending time on the computer.
I find my subjects within a few miles of my home. Every time I go out "hunting" it's like going on a safari: a few steps and I can already find myself squatting over an edge or sneaking into a bush. It is so adventurous to be a naturalist macro photographer!
We often say that beauty lies in the small things and maybe it's true. That's why I love insects and they're my favorite subjects: they're small, smart and majestic. The way they've evolved is often amazing. Observing those tiny Critters fills me with unconditional admiration. Stuff that fascinates me? A crab spider catching a prey as big as itself or even bigger. To look at the multifaceted eyes of a dragonfly, a bee or a mantis. Being able to observe the only existing spider without venom standing in its web. That's just to name a very few things! I consider it a privilege to be able to witness those natural masterpieces. The Olympus system allows me to "frame" all of it in a way that truly aligns with my vision.
This is my story. I wish you all the best… and having an Olympus camera!
Ilaria
PS: I want to thank, from the bottom of my heart, these talented macro photographers for all the help and support they've given me: Ali (@neverchangeyoufortheworld), Brendan (@cygnustech), George (@georgewakelingphotography), Charbel (@chrblnssf), Jamie (@doogle1976), Florian (@macroflodzl) and Scott (@macro.scott).
Special thanks to Richard (@richardtaylorphotos) who made the word count of this text more than once and to George (@georgewakelingphotography) who fine-tuned my English in this article.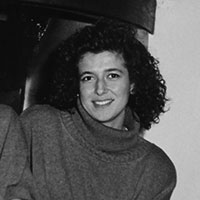 "My name is Ilaria Gavazzi. I'm a 53 years old hospital nurse and I'm Italian. I have recently discovered the art of photography; it was fortuitous and providential for me. I quickly became a fan of insect macro photography. My Olympus camera is my gateway to the fantastic world of insects. Every time I look through the viewfinder, I go back to being a child and this is truly wonderful!
PS: My profile photo is vintage. No Photoshop!"