More photography
My interest in photography started early in my studies at the age of 22. The first camera I ever bought was the Canon EOS 450D. A great starting camera at that time, and the camera stayed with me a couple of years. Unfortunately, it got stolen by someone who had broken into my apartment. So I replaced it with a Canon EOS 1000D, an okay camera that fitted its purpose.
A few years went by before I finally managed to save up the money needed for the full-frame Canon EOS 5D Mk II. At this stage of my life photography was growing beyond just a regular hobby. I started to earn small amounts of cash by selling pictures to several websites, to my school, to my local commune and so forth. But after a year using this camera, I felt it was holding me back.
It was big and heavy to carry around, professional class, really expensive, and it was lacking several functions and perks that other cameras in the market were having. This time of my life was where time-lapses photography and video editing was an all-time high, so my interest pointed towards a Micro-Four-Thirds (MFT) camera. Hearing all about the built-in time-lapse function, live composite, small in size, and stylish look, I quickly bought the Olympus OM-D E-M1.
A camera that could handle the harsh cold and stormy weather that Norway often gives us. After several time-lapse excursions, I quickly realized having just one camera wasn't enough. I needed an extra camera for my excursions, one for time-lapsing, and one for still photography. This resulted in me buying the Panasonic Lumix GH4 for 4K video and shooting. Nowadays I always have two cameras with me.
Today I carry around the E-M1X and E-M1 Mk II. In the timespan between shooting with the E-M1 and the E-M1X, I've switched back and forth between Panasonic Lumix and Olympus OM-D cameras. One year ago I only had Panasonic Lumix cameras, the G9, GX8 and GX800. They were amazing cameras! I brought them on my road-trip around Iceland. A 12-day driving ring road Route 1 around the island. The Lumix cameras survived my road trip and stood the test against the harsh Icelandic weather.
Changing to Olympus
After I came back from Iceland, I started looking into a replacement for my GX8. It was getting old and had a high shutter count. I decided to replace it with the Olympus E-M1 Mk II, and I quickly fell in love with the new camera. Its elegant design, well-placed buttons, built-in functions, and how well it fits in the hand. I own several Olympus Pro lenses, and I've started to favorize most of them, like the 17mm f/1.2 fast prime, the 40-150mm f/2.8 tele-zoom and the 300mm f/4.0 fixed tele-lens.
These lenses are perfect for my standards, and are such a joy to use. So getting the full Olympus body-lens combo was one of the reasons for changing to Olympus. I started looking into the E-M1X and there were several features in the camera that caught my eye, the built-in Live ND, the amazing 7.5 stop stabilization, the hand-held High-res mode and the unbelievable weather sealing (you can literally wash the camera under running tap water). After days of research and decision-making, I upgraded to the E-M1X along with the 12-100mm f/4.0 pro lens.
But in the process, I had to sell the G9. Letting go of the G9 wasn't easy, I couldn't just sell it away, after all the adventures and memories I've had with this camera. So it went to my father along with the Panasonic Leica 100-400mm f/4.0-6.3. Mainly to keep that camera and lens in the family, and to increase my father's interest in photography.
The gains and losses from G9 to E-M1X, which matters the most to me.
G9:
Top status LCD screen
80mp High-res mode
Animal Detect Autofocus
E-M1X:
Live ND
Hand-held High-res mode
7.5 stop stabilization
Live Bulb
Live Composite
Dual TruePic processors
I still use the GX800, but only for vacation purposes. If Olympus plans to announce a Pen-F Mk II, then it might become my new vacation (and street) camera.
The wonderful night sky
I love night photography, either it's capturing the milky way, northern lights or just some gorgeous star trails. Unfortunately, one of the few downsides with using an MFT system, is the sensor size and its performance in low-light conditions. MFT sensors don't perform well when the ISO gets cranked up to 3200 or above. The image starts to get grainy, and unpleasant.
You can remove some of the grain with a few fixes in post-processing, but those techniques aren't a go-to option when it comes to editing time-lapses. I've been through a couple of different lenses on the MFT cameras in hopes of lowering the ISO value. One of these lenses was the Voigtländer Nokton 10.5mm f/0.95, an incredible low-light performer, but had some severe coma and vignetting problems. Another good alternative was the Olympus 8mm f/1.8 pro, but then I was stuck with the fisheye effect and that's wasn't always ideal. After a few years of trying, I couldn't find a satisfying enough lens for the MFT system.
So I invested in a third camera, the Sony A7S. This camera is a beast when it comes to low-light performance, and was my main camera when I photographed the night sky. I have in the lastest of years upgraded the A7S to the A7 III. Other than night skies, I rarely use the Sony Alpha system. I tend to always go for the MFT-system. I just trust the system more and it feels more enjoyable to use on my day to day excursions.
My passion and choice of style
I've heard many out there saying you need to pick a certain style and stick with it. Find your unique color combo, have an Instagram profile that looks "clean". Well, I'm not quite that person, I love nature and landscape, but I also love night skies, time-lapse and animal photography.
Heck, sometimes I even do street or macro photography. My passion is to capture what you feel like capturing, one day it can be a beautiful sunset, the other day some macro shots with a tele-zoom lens. That's what keeps my interest going, and motivates me to go out there and take pictures. If I really had to choose, it would've been the obvious choice, landscape (and Norway).
The last couple of years
Over the span of three years, I've made some time-lapse showreels on YouTube. But in the past year I started with vlogging also. I've wanted to start a photography vlog for years, but what held me back, was the mere thought of me speaking English into a camera, and listening to it afterwards in post-processing. What finally pushed me was the road trip to Iceland, because it's an ideal place to start.
Once I mustered the courage to do my first episode on Iceland, I just jumped headfirst with no preparation. There are several mistakes and things to improve in my episodes, but one has to start somewhere, I think. To this day I've made eight episodes, and still, I don't prepare much in advance of each episode. I just go with it, and hope I don't mess up too much. So If I'm planning a big trip or a small excursion that I want to share with my viewers, I just add my DJI Osmo pocket and/or an external microphone to my bag.
I've called the series "More Photography", and the purpose, or concept with the series, is to take the viewer on a journey, show them a beautiful/unique location, and introduce some tips & tricks along the way.
Episode 5: Exploring the Hinterland of Norway
In this episode, I venture to Beitostølen, Norway. It's autumn, and the snow has just arrived. I hike or drive up several mountains around the area to scout for locations to photograph. I capture some gorgeous fog in the valley below, some misty landscapes around a lake and some nightscape photography. The highest mountain is approx. 1200 meters above sea level.
Episode 6: From Mountain to Fjord
Around Christmas 2019, I and my girlfriend ventured up the mountainside at Bulken, Voss. It had just snowed the same morning, giving a nice crunchy sound when we walked on the snow. The tree branches were covered with snow and the valley beneath was full of fog. The next day we drove down to the Hardangerfjord for some long exposure photography at a beautiful rocky beach, during sunset.
Episode 7: Chasing Waterfalls (part 1)
A storm hit the coastline outside Bergen, resulting in heavy rain pouring down in Hardanger. It turned out to be a fun day out, capturing some pictures of a huge waterfall and the river leading down from it. It was also a perfect moment to test out the weather sealing on the Olympus pro cameras.
Episode 8: Chasing Waterfalls (part 2)
There are two waterfalls in inner Hardanger, that I always wanted to capture. The first is a waterfall I have never visited but always talked about. It's almost hidden away and there are no clear pathways leading to the waterfall. The second waterfall is a well-known tourist attraction, and has a small path leading to the bottom of the waterfall. So it seemed only logical to me to put a person (in a yellow jacket) up close to the waterfall, for scale.
Taking pictures, making episodes and creating time-lapse showreels are things I love to do. Photography has become more than a hobby, and there is no weather that stops me from going out and taking pictures. Thanks to the weather sealing in my Olympus equipment, I only need to worry about rain or water getting on the front element of my lens.
I think following your interest is what leads to good photography.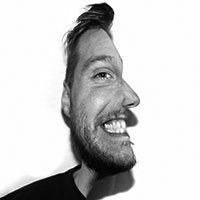 "My name is Torjan Haaland, and I'm a 32-year-old amateur adventure photographer. My home country is Norway, and I have spent my last 10 years traveling around, shooting still photography and time-lapses. I am currently based in Oslo, working a full-time job in finance, resulting in me doing photography only part-time. "