The art of capturing speed
My name is Nick Wilson, I am a 36-year-old husband, Father, and freelance photographer. I am lucky enough to call Mesa, Arizona my home. I have a very wide scope of work ranging from e-commerce, catalog product work, to live sporting events working with teams, brands, and promoters, to lifestyle, portraiture, and even automotive photography.
I got mixed up into this whole photography world totally by chance. I had just started a new job working for a local reseller and they wanted to list their items on eBay. They handed me a camera and said "Here you go!". I had no idea what I was doing, but I made do, and learned through experience seeing what looked good and helped sell the items. This was my first formal introduction to using a digital camera.
Shortly after starting this job, I bought myself a Canon EOS Rebel T3i Digital SLR. I think a lot of us start out in that range of cameras because they're both good and affordable. After this purchase, I started taking pictures of anything and everything. I took photos of my kid, my wife, all the products at the shop, my bike, literally whatever it was that I was doing at that time I was taking pictures of it.
It quickly turned into an extension of myself and was becoming not just a hobby. Shooting at this time played a crucial part in lighting the fire inside of me to stoke the passion for creating imagery to share with the world. I began sharing my own work online with sites like Instagram, Flickr, Facebook, etc. and fell in love with learning all I could about photography and how to create images like those I idolized.
After a year or so I had moved on from the Canon EOS Rebel T3i Digital SLR to a Canon EOS 5D, and also added some larger, heavier, more expensive Canon glass. It was about this time the Sony mirrorless systems were gaining traction and media attention. It had spiked my curiosity so I sold my entire Canon kit and dove head first into the Sony brand. My wallet still hasn't recovered.
After talking with some other sports photographers at an event, a friend mentioned Olympus and their range of mirrorless bodies and pro lenses. Me being me, I was always on the hunt for the next best thing coming out. He and I started researching the current top of the line Olympus system, the OM-D E-M1 Mark II. What piqued my interest was the weight and portability for those huge 10 hour long shoot days, as well as the amazing image quality, colours, and super-fast autofocus system.
If you have ever carried around 20 lbs for 10 hours, your back and body know what I am talking about. However, at the time I already had jobs booked and was accustomed to my current kit so I didn't want to buy into something new at that exact moment. Leaving fate to do its worst, after an event I left my bag in my car. It was broken into and everything was stolen. Although I was completely devastated, insurance covered the items and told me to purchase them again.
This was the perfect time to finally take the plunge into the Olympus system that I had been looking into so much. I found an Olympus OM-D E-M1 Mark II camera and "Wildlife Kit" (M.ZUIKO DIGITAL ED 12-40mm 1:2.8 PRO, M.ZUIKO DIGITAL ED 40-150mm 1:2.8 PRO and the MC-14 1.4x TC) for sale, pre-owned, at a great price that I just couldn't pass up. I ordered the kit and got it in my hands in no time. I had a few days to get my settings dialed in, and play with it before I had my first job to work with it.
I shot the entire event with this new system and afterwards I was in love! The weight savings was the first thing I noticed. Hand Holding an equivalent 300mm lens all day and running around a race track was easier and less strain on my body. The autofocus system was lightning fast, like mind blowing quick, I couldn't believe it. Seriously, it is as easy as pointing the lens at your subject, hitting AF on and it is sharp and ready to shoot. I was blown away.
My favorite subjects to shoot are athletes, in action as well as before and after for a more candid view. There is so much energy, passion, determination, and heart, that it allows you to capture and convey a wide range of emotions during an event. From being a fly on the wall during their warm up, to being able to witness them getting mentally prepared, then throwing yourself in the middle of the tooth and nail action during the event, and when it all comes to an end, either the celebration of victory or the anguish of defeat. You get it all, and you are right there. Nothing spikes my adrenaline more than the feeling that every frame I take could be that once in a lifetime moment.
The biggest challenge of shooting sports and fast-moving action has to be getting the subject in focus. Stopping motion is one thing, just bump your shutter speed high enough, get them in frame, and anything you see will be frozen in time. However, getting that subject to be tack sharp while showcasing the motion so you feel like you are moving with them is something entirely different. Finding an interesting way to show the motion and speed, while letting the viewer into that world at whatever speed it is has always been the tricky part. Both with composition and autofocus systems.
With that being said, shooting objects at high speeds is not as daunting as you might think. There are really two ways to approach it. The first and "easier" method is freezing the motion. This can be achieved by super-fast shutter speeds of 1/1000 and above depending on how fast your subject is moving. The faster the subject, the faster the shutter speed to freeze that moment in time.
The next method, my favorite, is known as panning. This is where you will slow the shutter speed down, to something like 1/30 or 1/15, and follow the subject as they are passing by you. This will give you the sense of speed and the exhilaration that the movement creates by streaking out parts of the frame that are not locked in focus as you move with the subject in your frame. The biggest tip for shooting pan shots is setting your AF points up beforehand and getting the subject in those points and in focus before actually pressing the shutter button.
Using the Olympus OM-D E-M1X (and the E-M1 Mark II) continuous AF mode and fine-tuning it has been a game changer for my action shots. Adding the internal body stabilization, the shots just get that much sharper the longer the shutter is open creating even more speed and movement to your images.
After the event is over, you have to get the work delivered and fast. Live events need coverage to go live, sometimes within minutes of a race finishing. So, I work with a handful of software for post-process editing. If I need to deliver on site, say a finish line photo, I use the Olympus Ol.Share App and transfer 1-2 selected images from my Olympus OM-D E-M1X right to my phone to quickly edit with Adobe Lightroom Mobile.
This way I can deliver 1-2 images within minutes of an event and get them to the teams, brands, promoters to be able to post right away. After I get back home, I load all images into Photo Mechanic, I use this for culling, tagging certain selects, adding metadata, etc. From there I pull my selects into Adobe Lightroom and apply a baseline preset which is my current "look and color" and then adjust as needed/wanted for that frame, event, or athlete.
I try to match the aesthetic as much as possible for clients' feeds to give them a cohesive look. From there I deliver galleries to my clients via my website hosted on SmugMug. I don't get heavy into edits in Adobe Photoshop with live event images because it will not be accurate and represent the true moment anymore. That's big no no in the realm of sports photography and photojournalism.
You can find my work online at my website: www.NickWilson.photo, or Instagram by checking out @_NickWilsonPhoto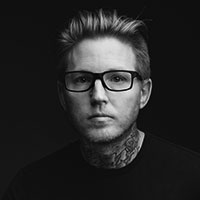 Nick Wilson is a published professional freelance photographer who is based out of Mesa, Arizona, USA, with over 5 years' experience working some of the top name brands in sports, automotive, and retail. Nick specializes in live sports and action photography, but never looks the other away to use his camera. His portfolio is extensive and ranges from live sporting events, retail catalog & e-commerce product work, lifestyle sports portraitures, automotive advertising imagery, and more recently pet portraitures. Mr. Wilson is as comfortable using the available natural light, as well as off-camera strobe lighting to create captivating, intense, and beautiful work.