The Art of Light Painting
I am Maria Saggese, a professional photographer specialized in the Light Painting technique, thanks to which I manage to combine photography and art. I nourish myself every day with a passion for art in all its forms, observing the reality which surrounds me in search of inspiration. Sometimes new ideas come out right from the observation of nature that allows me to dig into my inner self and bring out my creativity.
I love traveling, visiting museums, exhibitions, discovering new places with curious eyes. Being in contact with people, doing yoga, running outdoors and immersing myself in nature helps me find the contact with myself and my inner light.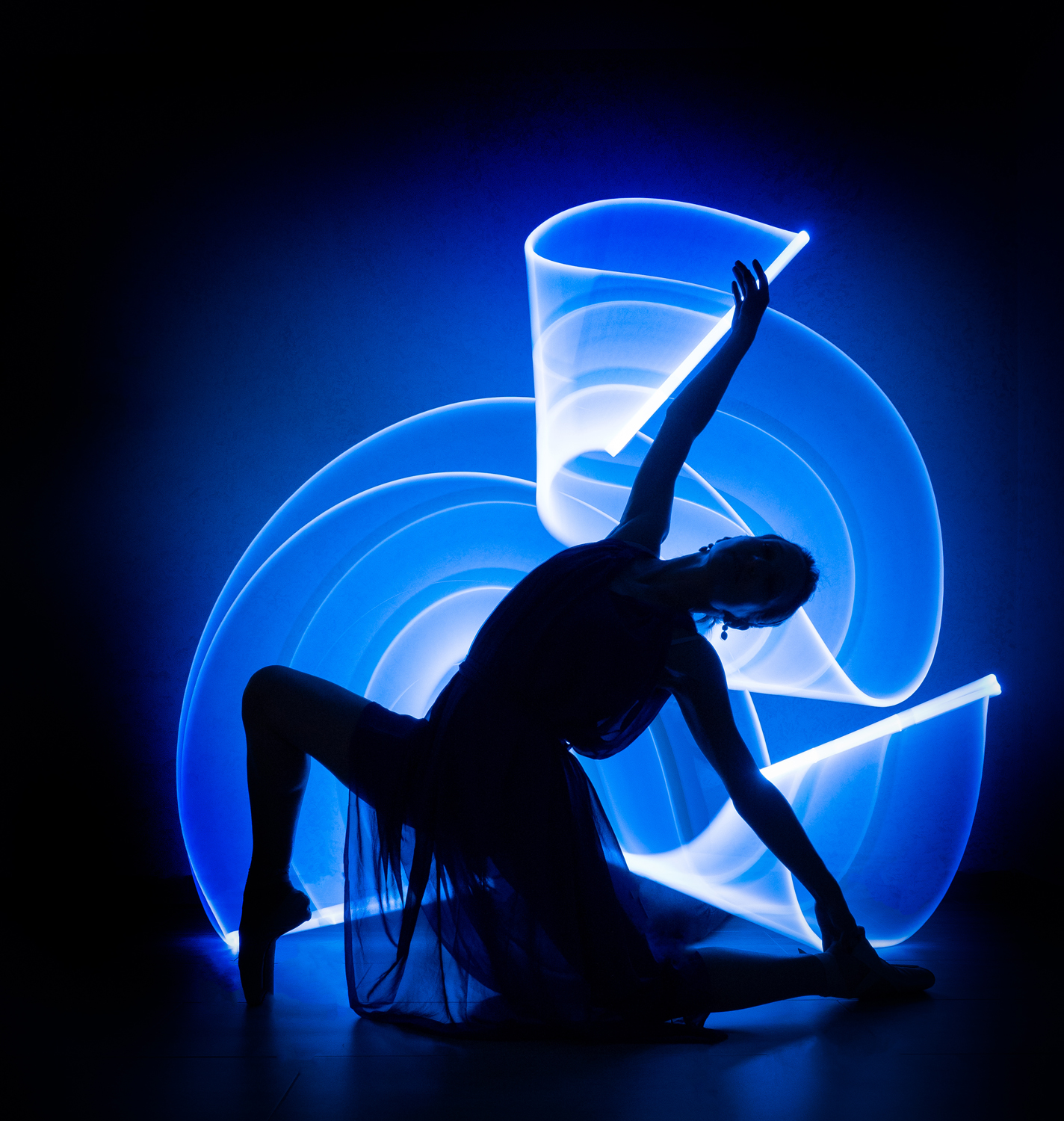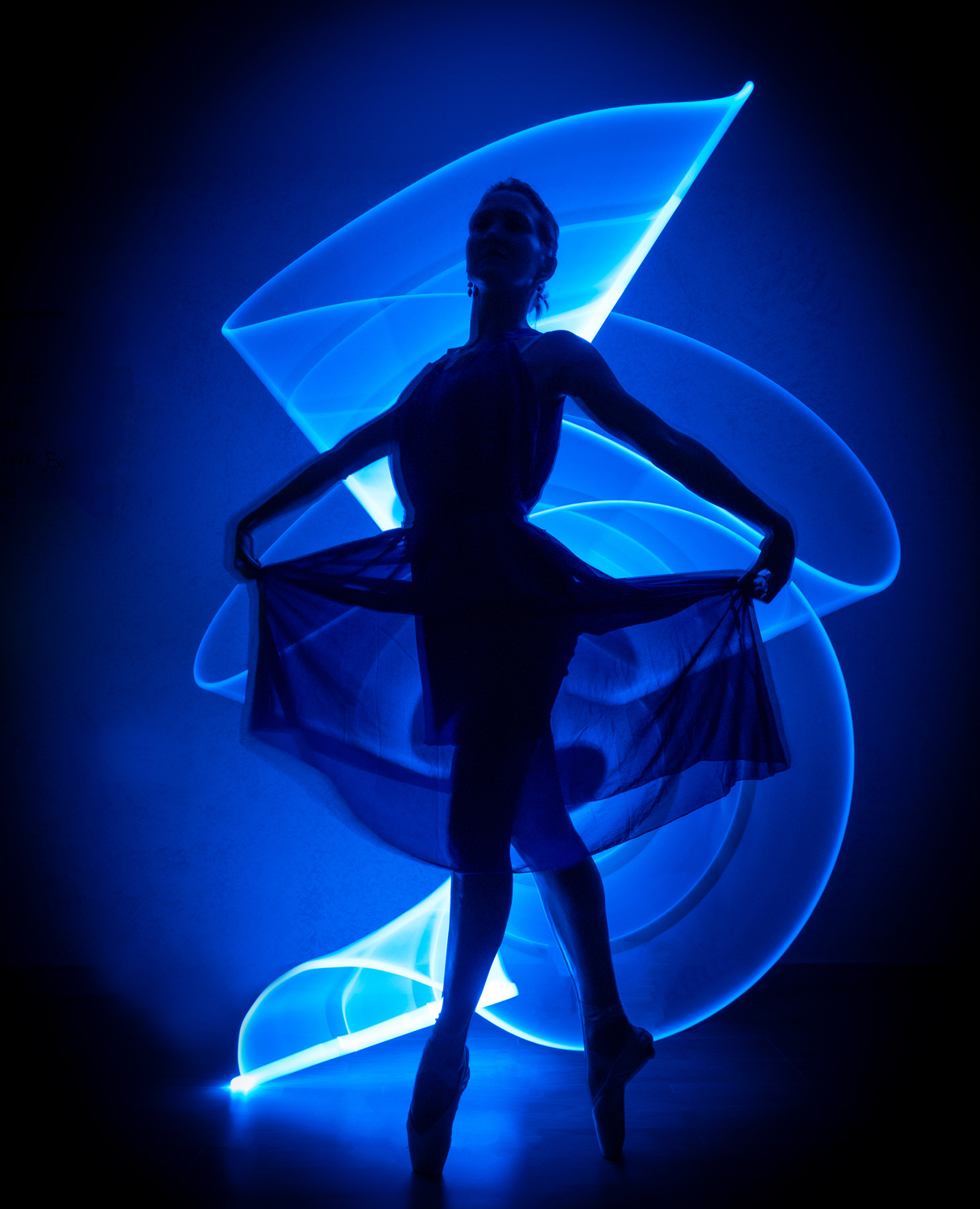 I was born and grew up in a small town in the province of Salerno, in Italy. Since I was a child, I always had a propensity for art, in fact I loved to draw and because of this, going against the wishes of my parents, I attended the Fine Art Institute. During those years I started studying photography and I realized that this was the path I wanted to take. So, immediately after graduating, I enrolled at the Academy of Fine Arts in Naples, where I was able to continue my artistic career.
My interest in photography was born during my studies thanks to the professor of my course, who gave me all his passion and pushed me to buy my first camera.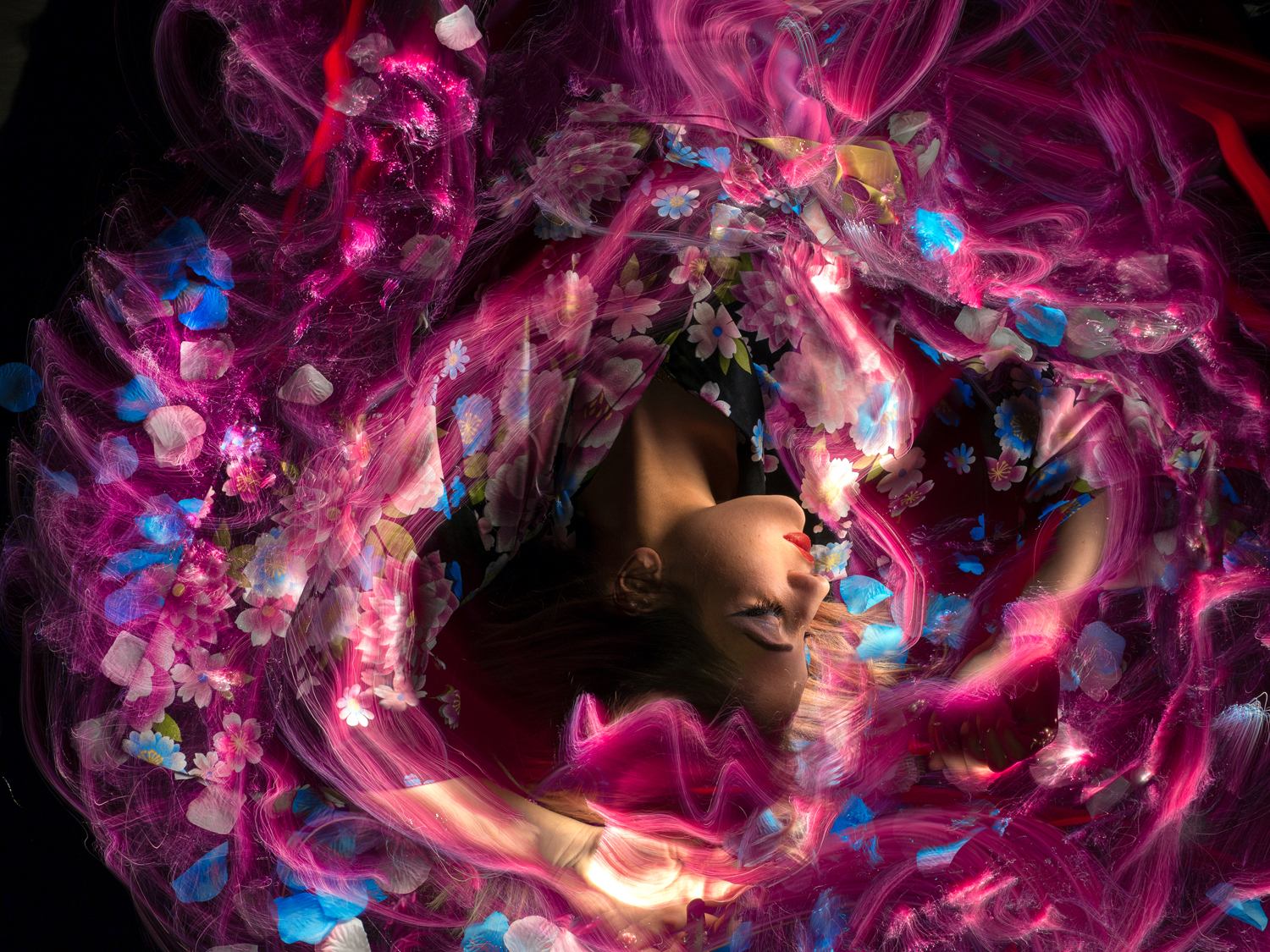 I started with an analog camera from my grandparents that still worked great, despite the years. With this camera I developed the first negatives in my school's darkroom and it was a great thrill to see the images come to life during the process of developing and printing. I remember that the first negatives turned out to be completely dark!
I realized that it was really difficult to shoot, it was not just a matter of pressing a button but of understanding the right exposure and amount of light to get good results. I didn't get discouraged, I took my camera and bought new negatives. Thanks to those errors I understood how to set times and aperture in relation to ISO, how the exposure meter worked and in the end I got the first good negatives.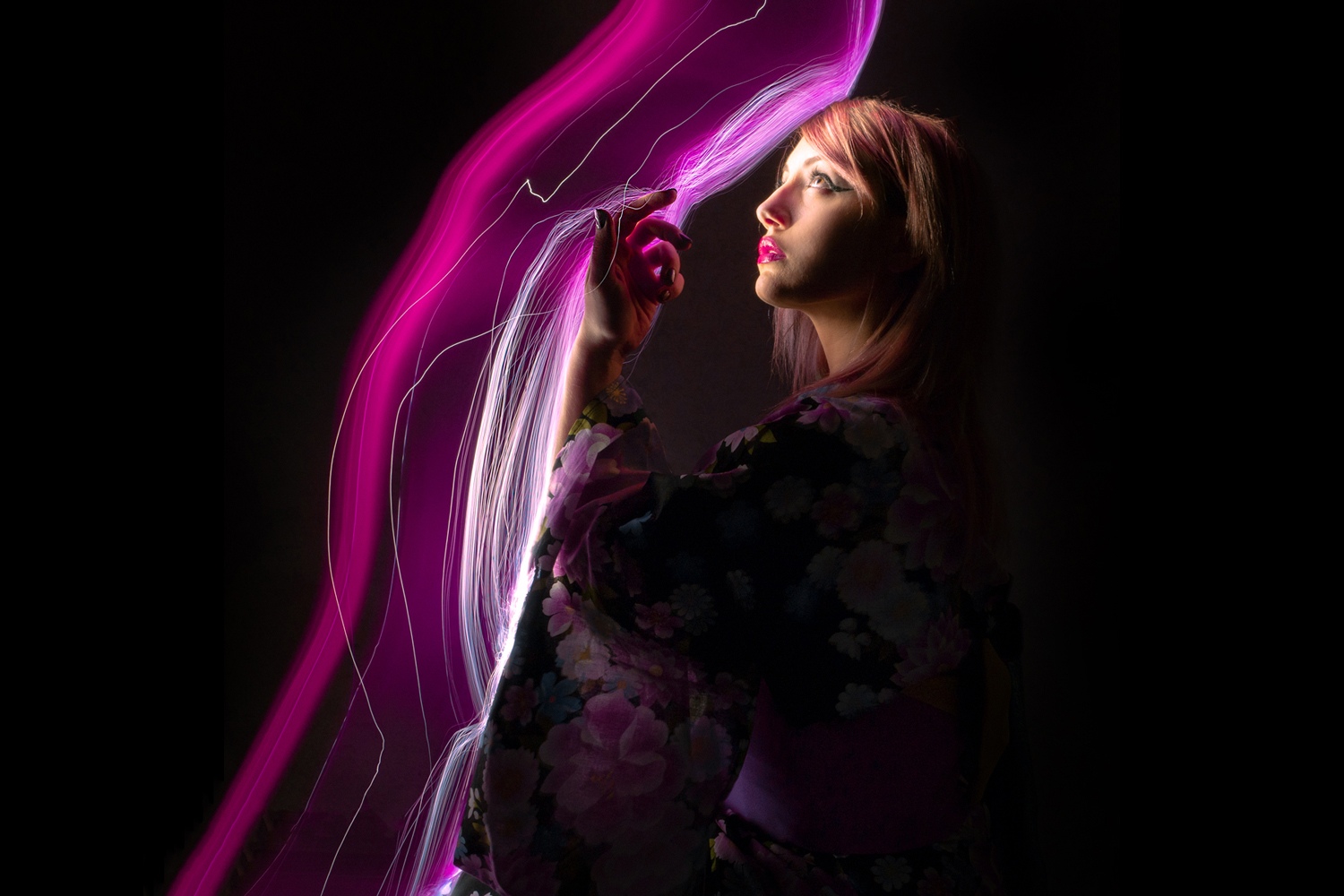 The transition to the digital world has been almost "natural". With my savings I bought an entry level camera, with which I made my first shots. Thanks to my previous mistakes, it was easy then to use the new digital camera in a completely manual mode. I only had an 18-105mm lens with which I started experimenting with different techniques to understand what I liked to photograph.
I remember going around my city and photographing everything I saw. From the beautiful natural landscapes to the most secret glimpses, so much as to make my first photographic project precisely entitled: "i segni della città" (the signs of the city). With this project I participated in my first photo exhibition and this allowed me to see for the first time my photographs on display, provoking feelings in me that I have never experienced before.
From that experience I learned that the equipment was not the important thing, but the eye behind the camera was.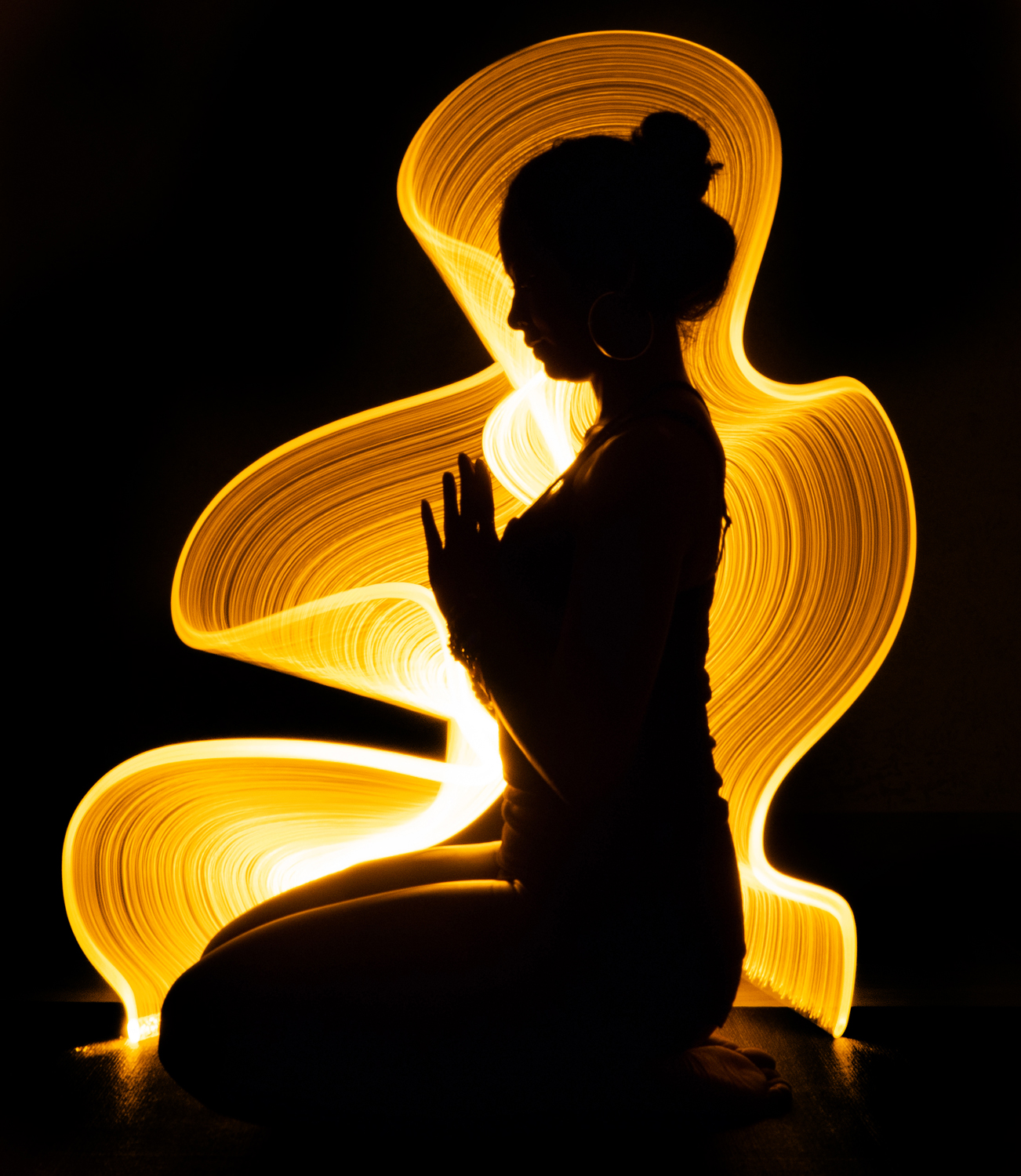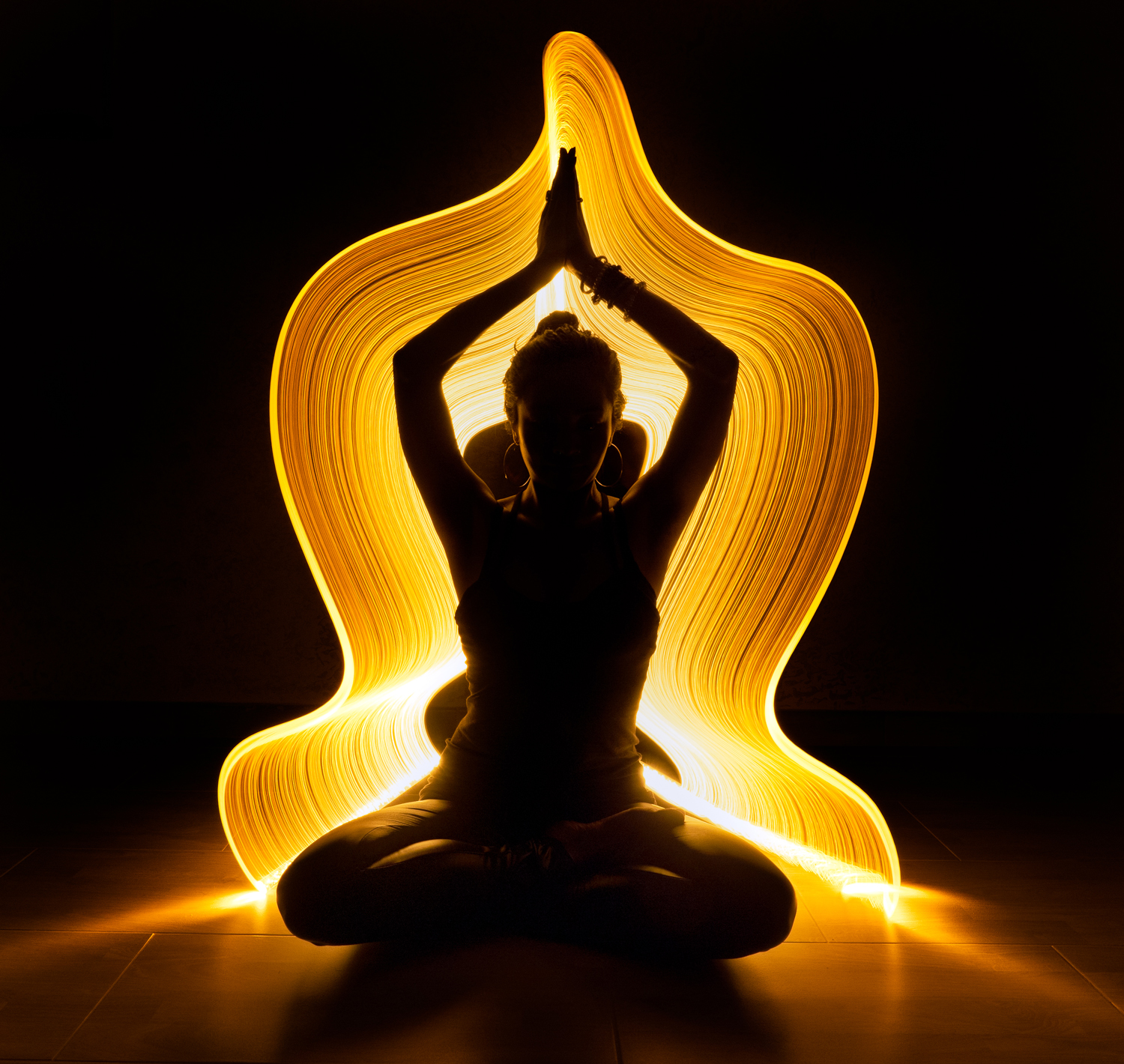 When then I attended the Academy of Fine Arts in Naples, I started to have a more creative approach to photography. I started experimenting with various artistic techniques and "breaking" the composition rules I had acquired. Then one day, by chance, I was asked to create a project with the theme of light for an exam. I searched on Google for keywords such as "photography" "light" "creative technique" and the term "Light Painting" came up. I was immediately fascinated by the examples I saw, and I decided to try!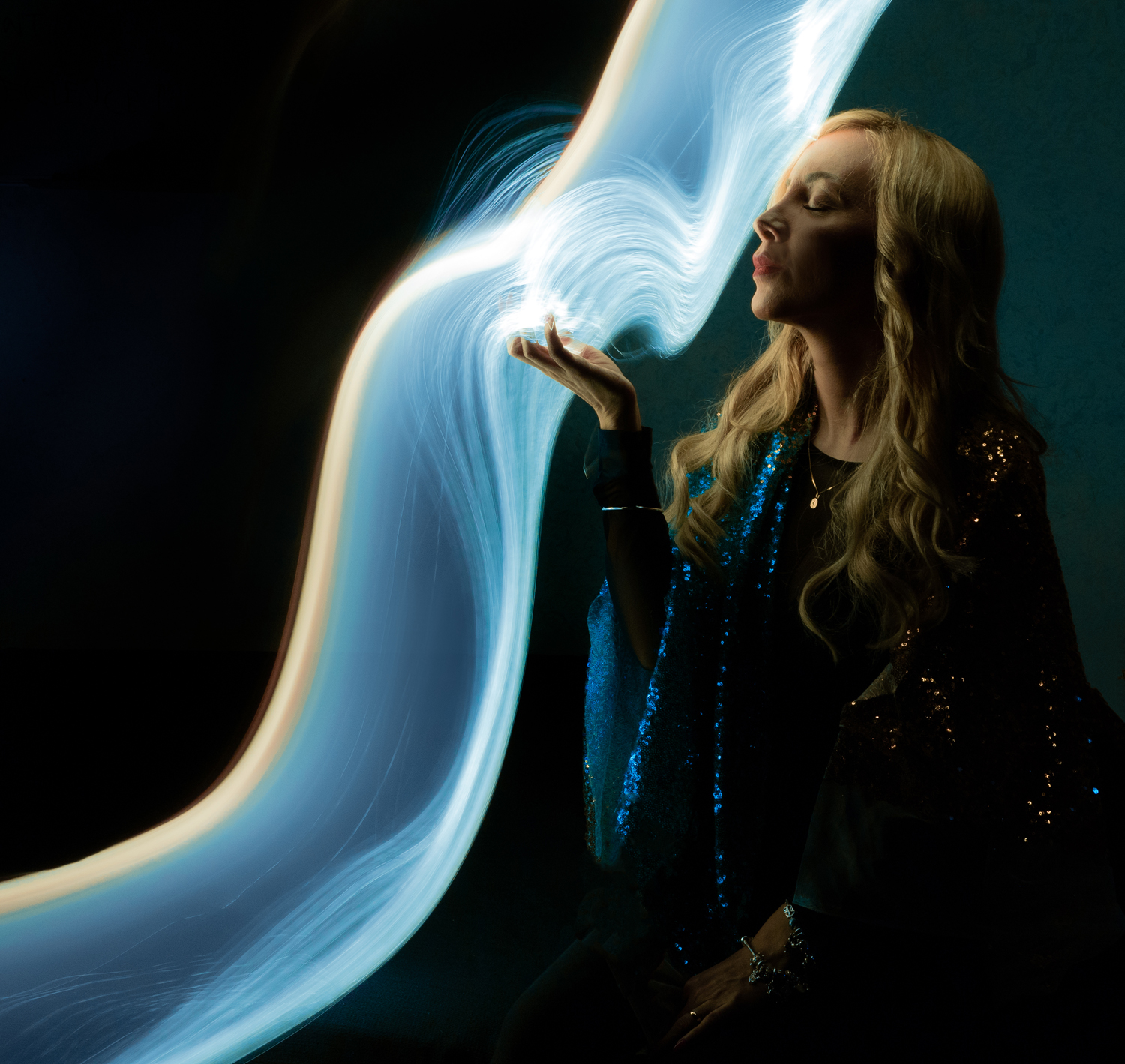 I looked around the house for some torches, but I found only a small white LED with which I began to experiment. The first time I did Light Painting I remained closed for three hours in my room in the dark, I could not believe that I could make what I imagined visible. To see a luminous trail come to life with a simple "stroke of light" was something truly magical.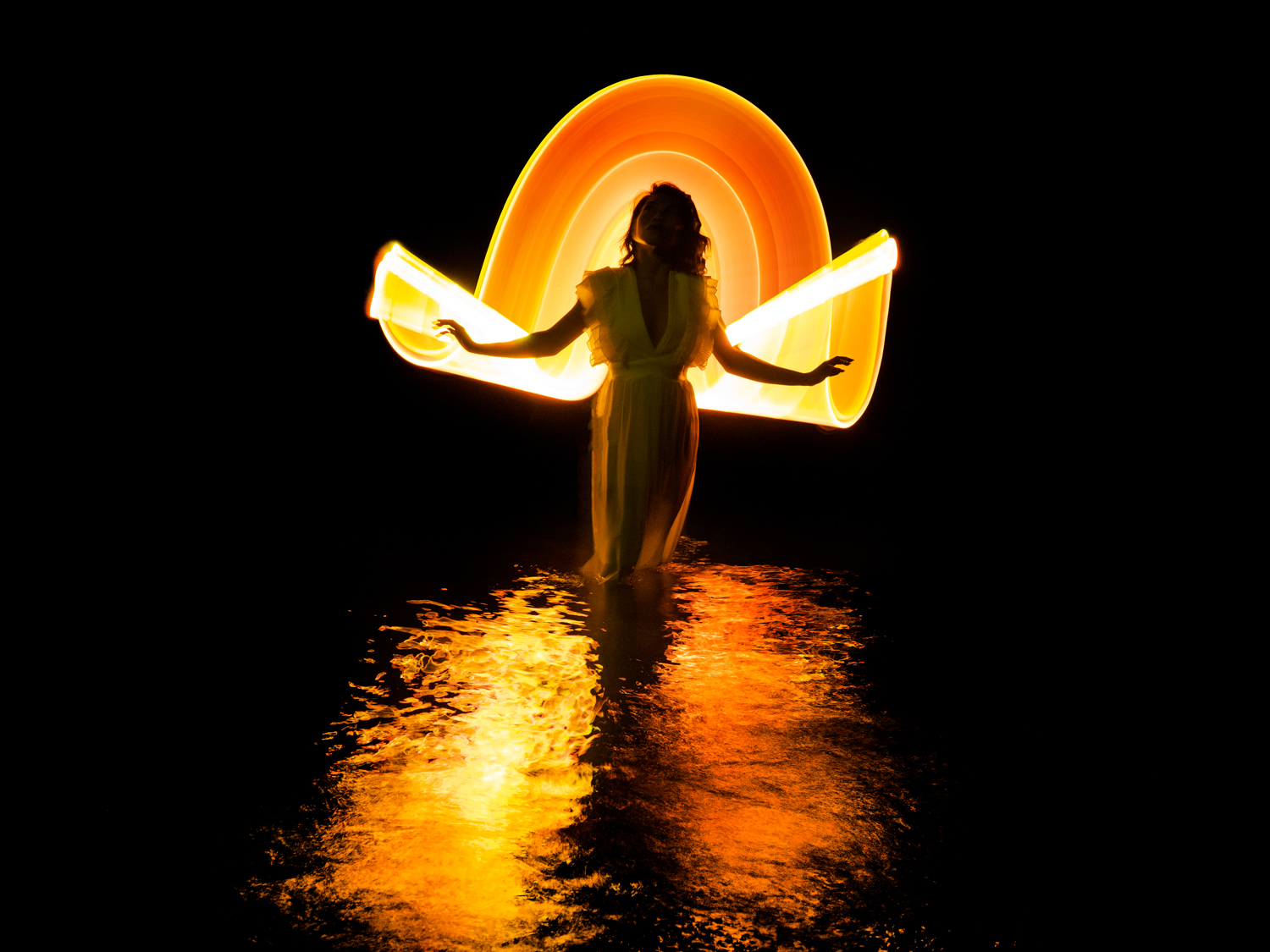 So I decided to tell a fantastic story that told the adventure of a little man called "LightMan". The protagonist of my story, just like me, had to face obstacles with tenacity and stubbornness to reach his goal and find his inner "light". When I told the story during the exam, everyone was amazed by the technique! From that moment I realized that if I had managed to tell that story so effectively, I could tell anything with light.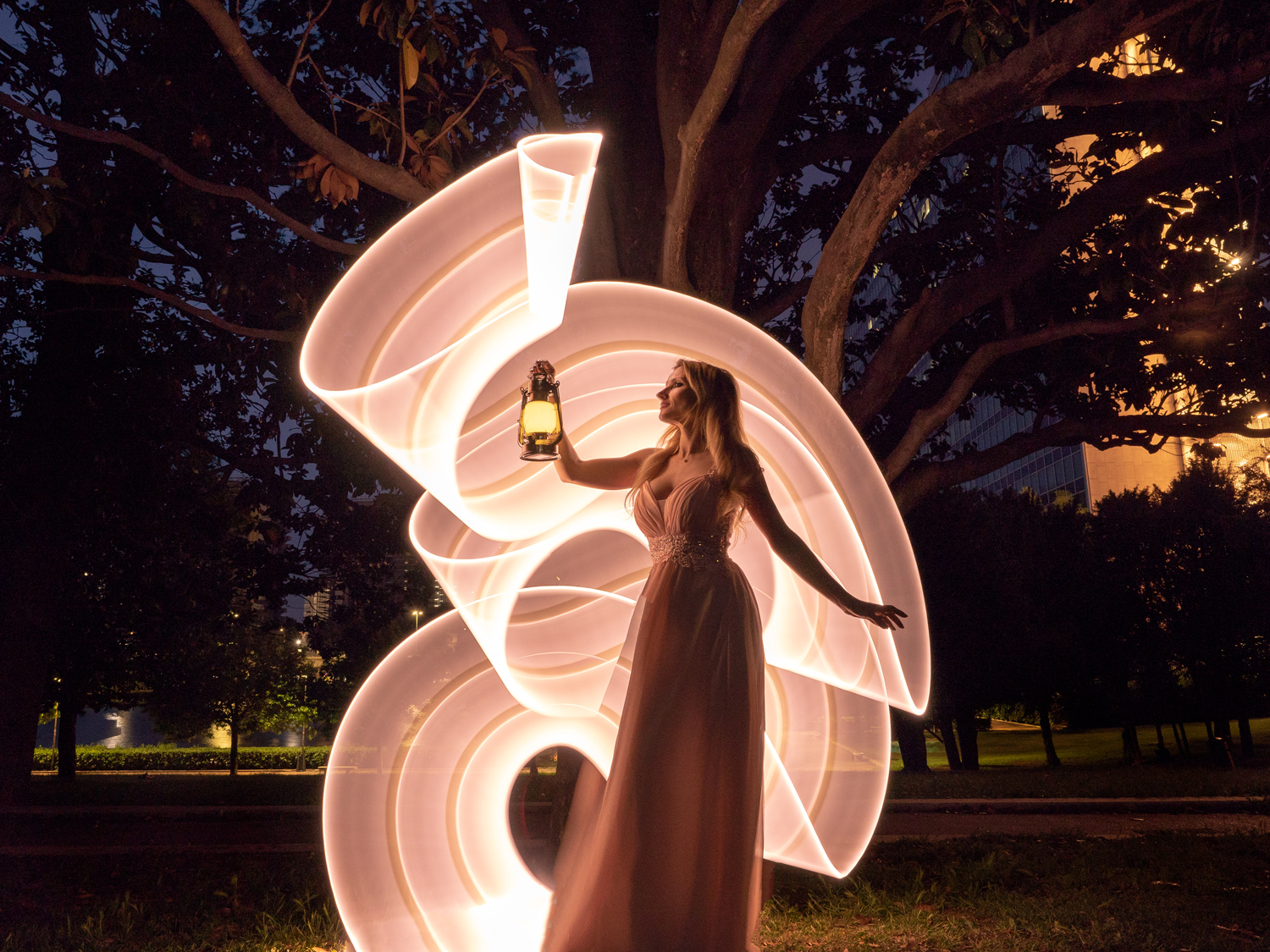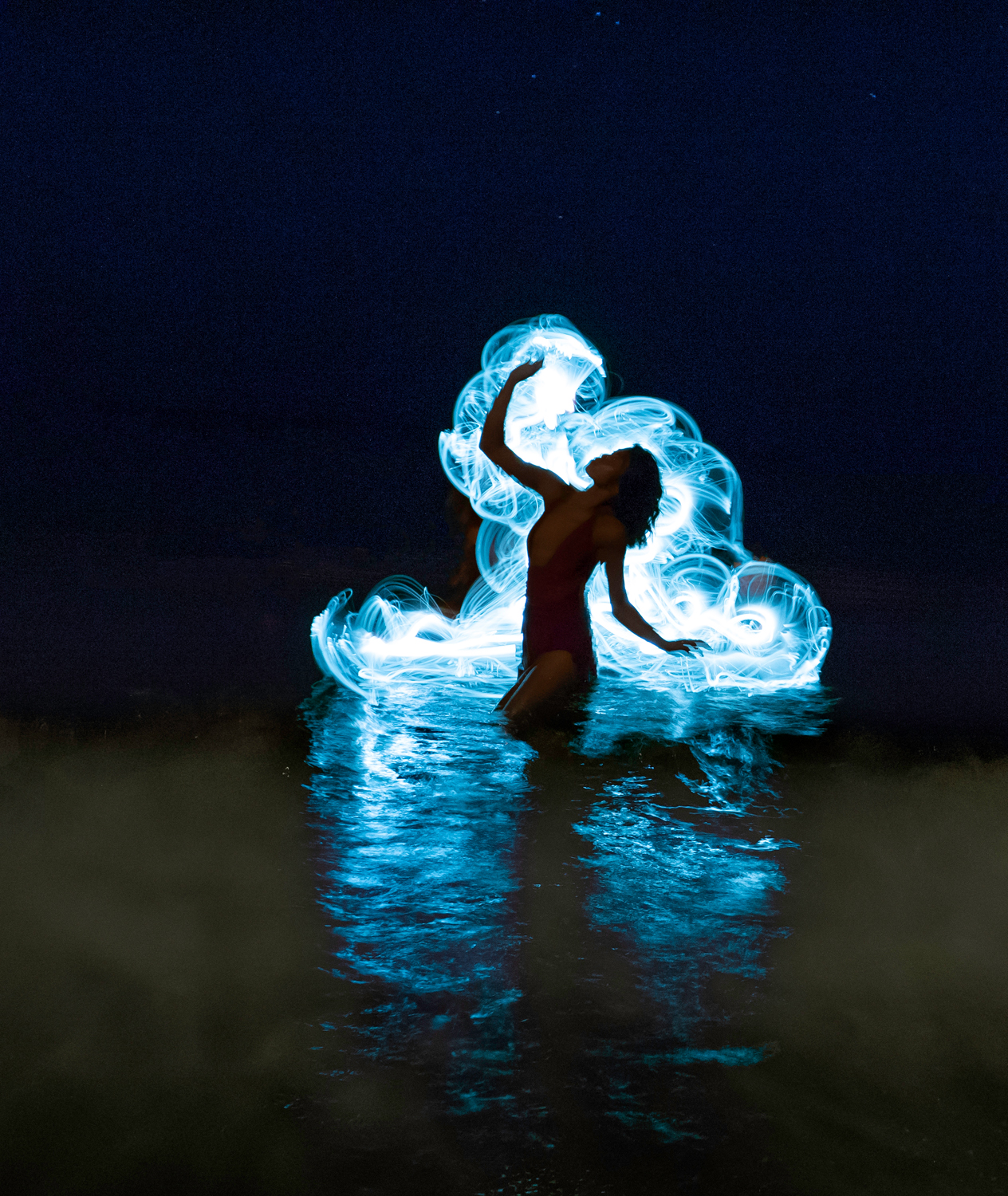 At first I couldn't afford professional equipment because I didn't have enough money, so I used my entry level camera, a cheap tripod and some lights bought online. It had become an obsession: I bought new lights and experimented with their effects every day in my room!
Light Painting requires a lot of practice, experimentation and, above all, imagination, with which it is possible to create a new reality, made of light.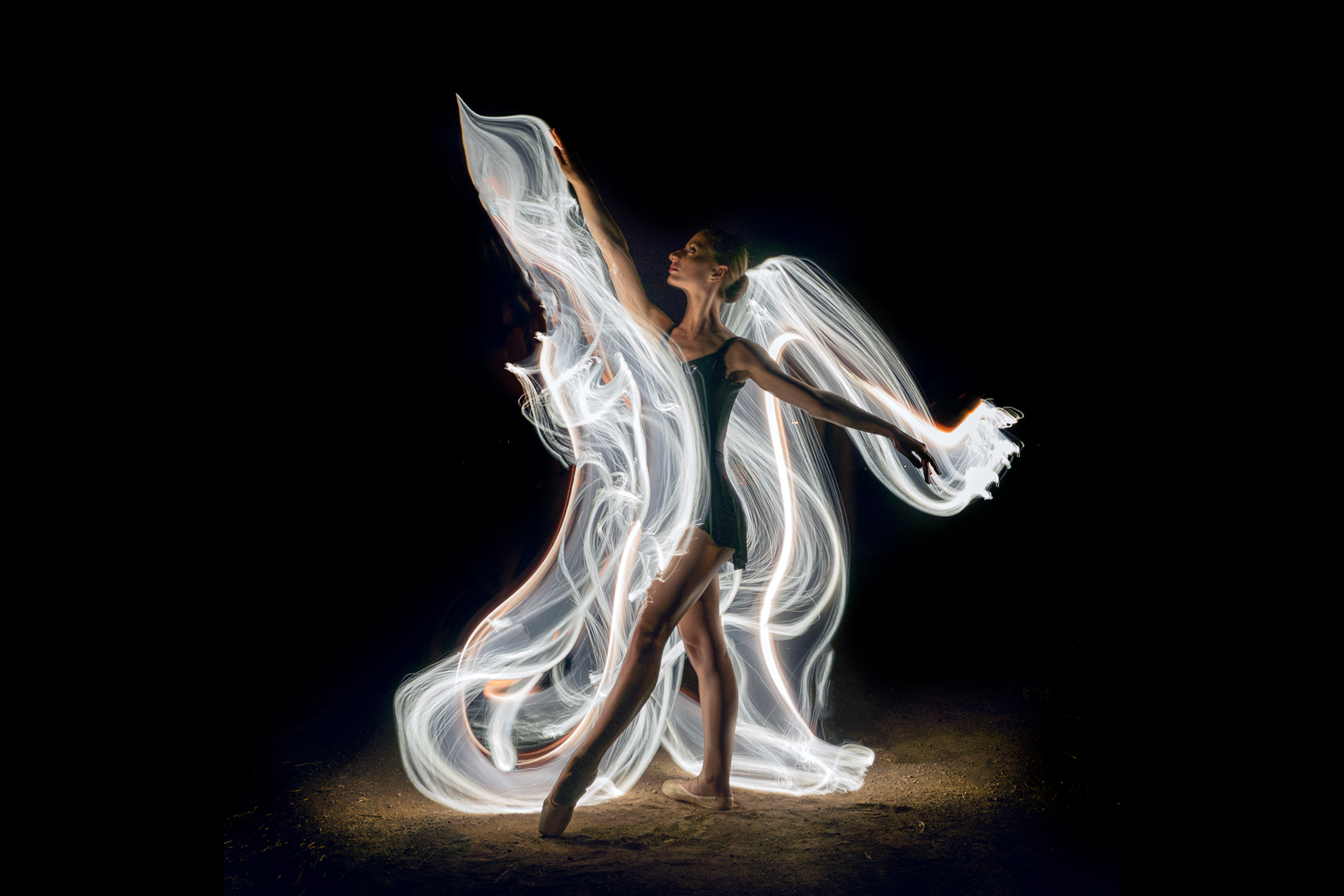 With time, what for me was a simple passion, turned into something more. I discovered that there were professional tools for light painting called "Light Painting Brushes". There were all kinds of tools, from optical fibers to luminous swords of different colors. So I decided to start my professional career and to do this I had to use professional tools, through which I could evolve my technique.
After many sacrifices and experimentation, one day, the founder of an organization of international artists specialized in the Light Painting technique called "Light Painting World Alliance", contacted me asking me to be a part of it. This helped me a lot in my professional growth and led me to confront myself with other artists, refining my technique more and more.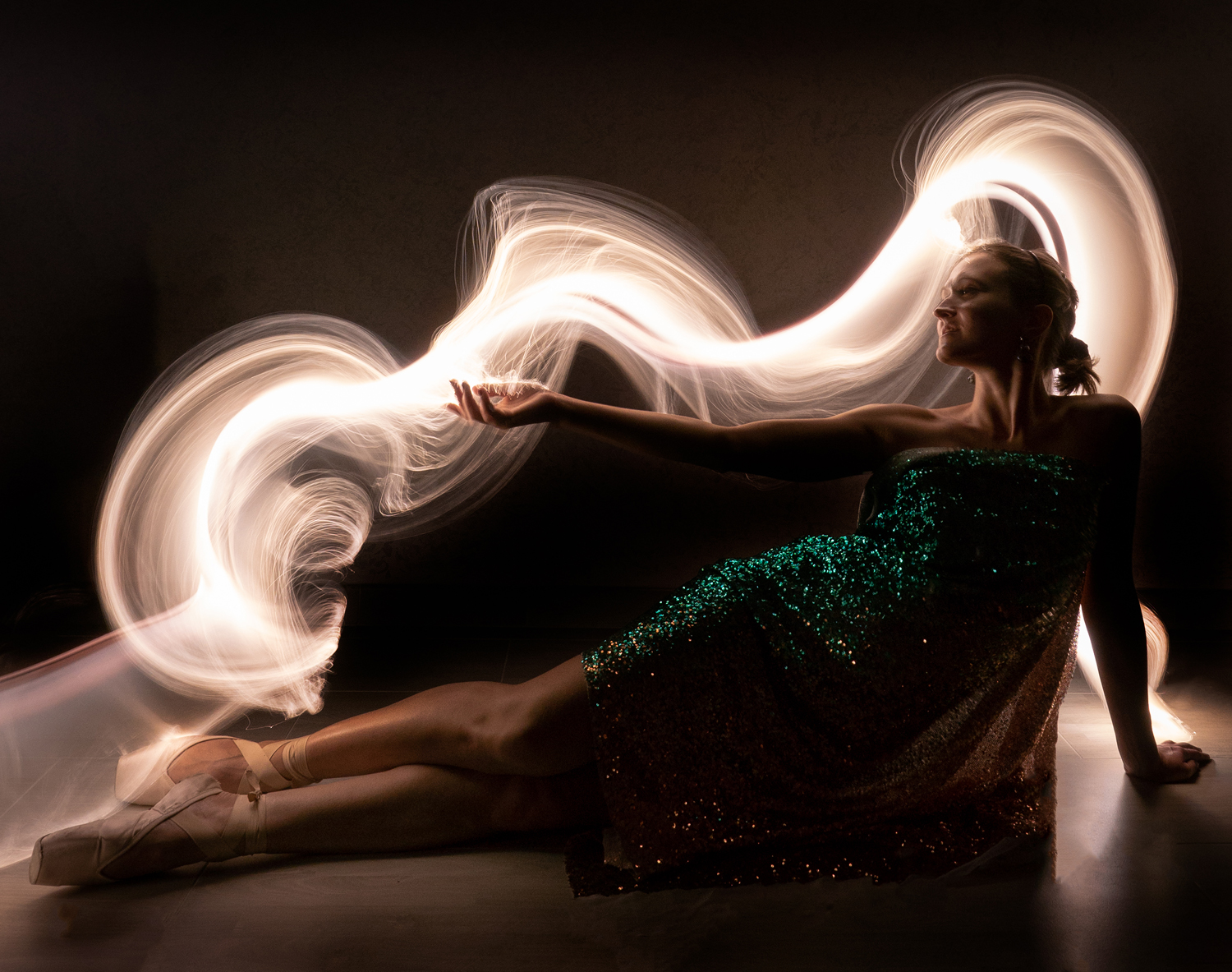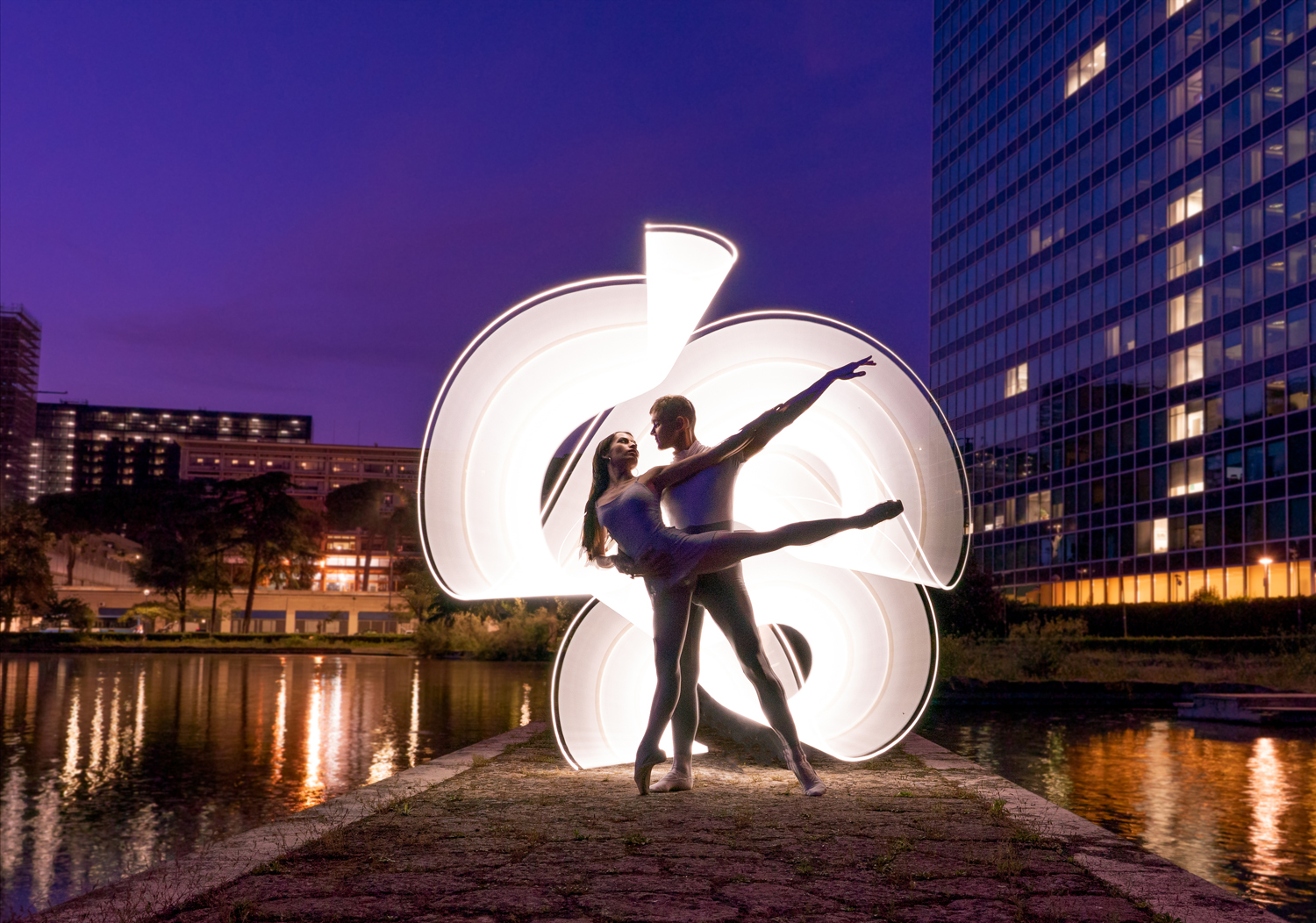 In 2017 with the organization we decided to organize the first meetup in Rome and decided that I should be a supervisor. After so much effort and months of preparation, we have created one of the most important events in the field of Light Painting, in which more than 40 artists from all over the world participated.
Together we have created unique light painting works! It was on that occasion that I discovered the "Olympus" cameras, because we used some Olympus OMDs with the "live composite" mode to create complex works thanks to remote use through the app and the possibility of seeing the shot in real time. I was so fascinated by this mode that when I returned from my trip I decided to buy one right away!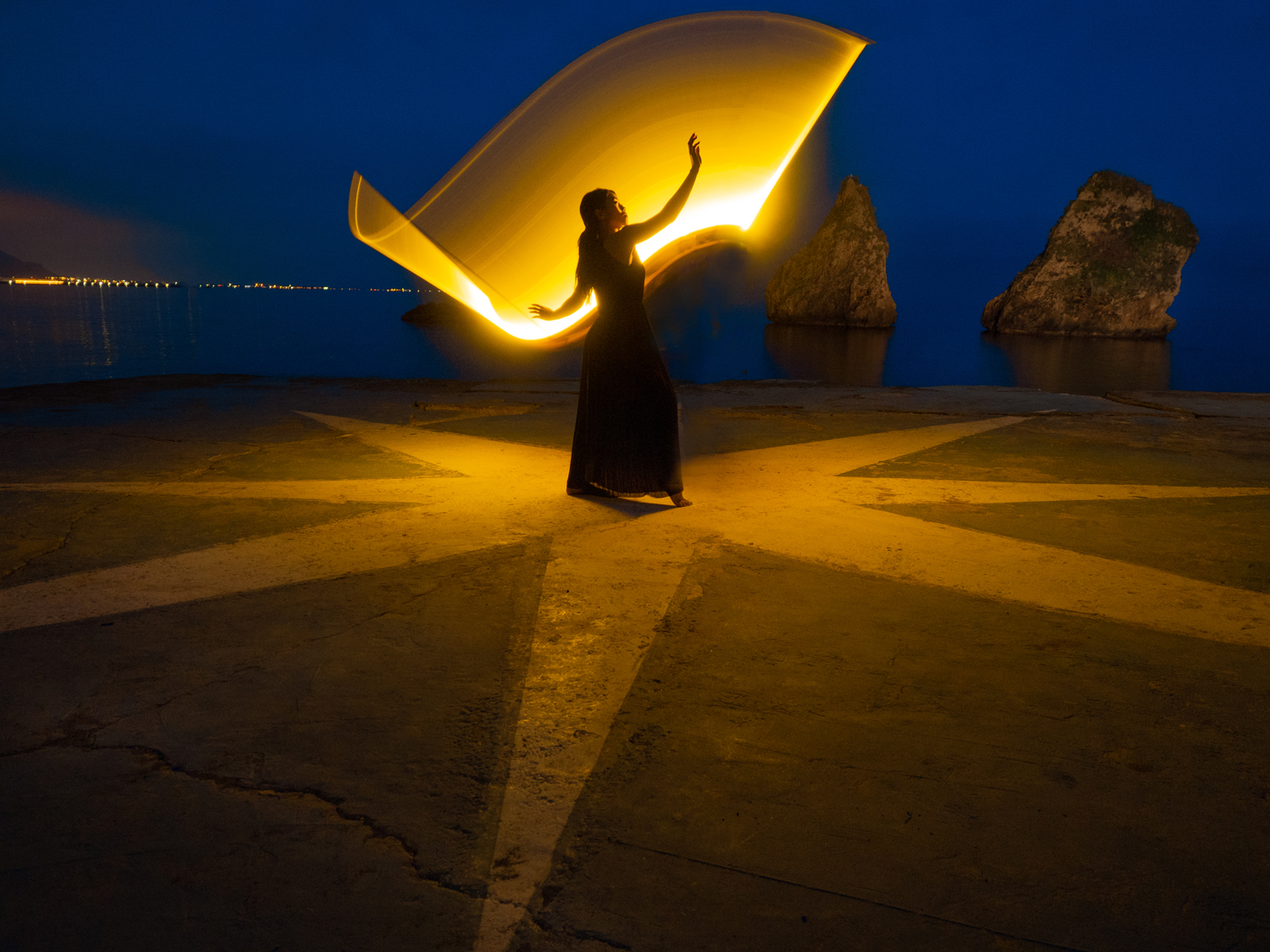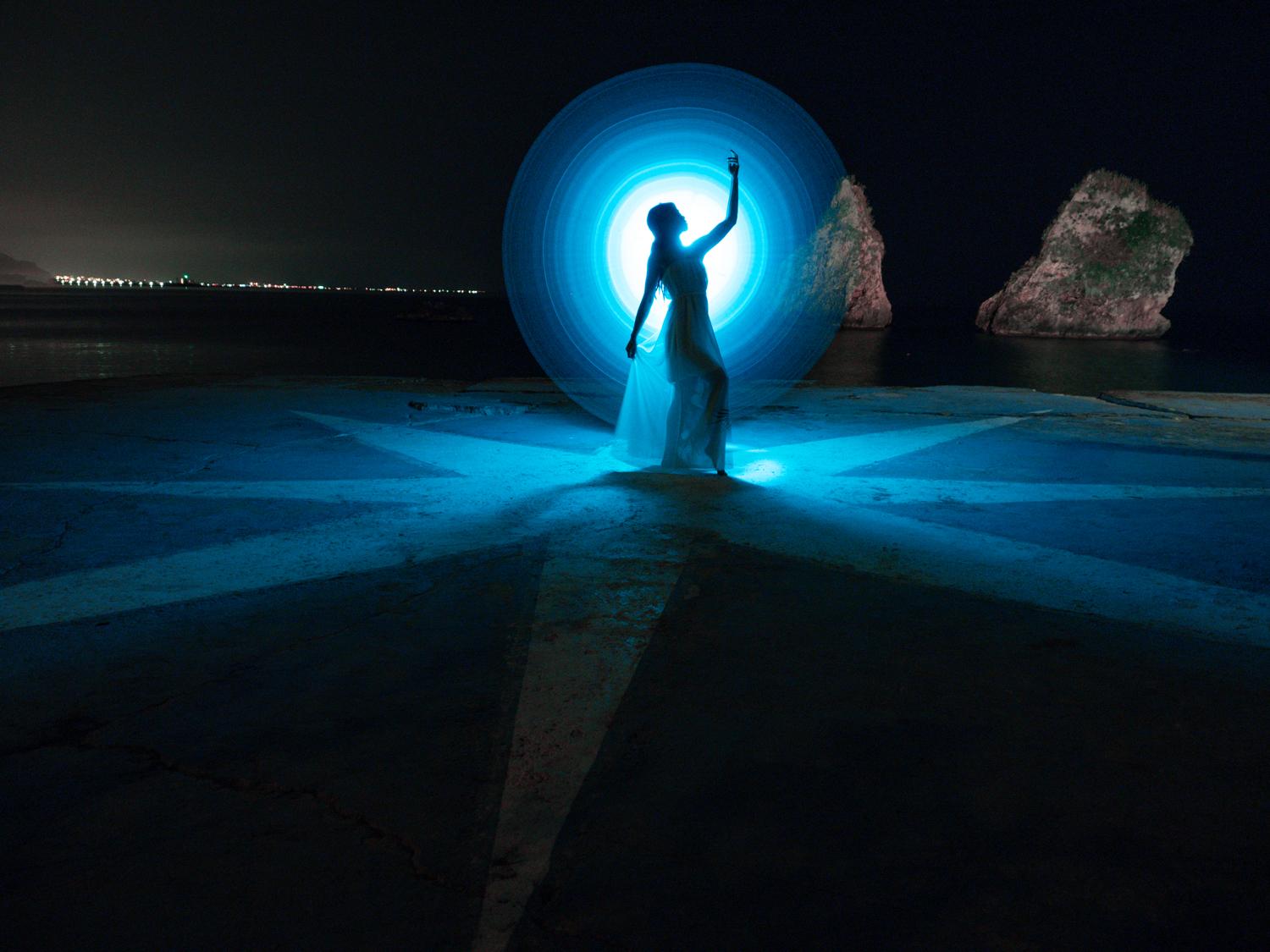 I realized that this technique had to become my job and I needed the best equipment to do it. I bought an O-EMD 10 Mark II which I immediately loved for its versatility and lightness without sacrificing image quality.
Thanks to the new camera, I could finally see what I was painting on the screen in real time, and all this thanks to the Olympus live composite mode. This mode also allows you to capture only the background and add light variations later! This is surprising to not get overexposed images. I also started using the WiFi OI.Share app to remotely control the exposure and see the final shot in real time. It was a real revolution for me and for my light painting works!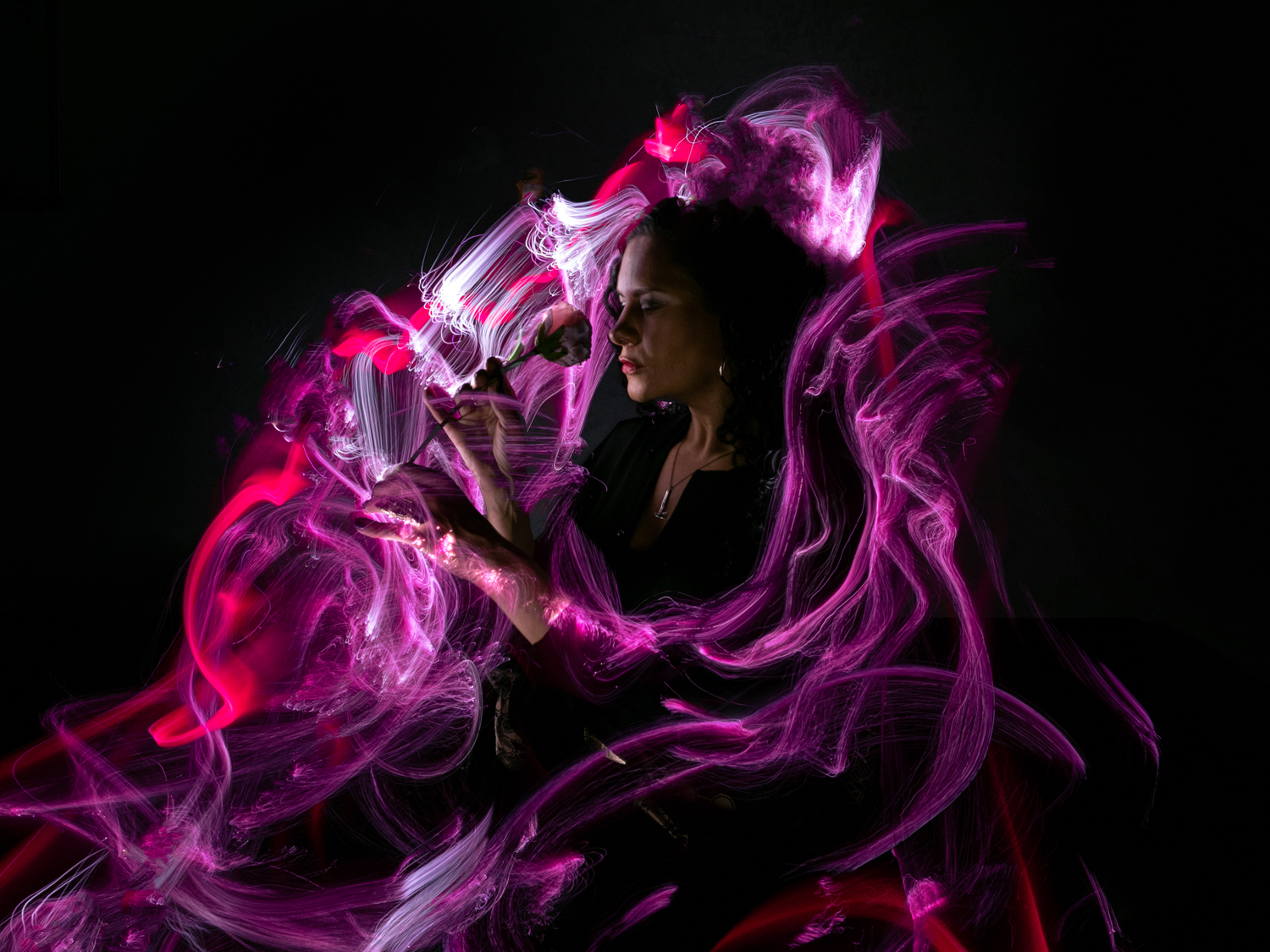 Now I use an EM5 Mark II with pro lenses, my favorite is the 12-40 2.8 pro. When I paint with light, I mainly use the "Oi.share" app on my smartphone or Olympus Capture in the studio on my PC. This benefits me a lot and it is much faster for me to do Light Painting shots.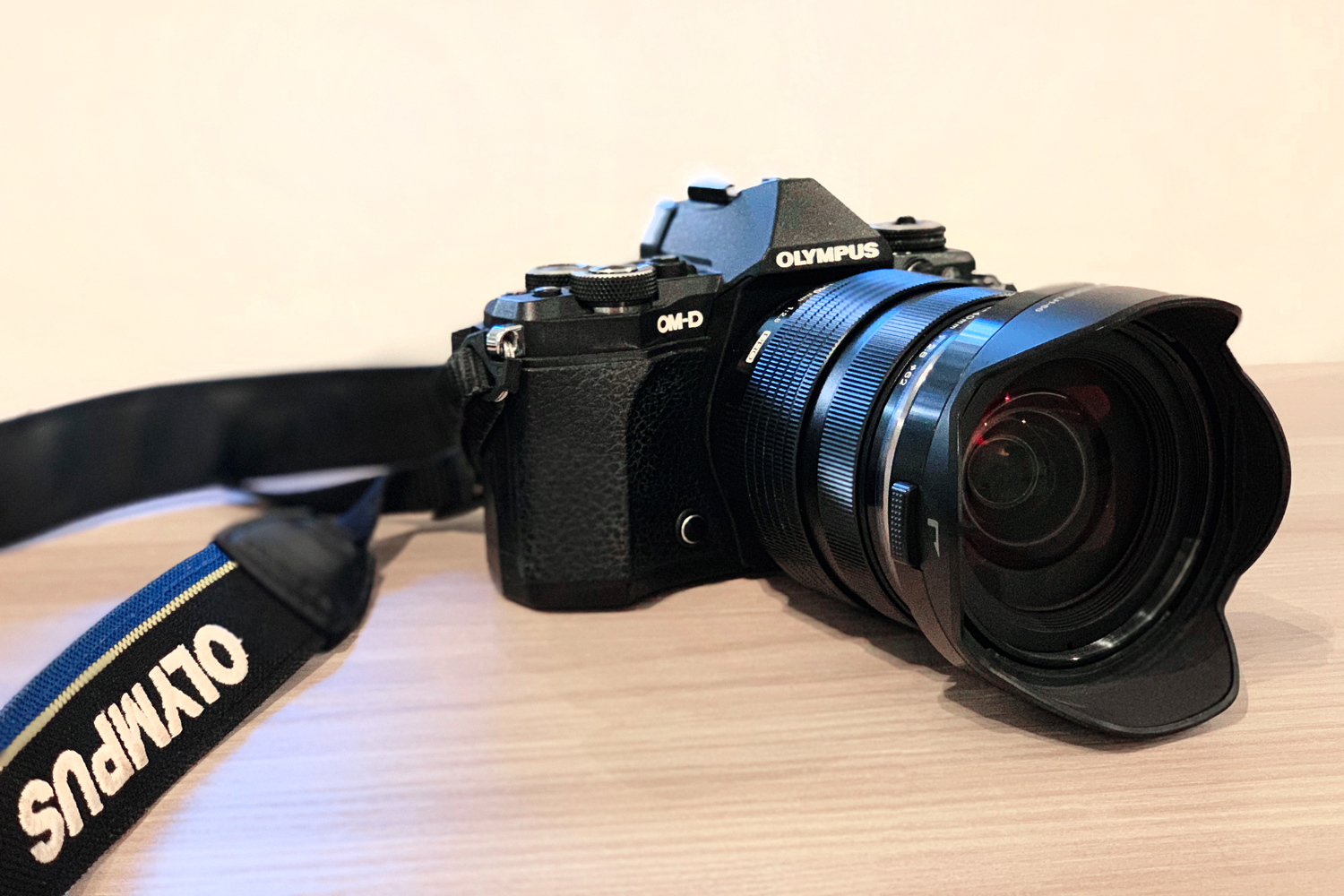 Unlike what you might think, light painting images do not require post production. The skill of the artist lies in creating a good image during the long exposure and not in post production. I process my raw files using Adobe Lightroom, where I work on basic adjustments like white balance, exposure, contrast.. and then Adobe Photoshop for details.
Light painting requires a lot of creativity, because in a single shot you can create unique and magical effects that even Photoshop cannot recreate. It is absolutely magical because it's all from your imagination, you have to pre-visualize everything on your mind. "You can make the invisible visible" just with your imagination.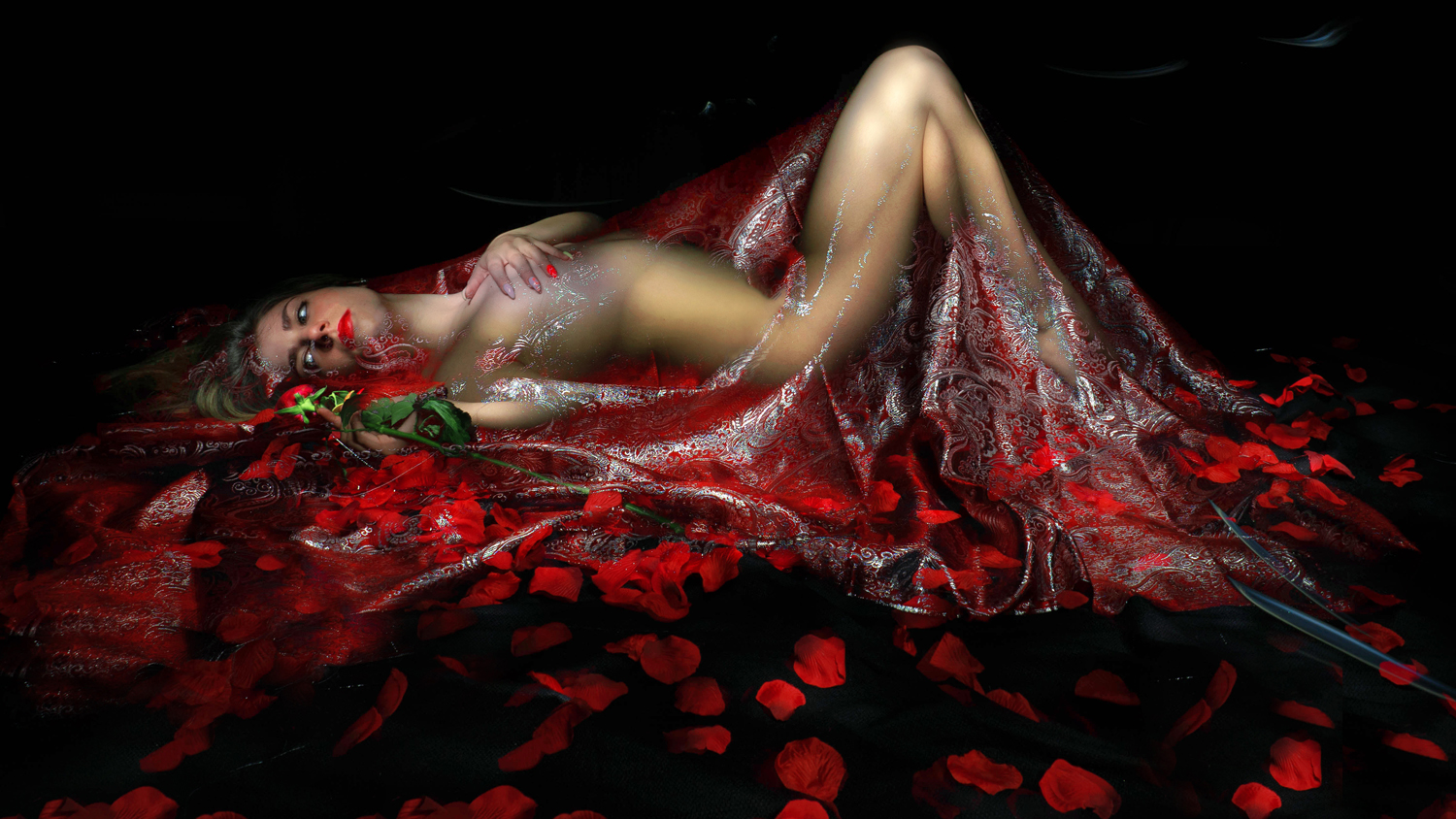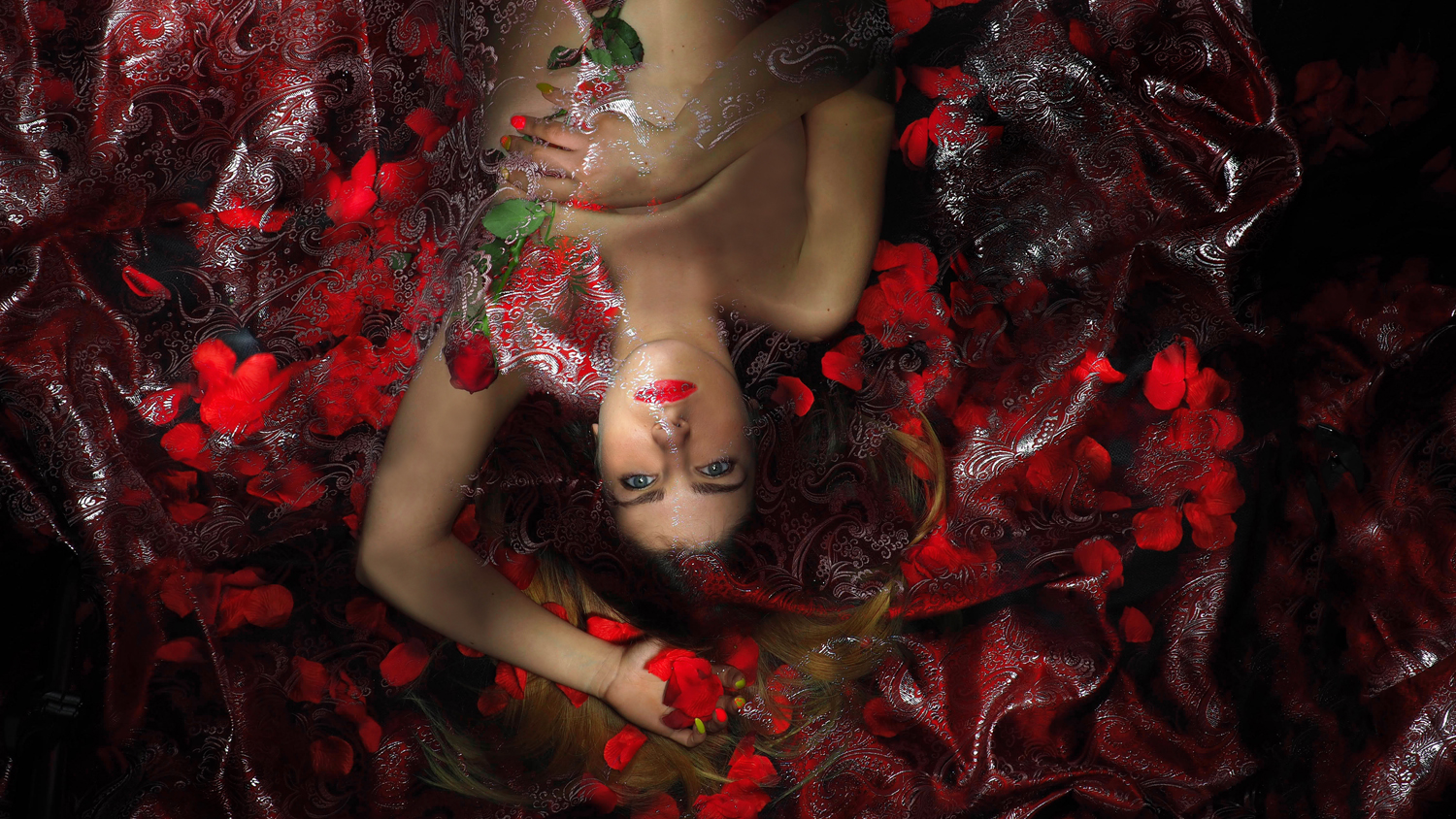 Currently I live in Rome where I work as a freelance photographer and professional Light Painter for Italian and international brands.
In the coming works I will work on several projects, including a workshop in Milan to be held on September 28th and in Berlin on October 5th during the international Light Up Berlin event (lightupberlin.com), which will see the participation of numerous international artists with workshops, photo booths and other events dedicated to the world of light painting. An event not to be missed!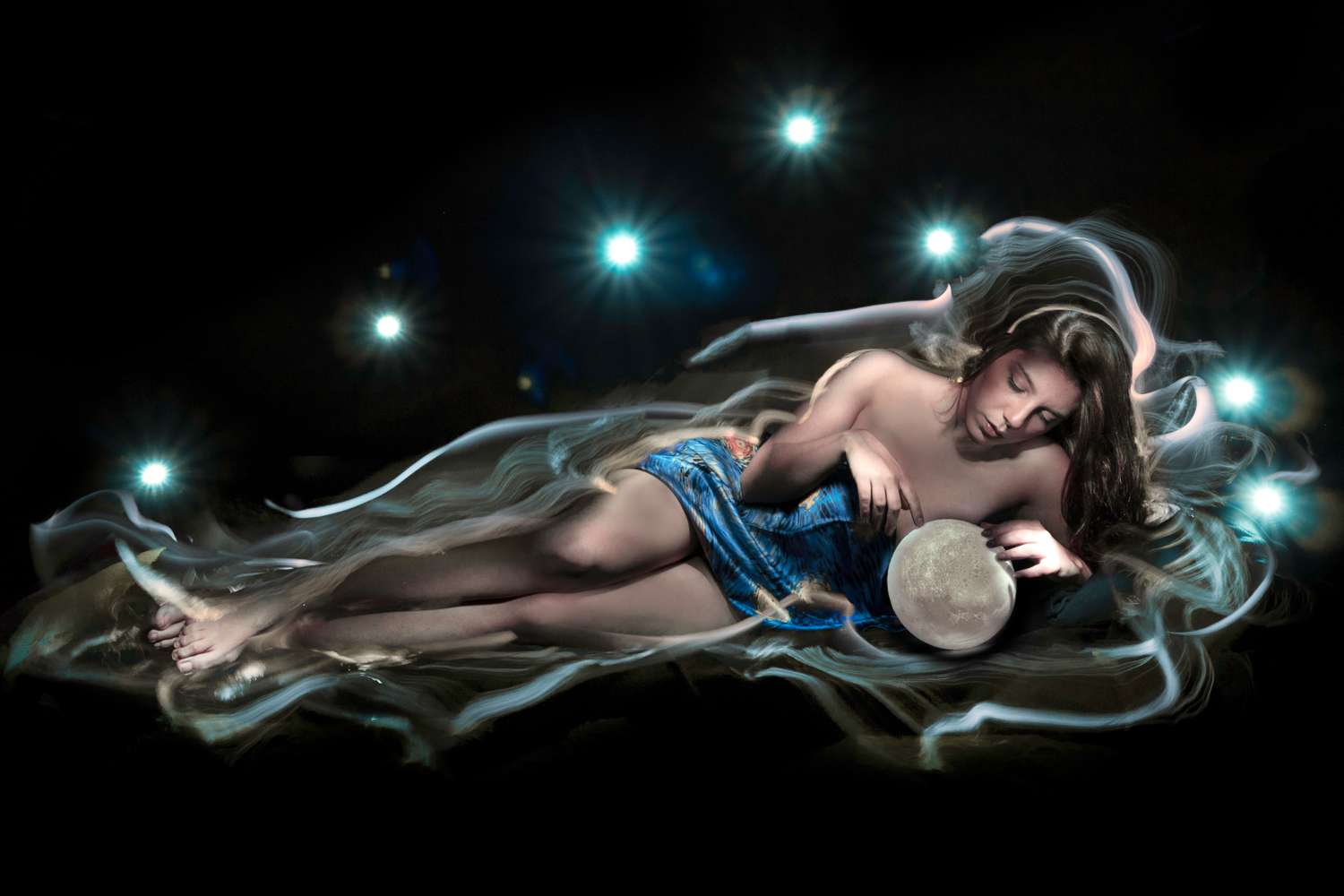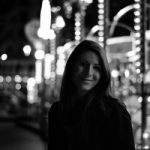 Professional Fine Art Photographer and Light Painter based in Rome (Italy) graduated at the Academy of Fine Arts in Naples. With her photography she describes her art and her way to express herself and reality, giving them a new perspective. With her photographs she explores the world and goes beyond the appearance. The darkness is the canvas and the light is her paintbrush. She began creating her light painting work in 2012 and since then she has developed a style that is instantly recognizable as her own. Since 2014 she is Brand Ambassador for Light Painting Brushes.