Printed magazine – Issue 6
Spring is here, and we are already considering vacation time, just over a month away. To make us forget the hard days of work, the moment comes when we can dedicate ourselves a little more to what we love to do: taking pictures. Where are we going to travel? What equipment will go inside the camera bag? We've also created a playlist on Spotify with the best songs that will accompany us on our adventures, and we've already chosen some eBooks and photography magazines to enjoy in those moments just for our own.
To accompany you on your vacation or to start getting inspired immediately, we are launching the new issue, no. 6, of the Olympus Passion print magazine. You will find over 130 pages with good stories, interviews and spectacular photographs inside this new issue. Each edition is synonymous with guaranteed hours of good reading.
This magazine is produced on print-on-demand and shipped from the US or UK, so you may need to pay customs duties if you are an EU customer. Please take this as an important note when purchasing your magazine.
Pages: 140 | Size: 17 x 24.4 cm (approx. 6.7 x 9.6 in) | FREE Shipping Worldwide
All customs costs are supported by the client
Sample pages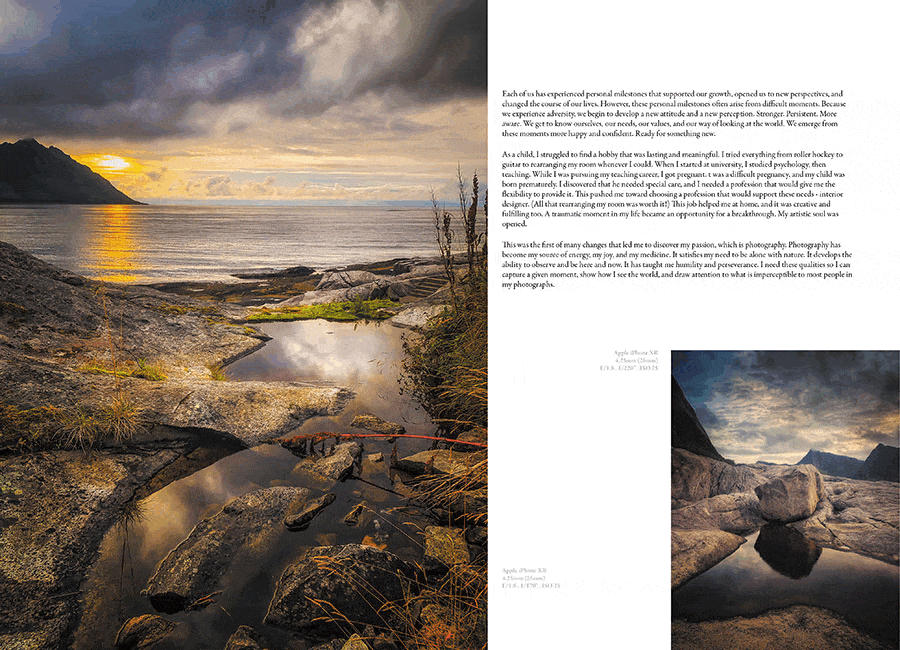 What you will find inside:
Anna M. Dziedzic
Don't be afraid to stumble, but choose your stones carefully
Ersun Bayraktaroglu
Photography as a perfect retirement companion
Barbara Bek
A dream come true
Jason Duarttee
Therapy in a backpack
Franz Rabe
"Enjoy what you do"
Peter Baumgarten
"Magic is in the light. Give me great light and almost any scene can come alive"
Sekeyi Klopsch
"Deep Sensation", my drive to explore and create
Vasilis Pasiourtides
Listening to nature is more important than the photograph itself
Zsuzsanna Rohmann
Photos around the world with Mark (II)
* All customs costs are supported by the client
* Please allow 3 to 7 business days for processing prior to shipping
* PO Boxes are not allowed.
* Delivery times vary by destination
* This magazine is produced on a print-on-demand basis, that is, each issue is made individually. For this reason, there may be minor print defects, so we will replace the copy if these appear in a large number and clearly disturb the reading of the text or do little to dignify the author's work. Our services will evaluate each case.