Printed magazine – Issue 4
We can't deny it, we love making each page of these printed magazines. Once they start taking shape on the computer, we know that each page, story, and photograph, will end up in the real world, in our hands, in the hands of each of our readers.
In this new issue, we gathered nine more fantastic photographers who tell us about their adventures, show us some of their inspiring images, and their love for the Olympus cameras.
We invite you to dive into this new magazine, where you can contemplate each one of the 140 pages while you listen to good and relaxing music…
This magazine is produced on print-on-demand and shipped from the US or UK, so you may need to pay customs duties if you are an EU customer. Please take this as an important note when purchasing your magazine.
Pages: 140 | Size: 17 x 24.4 cm (approx. 6.7 x 9.6 in) | FREE Shipping Worldwide
All customs costs are supported by the client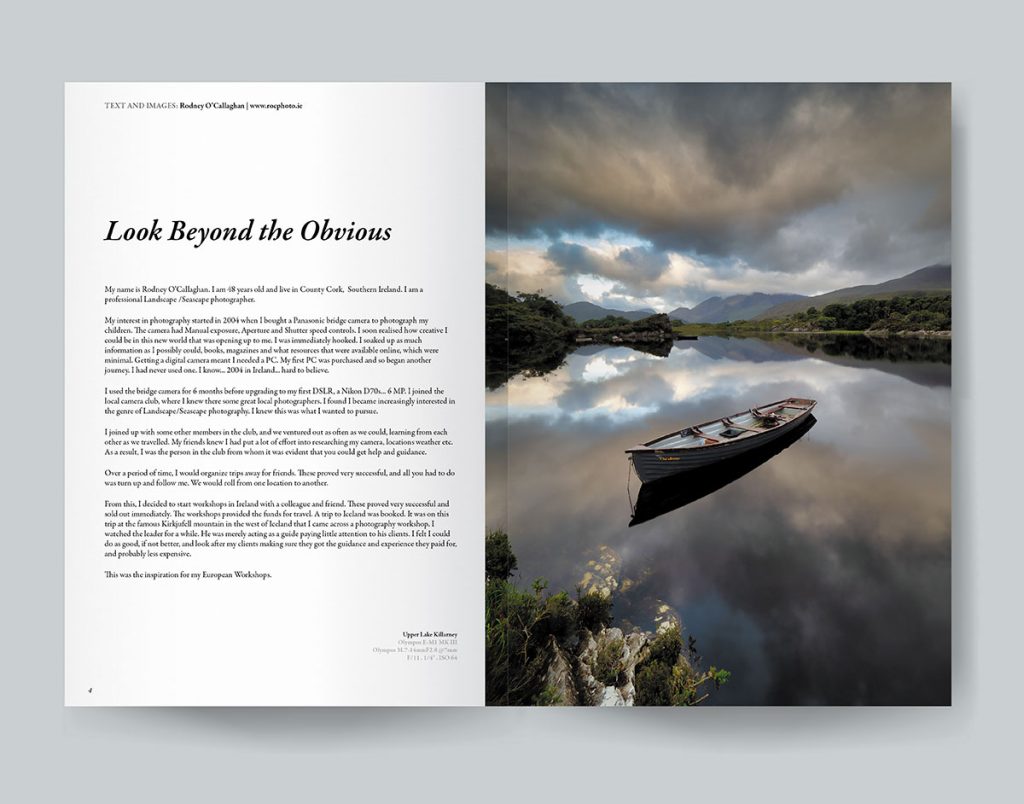 What you will find inside:
Rodney O'Callaghan
Look Beyond the Obvious
Benjamin Wolf
My way of taking pictures
Chris McGinnis
It's the Little Things
Henk Goossens
Go out very early or rather late and enjoy what you are doing
Christian Burling
Blank on a Map – The search for Splendid Isolation
Drew Whitley
Moments in time
Mia Battaglia
Happy Light
Nick Mason
Finding My Way Back Home
Olivier Costier
Keeping photography fun and enjoyable
* All customs costs are supported by the client
* Please allow 3 to 7 business days for processing prior to shipping
* PO Boxes are not allowed.
* Delivery times vary by destination
* This magazine is produced on a print-on-demand basis, that is, each issue is made individually. For this reason, there may be minor print defects, so we will replace the copy if these appear in a large number and clearly disturb the reading of the text or do little to dignify the author's work. Our services will evaluate each case.