Using the E-M1 Mark II and the Holy Trinity of M.Zuiko PRO lenses for Wedding Photography
Hi, my name is Boris Štuller, I am 32 years old, and I am based in Havířov, Czech Republic. I work at Siemens as an expert focusing on digitization and automation of accounting processes in most cases. Apart from my love for photography, I do all kinds of sports such as jogging, hiking, paddle boarding on the lake, working out, or boxing, to name just a few.
How it all started with me and photography? It actually started when I was a child, and my grandfather was a professional photographer and also a teacher of analogue (film) photography at a private school in Ostrava. At that time, I was a little kid and had no interest in photography. But it had changed. I once went to summer camp in Croatia, Novigrad, when I was 10.
My grandpa gave me a film camera (I cannot remember the brand exactly, but it might be Canon), so I started to take pictures of the camp, seaside and the kids the whole week. When I came back from the vacation, we had the photos processed, and my grandpa reviewed them all. He liked some of them a lot and said I had a decent talent. I felt so happy and blessed.
So I started to take more and more pictures. However, the moment that changed my life was when my grandpa suddenly died when I was 18, and I was about to go to University. I wanted to follow his footsteps and honour him, so I got my first DSLR, a Nikon D3000 with the 18-55mm kit lens. This was the game-changer for me.
I began to love photography so much that I was taking the camera everywhere with me, even when I was walking outside with my dog in the woods. But to be honest, I did not have any professional ambitions at that time. I just loved it as I love it now!
But everything changed three years ago when a longtime friend of mine asked me to photograph her wedding. I was really surprised because I was still devoting my time to photography only as a hobby. I did not have any portfolio at all, just some random pictures on my social profiles. I was reluctant to accept her offer because I knew it is one of the hardest genres one it comes to photography.
But, she said she did not mind and that she liked my pictures. And as I am a "Yes" man, I jumped straight into this and photographed the first wedding in 2019. Wow, I still have goosebumps when I recall this. The photos came out quite well, I thought it could have been worse, but it turned out it was not that bad at all! They were pleased with the pictures, so was I.
The editing part was a different story, though. Two edited pictures from the same location looked different, and I did not mind I proceeded like that. I must laugh now. Nowadays, I love it when the pictures are edited in the same manner, not necessarily the same, but the consistency must be there. I am really punctual about that.
Since then, I say: I have been lovingly doing the photography part-time 😊. I am really grateful for the first offers as they helped me to start my career. I mostly focus on wedding and portrait photography because I can see people having different emotions, and I love capturing them!
Now, I use Olympus gear exclusively for all those kinds of photos. I was actually a Nikon guy until 2016, but I sold my Nikon D7000 thinking my iPhone 7 did better pictures and was much lighter and more compact. But after some months, I started to miss the camera, the control dials and everything, but not the weight of the DSLR, of course 😊. I felt like I lost a part of myself.
So I was looking around to purchase a new camera that could be light and sleek, so I went for the Olympus OM-D E-M10 Mark II (which I still own, by the way – what a perfect small camera). With this camera, I photographed the first wedding, and I could not believe my eyes that such a small and compact camera could do the job. At that time, I did not have any pro lens purchased, only the M.Zuiko 14-150mm f/4-5.6 II and Panasonic 25mm f/1.7.
Nowadays, I use the Olympus PRO lenses only because they match my two OM-D E-M1 Mark II bodies. And yes, I do not use zooms at all, I zoom with my feet. I have the so-called holy trinity (17mm F1.2 / 25mm F1.2 / 45mm F1.2) and use this for everything. The advantage of having these lenses is the wide aperture, so I can shoot in low-light conditions.
They also help me to separate the background better. I think I do not have to mention the sharpness of these lenses, I am shooting at f/1.2 in 99% of situations, and I go up with the aperture only when I shoot group photos at weddings. What I also need to mention is that all of them are dustproof, freezeproof and waterproof, so I no longer need to cover my cameras and lenses if there is rain coming. Wonderful!
As you might have noticed from my photos, I prefer shooting in the natural environment, and I love to work with the light as it is. I use external flashes only at weddings in really low-light conditions, such as the first dance taking place inside. I do not mind going up with ISO up to 2.000.
I rather go for emotions and the actual present moment. I find it interesting rather than chasing up the technical quality only. I have never had any complaints about it. To be honest, I do add some grain on all of my pictures – not too much, but I love the film look.
Up to recently, I thought there were some major disadvantages to the Olympus M43 camera system. Sometimes, I blamed the sensor for photos I took and thought: "Damn, it could have looked better with a Sony or Fuji mirrorless camera", but I was so wrong. I once tried Fuji which had excellent colours in Jpeg.
However, converting the RAW file to my PC, I expected much more, and suddenly I realised how little difference there was and gotta say I am happy with Olympus. Of course, the low-light performance or dynamic range is not amongst the best, but the lenses produced by Olympus, especially the f/1.2's, are just amazing!
Now, I try to focus much more on light or the environment around me. I love taking pictures of people/models with a ray of sunshine in their back. These moody pictures are simply amazing, considering you shoot in some natural environment such as mountains.
The benefits of Olympus are obvious – really nice looking and small cameras, seeing exposure immediately is a big plus and the burst-mode (up to 60 frames/second) wow, what do I need more? I know, I need to get better at photography in general!
How do I process my photos? This may sound silly, but I use Lightroom only (both LR Classic and Lightroom). I have Photoshop installed, too, but I stopped retouching the pictures. This is my philosophy. I capture the moments as they were and do not want to intervene in them! I process each photo individually, but with the presets I already have/created.
But I never paste one preset to hundreds of pictures. I go one by one, it takes more time, but I need to change the exposure, contrast etc. for each picture individually. As I have recently explored the simplicity of editing the photos using Lightroom on the iPad, I even speed up the editing process.
I only import the photos to my PC and select the best ones and synchronize them via Lightroom to all my devices. I make a coffee, sit down on a couch, open my iPad and start editing – easy and addictive!
And why do I love wedding photography? Every wedding is different, and you get to know many new people, and you feel like a family member. And you socialize with people and laugh! I remember once, at the end of the day at a wedding, I took the final pictures of the bride and groom lighting up the sparklers. When he lifted the bride, his pants tore off completely! All the wedding guest could laugh forever!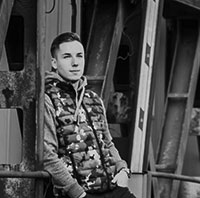 "My name is Boris Štuller, I am 32 years old, and I am based in Havířov, Czech Republic. I work at Siemens as an expert focusing on digitization and automation of accounting processes in most cases. Apart from my love for photography, I do all kinds of sports such as jogging, hiking, paddle boarding on the lake, working out, or boxing, to name just a few. "