The art of capturing people through a lens
My name is Michal. I am a portrait photographer based in Cracow, Poland. Photography is my passion and a way to show my perception of the world and people. In my work, I am focused on showing peoples' emotions and stories, which is why my photos are in black and white. Ted Grant once said that photographing people in color shows their clothes, while photographing them in black and white shows their soul, and I fully agree with that.
In my photography bag, you will find the Olympus OM-D E-M1 Mark II as my main camera body, and the OM-D E-M10 Mark II as a backup/travel body. I also own three lenses, the Sigma 56mm F1.4 DC DN Contemporary, the Panasonic Lumix G 25mm F1.7 and the M.Zuiko 12-50mm F3.5-6.3.
I chose Olympus because of its compact size and a light weight. For my type of work, when I can control the light and conditions, I don't need super high ISO capability or high megapixel count. The E-M1 II is the best choice for me, because it is incredibly fast, the autofocus is always accurate, and a 20 Mpix sensor fits all my needs.
The E-M10 II, which was my first camera, has been with me for almost 4 years, from the beginning of my photography journey. It was great at first, but with time, it started lacking some features like higher resolution, better AF or better ergonomics, which offers the E-M1 II.
When it comes to lenses, my all-time favourite is the Sigma 56mm F1.4 DC DN Contemporary. For me, this is the best portrait lens available for micro four-thirds systems. It's small and lightweight, which makes it easy to fit in your camera bag. Built quality is also top-notch. It's made out of metal, and the focus ring is rubberised.
It uses a "Focus by wire" mechanism, so the lens doesn't move the front element while focusing. Autofocus is fast and accurate, and I haven't experienced any missed shots or any hunting during my 2 years of using this lens. I can only recommend it to all MFT users.
When I started taking pictures in 2015, all I had was my mobile phone. I was photographing almost everything I ran into on the street, trying to make those images look artistic. It has been almost 2 years since I got a real camera. My dad bought an Olympus OM-D E-M10 Mark II for me in 2017.
It came with a kit lens, the M.Zuiko 12-50mm F3.5-6.3. I used it to, like before, shoot everything, but this time I felt some kind of attraction to portraits. Over time, I realized that portrait photography is what I wanted to do. I got myself my first prime lens. A low-budget and plastic Panasonic Lumix G 25mm F1.7.
It helped me to get shallow depth of field in my portraits. But it wasn't enough, so I bought Sigma the 56mm F1.4, which I described in more detail above. The final upgrade came into my bag at the beginning of 2020, and it was a new camera body. I decided to go with the E-M1 Mark II, and it was a great idea.
I love working with natural light. It allows me to get almost every result, from a soft and delicate, almost sensual look, to harsh, contrasty and dynamic portraits. In black and white photography, the understanding of light and the ability to modify it is incredibly important, because you can't play with colors, so you have to draw your viewer's attention with the lighting of your image.
This is why some people may consider black and white photography to be more challenging than regular, color one, but for me, this is a good thing because nothing boosts creativity more than being limited. It helps me develop more ideas of lighting, more framing ways and more positions for my models.
When I am lacking ambient light, I reach for my strobe. I own a small speedlight, but it allows me to almost copy daylight in a closed space like a room or a small studio. I usually point my flash at the ceiling to bounce the light off so it won't be as harsh as a direct flash. By doing so, I can get a properly exposed image without raising my ISO or without using big studio lights.
Portrait photography is the art of capturing people, which means I need to work with them while shooting. I always try to keep my models in a good mood during the photoshoot, because it helps to get satisfying results faster and easier. A cup of coffee and a nice, friendly conversation is the key to success.
While talking to my models, I usually show them my inspirations, and I explain what I want to achieve, but I also listen to their suggestions to know their point of view on my ideas. Working with people is also a way to meet many interesting personalities. Many of the models I worked with became my friends.
When it comes to post-production, I use only Adobe software. Lightroom Classic and Adobe Photoshop are my main tools. The first one to catalog the images and to make basic adjustments on RAW photos, and the second one to retouch and convert my shots to black and white. When it comes to retouching techniques, I use Frequency Separation and Dodge and Burn, depending on the image I am working on and the look I am going for.
Usually, FS is used to clear the skin and to make it look soft and smooth and D&B to add an extra depth to the photo. Also, I edit eyes with tone curves to add some contrast and bring them out from the image, because usually in a portrait, the eyes are what you want your viewer to pay attention to.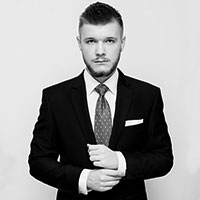 "My name is Michal, I am a photographer living and working in Cracow, Poland. Photography is my passion, but also a part-time job. I am studying Applied Physics at AGH University of Science and Technology in Cracow. I do portrait, beauty and fashion photography, but portraits are my favorite pictures to take. When I am not working with my camera or retouching photos, I like to listen to music, read books and watch movies. My favorite authors are Stephen King, Andrzej Sapkowski and John Flanagan. I also like sports, especially football.
For my work, I draw inspiration from magazines, Pinterest and especially Instagram. I follow some photographers I admire and I try to get inspired by their photos. I always want to improve my photography and retouch skills, so I spend hours with a camera or in front of my monitor. "