An attempt to understand the Iranian soul through our eyes, heart and Zuiko lenses
1. Beginning
Our dream to experience the Persian culture on the spot became a reality a couple of years ago!
While preparing for the trip, we read a lot of information about Iran. At the same time, we were aware that The Ministry of Foreign Affairs of Sweden had warned travellers not to visit this country! None the less we took the risk and hit the road in our old '95 camper van!
During more than 5000km in Iran, we discovered astonishing landscapes, old cities and villages, architecture and traditions so different from ours in Western Europe, but so alive and vivid! Above all, we met fantastic people! Several times every day, Iranians getting a glimpse of us would shout out full of pride and with a big smile "Welcome to Iran" and sometimes even "Welcome to our home!". What unequalled hospitality!
It happened quite often that my wife and I shared the everyday life of these families! We had heard about Persian hospitality but what we experienced was something above expectations! While in their homes, we listened to their stories, and in return, we told ours while tasting their delicious food. The Iranian soul is fantastic!
You are also welcome to Iran through our pictures. During this trip, I used Olympus OM-D E-M1 MarkII, with the lenses M.Zuiko 8mm F1.8 PRO, M.Zuiko 25mm F1.8, M.Zuiko 45mm F1.8, 12-40mm F2.8 PRO and 40-150mm F 2.8 PRO.
I was so excited about the new Persian world that I wanted to cover it and include IT ALL in my photography! I used the ultra-wide-angle 8mm in excess, taking the risk of distorting the perception of reality. But what is reality?
I chose the first picture for this article with the kid watching the world outside his home. Maybe with expectations, fears, preconceptions or maybe dreams that somewhere else it could be better! Who knows? Meanwhile, I discovered not only my own preconceptions and fears but also the joy of embracing everything new.
One night while walking the streets of Zanjan, a family stopped us to say welcome and invited us to stay overnight in their home. And they insisted! Finally, we accepted the invitation and the next day, when we arrived at the address where the Rahimpoor family lived, we were greeted at the door by their daughter Zahra, who was looking like a Persian princess. Everybody was wearing their best clothes, and that made us feel like special guests!
Understanding that we love photography, a German carpet dealer invited us to come along and visit an Iranian family and watch them weaving rugs. We discovered that this is not a job just for women. Both men and kids are helping with everything!
2. The colourful mountains
Aladaglar mountains, situated in Zanjan province, gave us the impression that we were on another planet. A man driving an old 4×4 Suzuki stopped at a parking lot and asked if we needed some help. If you have the time to take us up to the hills, please do it! In minutes, Mohsen gladly drove us through the steep, colourful hills! Afterwards, we were sooo thankful for having survived the whole adventure!
3. Bazaars
Bazaars are one of our favourite activities, and everywhere we travel, we make sure to visit the local markets, and Iran bazaars became one of our favourite photo subjects.
Depending on the hour during the day, one may experience a swarming activity of sellers, buyers, hangovers, craftsmen, boys springing everywhere after jobs to earn some money. Everything in a lovely mixture of colours, noise, smells! Then almost total silence and solitude between 12 and 4 pm. And again, thousands of impressions between 4 pm and 9 pm.
4. Zoroastrian Towers of Silence
Dakhmeh-ye, the Towers of Silence, are located on the barren hilltops on Yazd city's outskirts. Until 40 years ago, corpses could still be found on top of the tower of silence in Yazd to be disintegrated by the elements or birds of prey. For three days, family and friends would be in the buildings grieving and praying for the deceased. Zoroastrianism is one of the world's oldest continuously practised religions.
5. Old cities and villages
Among the old cities visited, I chose only some pictures from Yazd located in the central part of Iran and the villages of Kandovan and Galin, situated up in the mountains with small populations. In Kandovan homes are carved inside the rocks, and the village is said to have been formed by volcanic remains from eruptions hundreds of years ago. The rocks seem to be of a special material, keeping the temperature inside cool during summertime and warm during wintertime.
Galin village is located on the slopes of the mountain in the Kurdistan region. The houses are hanging one upon another; one's roof becomes the neighbour's ceiling. Life is really tough for people living in such areas.
6. Naqsh-e Jahan square
It became the central spot for us while visiting Isphahan. During Ramadan, the park got packed with people carrying their own food and sitting on carpets on the grass. It was enough to say hello, and directly we received an invitation to share their meal, after the falling of dark, of course, because it was a fasting period. It was like a show where we were both the public and the actors!
7. Zourkhaneh
Zourkhaneh rituals is the name for "heroic sport" or "ancient sport", a traditional system of athletics originally used to train warriors in Iran. It combines martial arts, strength training and music. Practised in a domed structure called the zurkhāneh, training sessions consist mainly of ritual gymnastic movements and the climax with the core of combat practice.
8. Mosques
During our trip, we visited many mosques. From the beginning, it was the architecture that interested us most. Still, after a while, what surprised us in a positive way it was people's hospitality, eagerness and pride to show us their gems and religious traditions. Sometimes somebody from the street telling us to visit their mosque, sometimes our own curiosity and the need of some solitude far from the crowd of the streets, watching and observing young Muslims with their mobile phones of course!
As a good example, At Nasir al Mulk Mosque (the popular Pink Mosque), Fatima was our excellent guide, and the stained glasses contributed to a dream-like atmosphere that stunned us.
Abyaneh, or the "reddish village", is situated in the central part of the country. We arrived there late in the evening when the tourists had left the village, and an old lady using body language invited us to the mosque. Both men, women and children were gathered in the large hall of the building. After the service, the Imam invited us to share the meal with him and the rest of the assembly.
In seconds, the room filled with people bringing in the food that was smelling and tasting good! People around were curious about us, and some could speak some English. That made us feel at home! The next morning, we walked through the village and took pictures mingling with people who recognized us from the mosque's service the day before.
9. Street photography and portraits
Streets vibrate everywhere in the world, and every street has its own signature. Unexpected situations may happen, as being invited to drink a cup of tea in an alley in the evening, or watching kids playing football, or an imam telling legends for young people.
Getting surprised with a spontaneous dance by happy people just because…others sticking out because of old and tired eyes after a whole day peeling hundreds of potatoes for hungry tourists, some shy three-year-old girl who does not want to be photographed and others you may guess with your imagination. Finally, a young teenager, b&w photo telling the whole world she is a proud Kurd!
10. Ali Qashqai family
We had planned to stay with Ali's family for only one day, but instead, we stayed three days. Ali was an excellent storyteller. The family is semi nomad, hard-working people, having different tasks. Nima, the son, trying to copy his father being in several places simultaneously, Nigora the daughter trying to understand life's meaning, like most teenagers in the world, and meanwhile succeeding to lough.
Fatima, a multi-tasking woman, weaving rugs, preparing the meals, dancing. Ali's mother taking care of the sheep from morning to late evening. Ali, an educated man, speaking good English, an excellent storyteller, very proud to be a Qashqai!
11. The silence of the desert
Few places may give us peace of mind and the feeling of freedom as the desert is. In Iran, we got such an experience while we were at Urmia Lake, struck with awe when we drove through the Dasht-e Kavir, the salt desert and bewilderment to watch the sunset in the Varzaneh sand desert. Finally, we absorbed the stars of the night sky in total silence!
Welcome to Iran!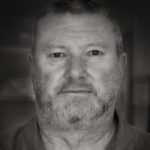 "My name is Bogdan Timiras, I am sixty-five years old and a passionate amateur photographer. I have been taking pictures since I was in the 6th grade. For half of my life I lived in Romania, and the other half in Sweden.
About one year ago, I sold all my Canon equipment and bought an Olympus OM-D E-M1 Mark II. Since then, I am still discovering my Olympus camera and rediscover myself through different projects."