My way of taking pictures
I am a self taught photographer from Frankfurt/Main, Germany. I consider that photography is like my yoga — to concentrate on the subject I want to take a picture of, calm down and eliminate everything around me and focus.
My interest in photography began around the year 2000 with a Canon Digital IXUS, a small silver camera with the size of a pack of cigarettes. After that, I entered the world of digital reflex cameras with interchangeable lenses and the APS-C sized sensors with a Canon EOS 300D followed by the EOS 400D.
Over the years, I stopped using my big and bulky camera and took pictures with my smartphone at a time when the camera and the picture quality were improving. Finally, in 2015, a photographer, friend and colleague of mine made me start using a real camera again. At first, I entered the mirrorless world with a Panasonic Lumix G7 with interchangeable lenses using a MFT size sensor (1/4 of a full frame sensor) and a compact Panasonic Lumix DMC-LX100 for lightweight travelling.
About a year later, in 2016, I switched to an Olympus OM-D E-M5 Mark II. Nowadays I use an Olympus OM-D E-M1 Mark II, since Olympus seemed like a good investment to me for its very long history of producing good cameras and lenses. And the lenses are the main reason why I'd like to stick to Olympus because those lenses are a hoot to shoot with.
But this should be more about what I do when I go on vacation with my camera. Most of my shots are landscapes, cityscapes, everything you'll find when you're around town, tall buildings, streetlights, traffic, people, even animals. I loved the squirrels I saw on my trip to London!
I'm not trying to limit myself to a certain field of photography. I'm like a child, everything can be interesting if you just stay open minded and sometimes change your perspective. The challenge is to think about what is worth taking a picture of and what isn't. When you're traveling you want to explore the city, to see everything, meet people, get to know their culture and not simply to enjoy your vacation when you're back at home after looking at hundreds or thousands of pictures.
Try to do both, explore with your eyes and your mind and take pictures of the stuff that has a certain meaning to you. Places, people, situations, it's hard to explain but you'll know when you see it. I usually have a small bunch of pictures that represent my entire trip and those are the ones that I'm referring to.
And when I'm at my computer going through those pictures for post-processing, I always try to remember how it felt and looked and try to stay as close to the original as possible. Ok, some shots are worth going a little over the top — e.g. sunrise and sunsets — but to me, in the end, they all are close to what it looked like in real life. And sometimes it is just awesome to go beyond the top, like the shots of the Hong Kong pagoda, and still keep that original touch, because this way I can enjoy those pictures over and over again.
As for editing, I use Lightroom on my laptop and sometimes smartphone and tablet because I like to process my pictures on the go. That's why I always carry an adapter with me to transfer the RAW files from my SD card to my devices. I shoot RAW because it offers me a wider range of processing possibilities than an already compressed file. And for a few months now I started with Photoshop because it is nice to try new stuff like the twirl pagoda.
My way of exploring a new city is always the same: carrying around a pocket travel guide that offers a certain mix between touristic information and places to be, even some routes that take you to places where history happened, sometimes food tours and the like. And when it comes to visiting places, try to visit them in the morning, at night, during sunrise, sunset, etc.
I know it's your vacation but do you think you'll come back another time, another day? Aim for good light, early morning, blue hour, golden hour, after sunset. You'll be amazed how a city feels when the crowded places are empty. What you can see when you're on your own. Like the canal in Amsterdam, the underground stairway of Luxembourg or the vintage petrol station in my hometown. And thanks to Instagram it's so easy to check out the cities hashtags for photo spots and scout for locations.
Sometimes, before I travel, I try to connect with local photographers and have a chat with them about where to go and what to do. Most people are really happy to tell you more about their hometowns and what to do, see, where to eat and what places to visit because you share the same passion: photography.
Even if you can't travel during these difficult times right now, there is still plenty to see and explore if you just go out and pay attention to your hometown. Try to think about what you would like to see if you were a tourist, visiting your city for the very first time. Believe it or not, there is so much cool stuff going on right in front of your eyes.
Try to think and act like a child, everything can be interesting. Just stay curious.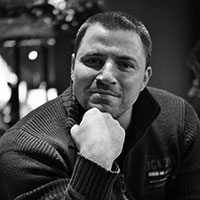 "My name is Benjamin Wolf. Born in the year of 1979 and raised during a time of great technological development. Maybe this is why I learned how to embrace the New without forgetting where it all began."