London photo walk with Olympus OMD E-M10 III
I'm an enthusiast photographer who has been living in London since January 2020. Pursuing a better career and experience in a broadcast industry as a Motion Designer has made me passionate about images, lights and how to deal with colour and compositions.
I started photography about seven years ago. My first interchangeable lens camera was the Fujifilm X-M1. It's the smallest entry-level camera on the X-Series system. All of a sudden, I began to fall in love with every photo taken. Surrounded by friends who share the same passion made my love for the camera even stronger.
Since then, the camera has become an everyday item that I always carry in my bag anywhere I go. After some time running around with this little pocket camera, I decided to move to a more professional system — I chose the X-Pro1 and the X100T. My passion for photography began to grow even bigger. I joined both photo competitions to encourage myself to become a better photographer and communities to broaden my horizons when it comes to photo shootings.
As a photographer, the camera serves as a tool for our hearts and minds to tell a story. I mostly shoot street photography but sometimes I also like to do street portrait photography. I have always loved to see and watch what's happening around me — like people doing their activities. And whenever I find interesting things or moments that my heart wants to tell the story of, I snap the shutter button. Or sometimes I just capture random objects that have a story I can build from.
What excites me about street photography is that moments happen fast and spontaneously. The scenery is always changing. That's why I need a fast camera system as my companion. I also love to shoot in a low light condition — to that I trust my Olympus OM-D E-M10 Mark III 5 axis stabilizer system to get the job done. That's the main reason why I moved away from the X-Series system to an even more lightweight setup which gave me more confidence while shooting.
The spirit in this genre of photography is a mixture of excitement, love and fear. We need to be patient and passionate while shooting in the street. Even though sometimes I have to wait for the right actor to enter the stage. The beauty of this genre is really surprising. We cannot always get the results we planned.
Sometimes we end up having nothing for a one-day city walk. But other times we bring home quite a lot of good pictures in just one or a two-hours photo hunt. The environment often changes rapidly, and so the characters on the street are always changing too. It's pretty challenging but that's the beauty of it. And I love it.
I often shoot in the city, watching people, and trying to find out what makes the city alive. Wandering around and seeing them through my lens makes me feel excited. Searching for an element to complete my composition and tell a story.
When it comes to choosing a location for street photography, it depends on what you want to shoot. What kind of imagery or story do you want to achieve? I often write down in my notebook ideas of what I want to shoot for the next street photo walk. As an enthusiast photographer, I often look for other photographers' work.
There are a lot of beautiful photos out there, with so many different places. I sometimes look back at my notes and compare them to what I saw in someone else's photos. Does this location match what I have in mind? Can I explore my idea in this place? And sometimes I get ideas from a movie I watched and so on… So that's really how I chose the place.
In terms of technique, it really depends on what you are going to shoot and the kind of weather. In a low light condition — especially during Autumn and Winter, which I love — I can bring more drama into both the story and picture. I always prepare my camera settings so they're ready for these light conditions. I make sure I choose the ideal ISO and shutter speed and I set them for the lowest aperture possible.
For example, on my M.Zuiko 25 mm f/1.8 lens I set the aperture to f/1.8 if I want to use aperture priority. But If I want to get a total freeze image, I go with shutter speed priority (minimum 1/100s) and the camera automatically sets the lowest aperture. Thanks to the amazing stabilization of the OM-D system, I don't worry much about my hands shaking in low light conditions.
I shoot in harsh daylight, I can easily get sharp images with a high aperture, like f/8. But if I want to shoot portraits in this light situation and get a bokeh background, I'll set the camera to a pretty low aperture. It depends on how much bokeh you want to get.
When it comes to editing, this is hopefully the time I enjoy the most. And I say hopefully because sometimes I end up with not so good photos — photo hunting is full of surprises! I always loved editing in Adobe Lightroom Classic. This is my colour adjustment workflow for a moody colour look:
• Tweaking on Colour or HSL panel
• Set the Temperature to a little blue
• Reduce Highlights if needed
• Set shadows on split toning to blue-ish
• Same with the highlights
• For last, playing around with Presence, Clarity, Texture and Dehaze to adjust the sharpness and exposure.
But don't forget to make the skin tone as natural looking as possible if you have people in your photo.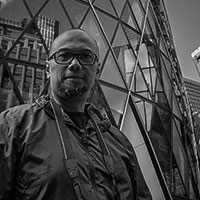 "I'm Indonesian and I moved to London at the beginning of this year and am working as a Motion Graphic Designer in a Television Broadcasting company. I loved coffee a lot. In my free time I sometimes exploring doing latte art. It's fun but it's pretty challenging though. At the weekend I used to go out for cycling and street shooting. I love story, I love watching movies. Being passionate about street photography gave me a chance of creating storytelling which I have always tried to do until now. Trying to do the best on my every photo journey."