My fingerprint of light
Hello, I am Pierangelo Orizio, a freelance photographer based in Brescia, Italy. All my life, I captured photos up and "into" the planet Heart. I shoot since I was a boy, and until 1999, during my travels, experiences in caves and canyons, I used a compact camera (Canon Prima AS-1), and then a Canon 300D DSLR.
All subjects interest me: macro photography, places and people, street photography, light painting, glamour… but most of all, I prefer shooting by night, in nature, and during escapes and travels.
In 2016, there was a growing need to evolve from the reflex camera system to the "mirrorless world". None besides Olympus was interesting to me.
The other systems were not broad enough, and their equipment was too heavy to make me sure to give real testimonies of my adventures.
I needed a smart and light camera; and lenses with a large depth of field, even in maximum apertures, like everyone who wants to travel and take beautiful pictures of a place.
So, like some of my photographer friends, I keep a passion for the Micro 4/3 system because of all its features. It inspires me to experiment with new ways of shooting, mainly HDR and live composite. One of my favourite themes is long exposures.
I am a photographer who never stops, neither walking nor photographing. Catching the constant flow of life is one of my obsessions.
My first great challenge with Olympus has been with OM-D E-M5 Mark II in Oman: my first lens was Summilux 15mm f1.7. Then I bought the M.Zuiko 12mm f2 and the Lumix G 42,5mm f1.7. The camera never left me, night and day in every weather condition, even among the desert dust. Then I walked the Camino de Santiago from France to Finisterre.
In these two travel experiences, thanks to the technology of the Olympus Micro 4/3 system, I could successfully face the harsh light in the Middle East during the morning and afternoon, and also the low light conditions during the first hours of the Camino de Santiago when I got up at 4 am every day.
I took photos and video and, as in my tradition of low light in caves, night photos.
I'm an enthusiast for the mirrorless technology exclusive opportunities.
In the debate about the quality of print and reproduction, my opinion is that the renounce to a full-frame sensor does not mean less quality; by the way, the OM-D gives the possibility of high-resolution photos.
In 2018 I decided to upgrade to the OM-D E-M1 Mark II, to be sure of excellent performance during ceremonies and travel reportages.
I had to travel to the region of Guizhou, China. There I used a new lens: the M.Zuiko 12-100 F4 PRO. For this lens, I fell in love, because it helped me during all the reportage. A jump into the Chinese culture to promote cultural exchange and tourism between the two countries, China and Italy. The professional-level zoom lens with a range that could cover almost any everyday situation was incredibly versatile. As a plus, the excellent stabilization, combined between the lens and the camera body.
Colourful photos of people, places and cultural portraits in every condition and distance.
Maybe I'm repeating something that everybody knows. Still, the features of "PRO" lenses in combination with Olympus Micro 4/3 cameras, guarantee an efficient and powerful outcome, even with minimal and light equipment, saving space and weight.
I admire Olympus' Visionaries: I take part of this flow since my first shooting when, only a young boy, I tried to have pictures of thunder and other weather phenomena.
Good light!
Pierangelo Orizio
In collaboration and written by Rosangela Vavassori
Equipment:
• OM-D E-M5 Mark II
• OM-D E-M1 Mark II
• M.Zuiko 12-100mm F4 PRO
• Panasonic-Leica Summilux DG 15 mm F1.7
• M.Zuiko 12mm F2
• Lumix G 42,5 mm F1.7
• 7 Artisans 7.5mm F2.8
Street Berlin 2019:
Video Youtube
Cammino di Santiago 2018:
Video Youtube
Reportage Oman 2017:
Video Youtube 1
Video Youtube 2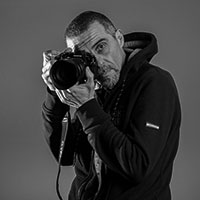 "My name is Pierangelo Orizio, I was born in 1972 and I'm a freelance photographer based in Brescia, Italy. My photographs range from nature to urban environment, reportage, creative photography, light painting, macro, artistic nude and studio projects and works. My website is called ClickOut, "take pictures outside", meaning "Go, go out, leave, travel in search of the right light to find the magic moment".
My motto is: "Carpe diem"… The photos you'll see in this article are an example of my polyhedric photography."