In the elements
Passionate about anything outdoors, Olli Dickerson, born in London and now based in Vancouver, considers photography a great way to stop and be in the present moment. When holding the camera in his hands, Olli is forced to look around and observe situations and scenes from a different perspective, to be patient and wait for that perfect shot to line up.
---
Hi Olli, it's a pleasure to have you for this interview. Could you start by introducing yourself to our readers?
My name is Olli Dickerson. Born and raised in London, UK I am now based in Vancouver, BC where I work in advertising, a career largely inspired by my interest in photography and design. As for my photography, I'm almost entirely self-taught, focussing on anything that is outdoors, from landscape to wildlife to extreme sports. What started as simply documenting holidays and adventures to show friends and family has spiralled into an immense passion for the subject and something I hope to make a career of.
Please tell us more about your interest in photography, how it all started?
My route into photography has largely been inspired by my parents, travel and a love of the outdoors. As a kid, I would always ask to use my parents' SLR camera on family holidays, inevitably leading to heated discussions over who took what photo. It wasn't until 2015, before leaving for a ski season that I owned my first camera – a point & shoot Olympus Tough.
It was and still is a fantastic little camera that documented my travels. From Japan through Central & South America, it came with me everywhere and certainly took a beating (to this day it's still holding strong). It was during these trips that I truly found my love for photography and realized it's not always the size of the lense that matters, it's how you use it.
For me, photography is a great way to just stop and be in the present moment. It's taught me to slow down, take a breather and absorb my surroundings. It's all too easy to march from point to point, without appreciating what is around us. But when I have my camera, I am forced to look around and observe situations and scenes from a different perspective, to be patient and wait for that perfect shot to line up.
This has become increasingly apparent during recent times. I decided to give myself mini briefs to focus on for a week. They allowed me to take my mind away from the unpredictable events unfolding around us and channel something creative, that brings me (and hopefully others) some joy.
The more photos I take, the more I am learning to think through each stage of the process in more detail. When it comes to planning an expedition, I'm researching locations beforehand and working out where the sun will be at a given time in relation to my subject.
And, rather than being my usual trigger happy self, I am now thinking through each shot set up with more consideration. So for me, the process and story behind every image is as exciting, if not more so than the image itself. From the adventure to a location through to reviewing and editing the images back home, it's something that has always given me great excitement.
If we asked you which is the favourite image you took so far, would you be able to choose one?
This particular image was taken at dusk, just below the Lions Peak in BC. The lighting across the valley was spectacular and was a great reward for a pretty gruelling hike. What I love most about it, is the defined silhouettes of each different mountain and their varying tones. I admit the detail is a little soft and could have been sharpened up, but I think it adds a more realistic hazy feel to the image.
What equipment do you have now and why did you choose Olympus?
In late 2017, I decided to upgrade my equipment and pursue photography with more vigour. I was drawn to Olympus because of the experience I'd had with my Tough. At the time of choosing, I was not too involved in the tech aspects between cameras. I simply needed a durable upgrade that would suit my on-the-go, outdoor lifestyle – so, Olympus was the natural fit and one I haven't regretted at all!
I started with the E-M5 MarkII and the M.Zuiko ED 12-50mm F3.5~6.3, eventually acquiring the M.Zuiko ED 75-300mm. A while later the M.Zuiko ED 12-40mm F2.8 PRO made its way into my camera bag, which paired with my recent body upgrade to the E-M1 MarkII is my go-to set-up. Weather-sealed and compact, combined with the wide-angle focal length and f2.8 aperture allows me to capture low light scenes – perfect for when out in the mountains.
What software do you use for processing your files? Could you briefly describe your workflow?
I always used Photoshop until I was introduced to Adobe Lightroom in 2019. This is now my primary software and honestly, I've never looked back! Learning to use the software was a fun process and one I found relatively easy. I watched various tutorials and experimented with different tools.
Trial and error was definitely and still is a key component to my development. When it comes to the post-production of my landscape images however, I try to alter the image as little as possible. It's important to me that what I publish is as close to what you see with the naked eye as possible. A true representation of what's taking place around me.
Where next?
A large proportion, if not all of my images are of landscapes and nature. It's a subject that I will always find mesmerizing. Living in BC, epic landscapes aren't hard to come by and all remain relatively accessible for those willing to work for it. While I still have a vast amount of BC to explore, I have a list as long as my arm of places I want to visit – Patagonia, Nepal, Myanmar to name a few. Although, in light of the recent travel restrictions, I feel like it might be a little while until I am able to explore abroad.
Until then, I'm turning my focus on winter sports photography as well as developing a portfolio of product imagery. I also have two ongoing photography series that I have been meaning to start for about a year now. So, perhaps the inability to travel will give me the opportunity to start and finish these projects!
Thanks for sticking with my ramblings!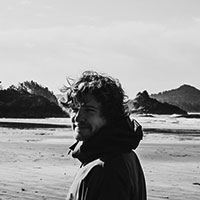 "My name is Olli Dickerson. Born and raised in London, UK I am now based in Vancouver, BC where I work in advertising, a career largely inspired by my interest in photography and design. As for my photography, I'm almost entirely self-taught, focussing on anything that is outdoors, from landscape to wildlife to extreme sports. What started as simply documenting holidays and adventures to show friends and family has spiralled into an immense passion for the subject and something I hope to make a career of."