Athens' streets through my eyes
Hey! My name is Giannis, and I'm a biomedical scientist based in Athens, Greece. I am passionate about photography, especially street photography.
My first encounter with photography was as a young kid. I remember myself observing my father taking pictures with his Minolta SLR, and my mother with her Olympus MJU II pocket camera. These memories were the first seeds that planted the photography virus in me.
My story on how I entered the photography world is quite common and relatable. At first, I was using my phone in order to capture moments with friends. At that time, I was just snap shooting here and there, without caring about settings and the overall result.
Around 2017 I decided it was time to invest in a camera because I wanted to capture street moments, that I found really interesting. Because of my experience with film SLRs, I wanted a camera whose body would be like an SLR, and I also wanted it to be mirrorless, thinking that the future of cameras was heading in that direction.
After a brief research, I found the Olympus OM-D lineup which was exactly what I was looking for in terms of a body. I knew that their sensor was small, but I could work with that, and the fact that the body had IBIS, made it an ideal choice for me. Another reason that I chose it, is that Olympus produces some incredible lenses.
I started using the Olympus E-M10 Mark II with the standard kit lens; M.Zuiko 14-42 f/3.5-5.6. This kit is the best for anyone who wants to enter the camera system. The kit lens is perfect for any type of photography, such as landscape, portrait, or street photography.
The body is lightweight and compact, ideal for anyone who wants to carry the camera all the time. The menu is very easy to use, and the viewfinder is big enough and projects the photo before it's taken. In addition, the body features IBIS, which is handy when there isn't much light and it enables handheld low shutter speed pictures without any blur.
At this moment, my setup consists of the Olympus OM-D EM10 Mark II body, a great entry-level body, the kit lens, which I still use for landscape and wide-angle photography, and the Helios 44-2 58mm f2 lens. I found the Helios lens in my closet and I immediately knew that this would be my main lens.
The reason why I love this lens is because of the bokeh rendering. I love the swirly bokeh, which is really flattering to the subject making it pop more. Also, this lens's focal length is nearly 116mm thanks to the 2x crop the MFT sensor produces, which is ideal for portrait work but also suitable for street work enabling the photographer to take a street shot without being too close to the subject in the frame.
I recommend it to shy photographers, amateurs who want to experiment with vintage manual lenses, or as a low budget choice when you want an all-around lens for your work. The maximum aperture of f/2 enables low light shots and gives wonderful background separation when needed.
This gear is ideal for anyone who wants to travel light and wants to take candid shots without losing image quality. The IBIS enables the shooter to take sharp shots even without much light, and the lens makes candid shots look easier thanks to the 2x magnification the sensor produces.
Nevertheless, the sensor itself might be difficult sometimes. Because of its size, I found that pictures taken with ISO higher than 800 will have more noise than in other cameras, so it will have to be corrected in post-processing. Also, 2x crop the MFT sensor doubles the focal length of any lens which can be limiting sometimes.
For example, a nifty fifty lens will be 100mm in any MFT camera and a 35mm will be 70mm. Thus, the selection of the lenses might be more difficult essentially for beginners or those who want to shoot at wide angles.
One of the easiest ways to get into the photography game, especially if you live in a city, is street photography; you just go out and shoot. You picture moments of life in the street the moment of their birth, and you develop your skills and your view of what you want to photograph and create, over time.
This is the reason why I chose street photography in the first place. I was, also, following street photographers on Instagram and I liked the way they manipulated the light and the shadows, achieving a fulfilling sight. In the beginning, I was shooting with my iPhone, and eventually, I moved on to my camera.
Street photography made me feel free, a sentiment that's very important for me. So, I keep shooting street images and I am trying to flourish as a photographer and advance my skill through them.
While shooting in the streets, the only challenge for many people, including me, besides the composition is the fear of being spotted by the person you are photographing. Many of us have the fear of being confronted if we are too close to the subject.
One of the advantages of owning an Olympus camera is the fact that you can bring the subject closer to you thanks to the crop of the sensor, which helps you stay sometimes a bit further away from someone, but it also helps you blend in the crowd with the camera nearly "attached" to your body. Being able to blend in the crowd and photograph situations like protests is a huge adrenaline pump and that's why I love going as close to people as I can.
Many new photographers think that most people will be aggressive towards them if they suspect they are being photographed. In my experience, most of them do not pay attention or care about being photographed. When they do pay attention, they just ask the reason they are being photographed in the first place.
I can recall only one incident where someone wasn't too happy to realize that they were being photographed and he reacted aggressively but he only demanded that I delete the photographs I took and stop taking photographs in that place.
Everyone wants to be remembered by the look of his photographs. In my case, I use Lightroom to post-process my photos. I want my photographs to have a more vintage and film-like look. I also like my photographs to have slightly desaturated colors, especially greens and blues, I use vignette a lot in order to emphasize my subjects, and to create moodier vibes.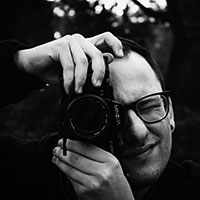 "My name is Giannis and I'm a biomedical scientist based in Athens, Greece. I'm an amateur photographer with a preference for street photography. Since the beginning, I'm documenting the life in Athens' streets and metro. I like to give a more vintage, film look to my photos and I love contrasts a lot. The photos you'll see in this article are a curation of some of my favorite."