Dog's life through a lens
My name is Nina Kalkkinen. I am 31 years old and after having lived almost half of my life in Spain, I now live in my home country Finland, where I work part-time as a Finnish-Spanish translator while trying to build a small business as a fiber artist.
My life pretty much revolves around four of my passions – Photography, my dog, outdoors and fiber art (knitting & macramé).
I have been interested in photography since I can remember. My passion for dog photography started when I was 12. After losing my dad to cancer, I lived with my grandmother and she got me my first dog, a golden retriever I named Bella who became my best friend. My first camera was an old film camera, which I used to photograph Bella. I also had cats, rabbits and hamsters, all of them became my models. I have multiple photo albums full of pet photos!
When I was 20 I moved to Spain and made the hard decision to leave Bella with my grandmother, to the home she had lived in all her life. A few years after, Bella got sick and passed away. Having grown up around dogs it felt like something had been missing, there was a hole in my life only a dog could fill. In my childhood, we had a fluffy white dog called Retu. He was an American Eskimo dog and I loved his personality and fluffy coat! As I was doing research on breeds, I read about German Spitzes, a similar breed that seemed to fit my lifestyle, and so Leo came into my life.
Leo is now eight, and after getting him, life has been anything but steady. Appartments, jobs and people around me have been changing but this little four-legged ball of fluff has always been there to bring a smile to my face. I remember my life before him, but now it's impossible to imagine my life without him.
While I was working at a second-hand store a few years ago, we got a Nikon D3300 with a zoom lens for sale, which I decided to buy for myself. It was my first DSLR camera. I had no idea how to use it, but after playing around with the buttons and settings for a few weeks I started to get the hang of it. My Nikon D3300 taught me a lot, and it was with me for a little over 3 years.
Last year I felt like it was time for me to move on and change the gear. One thing that always bothered me with the Nikon was the weight. I felt it was too heavy & bulky, especially when photographing Leo where I had to be in sometimes uncomfortable positions to catch good photos, and I felt Nikon's size made it even more difficult.
I started doing research on smaller, mirrorless cameras. Hours of reading through articles, comparisons, people's experiences with the mirrorless cameras, plus the gorgeous aesthetics, led me to choose the Olympus. So for the last year, I have been shooting with my Olympus OM-D E-M10 Mark III. I have three lenses, the kit lens 14-42mm f 3.5-5.6 II R, and two prime lenses, 45mm f 1.8 and 25mm f 1.8.
The Olympus has been a game changer in photographing my dog. I shoot outdoors, often changing locations, moving around all the time. The small size and lightweight of the Olympus camera & lenses are perfect for my adventure photoshoots. Dog photography also requires me to get on my dogs level to get good angles for my photos, and the tilting screen of the Olympus is a huge help! The 5- axis image stabilisation is perfect for dog photography as well as it reduces camera shake.
I love the small size of the lenses and it enables me to carry various lenses with me and change between them quickly & easily. The only disadvantage with the Olympus OM-D EM10 Mark III is that it isn't weather-sealed as I photograph outdoors and in changing weather conditions. My next upgrade will be a weather-sealed Olympus body!
Because dogs are my favorite thing to photograph, Leo has been my model since he was a puppy. Years of modelling have turned him into a real professional! We get a lot of amazement about his talent in front of the camera. I get my camera out and the only thing I need to do is tell him to sit or stay, he does the rest – he will move his head from left to right, lift up his snout or look at me. He has learned to recognize shutter sounds and my movement, he knows when he needs to pose and when he is free to do his thing. We are like a perfect team, and often get admiration about how well we work together.
Next, I will share a few of my tips & tricks when it comes to photographing a dog.
• First thing – make sure your dog is comfortable around a camera. Introduce the camera to your dog and make sure he's comfortable with the sounds it makes.
• Always have treats or a toy with you. Depending on whether your dog is food or toy motivated, always have a reward for them.
• Practice moving around your dog. Stand, sit, lie down, squat etc. Some dogs might get excited about seeing you get down on the ground, and if this is your dog's case, practice their stay command while you move around.
• Engage with your dog. If you want to get photos where your dog is looking at you & the camera, practice on getting your dogs attention. With Leo, I use commands like "look at me" and "listen", which I know work to get his attention. Especially when photographing outdoors where there are many distractions, it is very helpful if you know the tricks to get your dogs attention.
• Make sure you & your dog always have fun. Posing for your photos should always be a positive experience for your dog. In between shots and/or locations, make sure your dog gets to play, sniff around, exercise and be a dog. A dog would much rather be running around that flower field than sit and pose for the camera. So make sure you reward your dog and give them that time to run and have fun being a dog. On our photoshoots outdoors I do 'treat hunts', where I hide treats around a small area and while Leo looks for them, I snap a few shots.
Use your creativity to make photoshoots a fun experience for your dog!
Photography has been something that has strengthened my bond with Leo even more. Nothing makes me happier than adventuring outdoors with my best friend, catching those moments with my camera and sharing our joy through the photos.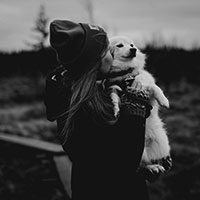 "Hello! My name is Nina Kalkkinen and most of the time you'll find me outside lying on the ground, trying to catch the perfect shot of my dog."