Olympus M.Zuiko 75mm F1.8: The "big old boy" never fails!
Now that you can buy this prime lens at a good price (around 400 Euros for a mint condition item) on the second-hand market, you can verify the truthfulness of my statement.
My first and spontaneous impression after attaching the lens on my OM-D E-M5 was: "WOW!"
Let me explain better.
My first test with the M.Zuiko 75mm f1.8 was for a professional assignment in Ascona, Switzerland, in December 2019. American bass player, composer and singer Ben Williams's band was scheduled at Teatro del Gatto. I was deeply confident in the potential of this "old" high performance and luminous lens from the first moment I put my hands on its 350-grams metal body. For a perfect balance of the combo, I relied on the HLD-6 power battery holder.
The afternoon soundcheck was my training arena with M.Zuiko 75mm f1.8, thanks to friend manager and producer Nicolas Gilliet.
My setting: black and white, in-camera as usual; ISO 400; no flash.
Shot after shot, I realized the real mightiness of this 2012 lens: an incredible mix of sharpness and speed with a dreamy soft bokeh. Suddenly I felt I was going back in time and shooting with one of the best lenses of the Sixties.
Microphone rods and instruments interposed between the lens and the subject of the photos were suddenly transformed: they no longer were disturbing elements but became volumes that enriched the frames thanks to the bokeh.
I had the same feeling of confidence during the show.
New tests for my "Big Old Boy" happened again at Teatro del Gatto – this time with New Orleans Grammy awarded artist and trumpeter Leon "Kid Chocolate" Brown and Australian guitarist Dave Blenkhorn in early February 2020, a week before the Covid-19 pandemic dramatically exploded in Europe. Mr. Blenkhorn chose one of the shots, a rough portrait taken at the end of the show, as the official image for his website (www.davidblenkhorn.com).
The excellent results during jazz live performances and recording studio sessions have been replicated during a football match at San Siro Stadium, Milan. I wanted to try testing the 75mm in a crowded and unleashed context: in this particular case, though, I maintain a measure of doubt on the opportunity to use this lens in "not-quiet" situations.
These field experiences were immediately followed by equally satisfying portraits done in very uncertain and low light conditions.
First Vancouverite folk-singer Boecephus King then Belfast best-selling and award-winning crime writer and playwright Sam Millar – Mr. Millar, like Mr. Blenkhorn, has chosen one of my black and white shots as his official portrait (www.millarcrime.com).
The "Millar Session", improvised in a bookstore in Milan at the presentation of the Italian edition of Bloodstorm: A Karl Kane Novel, was totally played on the balance between lights and shadows, as in a thriller. The author liked the result very much.
Recently, I also tested the Zuiko M.75mm f1.8 during the Black Lives Matter rally held in Milan.
I admit again that in a large crowd situation – like the stadium and the political rally – perhaps this lens would not be my first choice – I also had the M.Zuiko 17mm f1.8 with me, and this lens is perfect to record "the theater of the streets". However, I took a couple of powerful shots with the 75 mm: a beautiful and proud lady gazing at the future and a couple of young activist folks on top of a bus stop.
The complementarity between sharpness and bokeh is confirmed once again, as well as my choice to rely on my mighty "Big Old Boy". For me, the M.Zuiko 75mm f1.8 is the absolutely perfect fixed focal length photographic lens for live portraits, particularly to record the characters of the contemporary music scene, most of all jazz singers and players.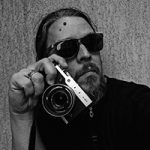 Milanese street photographer, essayist and journalist, writes for several magazines and has exhibited his shots in various locations. He is a member of f50/The International Photography Collective. His latest projects were in collaboration with English photographer John Meehan, founding member of the f/50 Collective, and with Italian fashion brand Lucio Costa. His latest exhibition "Ko.existence" (with the patronage of the Italian Embassy in Bosnia Herzegovina) was in collaboration with photographer Jim Marshall at Public Room Evergreen gallery in Sarajevo.