Perfect light
My name is Andrea Lazzarelli, I am 60 years old, and I am a passionate Italian amateur photographer. I live in Traversetolo, a town in the province of Parma, at the foot of the Tuscan-Emilian Apennines.
How it started the unbridled passion for photography… Around the 90s, at the age of 30, I tried my hand at my increasingly demanding excursions in the Apennines in all seasons, visiting unspoiled places of rare beauty with sunrises and sunsets that gave me incredible emotions, so I wanted to bring home memories of nature.
Even now, I have the torment of taking pictures in perfect light.
Another thing that I want to clarify, I do very little post-processing. When I shoot, I want the photo to be 90% perfect.
My first camera was a Pentax MX, and after a few years, I switched to the Nikon system.
In digital, however, everything changes, and the approach is different from film. The first digital cameras did not give me that feeling of true photography, until 2003, with the release of the 4/3 system and the legendary Olympus E-1, with the 12-60mm f2.8-4 and 50-200mm f2.8-4.
Around 2011, when the first M43 were released, I immediately understood that it was the ideal lightweight and performing system for my outings on demanding excursions.
The M43 cameras I owned, and that I still use are the E-PL2, E-P5, OM-D E-M5, OM-D E-M5 Mark2, OM-D E-M10, PEN-F, E-M1 and E-M1 Mark2. As for the lenses: 12-40mm f2.8, 40-150mm f2.8, 14-150mm f4-5.6, 12-45mm f4, 12mm f2, 17mm f1.8, 17mm f1.2, 45mm f1.8 and 75mm f1.8.
Greetings,
Andrea Lazzarelli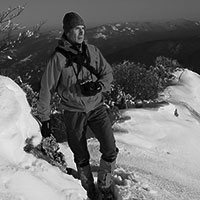 "My name is Andrea Lazzarelli, I am 60 years old and I am a passionate Italian amateur photographer. I live in Traversetolo, a town in the province of Parma, at the foot of the Tuscan-Emilian Apennines."