The right moment on the street
I am not a professional but an enthusiastic fan of photos who loves visual arts. I live in the capital of Hungary, Budapest, and I work for an International insurance company. As for my profession, I am an engineer of the printing industry as well as a graphic designer. As a child I always loved human subjects and arts in school, I used to draw a lot and learnt how to draw that later led me to study about printing industry. This was an important background when studying about photo processing as well as mastering the necessary softwares.
My interest in photography started during my college years, a friend of mine inspired me who took his camera everywhere with him. At that time I did not know what I wanted to take pictures of, I just knew I wanted.
I never studied photography in school, I learnt everything I know on my own from books, also attended lectures and workshops. Just as now I used to love walking on the streets but back then I rather took cityscape and building photos. I couldn't see the people yet neither as the subject nor as a part of the photo.
I have discovered street photography only recently in the past year and have been getting to know it ever since. Street photography is getting popular in Hungary only these years. It's been a long way for me up until now to find what really interests me and what I really like to do even though I'm still fine-tuning my own style within this genre. I don't think it is an easy style of art – not as static as nature or studio photography, one has to find the order in chaos, the interesting details, tiny nuances, those little scenes that are not visible for everyone. The photographer has to see the person with the beauty around him within the whole big picture. One needs to be prepared and fast to capture the right moment also very often needs a certain amount of luck.
I am getting inspired by other photographers' work, there are so many amazing of them out there all around the world and it's great to see their cities and local people through their eyes.
In my point of view, online social media is an advantage and disadvantage at the same time: advantage is that we can observe thousands of photos of professionals and amateurs but the disadvantage is the available amount where the value can be a bit lost.
I have used many types of cameras so far from a compact to a DSLR and even though I wasn't always loyal to Olympus, I have always gotten back to it at the end.
My first Olympus, an XZ-1 was given to me by my brother. I loved its small size and premium build with a fast lens (F1.8) and I felt the freedom of creativity using it.
For street photography, it is very important for me to carry a lightweight and small size equipment as sometimes I'm on my foot throughout the day. This is why I love Olympus and chose the M43 system. I like the range of choosable lenses. I used to carry an OM-D E-M1 then an OM-D E-M5II frame earlier, I have been using a PEN-F for the last few months now.
It hadn't been available for me for a while because of its price but now I am enjoying its classic and a little bit retro style and most importantly its small size. This is what I need to melt into the crowd to stay invisible so people won't feel uncomfortable around me had I have a huge camera in my hands. I have all this with the PEN-F with two premium lenses. Its disadvantage is that this body with the PRO lenses (which creates gorgeous images) are a bit too big for me for the street. I think the PRO lenses fit much better for the OM-D series.
I use two lenses at the moment and always carry with me: I have always been a fan of the wide-angle lens, so that is one of them, a 17mm F1.8 Premium lens for everyday use. I like its compactness, small size and its metallic quality built that makes a durable, lasting and timeless impression. So this lens works best for me on the street although sometimes the subject is farter, this is when I need my second lens, the 45mm F1.8 Premium lens, which is perfect for portraits as well. Its sharpness and background blurring are impressive. Beautiful photos can be made with it and almost every M43 related website and blog mention it as a must-have.
Probably there isn't a perfect camera-lens combo that would work best in every situation and every hand so it depends on what one needs it for.
I'm processing my color photos in RAW. I like the warm tones and the sharp contrast visualization. I use a few presets that I like to work with, I fine-tune those depending on the lights and subjects.
My philosophy is less is more, it is more interesting for me than multiplicity. My photos present a scene of a person or persons on the street where the person himself is in the center, this is what street photography is about after all: contemporary visualization of the people on the street.
Not just the people are interesting but their surroundings as well. My photos are about a city and its citizens but never a crowd and I think this is why I have a relaxed atmosphere in my images.
People can have interesting moments of their appearance, move or act in their milieu.
Even though I am continuously learning street photography, I follow
Matt Stuart
to suggest having comfortable shoes on, be optimistic and patient and always have your camera ready. Just go out on the street and do it. Shoot. You might have lots of unsuccessful photos but have as well the ones you'll like a lot. Take patience, enthusiasm and motivation with you.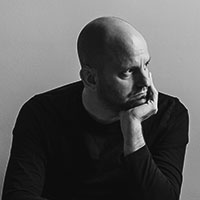 "My name is Dániel Molnár, I'm 38 years old. I live in Budapest, Hungary. I've been working in the insurance industry for a few years. Besides photography, I spend my free time with my friends and family."