Całkiem Zwyczajnie
30 years old copywriter from Poland, Olga Szymkowiak has been taking photos since her teens, using the camera to produce a personal visual diary. The PEN-F, it was love at first sight.
---
Thank you, Olga, for all your availability! It's a pleasure to have you for this interview. Would you like to start by introducing yourself to our readers?
Of course! I live in Poland, I've just turned 30 and I'm a copywriter. I've been taking photos since I was a teenager and I think it's a family matter – my father used to take pictures of me when I was a kid, but he also loves photos of architecture and landscapes.
Besides photography, what else do you enjoy doing in your free time?
I've finished film studies, so I watch a lot of movies and TV series. I'm also a music fan and baking enthusiast. Recently I've started to do some yoga. I like doing so many things, that day is too short for me!
Regarding your interest in Photography, could you tell us how it all started and what camera did you use back then?
I think I got my first camera when I was 13. It was a no-name analogue camera with automatic film rewinding. That time I was only taking pictures during the holidays. A real interest in photography has developed when I was about 15 years old – I started to take pictures of my friends and I fell in love with natural portraits then. At the time I had Zenit 12XP then Smena, medium format Lomo Diana+ and a Canon 350D. But my favourite cameras of all time are the Olympus PEN-F, which I use right now, and an analogue Olympus OM-10!
The Olympus Pen series is often the choice of many Fashion and Lifestyle bloggers. The fact that the Pen-F is such a beautiful camera influenced your decision at the time of purchase?
To be honest, I loved the design of PEN-F at first sight. It reminds me of my beloved Olympus OM-10 and other analogue cameras. All Pen series looks great, but the PEN-F also has the best parameters. Also, pictures taken with this model have this unique vintage vibe, they just look different from photos made with other cameras. And I love this retro-analogue mood!
You often photograph yourself. Not an ordinary selfie with the mobile phone, but a proper and well-made self-portrait. Do you use the camera almost as a notebook, a visual diary, to keep a record of the best moments of your daily life?

Actually, mostly these are not self-portraits, but pictures taken by my
boyfriend
, who has a great eye and is very talented! Every time I tell them what kind of picture of myself I'd like to have, it takes only a while and he takes it! We have very similar taste and sense of aesthetics, so our cooperation is wonderful. When it comes to self-portraits, I'm taking them when I'm simply in the mood for or when I see a nice mirror (laugh).
After using the Pen-F for quite some time now, could you share your thoughts on this camera, advantages and disadvantages, and if you would recommend it to others?
I definitely recommend it for people who have some experience in photography, but are not professionals. Though it's a mirrorless interchangeable-lens camera, the quality of the pictures could be compared to the ones from a digital SLR. In addition, it's very handy and light, so it's perfect for keeping always in a bag. What's more, the PEN-F has a lot of interesting options (such as saving your favourite settings) – to be honest I didn't even try some of them.
What's your favourite lens and why?
I probably won't be original, when I'll say that it's Olympus M.Zuiko Digital 45mm F/1.8. It's bright and makes great portraits! I also like Olympus M.Zuiko Digital 17mm f/1.8, because it's a very universal one – perfect for trips, street photography, flatlays or fashion shots.
We noticed that you have a great understanding of natural light, how it works, how to observe and use it, in order to produce the best looking results. Could you share some tips about using the available light, whether for portraits or other types of photography?
Thank you for such nice words! First of all, I like playing with light and shadows. When at home, I change the arrangement of curtains or blinds to have irregular, interesting lighting. For portraits, I simply love the golden hour, which is probably the best moment of the day for every photographer. I also love morning light – it's perfect for flatlay shots, where the devil is in the details.
We understand that, after taking the shots, your workflow is fully mobile, without using a computer in any part of the process. Could you share with our readers a brief description of your workflow, from the smartphone you use to the software for image editing?
After I take a shot, I import photos thanks to Olympus Share software straight to my iPhone 7. It's not the best smartphone at the moment (actually it takes horrible pictures, comparing to newer models), but for the editing, it's quite okay. I rarely use Lightroom – I do it only when the picture is overexposed. On a daily basis, I choose VSCOcam. I have my favourite filter, which I adjust to every single photo. And that's all!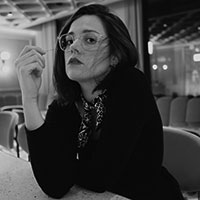 "I live in Poland, I've just turned 30 and I'm a copywriter. I've been taking photos since I was a teenager and I think it's a family matter. I've finished film studies, so I watch a lot of movies and TV series. I'm also a music fan and baking enthusiast. Recently I've started to do some yoga."