The right tool for the job
I got into contact with photography very early on and ran around with a small Nikon compact camera every time we went on a trip with the family. The results were not great, but I had immense amounts of fun doing it nonetheless. On my 10th birthday, I happily received my first own camera which was a Canon EOS 550D. With this camera, I got to discover all of the basics of photography and had an absolute blast doing so.
In 2016 I decided to open up my Instagram channel because I didn't like how all of my pictures were just sitting on hard drives without ever being looked at. I am very happy that I did that, because this also gives me the opportunity to see the improvements I made with my photography over time as I scroll through my feed. In that same year I also got into filmmaking and opened my Youtube channel for the same reasons.
That was also the time I noticed that my camera didn't do everything I wanted it to do, especially in the video department. Due to that, after almost 6 years with my Canon, I decided to look around for an alternative and finally decided to switch to an Olympus. On a trip to Munich I got lucky and found a used E-M5 Mk II in the limited titanium color and totally fell in love with it.
Directly after that, I bought the Panasonic 25mm f/1.7, so that I could use my new camera right away on a weekend trip to Hamburg. During the two years I have owned it now, I added a bit more glass to my collection, which at the moment consists of the Panasonic I mentioned above, the Olympus 14-150mm for more flexibility during travel, a Samyang fisheye lens and an old analog Olympus 50mm lens to play around with (Who doesn't like a good old "clicky" aperture ring).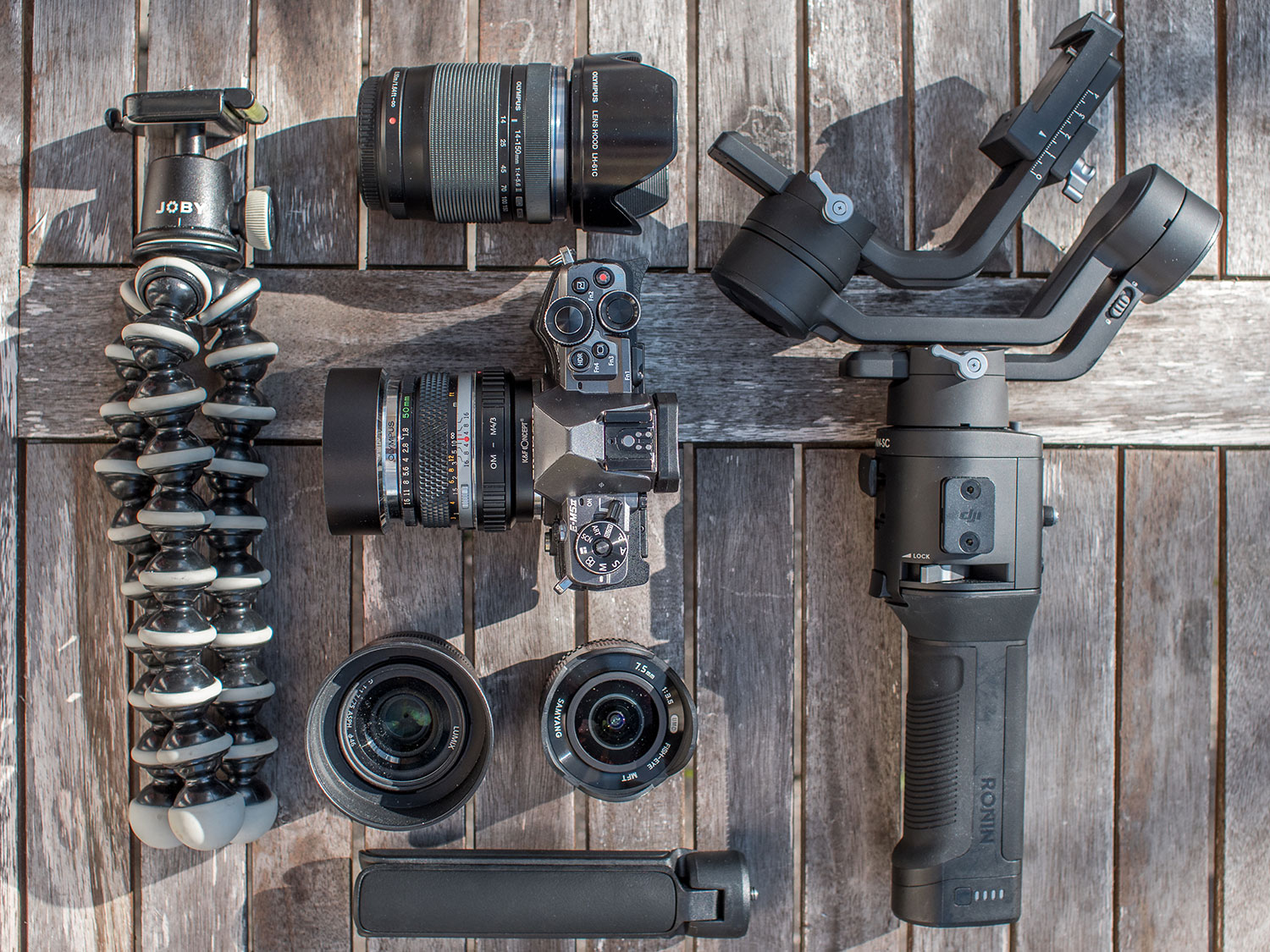 This kit comes with me on almost every photo adventure, holiday or day trip and I could not be happier with it. Due to its small form factor, the E-M5 Mark II fits in my rather compact photo backpack, still giving me some space to carry a small tripod on the side, something like a drone or a gimbal in the upper compartment and of course snacks for the trip. If I want to I can even squeeze my GoPro into the camera compartment together with multiple spare batteries to help me get through an intense day of shooting.
After taking it on multiple trips I can say that I absolutely love this camera, even though it can sometimes be a bit uncomfortable to hold on to due to the lack of an actual grip if you put bigger lenses on it. However, since I use small lenses most of the time, I don't really see this as a problem. A feature I really like to use for landscape photography is the high-resolution mode which gives me 64 MP RAW files that contain a lot more detail than the regular 16 MP images.
If you are especially brave and have the time for it to render, you can even try putting together a panorama to get even more resolution. If I want to capture some movement in my images I sometimes decide to shoot with a longer exposure time. The sensor stabilisation of this camera makes it possible to do this handheld at some times, which is also great for shooting at night, even though night photography is not the strongest subject of this camera due to the small sensor. The longest time I could get a usable, handheld image with was about one second which I find quite impressive.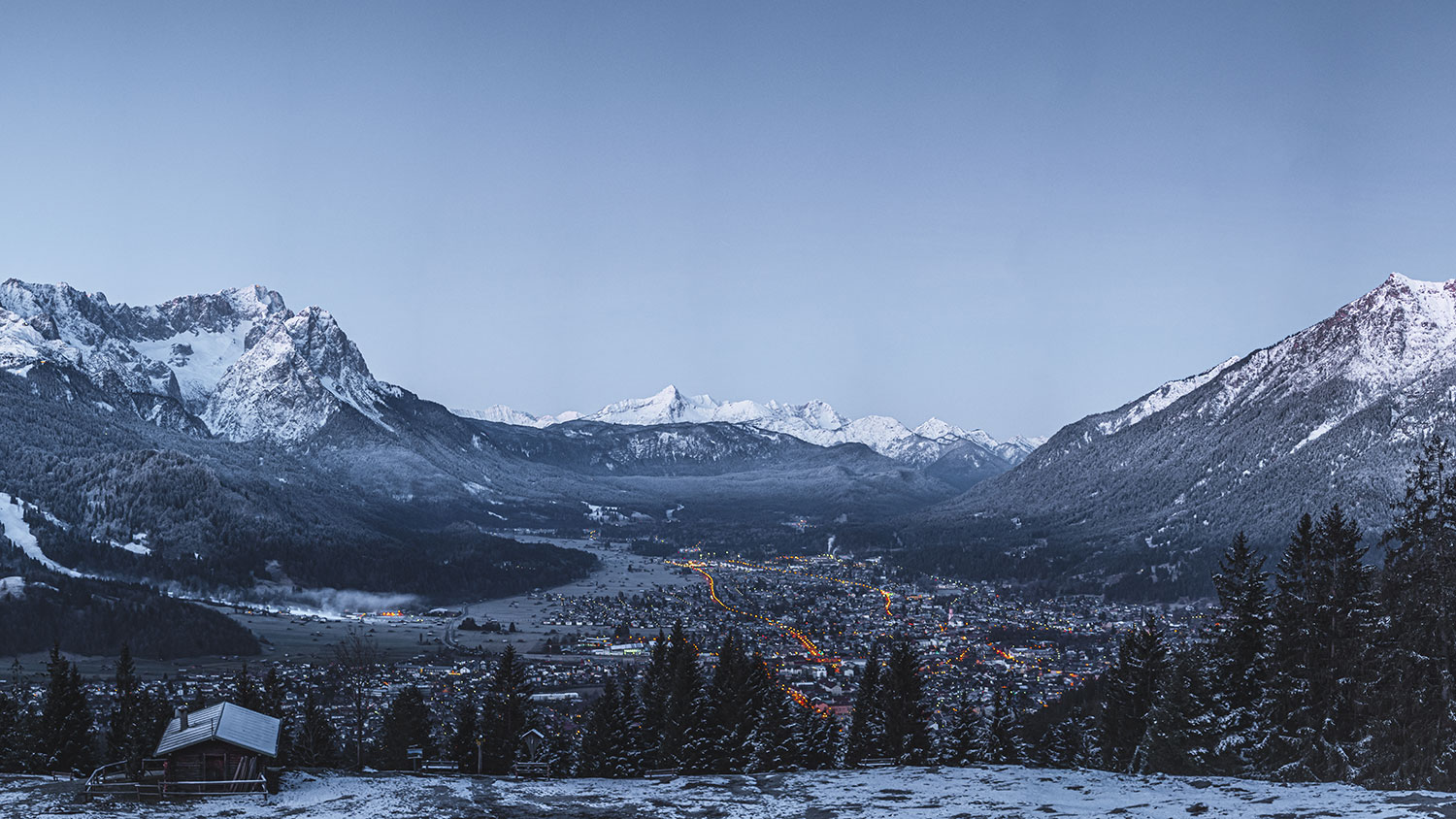 If it gets really dark, you will have to bring a tripod, since everything past ISO 1600 is not really usable, as it gets way too grainy for my liking. Another thing you have to remember is that the autofocus which works as it should at day, does not really work at night, so you will have to switch to manual focus at some times. When keeping all of that in mind, however, you can also take amazing images at night.
As I normally adjust the aperture and shutter speed manually to have full control over the exposure I want to get, I love the fact that it shows me the exact image I am going to get on the screen and even in the viewfinder. For shooting video I also switch the focus to manual, because I don't really like the continuous autofocus and most times it is better to do it manually anyway.
When going on trips I usually take all of the equipment I named earlier with a big 128 GB memory card and some way to backup all of my images, after learning it the hard way. I lost a whole entire 32 GB card of images I took on a trip, due to a malfunctioning card slot on my computer.
Another thing I like to bring with me are cleaning wipes to get rid of dirt, dust or remains of saltwater on my lens and camera as you don't want a crust of salt ruining your images, trust me.
Last year my family and I went on a trip to Iceland which was a dream of mine for quite some time. We rented a car and travelled the popular ring road for two weeks, choosing hotels in multiple places, so that we could see as much as possible of the breathtaking landscape. In advance, we looked for things we wanted to see in travel guides or on the internet and marked them on a map.
That way we could decide on where to book places to stay from where we could venture out to multiple destinations. On that trip, I learned to love another feature of my camera which is, that it is splash-proof with the right lens attached. We were really lucky with the weather, except for 3 days on which we got absolutely drenched and I would not have been able to take any images if my camera wasn't splash-proof.
When I am back from a trip I usually drag all of my raw files on my hard drive and back them up on another one, just to make sure. After that, I import all of my images into Lightroom to sort out the images I like and afterwards edit them to a point where I am happy with the result. Sometimes I also edit some images in Photoshop to remove objects or people that I feel are distracting.
The polished photographs go directly to my iPhone, from where I can decide on which ones I want to publish and which stay on my phone, so I can look back at them every once in a while to remember the memories connected with these images.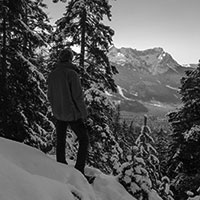 "Hi, my name is Ingo Urbig, I am 18 years old and come from a small town in Germany close to Munich. I am going to finish school this year and, in my free time, I like to go fly fishing or meet my friends, which often includes going on photo adventures or doing small video projects. The camera that followed me everywhere for the last 2 years is my beloved Olympus OM-D E-M5 Mark II."