Nenets People – Extreme Travel Photography with Olympus E-M1 MkII (Part 2)
Herd
The reindeer which they keep in their brigade are more or less domesticated. Most trained reindeer are used to pull the sled, called "narty". The sleds are always being pulled by three reindeer and the leading reindeer is always on the left. They use a long stick to steer them.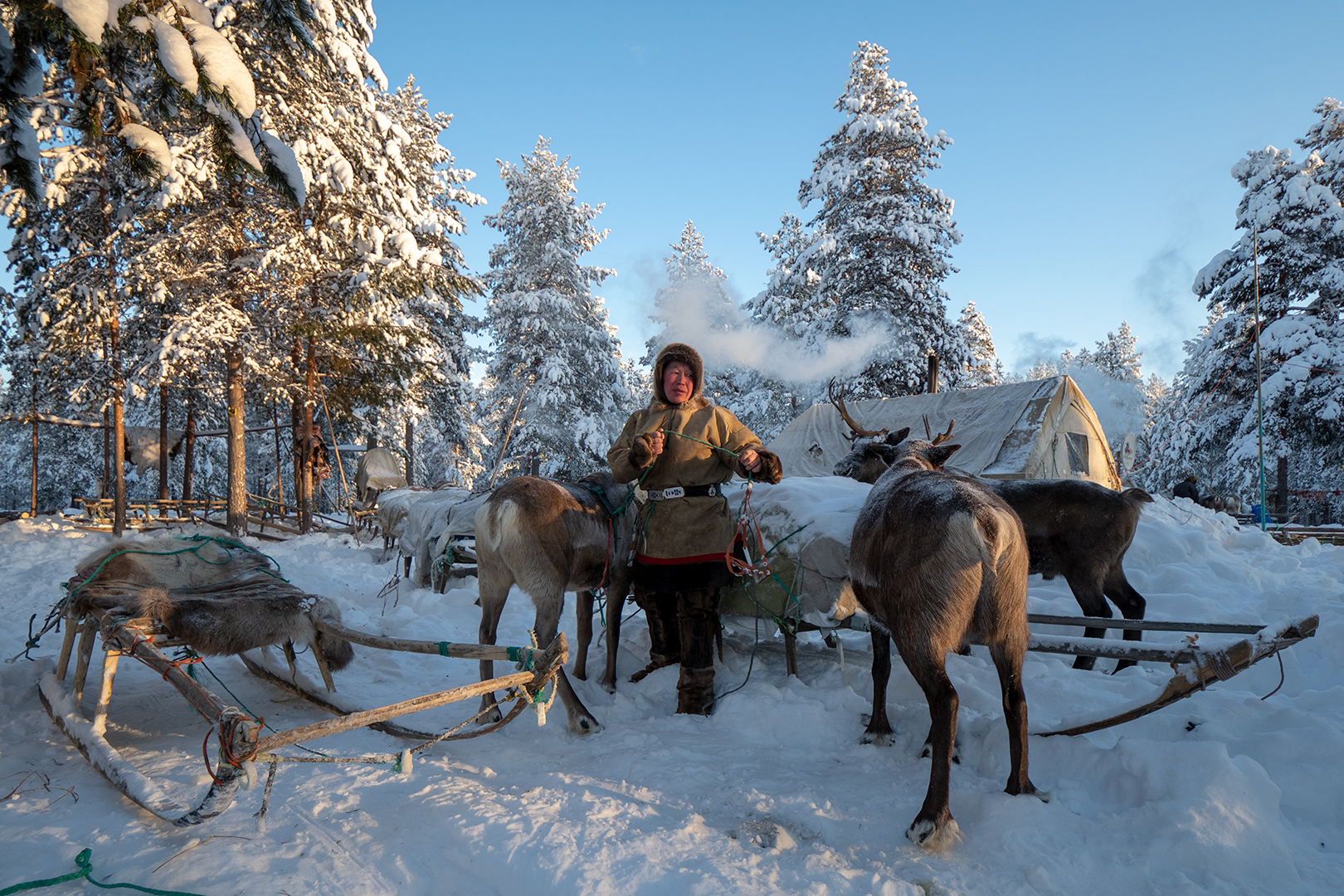 On these sleds they are very agile and capable of riding at high speeds. When chasing the herd, Nenets ride standing so they have a better view. On the other hand, on longer trips, they prefer to ride sitting, since it is more comfortable. And they do take quite long trips since their herd move freely around the forests. Therefore, it can take more than an hour to reach the herd from camp.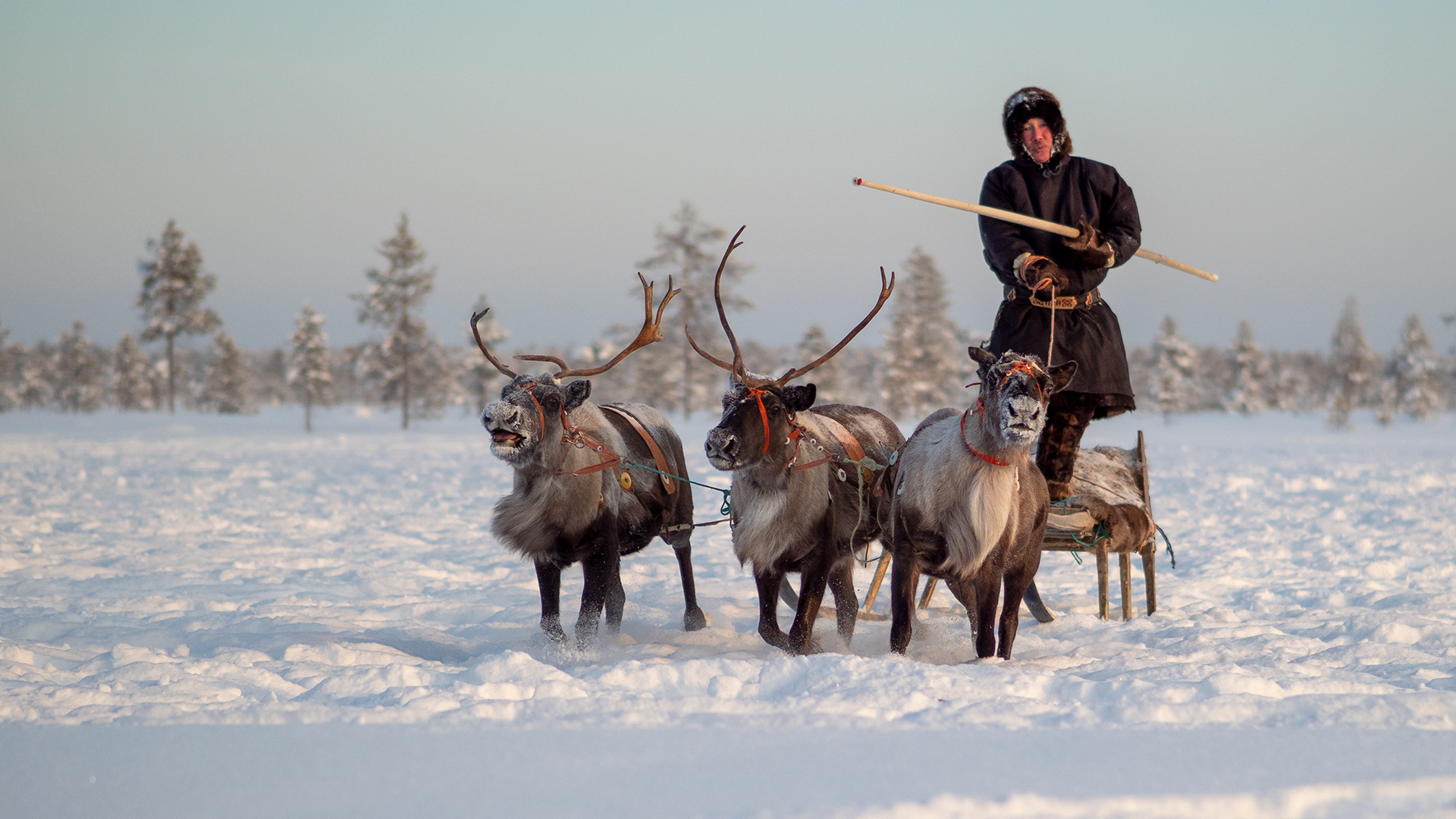 We leave to find the herd. Grigorij has invited me to ride with him. I have accepted without hesitation and shortly after we are riding through the forest. Patrik is following us. The last man in our group is Alexander on his snowmobile. I feel like I am in a Russian movie, just instead of three horses we have reindeer.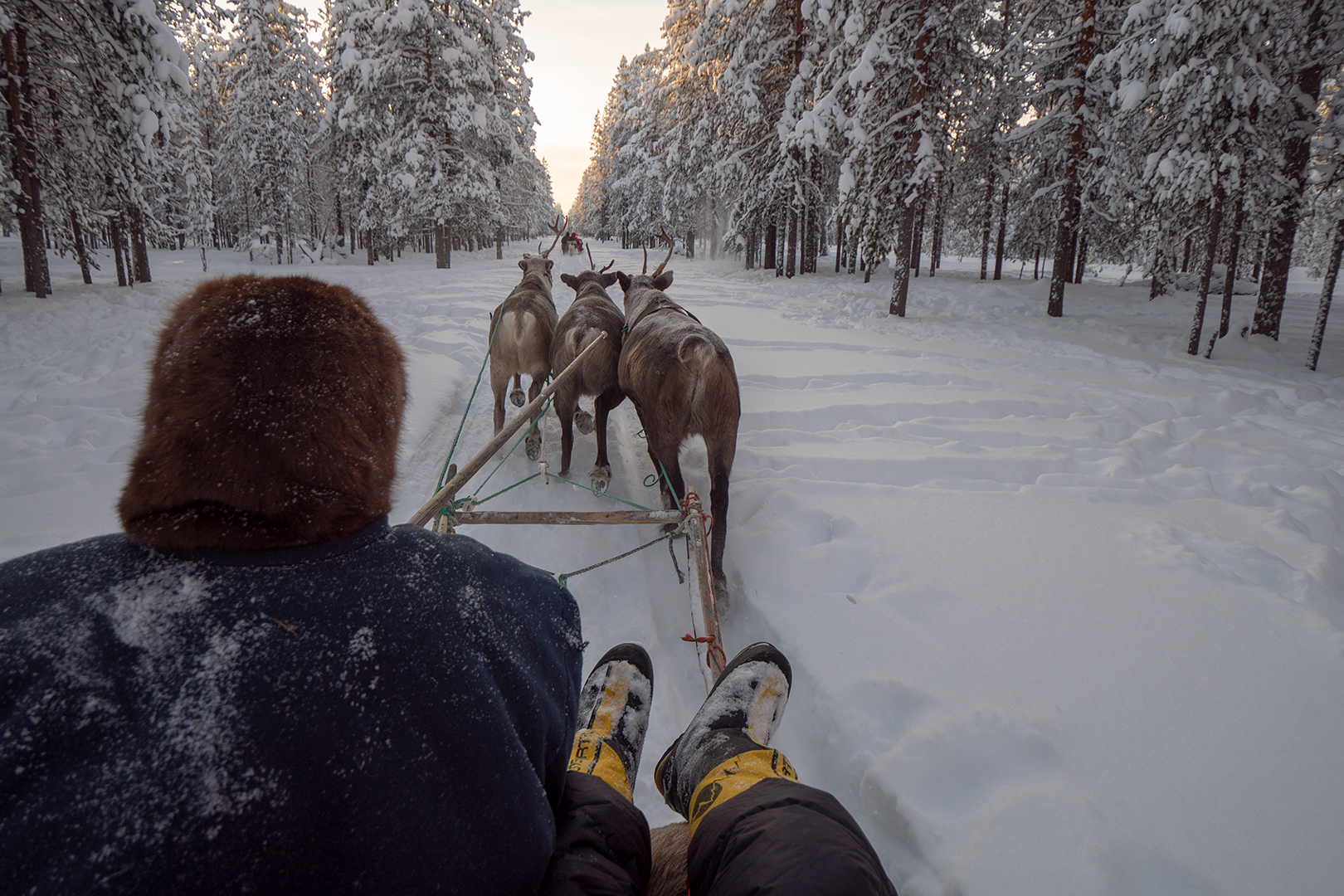 I try to take a picture of Patrik riding behind our sled, so I turn around. However, "narty" aren't as stable as I thought. We immediately lean to the side and make an unexpected sharp turn to the left and I fall of the sled. Fortunately, the snow is very soft, so I land safely and painlessly. Nonetheless, I have snow everywhere, especially in my cameras. I have no idea what to clean first – myself or the cameras. The Nenets are laughing while Alexander has jokingly asked me what was I looking for when I jumped off the sled.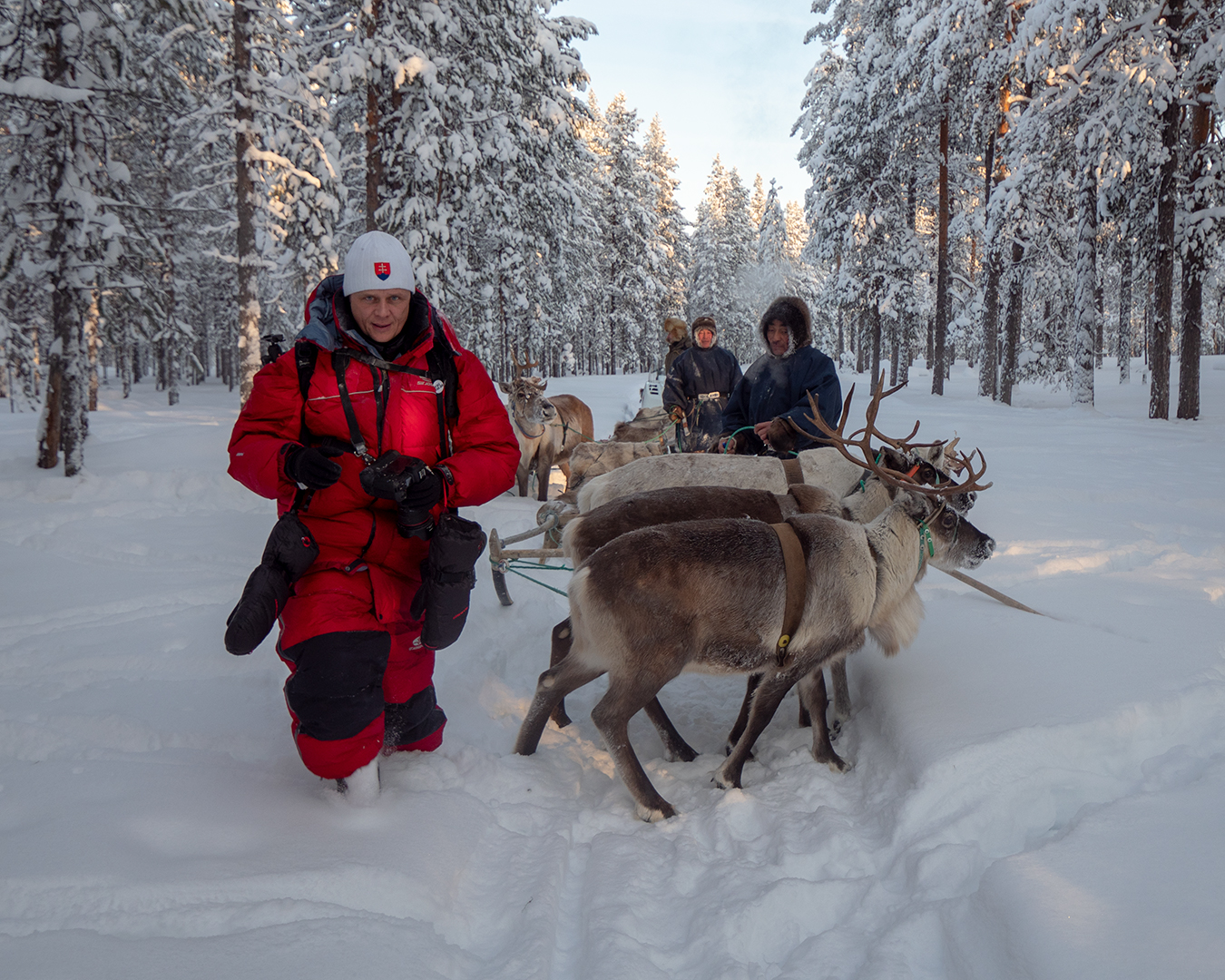 Patrik than gets on a snowmobile and I get back on the sled. This time I sit the other way around, so I don't fall off. Rider on sled behind me keeps his distance so I take pictures of him with telephoto lens 45 (90)mm. We keep riding in -35°C and I can feel my fingers freeze while I hold the camera. My hands are freezing, and I can't keep the rider behind me in the picture anymore.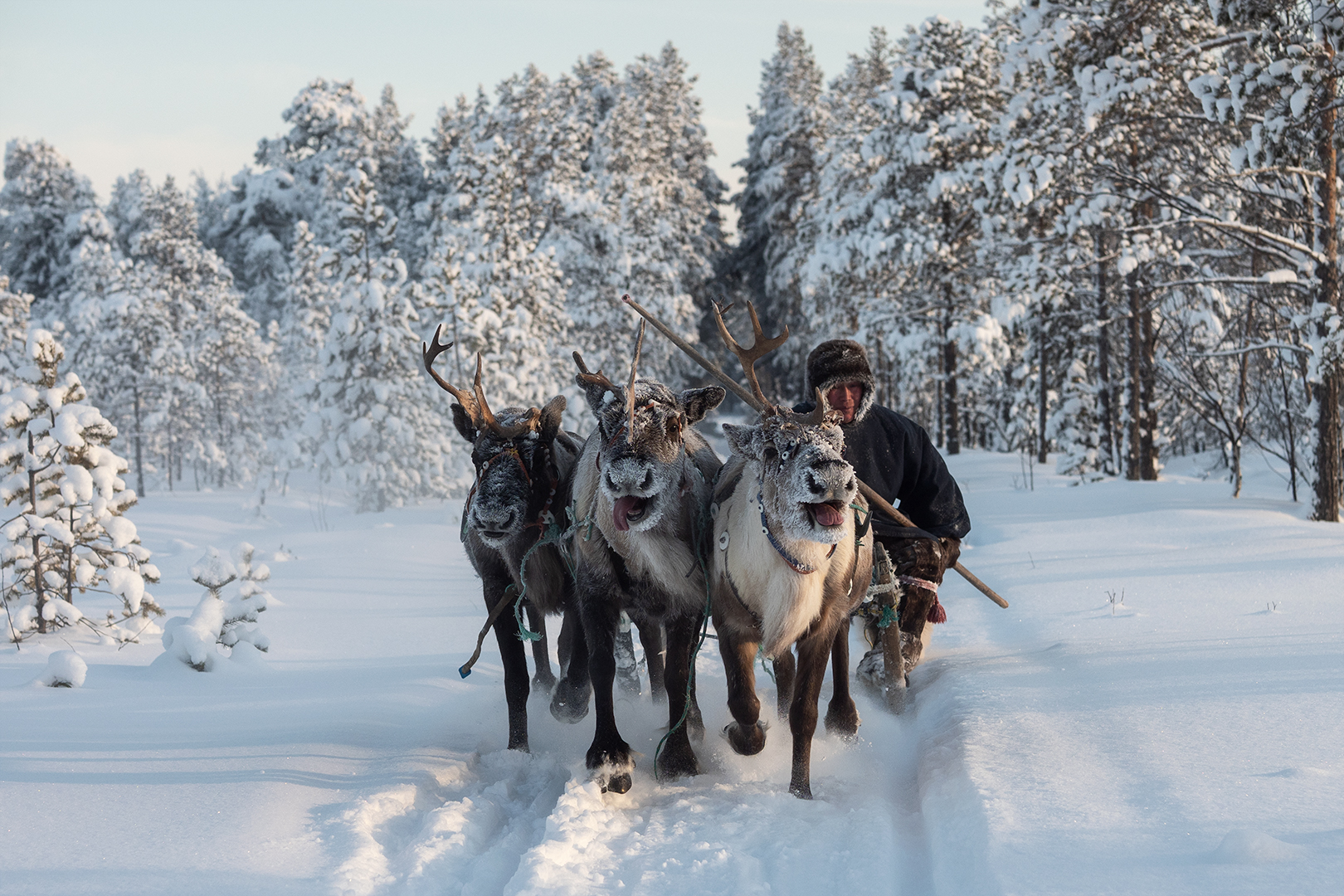 Then he notices that I am photographing him and starts going faster to approach me. As he gets closer my telephoto lens is too long. Fortunately, I have a wider lens Panasonic 8-16mm (16-36mm) on my second camera. He gets as close to me as possible. The road leads us to more open space with fewer trees, the sun appears on the right side. I forget the cold weather and my freezing fingers. All I can focus on is a reindeer running in front of me trying to lick my lens. There is no time to check the photos, but I can feel in my bones they will turn out great.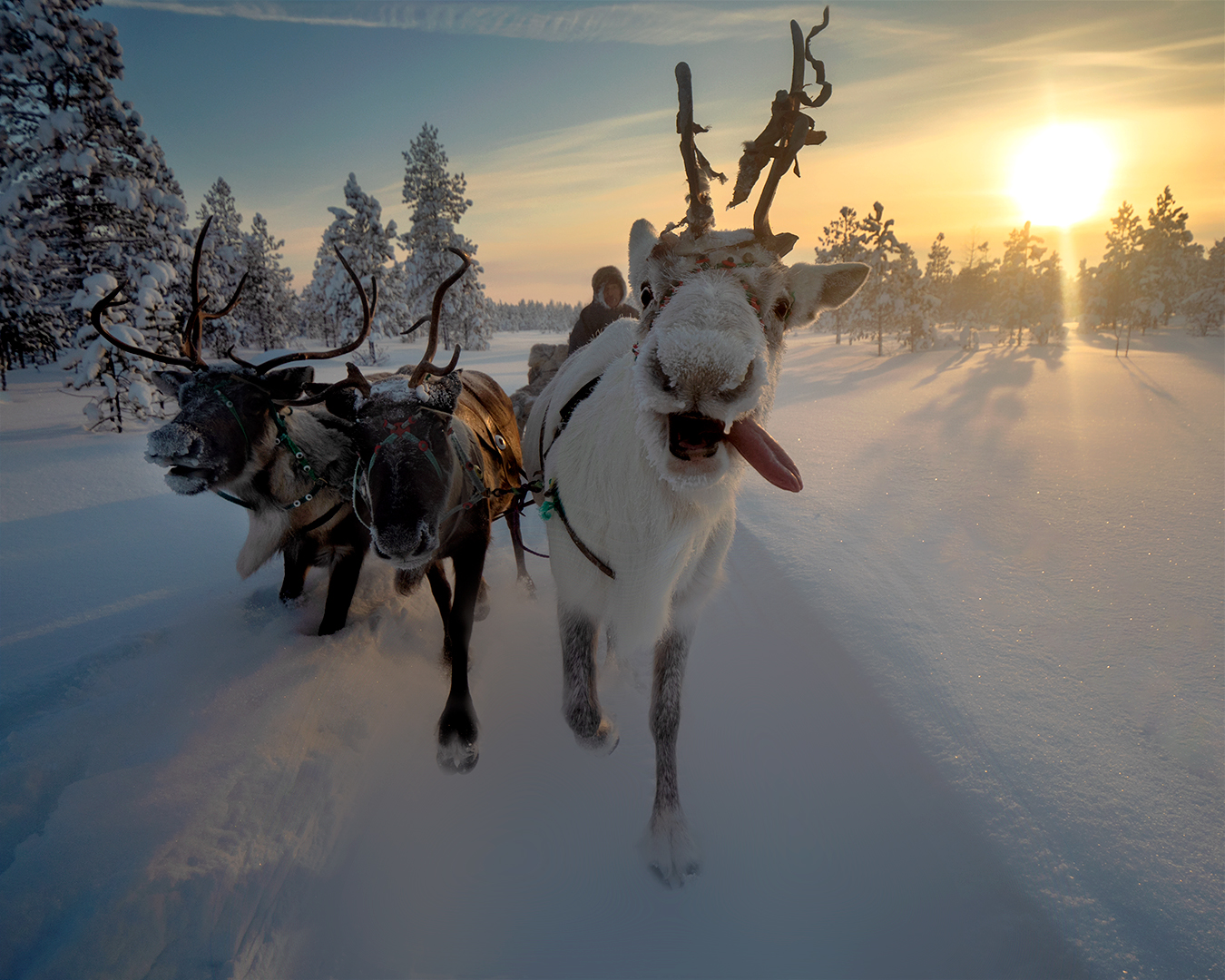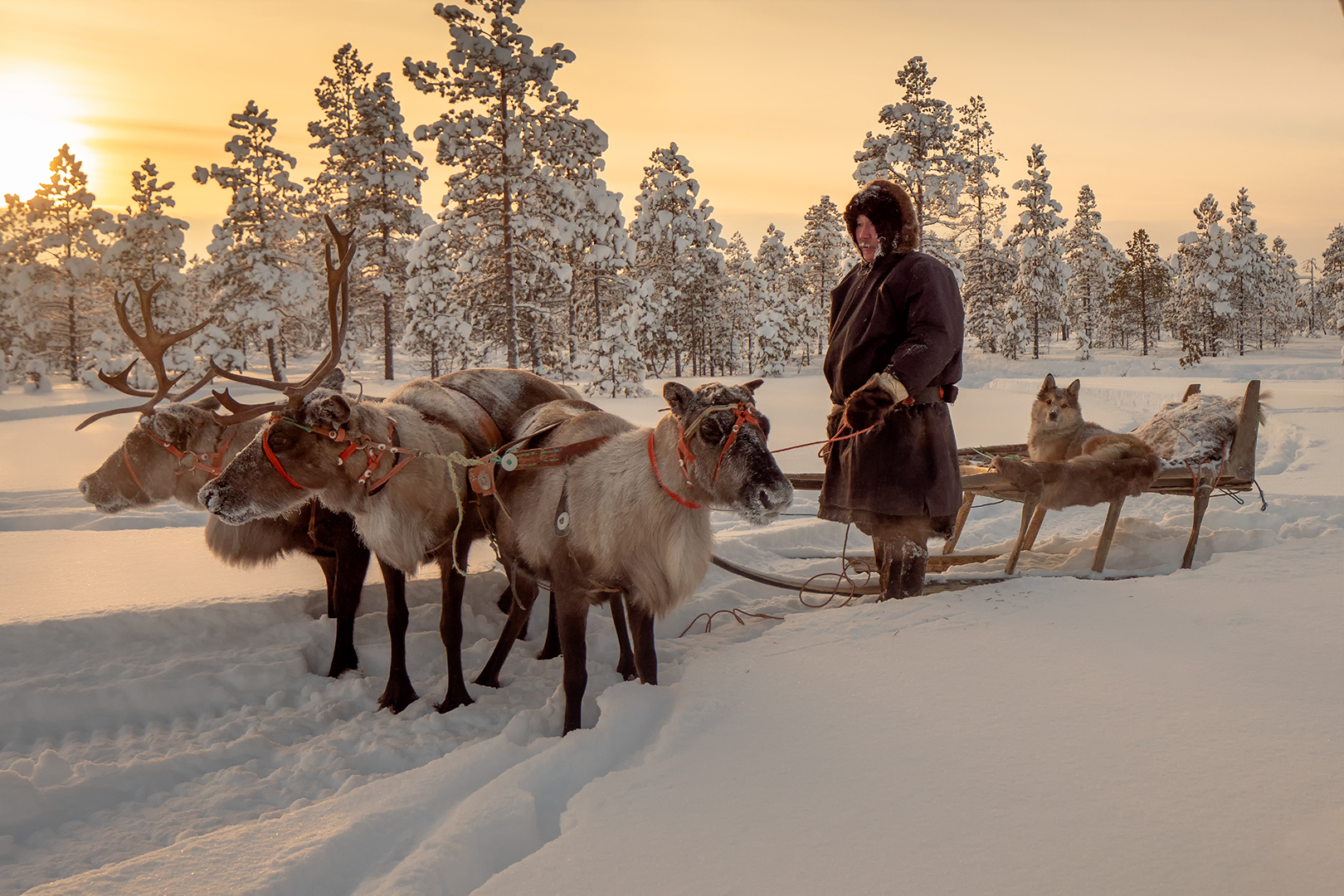 Suddenly we stop and Patrik riding on a snowmobile in the back is trying to get my attention by waving his arms. When I look where he is pointing I see the herd running in our direction through the open field. As soon as the reindeer see us they change their direction and even though, the Nenets are trying as much as they can herd disappears in the forest.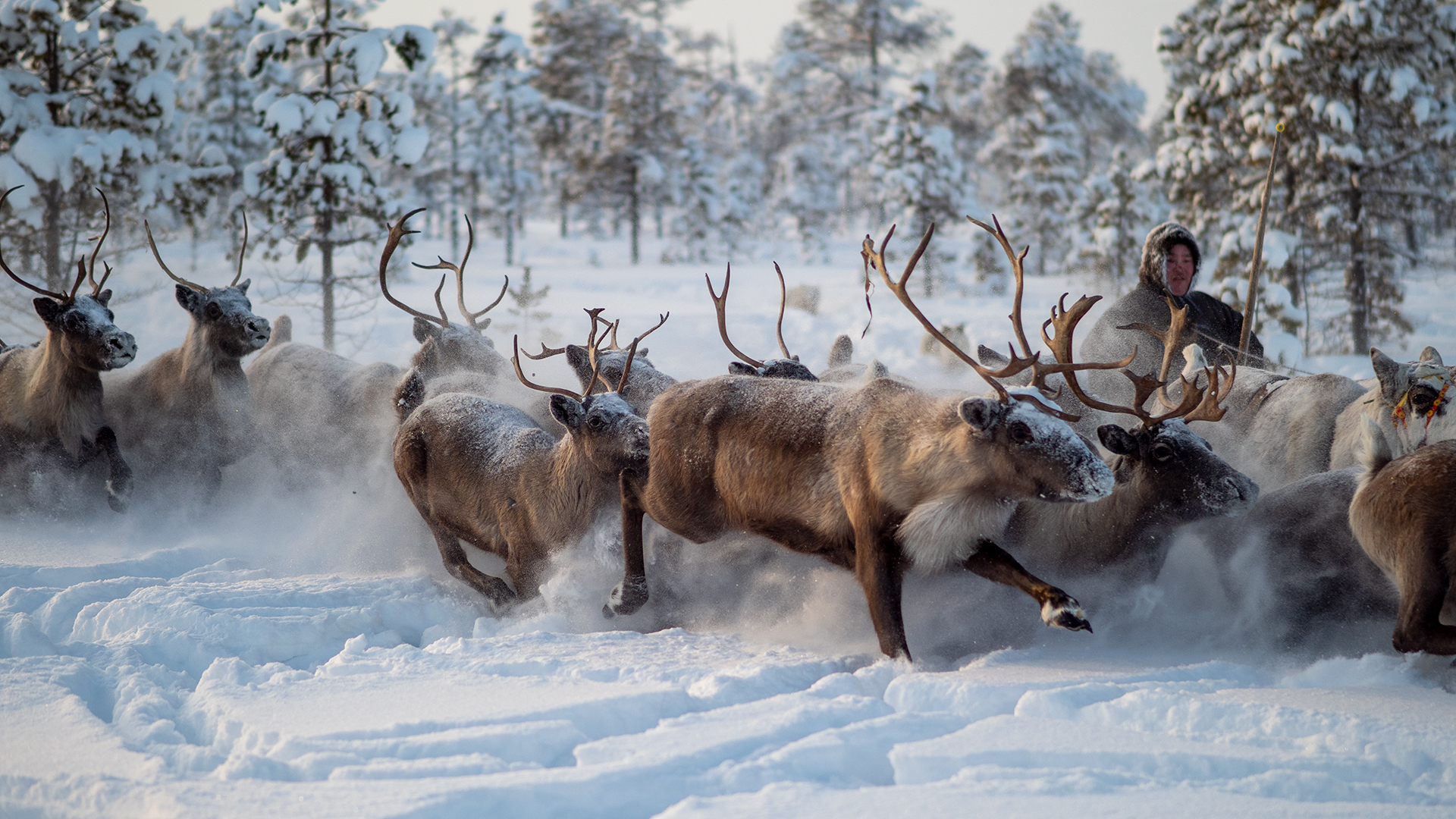 Some Nenets follow the herd into the forest, they say they can lead them back. When asked when will they get the herd back they answered – "Once we find them." Time and date don't work here the way we are used to. We get out our drones. Patrik is trying to use the aerial view as an advantage in the search for the herd. I am photographing our group and our surroundings.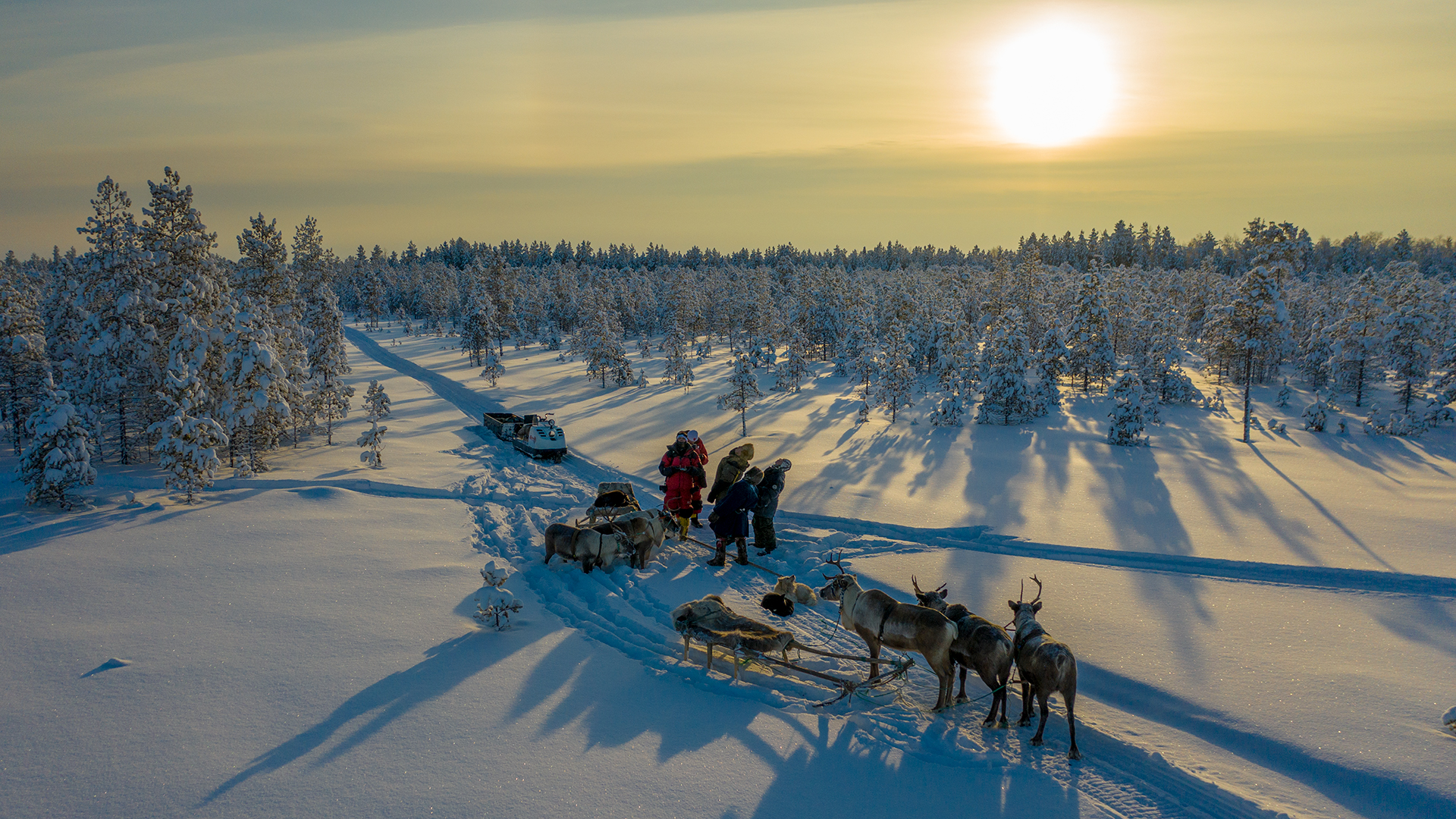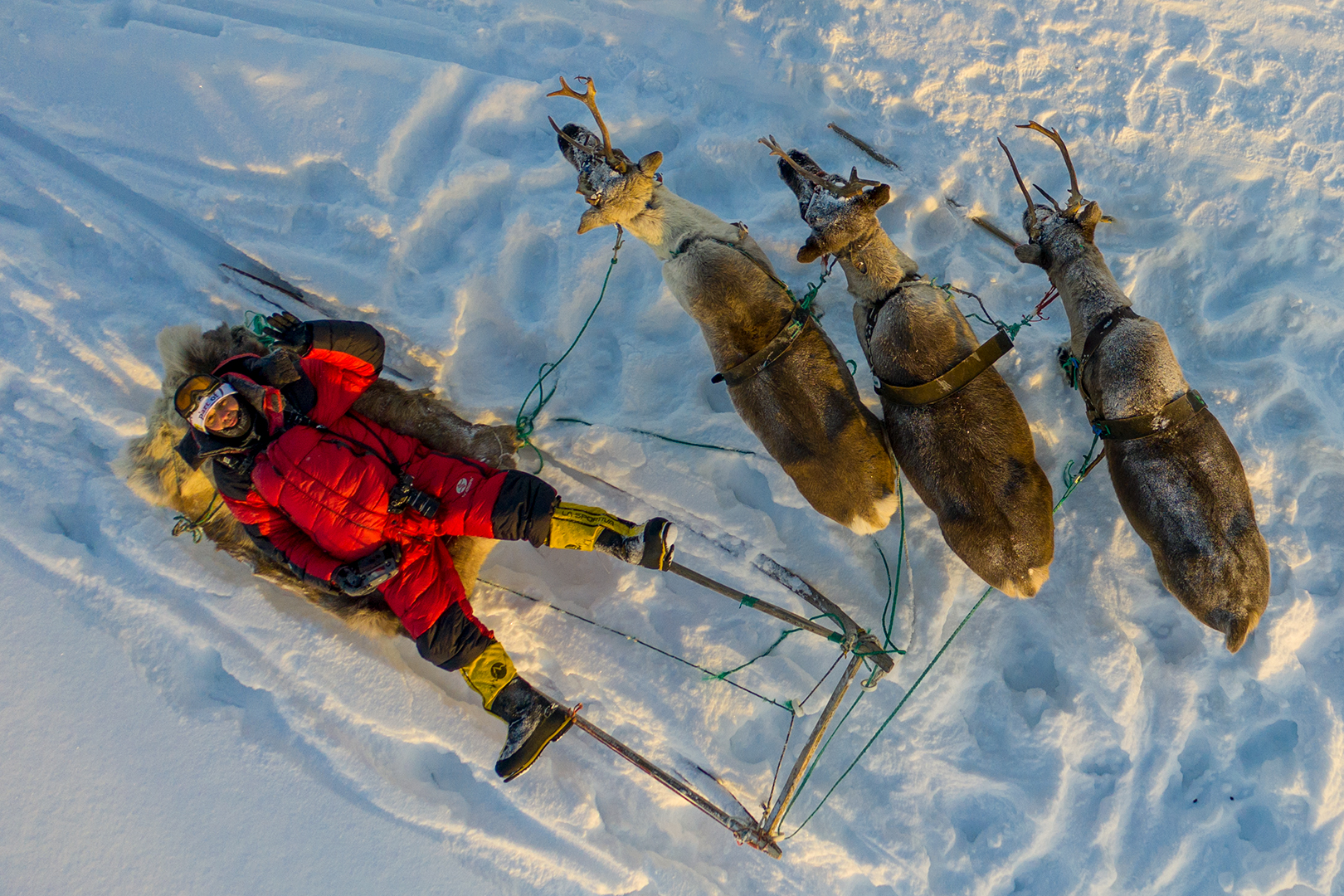 A few minutes later Patrik finds the lost herd. Our new friends admit that the drones are "baľšaja technika". They can easily locate the herd thanks to the aerial view. Otherwise, they would have to follow its tracks. Thanks to the drone they can take the shortest route to the reindeer.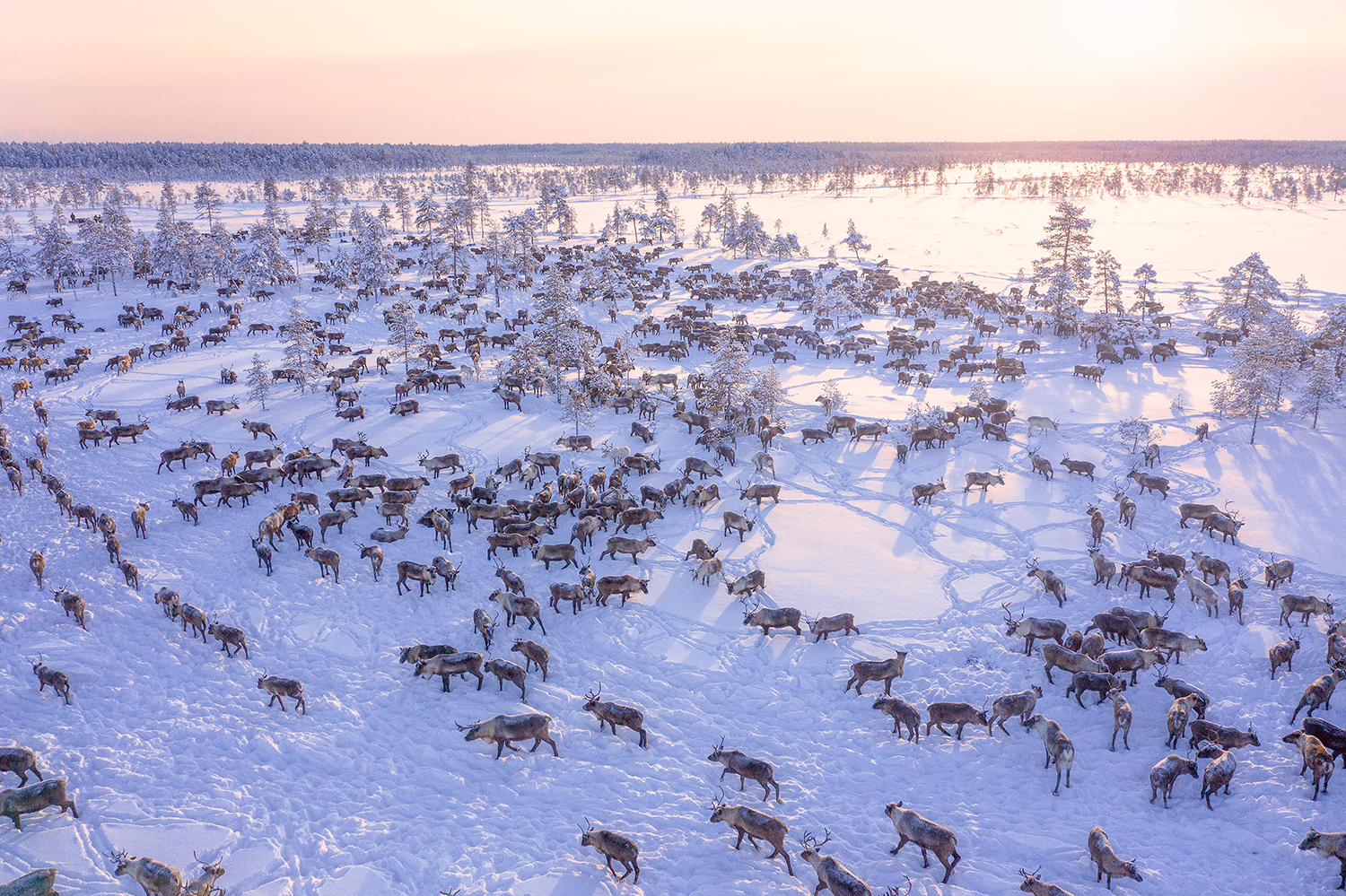 While taking photos with the drone I feel even colder than when riding on the sled. I am not moving at all, wearing only thin gloves. My fingers are on the controller all the time and piloting the drone requires very minimal but precise finger movement, which is extremely hard in such freezing weather.  Suddenly one of the Nenets emerges from the forest and rushes our direction. They have found the herd and are leading it back to us.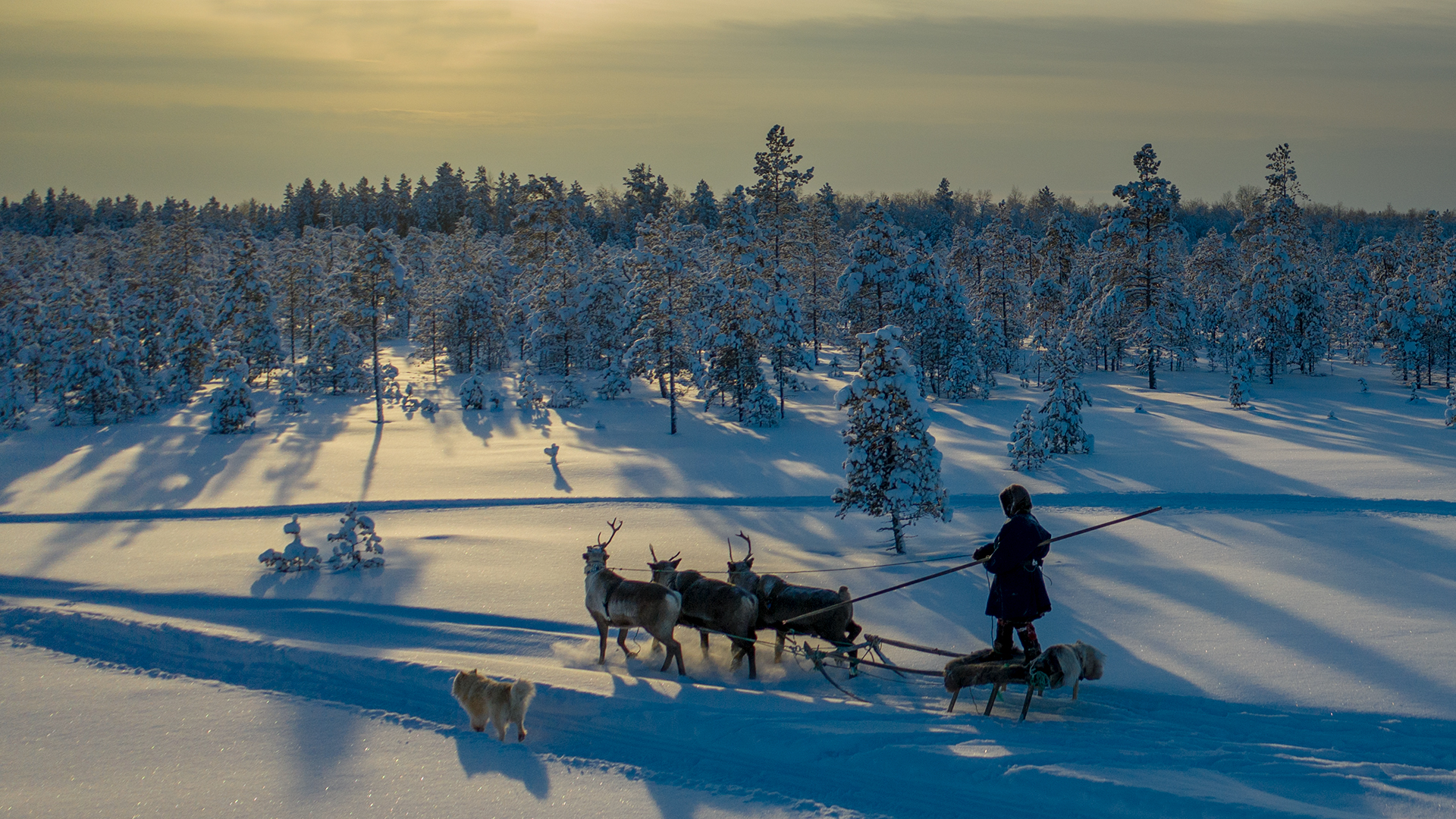 Grigorij "starts" his reindeer and indicates me to hop on behind him. I get on as he is already gaining speed and we are going straight against the incoming herd.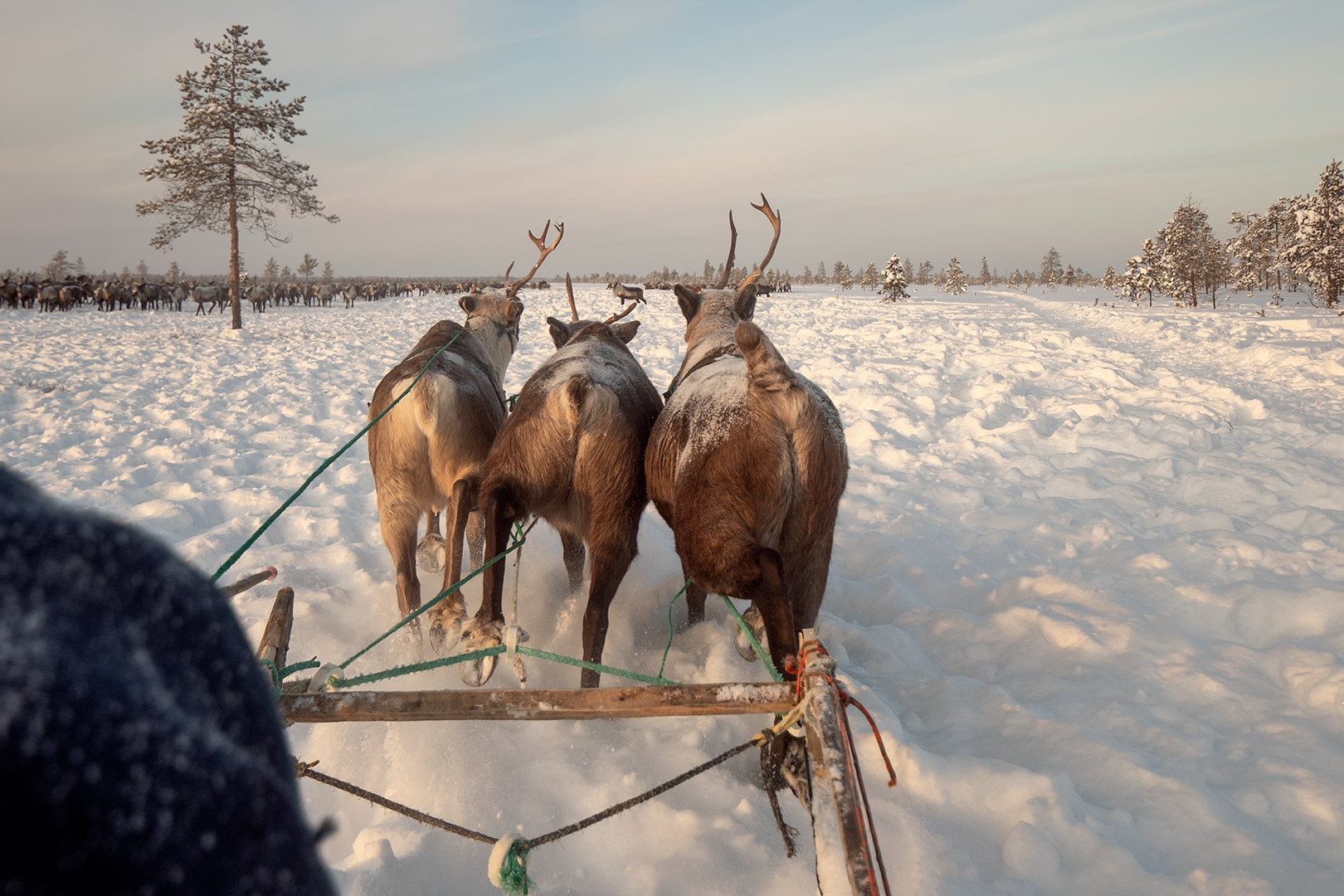 The herd changes direction again. Grigorij stops and tells me to get off and then he continues on his own. I find myself abandoned on an open field thinking: "what now?" Patrik stayed behind, Grigorij disappeared somewhere and the herd is nowhere to be found. Suddenly I notice some movement. It is hard for me to identify it since I have to stare into the sun in order to see it properly. It is the herd. It is coming my way and Nenets are right behind it on sleds and snowmobiles.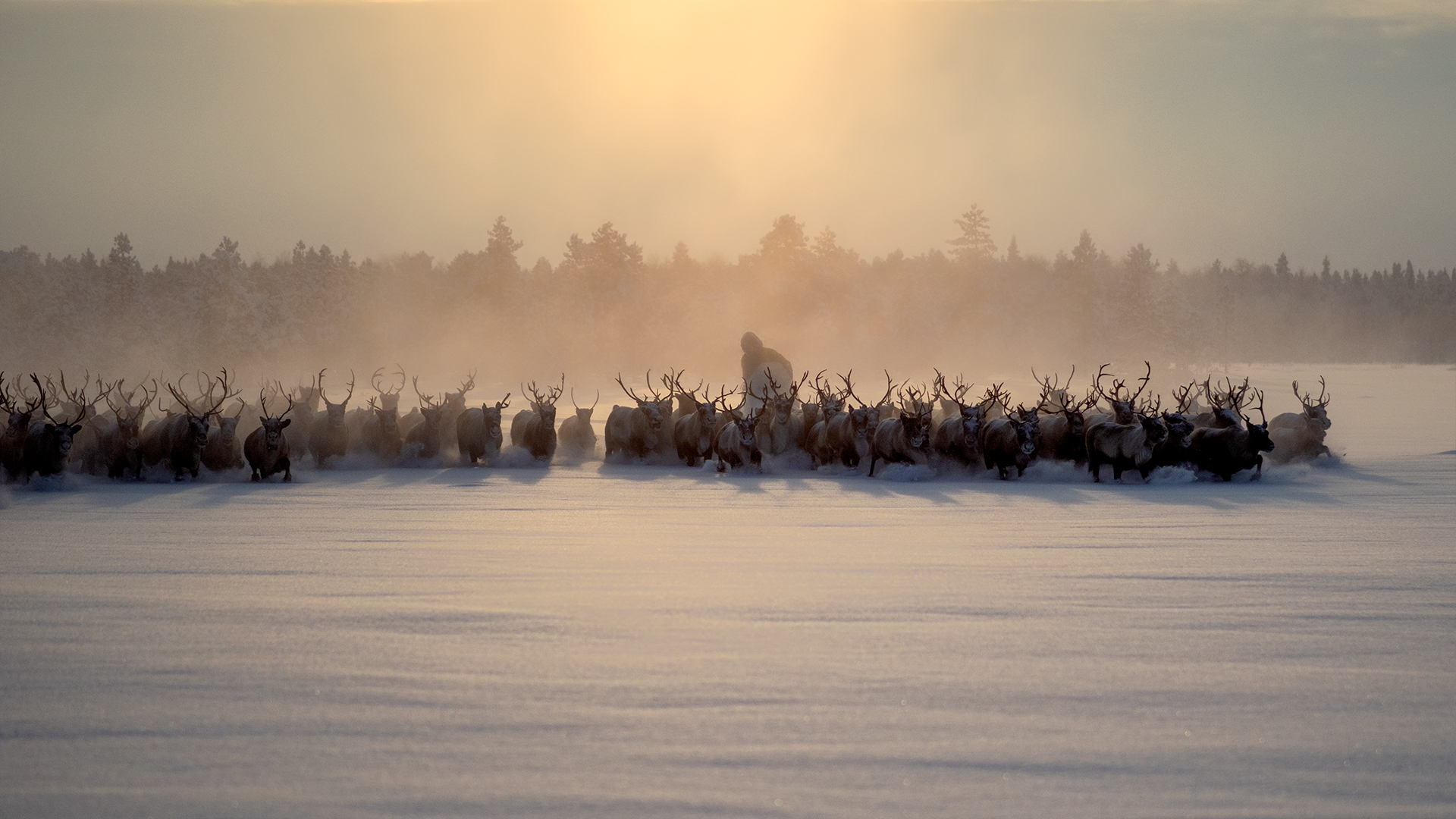 I point my camera at the reindeer even though I am looking directly into the sun. I don't care about anything other than the composition of my photograph. I don't even think about the fact that there is an entire herd running straight at me, until some days later. And that is only because I was asked about that feeling by one of my followers on the internet.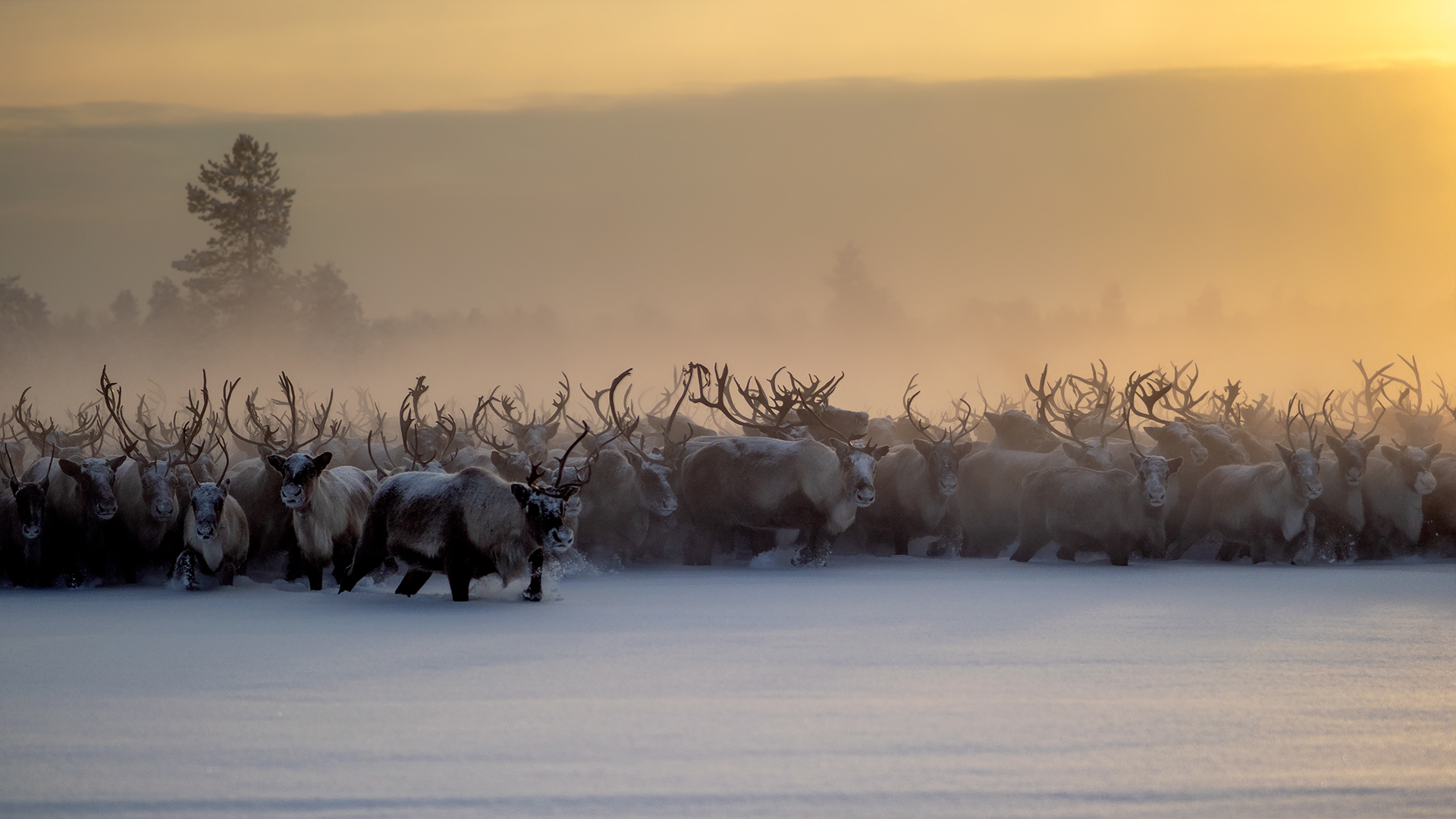 Reindeer change their direction once more few meters away from me and run past me. As I keep my lens pointed at them I notice more Nenets around me trying to lead the herd into the desired direction.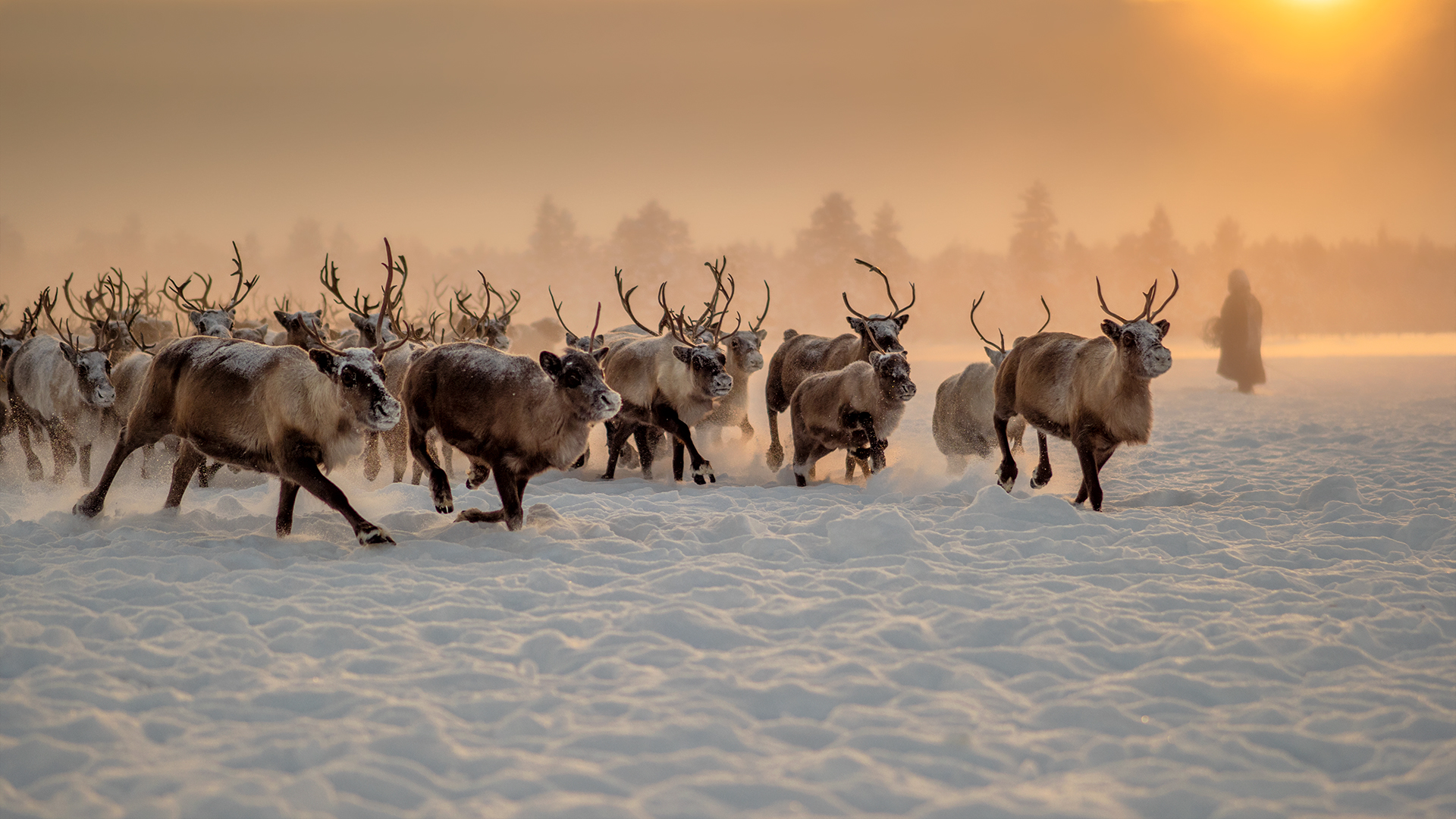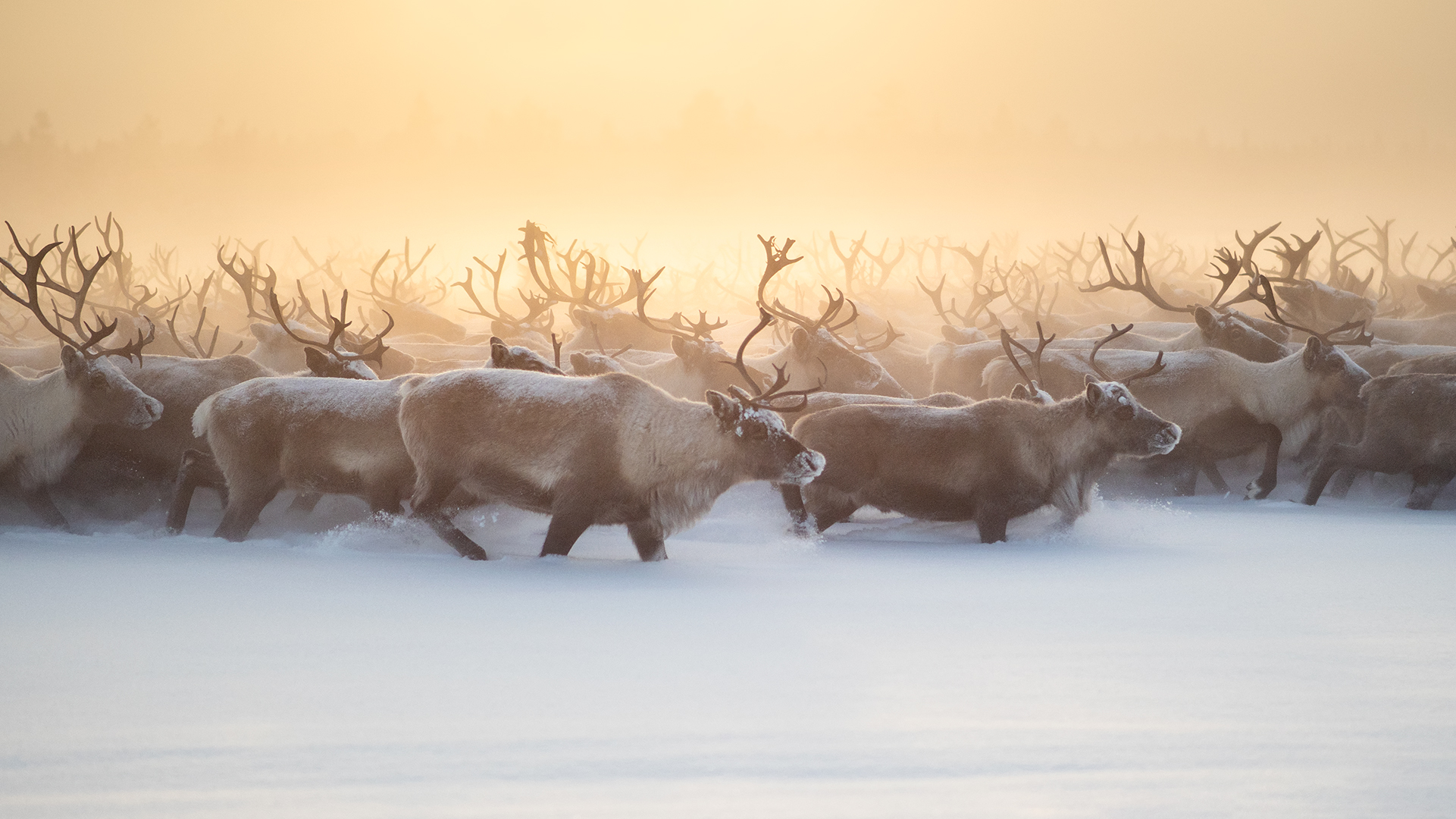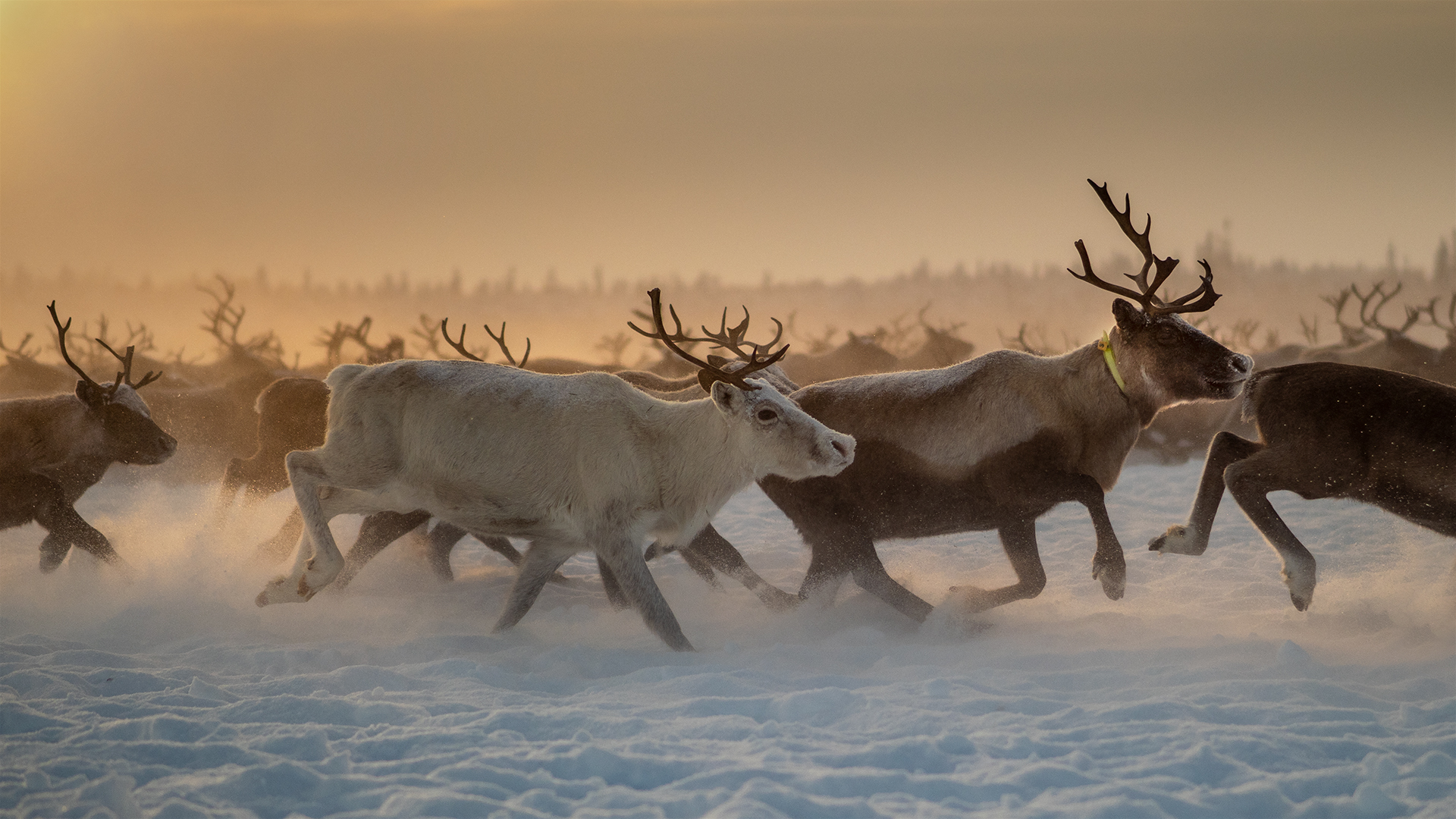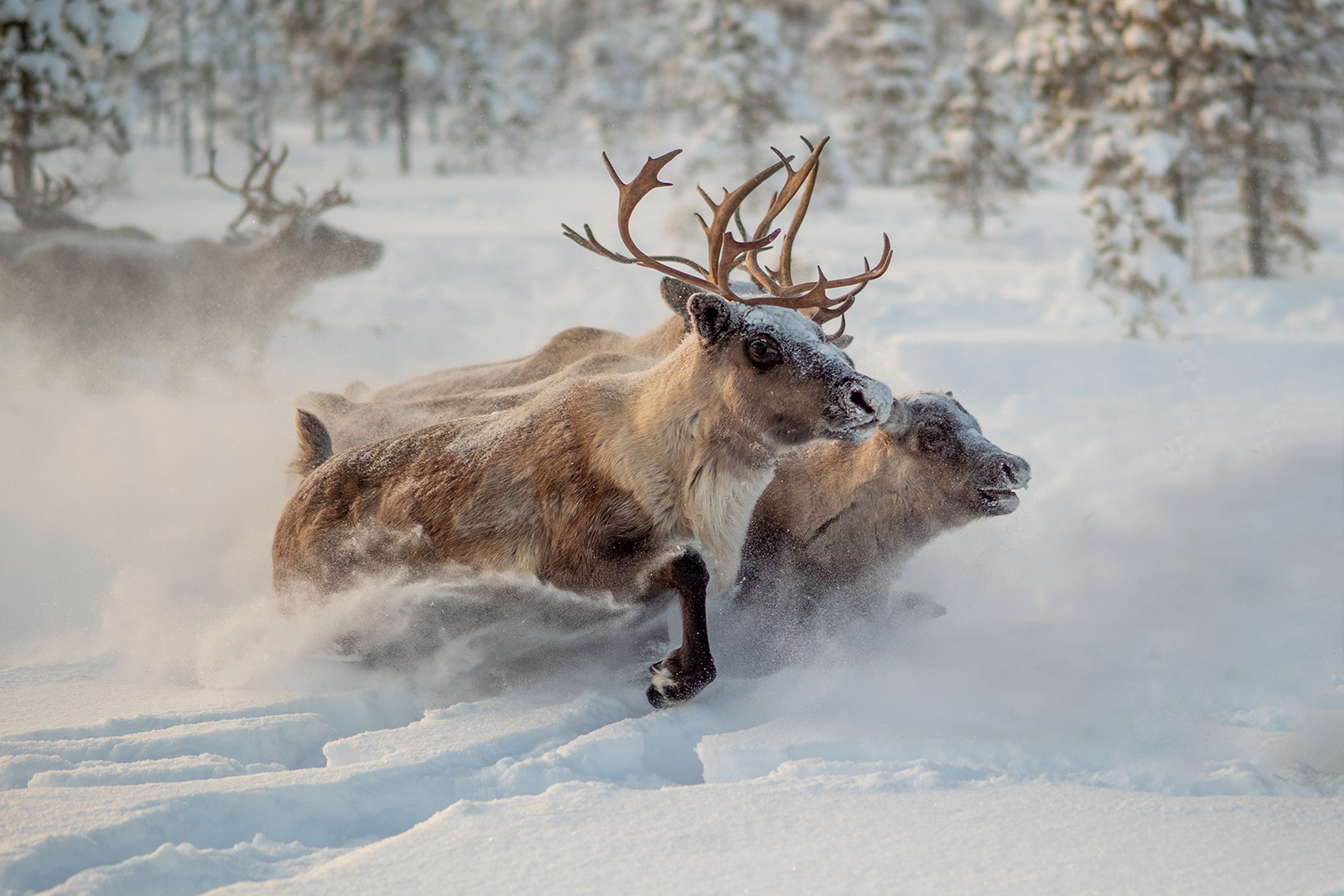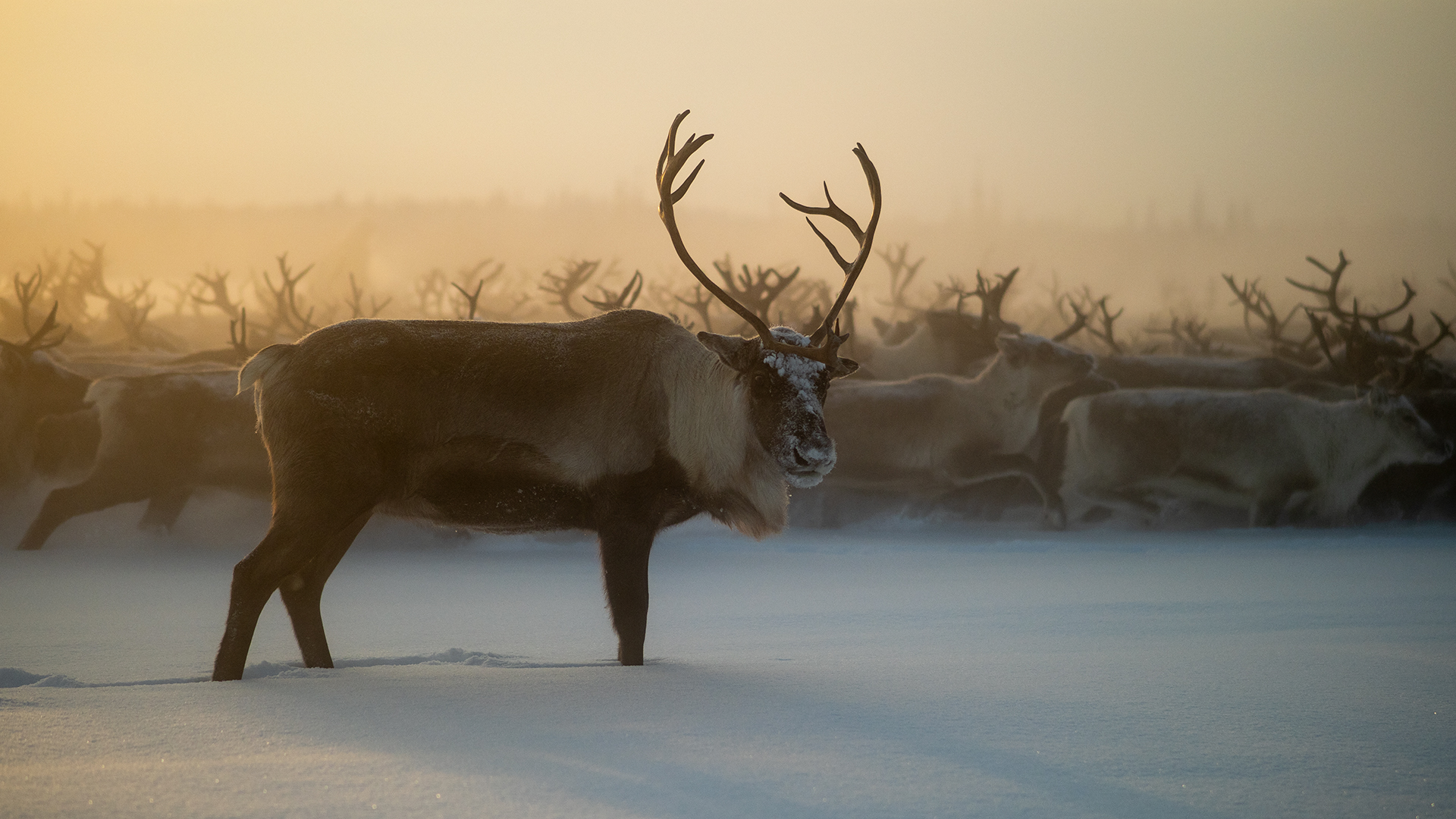 Once the Nenets gathered the herd and calm it down, they lead it into big circles. Then they capture some reindeer using lasso. I am once again blown away by their skill and proficiency. It all happens so fast I don't have time to notice everything happening around me, not to mention take photos of all of it.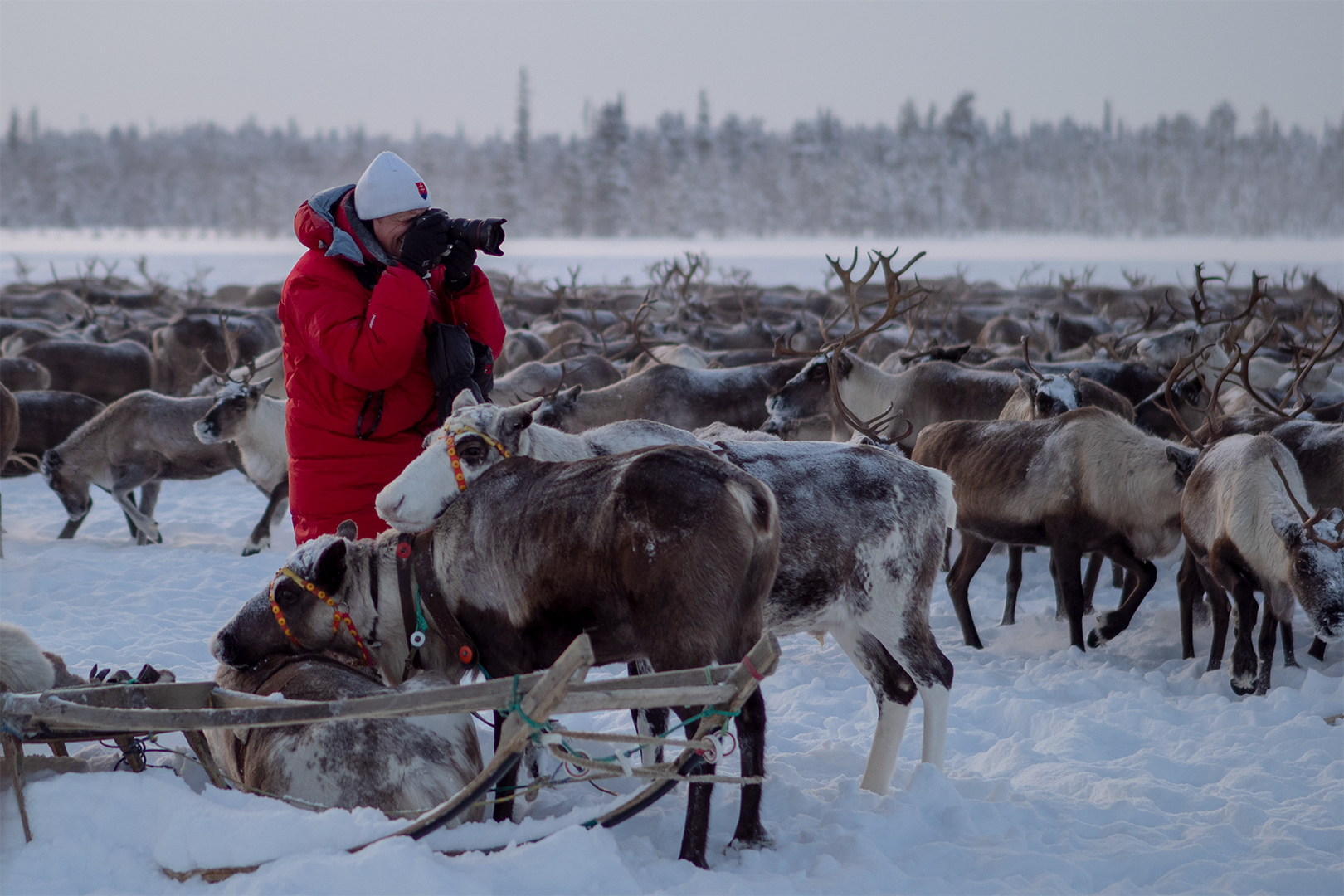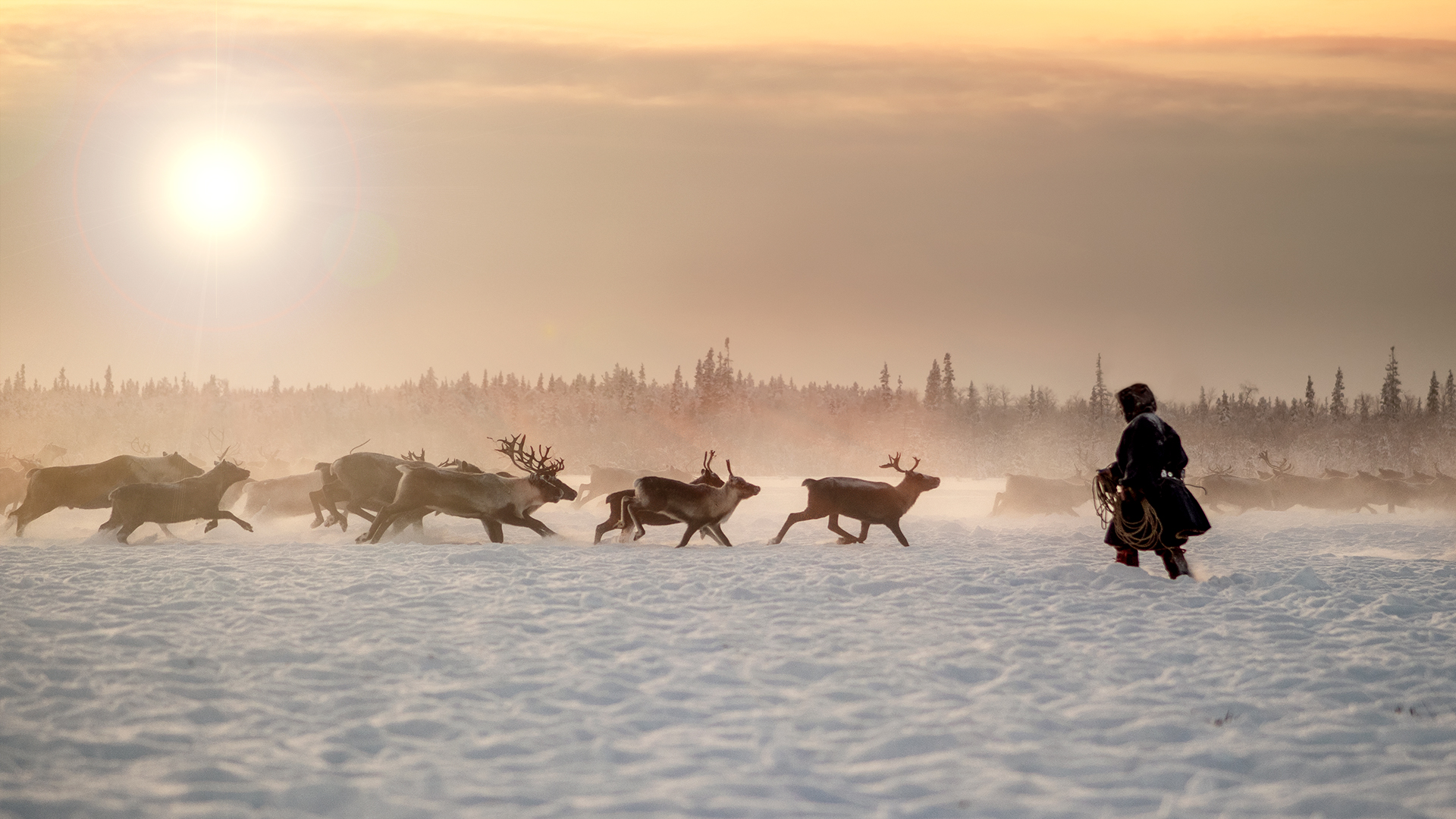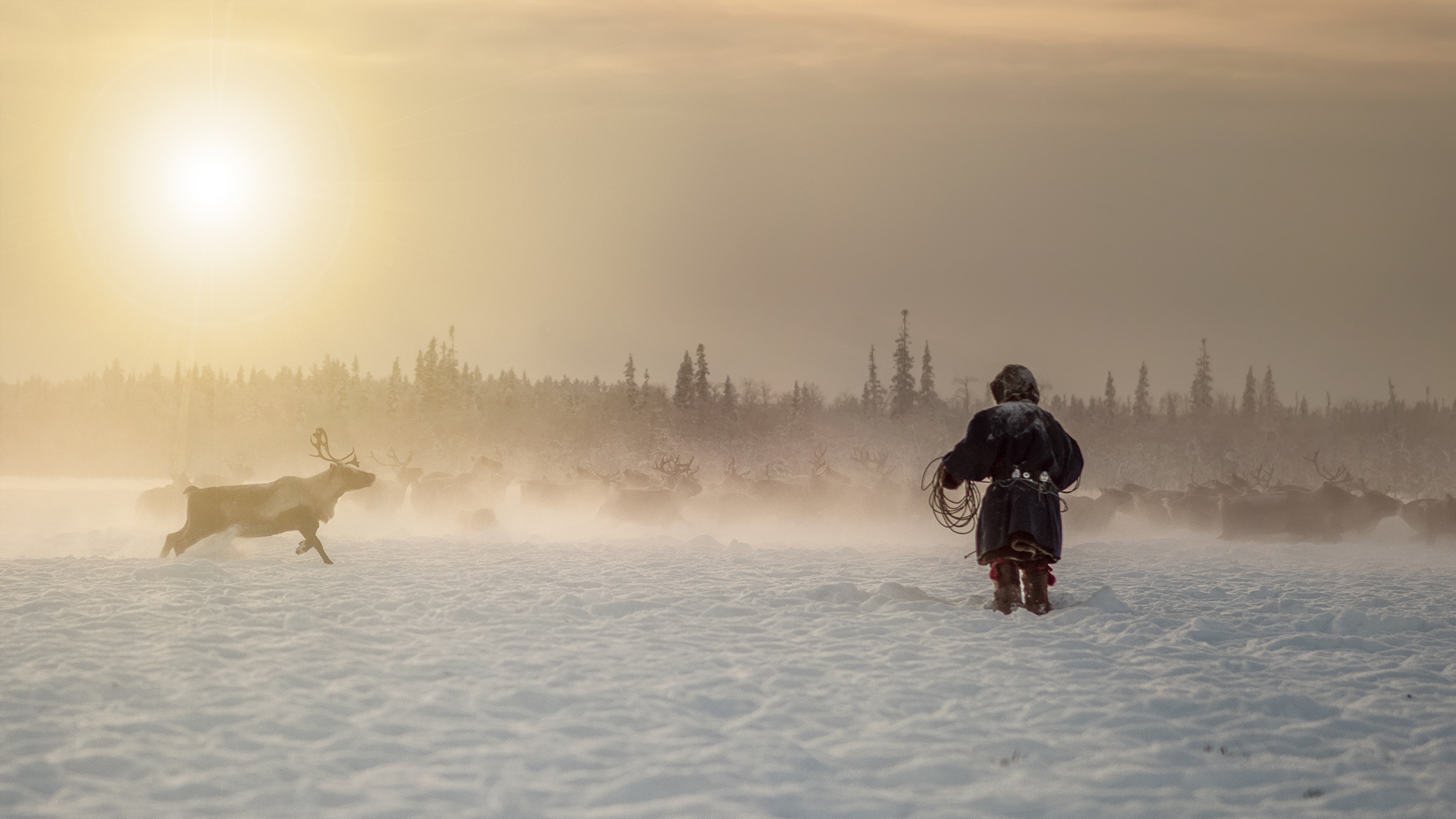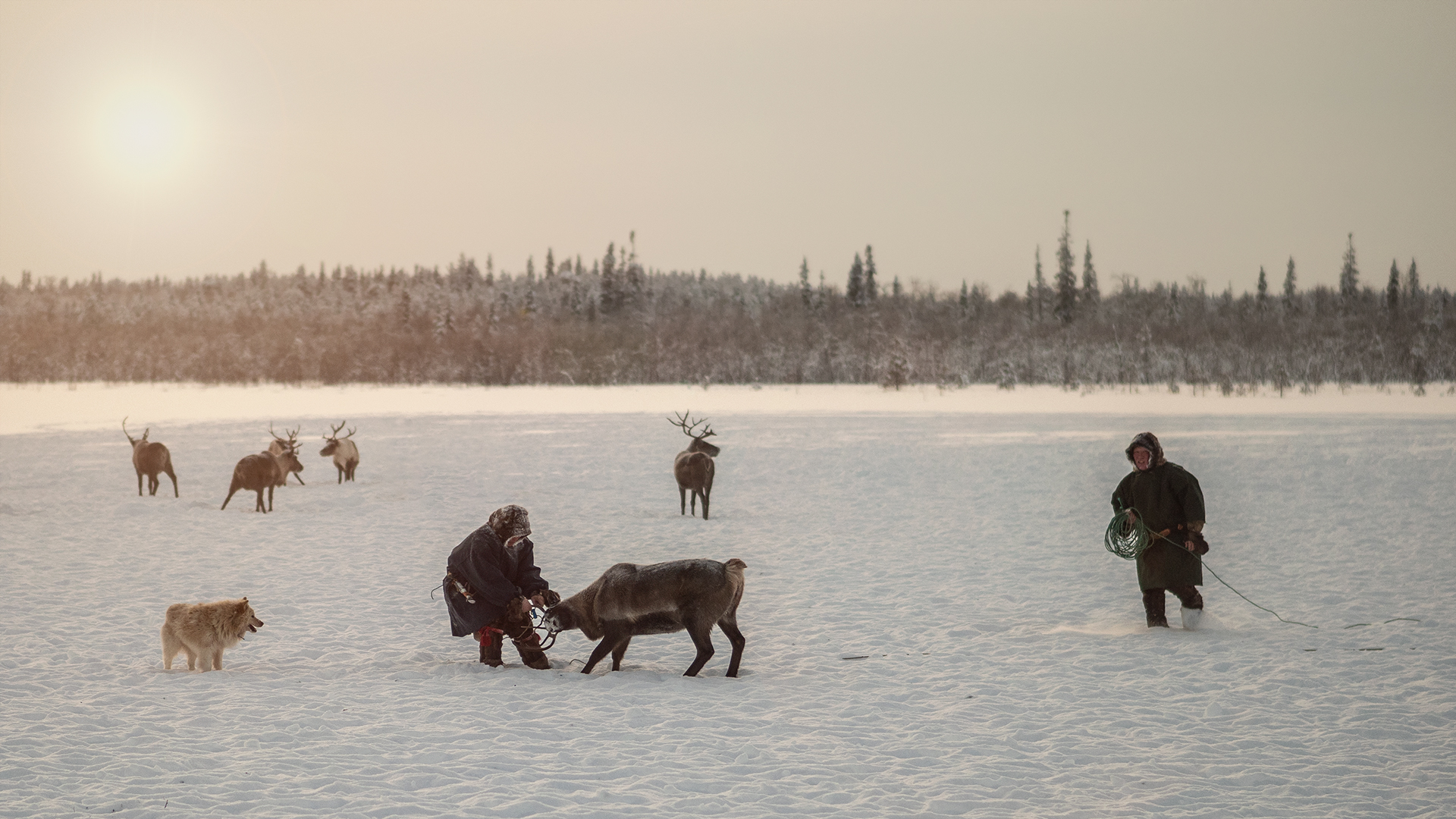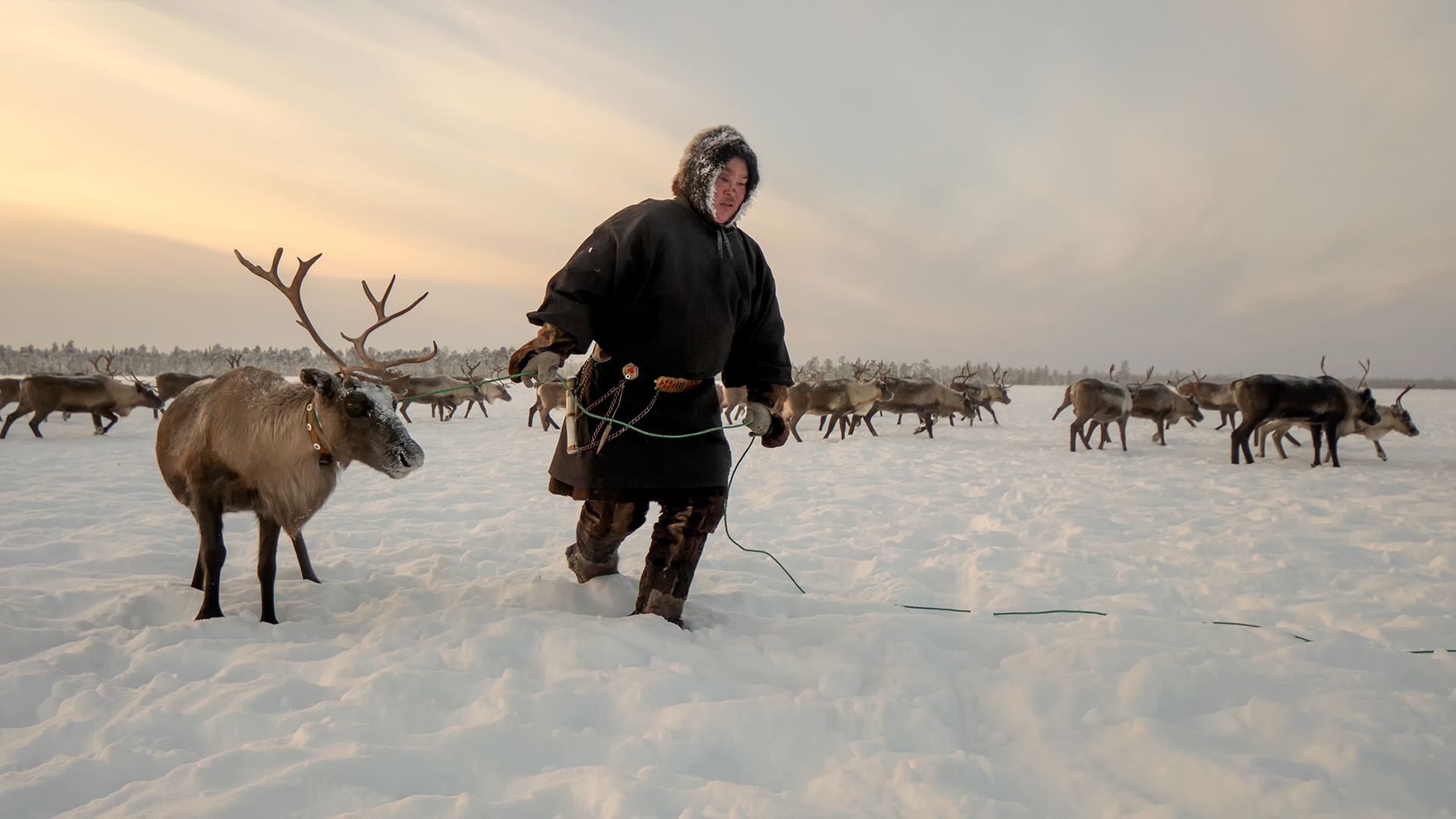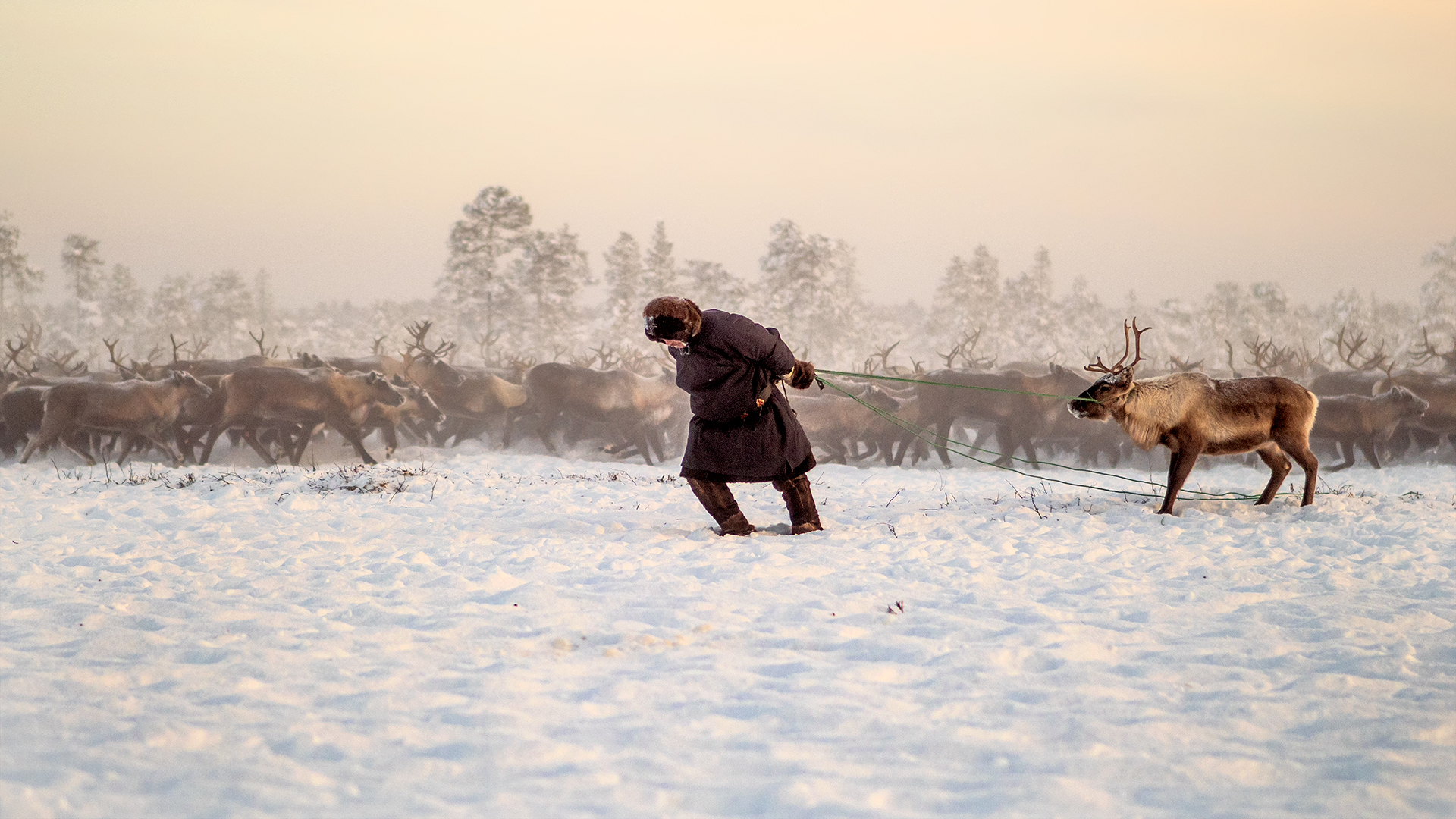 The aim of capturing reindeer is the same as it was in the enclosure. They divide the reindeer into three groups again – domestication, consumption or for antlers to be sawed off.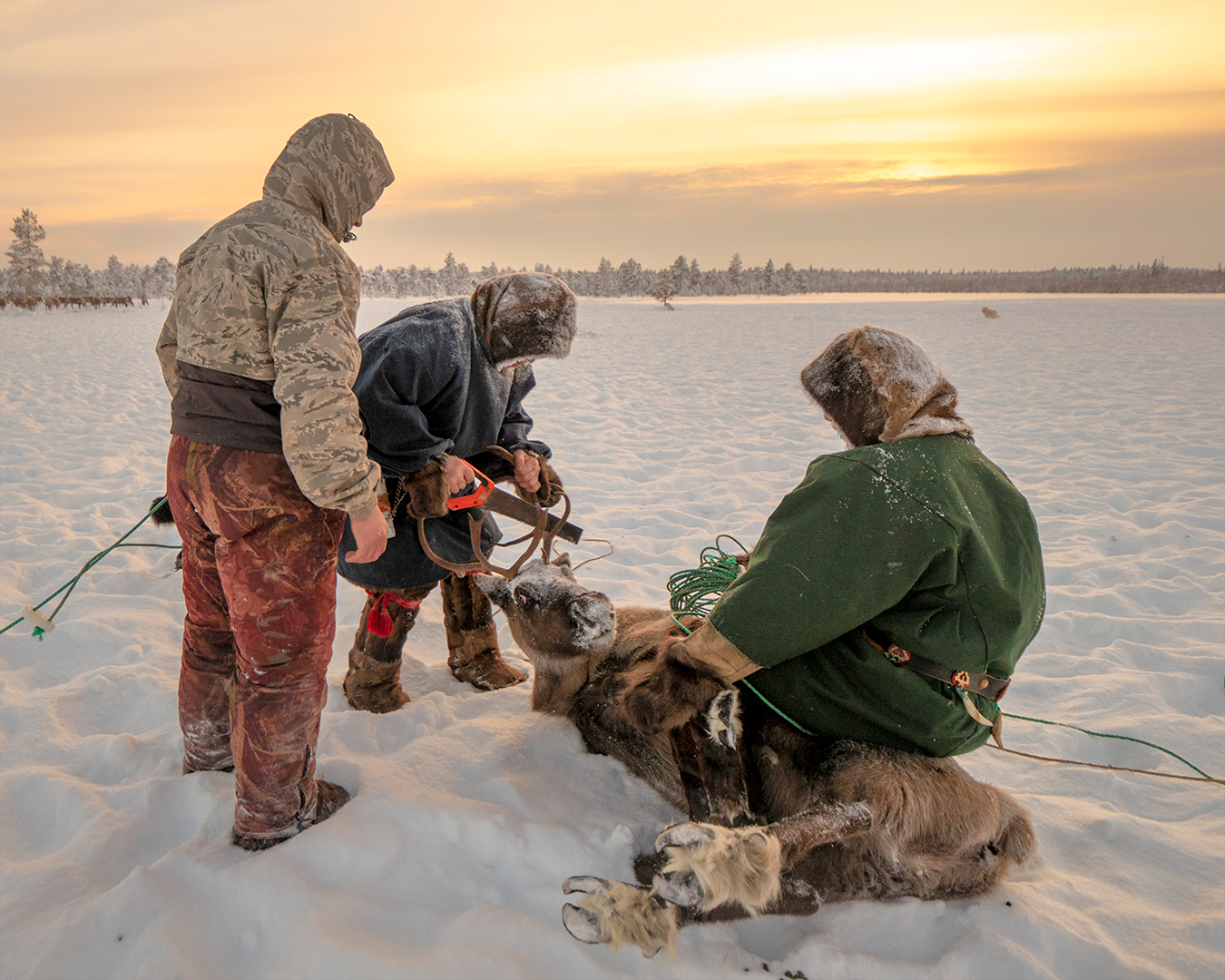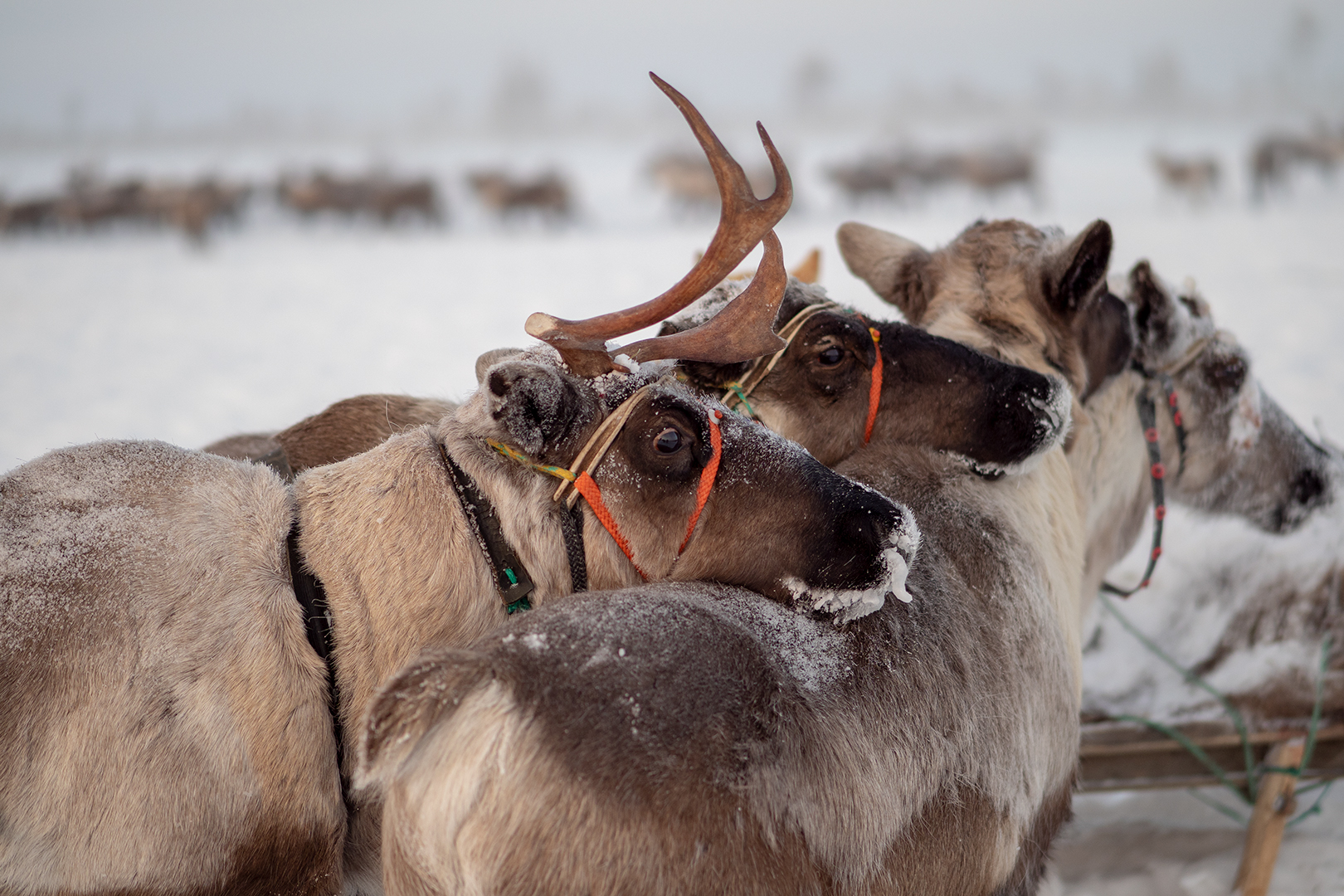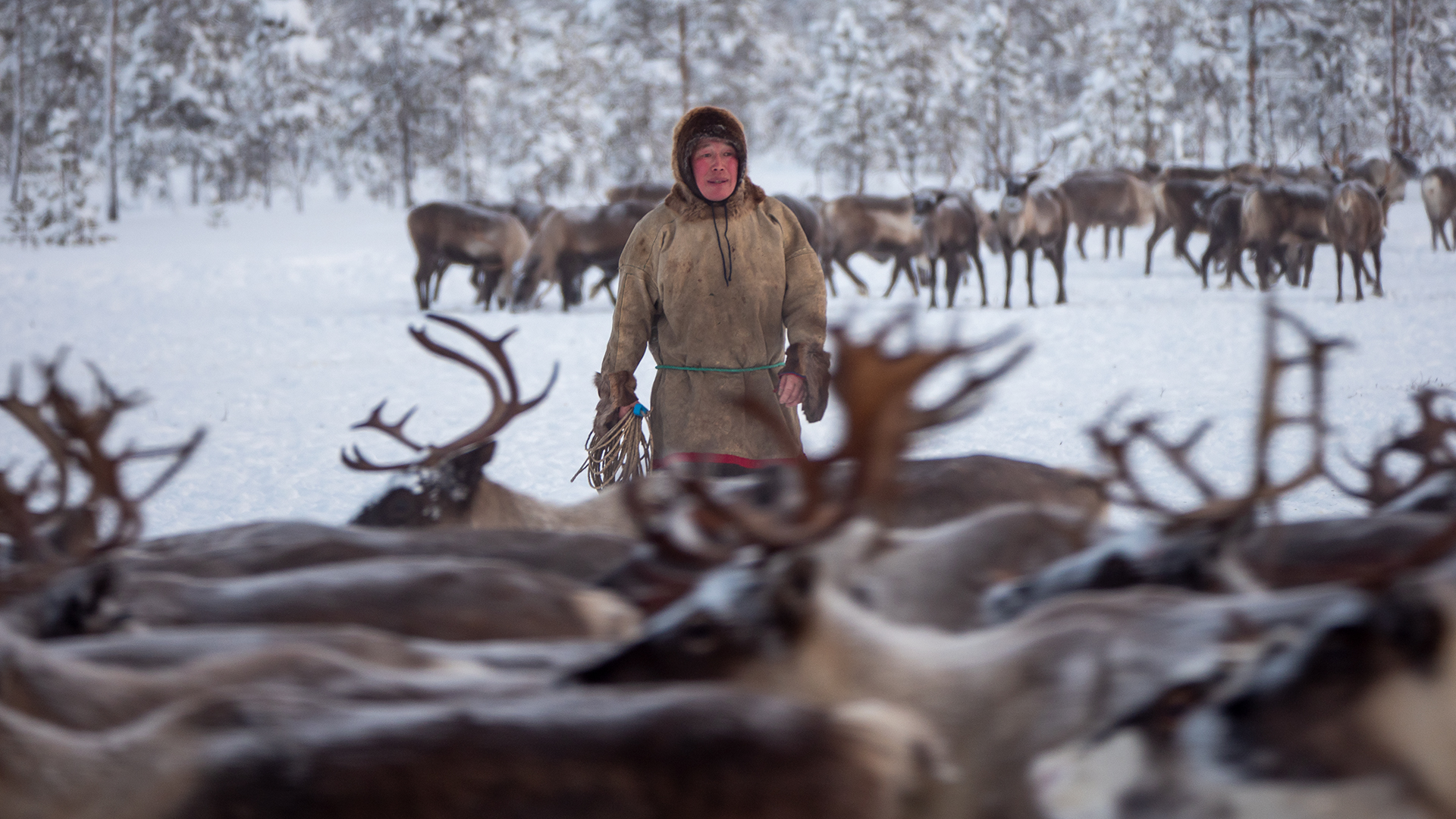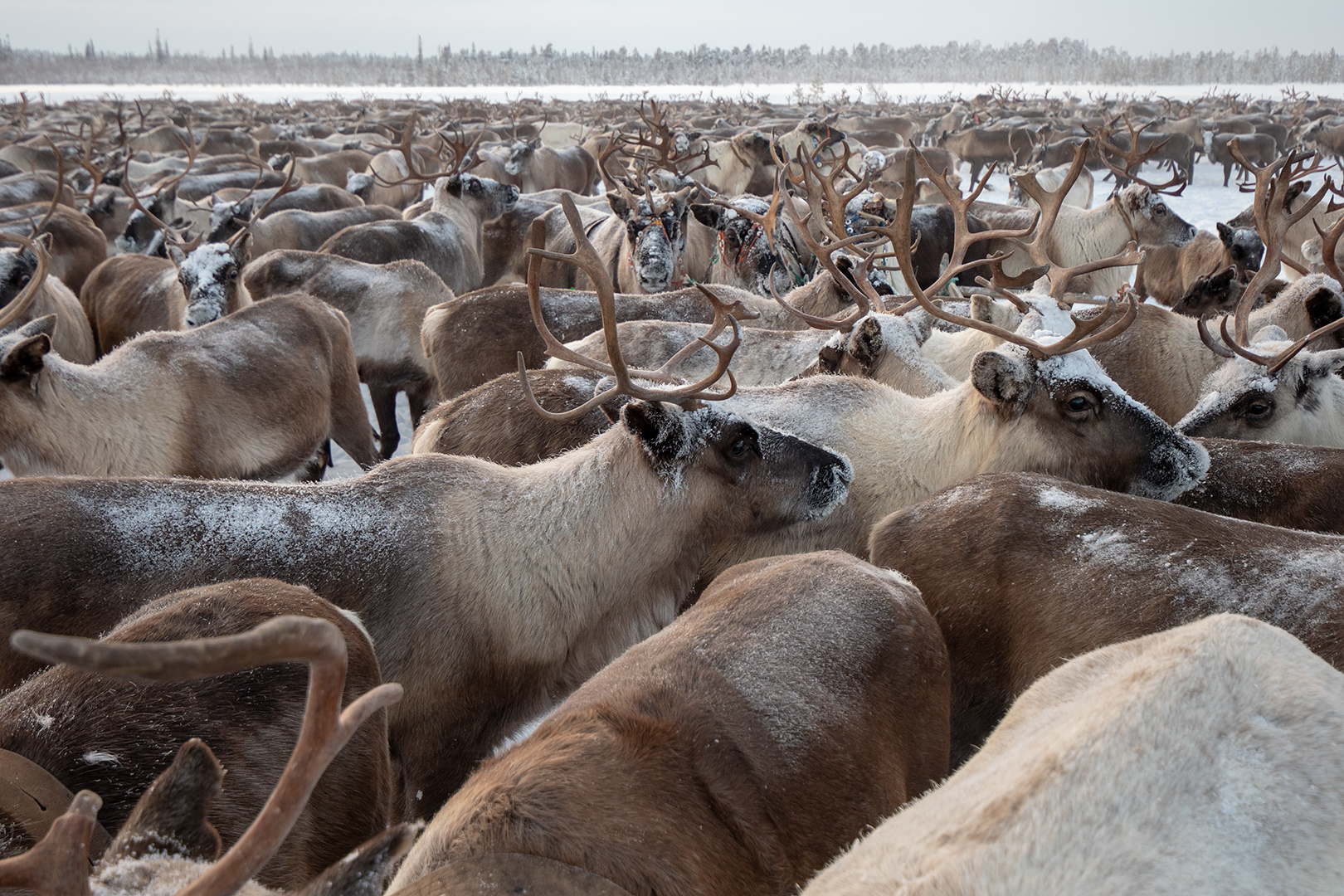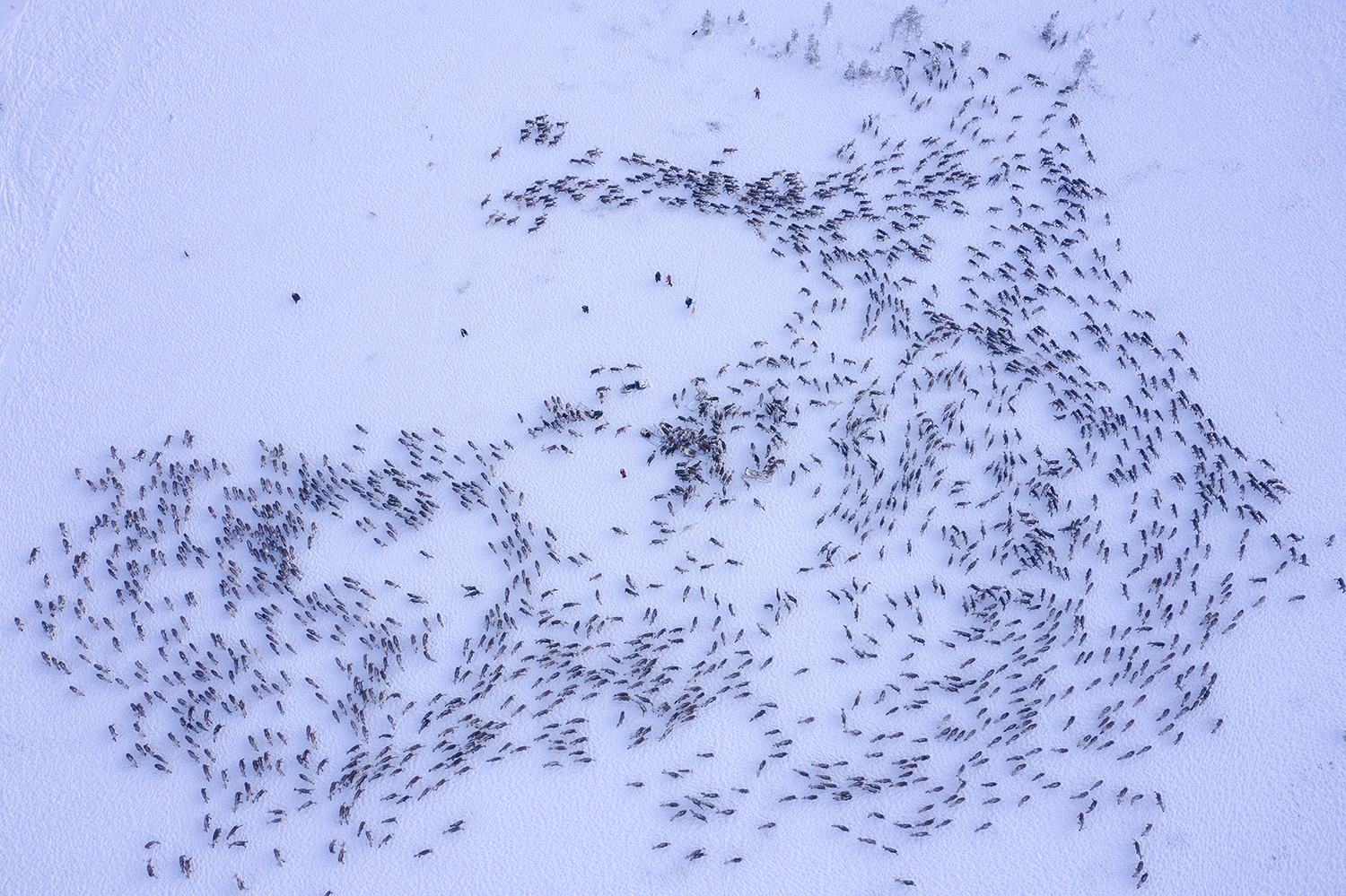 At the end of the day, Nenets take some reindeer back to the camp. Some of the reindeer don't want to go and resist. They lay down on their stomach and let Nenets pull them with their sleds. It looks grotesquely. Nenets tie them to trees and carry them on their sleds to the Camp, one by one. In the morning we ask them where are the naughty and lazy reindeer. Nenets just smile and point at carcasses hanging from trees. As soon as we see this we ensure them that we will always obey their commands.
Nenets and their dogs – Herding laikas
Nenets people can't imagine most of their day to day activities without their loyal companion – Nenets Herding Laikas. Laikas always follow their master. They don't give them orders using regular verbal signals as we do. Instead, they just growl and gesticulate at their dog and Laika immediately knows what to do.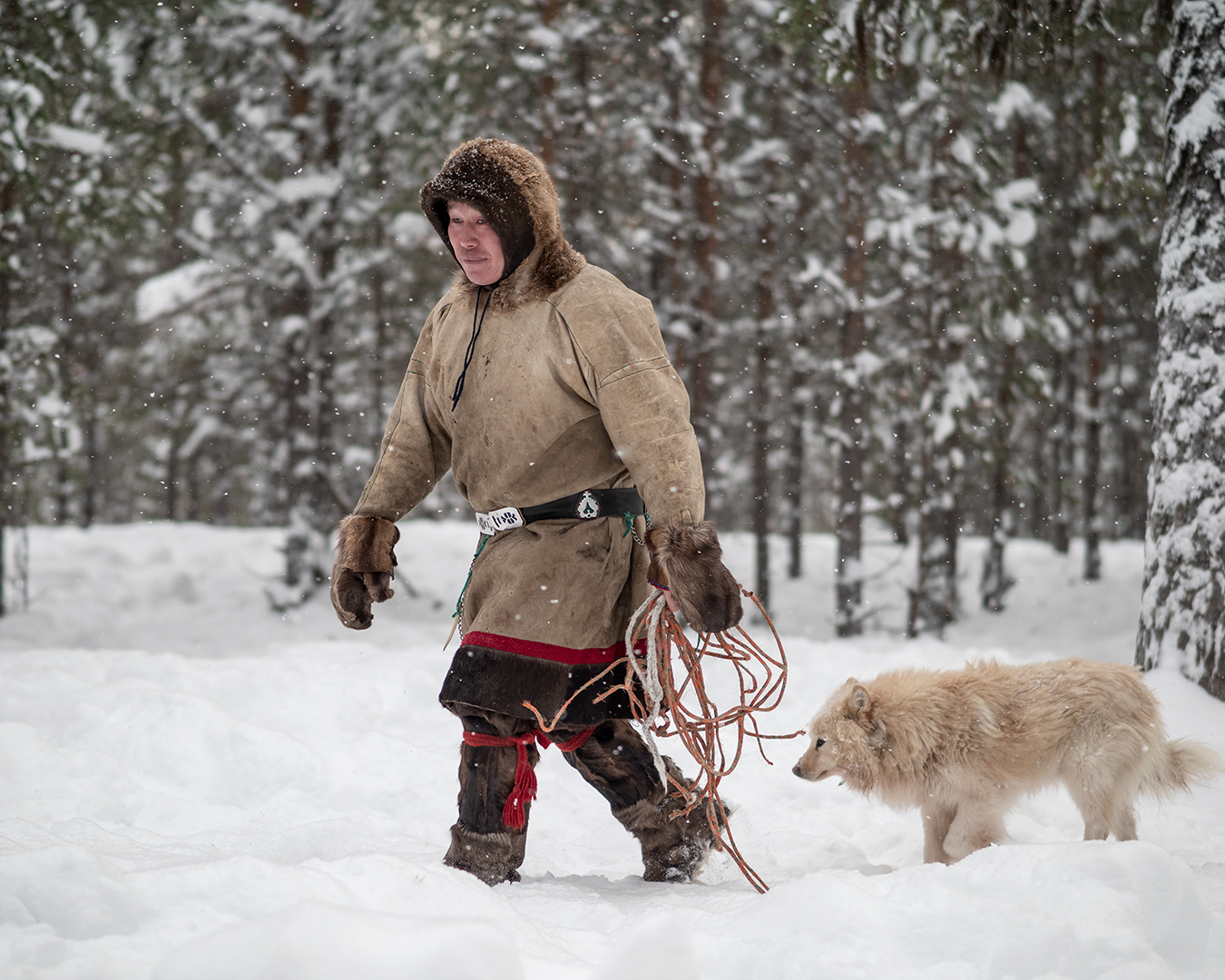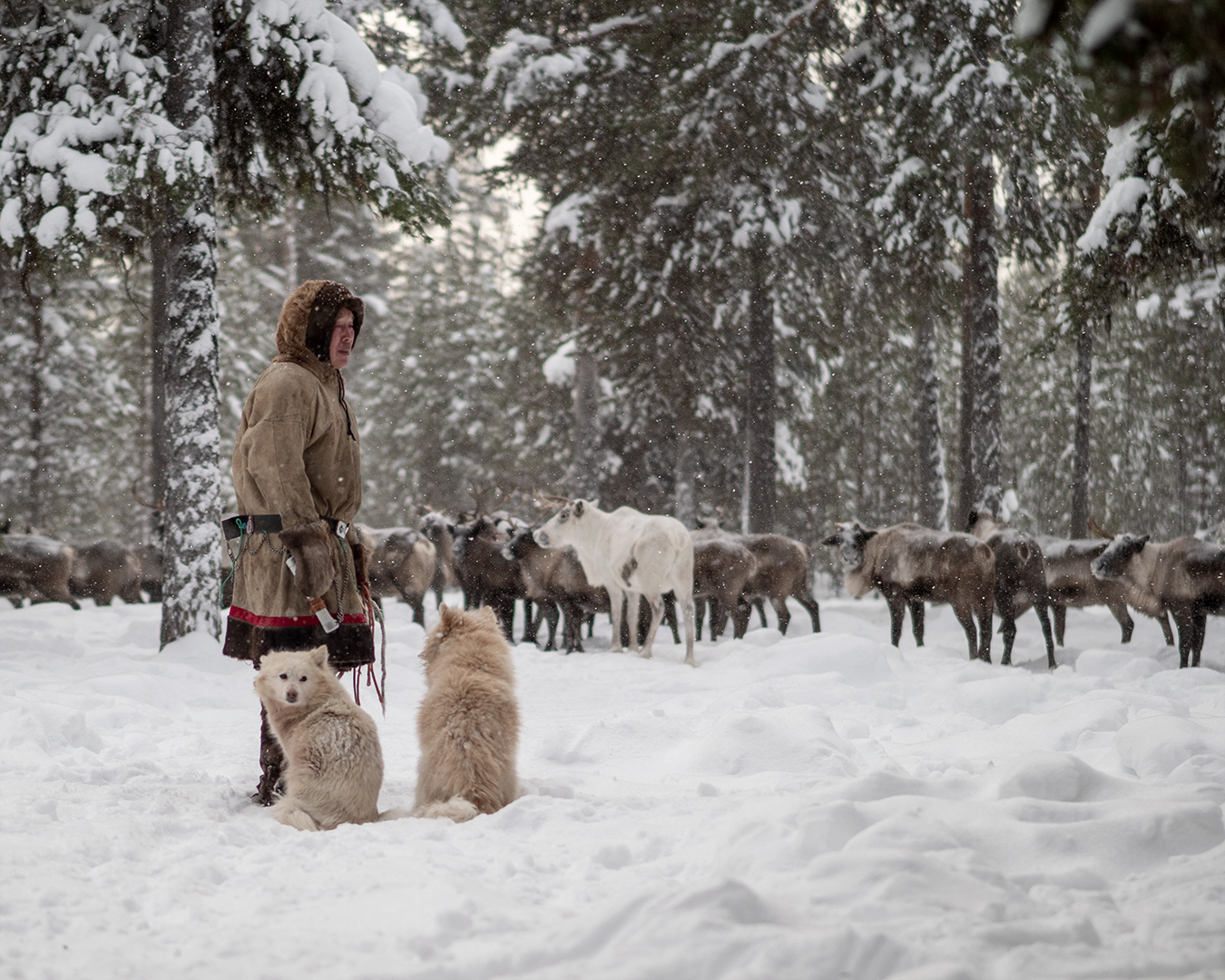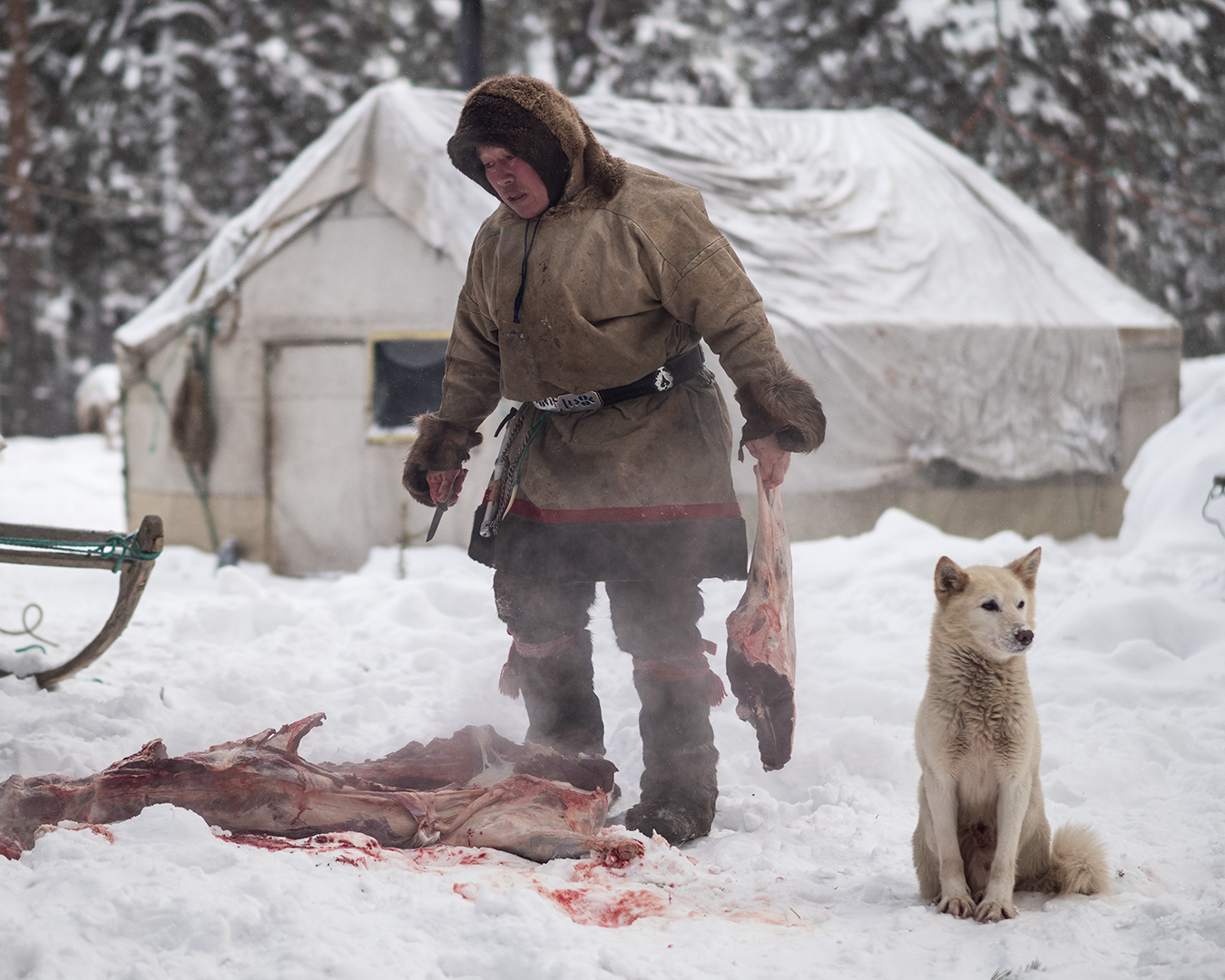 Like most dogs, Laikas are very social. Also, they are very clever. Whenever they see an opportunity to ride on the sled or snowmobile they take it. As soon as their master starts to get ready, they hop on…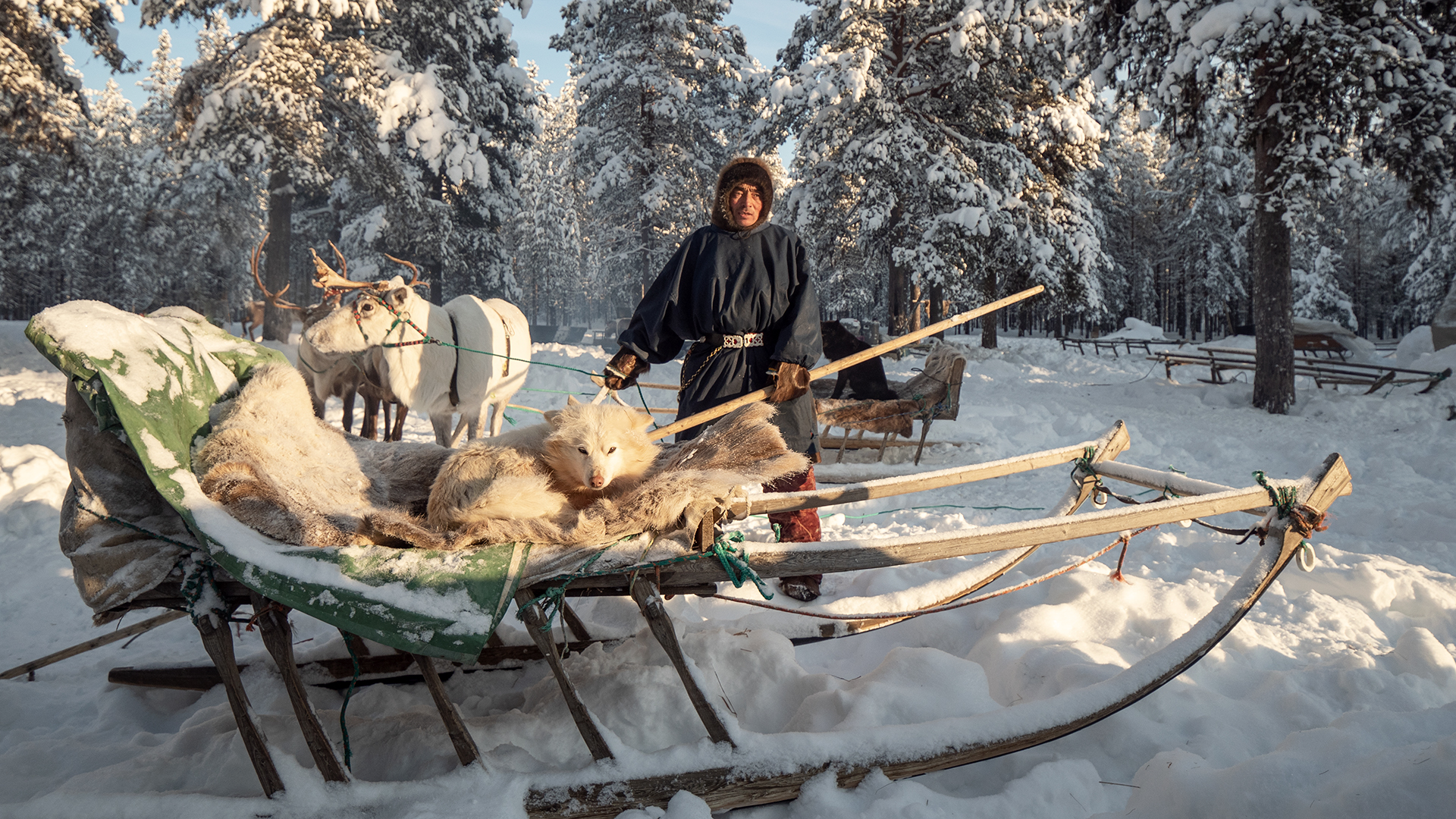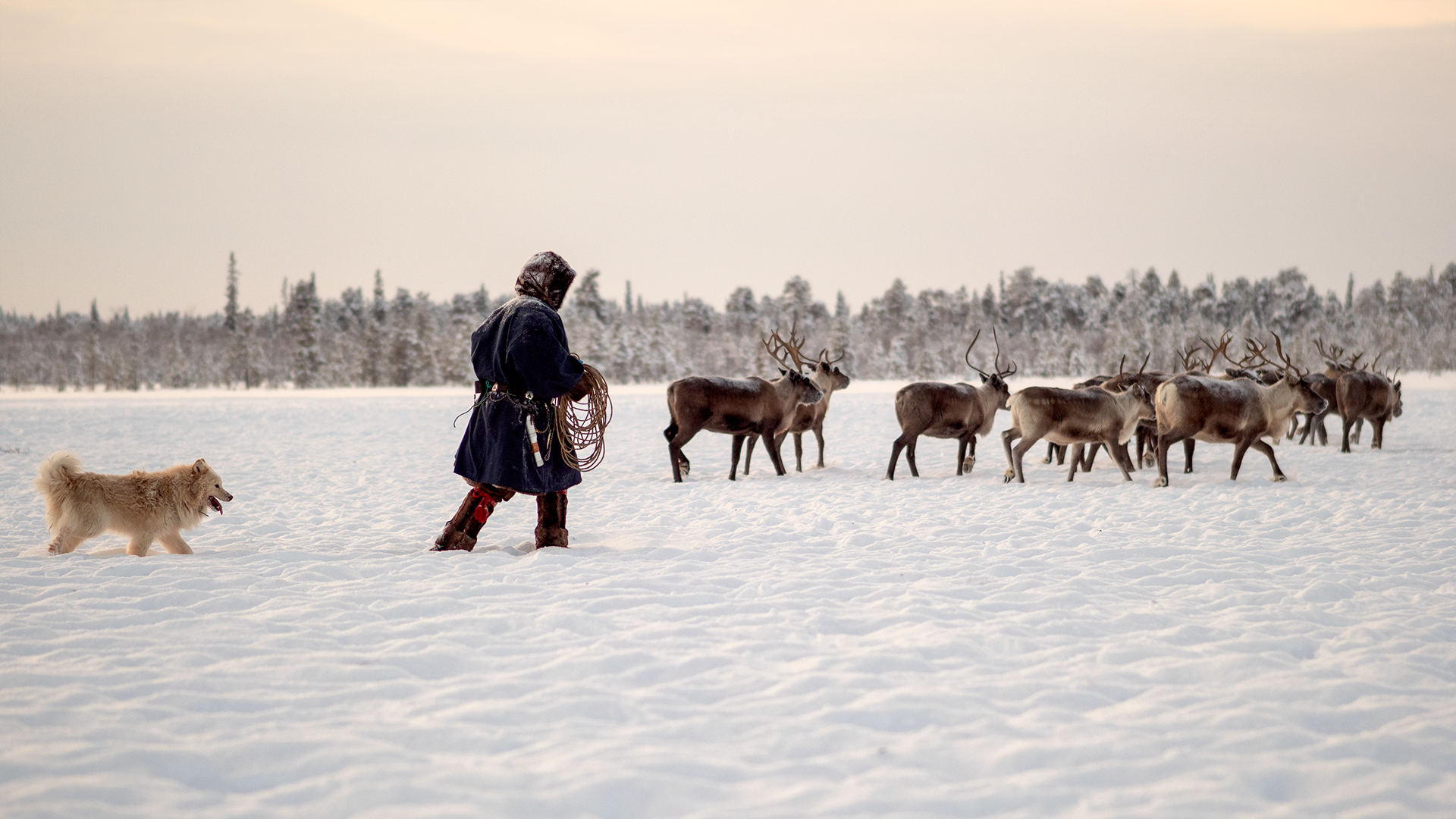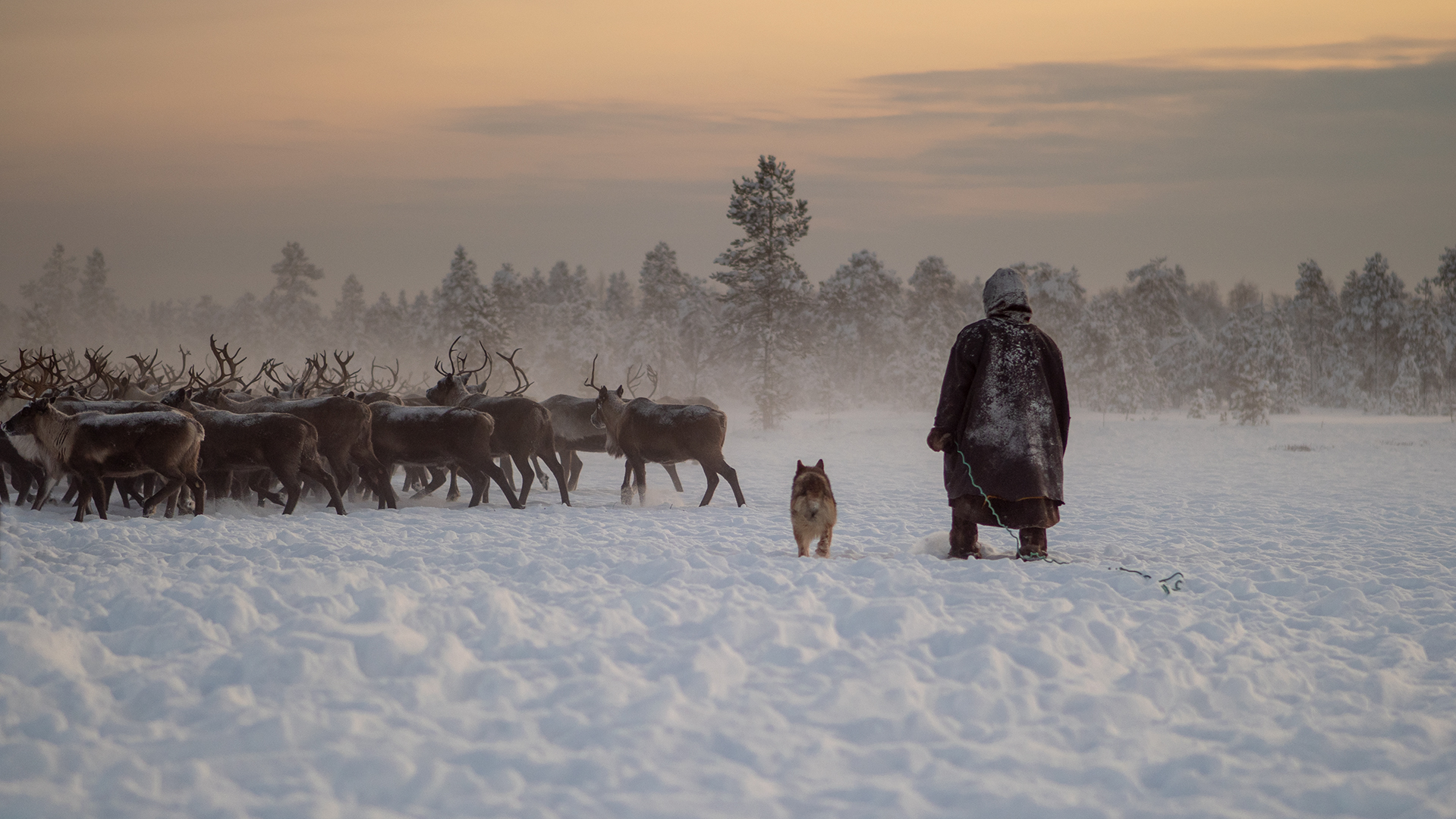 A little bit about our photo equipment
Photographing in these conditions is quite difficult – for both photographer and his equipment. Temperatures around -30°C and the entire day in the field challenged everything big time. I was using my favourite mirrorless Olympus. To be specific, 2 x OM-D E-M1 Mk II with prime lenses Olympus 17mm f/1.2, 45mm f/1.2 and Panasonic 12mm f/1.4. I also carried wide-angle zoomable Panasonic 8-18mm f/2.8-4. But I barely used it.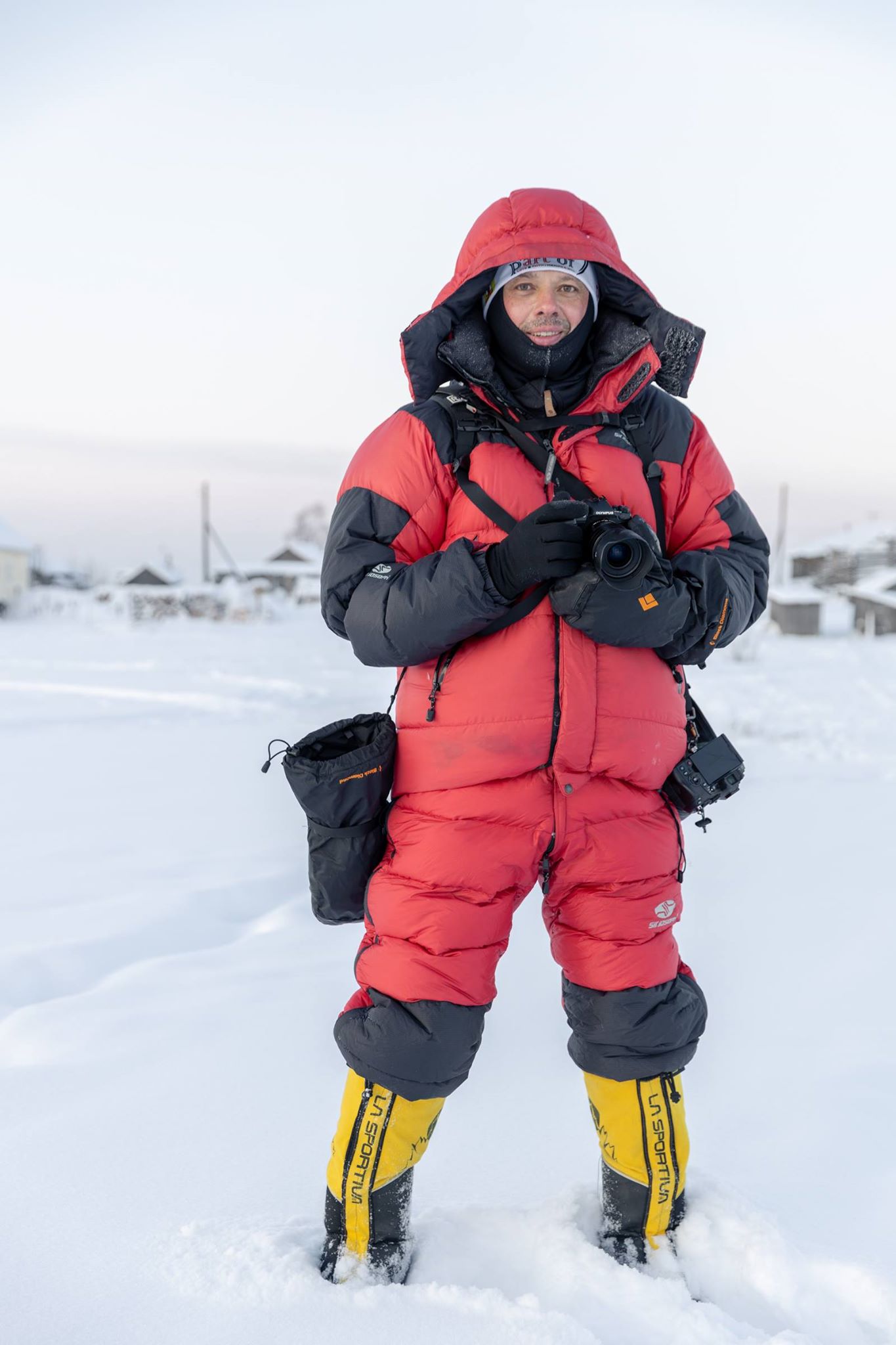 Patrik is loyal to Canon so he took 5DMk IV as well as the new mirrorless EOS R with pro zooms Canon 24-70mm f/2.8L a 70-200mm f/2.8L. I also got him a Sigma 14-24mm f/2.8 ART as a last-minute purchase before we left for this trip. Honestly, I was quite jealous of him for having it, especially when we were photographing in the interiors.
We both had drones as well – I had DJI Mavic 2 PRO and Patrik had compact 4K camera DJI Osmo Pocket.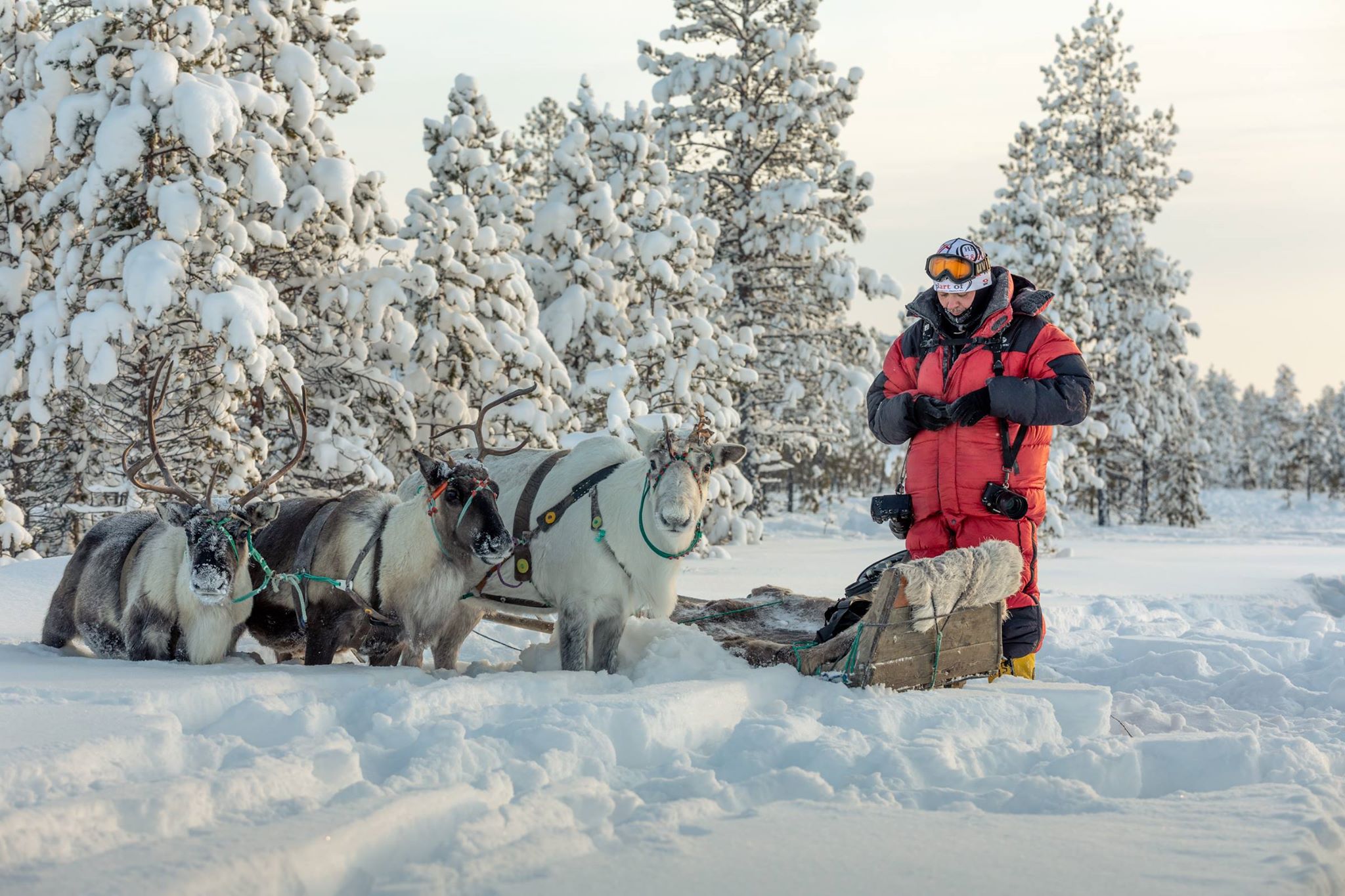 Basically, everything worked just fine. Even though after longer time periods in freezing temperatures, LCD displays and viewfinders started slowing down. Focus points were moving slower than usuall as if they were lazy.
The temperatures only caused two more serious issues – my OMDs were losing battery power quite fast without warning. Fortunately, all I had to do was heat them up a little bit in one of my inner pockets. Later I got used to carrying entire cameras inside my jacket. It helped the batteries, however, it was a little bit uncomfortable and I managed to break one eyecup.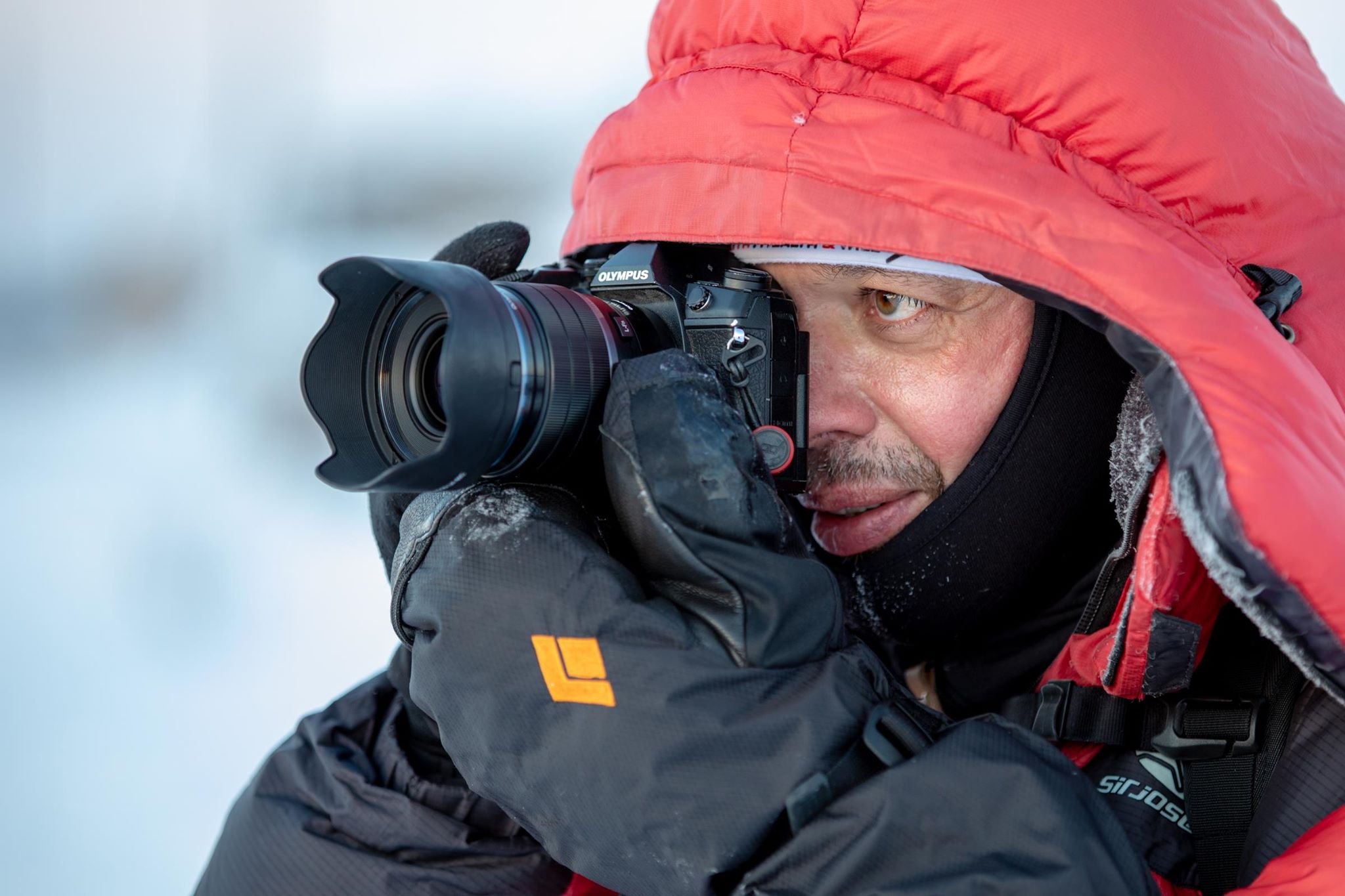 Patrik had a similar issue while flying with his drone. His iPhone just turned off after a few minutes and the drone had to fly back on its own.
I tried photographing with compact Sony RX100V. Its tiny batteries would only last few minutes and then it would turn off. However, like my Olympus cameras, all I had to do is heat it up a little bit in my inner pockets. Nonetheless, I can't recommend the RX100V for a serious photographing in such conditions. Apart from other issues, it has tiny buttons which are hard to control in gloves. And to take off your gloves means risking frostbite.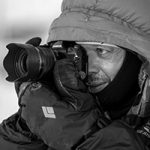 "The first time I smelled developer was in 1985 when I was a member of the National Sports Center (Parachuting) in Lučenec. With the tiny Smena 8M camera, I was trying to capture my parachuting colleagues when descending, jumping out of a plane, or even during the free fall. Burning glass and red light became my loyal friends. Later, with the switch to colour film, I, in turn, became a friend of photo labs.
In 2001, I switched to digital and after numerous changes of hardware, I remained loyal to Olympus mirrorless. Paradoxically, this change led to a gradual return to black and white photography and a classic photo film. It started with 'ordinary' black and white street photos, and then along came karate, landscapes, and infrared photography.
Today, I work almost exclusively in black and white. When taking a black and white photo, I don't need to care too much about balancing the white or about colour profiles in printing and I can enjoy the actual process of taking photographs much more. Black and white photography is in fact quite liberating. Genres that I specialise in are simultaneously my hobbies – karate, skiing, backcountry skiing, scuba diving, mountain hiking, and travelling."