Yellowstone – Winter 2018 with Olympus gear
Introduction
One of my bucket list items has always been to shoot Yellowstone in winter. I'm not sure if it's the thought of seeing the park without the hordes of people or those amazing winter shots you see. But in any case I've wanted to shoot it in winter for quite a while now. When the opportunity popped up to go I took it.

Everyone thinks, why would you want to go when its cold like that. Well honestly, cold doesn't bother me much, I've spent most of my life in Michigan and winter is something you just get used to. I prepared for the weather you hear about in Yellowstone: -40 degrees, huge amounts of snow, blah, blah. Well what we got was mostly above freezing. Needless to say, the gear I brought with me was way to warm, hell that's almost spring weather to a northern boy. Of course I checked the weather, but I made the assumption that the weather forecasts were coming from a corner of the park with warmer weather. I still don't know where they take the readings, but they were pretty close to what we got. We did have a couple of days in the mid 20's but that was about it.
Logistics
The one thing about going to Yellowstone in the winter you do have to deal with is the logistics of the place. Almost everything is shutdown for the winter. All the roads except the road through Lamar Valley (Route 296) is closed during the winter. Closed that is except to snow coaches and snowmobiles (everyone else calls them snow machines), and even those have to have permits. A snow coach is basically a short bus with about 14 seats that's modified with 4×4 and huge low pressure tires or tracks. You can't just go rent one of these things, everything goes through one of the companies that provide tours or other services.

Sure you can go on a tour by snowmobile or coach, but you get basically the tourist experience. Everyone off the bus, point this way, get your shot, okay we're moving on. I wanted to make images, which doesn't lend itself to that. So I booked with a workshop group by the name of Backcountry Journeys run by Russ and Crystal Nordstrand. The nice part is Russ has shot Yellowstone in the winter many times and he handles all the logistics except your flight into Bozeman. They handled the food, transportation, lodging. You name it. As I mentioned transportation is a challenge, but so is lodging that's pretty limited, and even arranging for food can be challenging. Remember the nearest store may be four or more hours away by snow coach. Here is a link to their page on the trip.

http://backcountryjourneys.com/photography-tours-workshops/yellowstone-in-winter/
Russ and Crystal did a great job with the logistics. We had snow coaches for the trip into the Old Faithful area and to chase for animals. They also had a pair of big black SUVs and to be non political they had a Chevy Suburban and a Ford Expedition. Food sometimes was wraps or something out of a cooler, but again there aren't any places to stop, and I have to admit it tasted pretty good. I'll get to the places we stayed as we go through the trip, none of them will ever win a 5 star rating and lets leave it at that.

A couple comments about Bozeman Airport. First, its a very nice small, modern airport, that's very comfortable with a good restaurant. Security was easy to get through and everyone very friendly. The only real negative, no taxis, Uber, and hotel shuttles were pretty rare. Our hotel didn't have a driver for their shuttle, so they had to call us a taxi. That wasn't a big problem, but we did have to wait a good half hour for it to show up.

One last thing; cell phones. I had switched to T-mobile and most of the trip I had no service or voice and SMS only. The people on AT&T had no service, poor service or full service. In short don't count on cellular service, and most of the places we stayed WiFi was slow. But we're there to get away remember.
Gear
Most of you know that I shoot Olympus gear, in particular the E-M1 mark II (E-M1ii). Just about everyone else was shooting Nikon or Canon, with one person having a Sony too. What a difference, I shot handheld almost all of the trip, everyone else shot on tripods. Shooting handheld meant I could get on target faster, and get a shot without setup.

Here's my gear and in the case of lenses the number of shots on each one. For those of you who are still shooting old DSLR systems, my Olympus Micro Four Thirds (MFT) system has a 2x crop factor. So 300mm is effectively equivalent to 600mm on a full frame equivalent (FFE) camera.
Two E-M1ii – you want two bodies in case one fails. Both of my cameras worked perfectly.

8mm f/1.8 Fisheye – I didn't use this at all, Yellowstone really doesn't lend itself to this kind of shooting.

7-14 f/2.8 Pro (234) – I used this for some shooting, but again like the 8mm there weren't a lot of what I would call wide expanses to grab

12-40 f/2.8 Pro (1257) – I used this a lot for landscape photography, far more than I expected.

40-150 f/2.8 Pro (649) – My strategy here when we were out chasing animals was to have the 300mm on one body and this lens on the second body so if an animal came in close I could shoot either one. Turns out that works pretty good.

300mm f/4.0 Pro (107) – Only 107 images with the long lens, see the next bullet to understand why.

300mm f/4.0 Pro + 1.4x (2248) – The reason was I needed every bit of lens I could get, and it was still too short. This is 420mm, or 840 FFE, and it was still way too short. There were times where the animals were cooperative but mostly they chose to stay at quite a distance.

Gitzo Medium weight tripod with an AcraTech GP ballhead – This is a nice compromise between a heavy tripod and a travel tripod. If I pull the head off it will fit in a rollaboard diagonally. I've used this for almost a decade and its still working great.

F-stop Lotus bag with the Large Slope insert – This bag worked good, but honestly I wish I had brought my messenger bag. The one long hike that they did the F-stop would have been great (I didn't do the hike) but the rest of the time my Tenba DNA 15 messenger bag would have been a much better choice. Largely because we were in vehicles so the bag stayed in the vehicle and the messenger would have been much more convenient to work from.
One of the things I debated was taking the 12-100 f/4 PRO instead of the 12-40 and 40-150. In this case that would have been the wrong choice. There were quite a few times where I needed the extra reach of the 150mm, but where the 300mm (or more likely 300 + 1.4x) was too long.
Day 1 – Saturday
This is the day we flew into Bozeman. Bozeman is like just about any college town anywhere, lots of places to eat and plenty of hotels. We met for dinner and we got our briefing from Russ and Crystal. Let me tell you, Russ is the photographer who knows the places. Crystal manages the logistics, herds the photographers and takes care of the strays who can't keep up. Overall, it works pretty good. We stayed in Bozeman simply for convenience, it's a good two hour drive to the park entrance, and by the time everyone got in and got there stuff it would have been really too late to drive that far.

Day 2 – Sunday
We got up early and headed to the park, where we stopped at Mammoth Hot Springs to do some shooting of the hot springs. It was a nice place to stretch after a couple of hours in the car. But with the overcast skies I really didn't get anything worth mentioning. We continued up from there to Lamar Valley in search of animals to shoot. We saw a fair number of Bison, which as it turns out are all over the place, and I got my snowy faced bison shot. If its one thing that's pretty easy to get its shots of Bison at reasonable distances.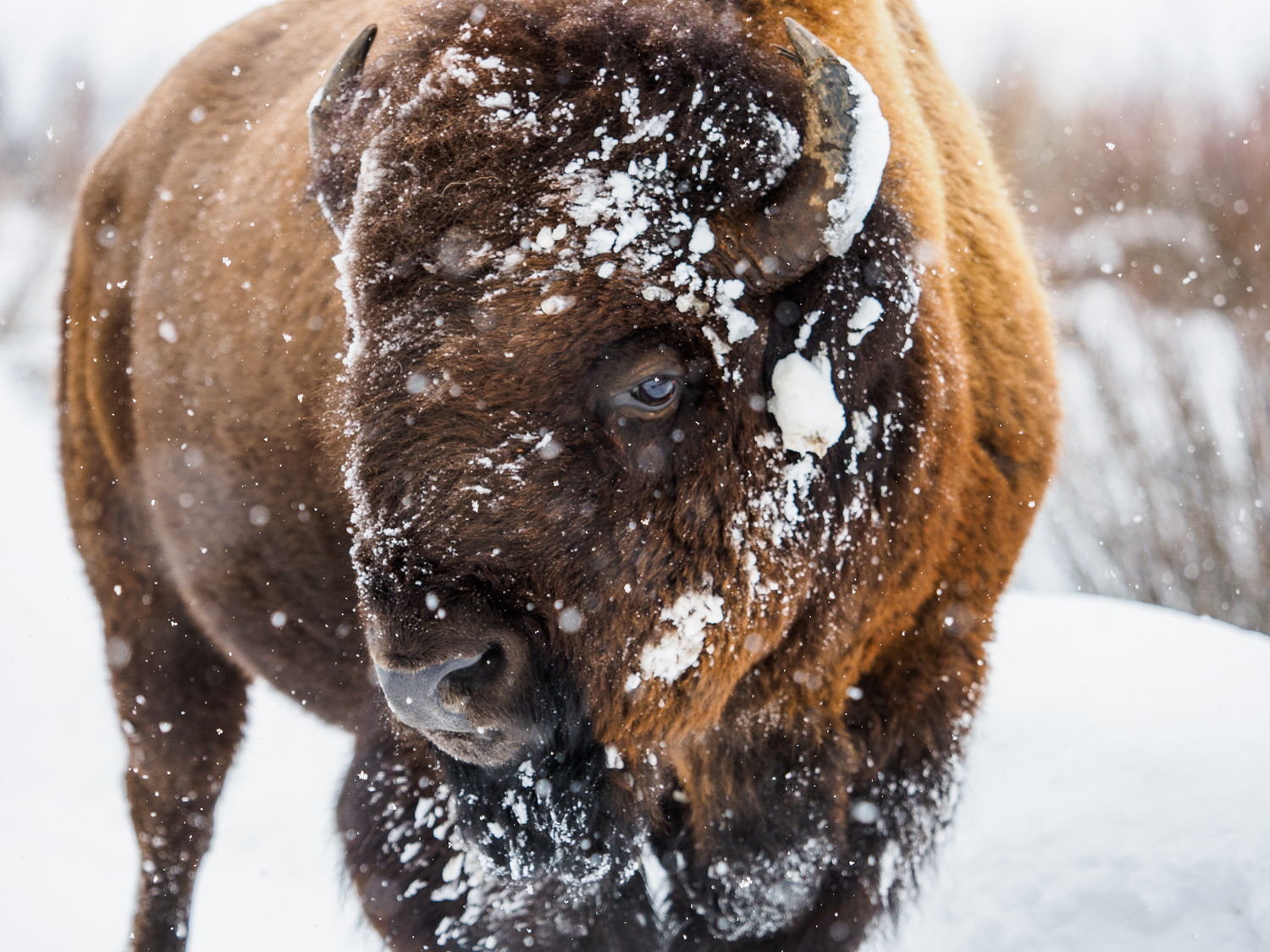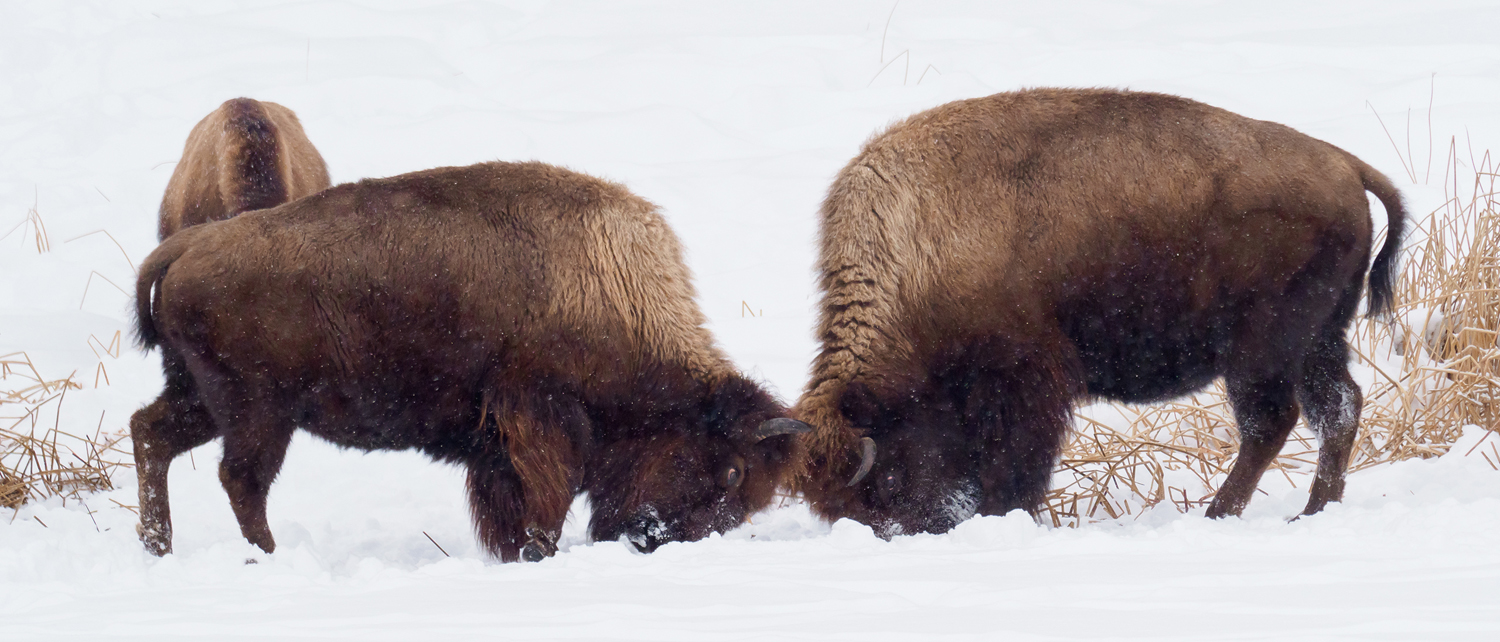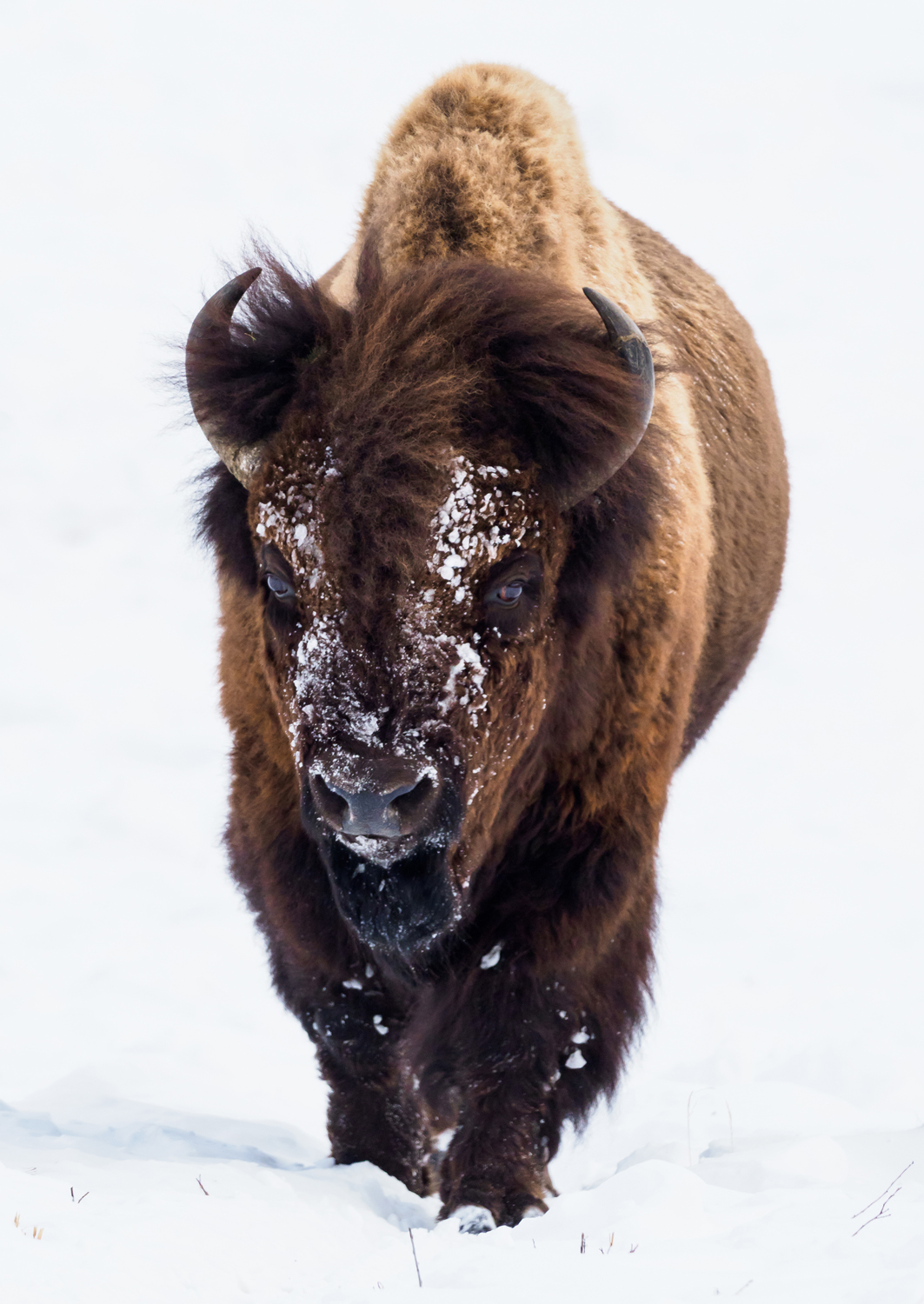 We also spotted a couple of Coyotes. One of which came down the road towards us without a care in the world about us. He walked right past us as we were out of the car shooting. Who says a 420mm (840mm FFE) can't be used for portraits.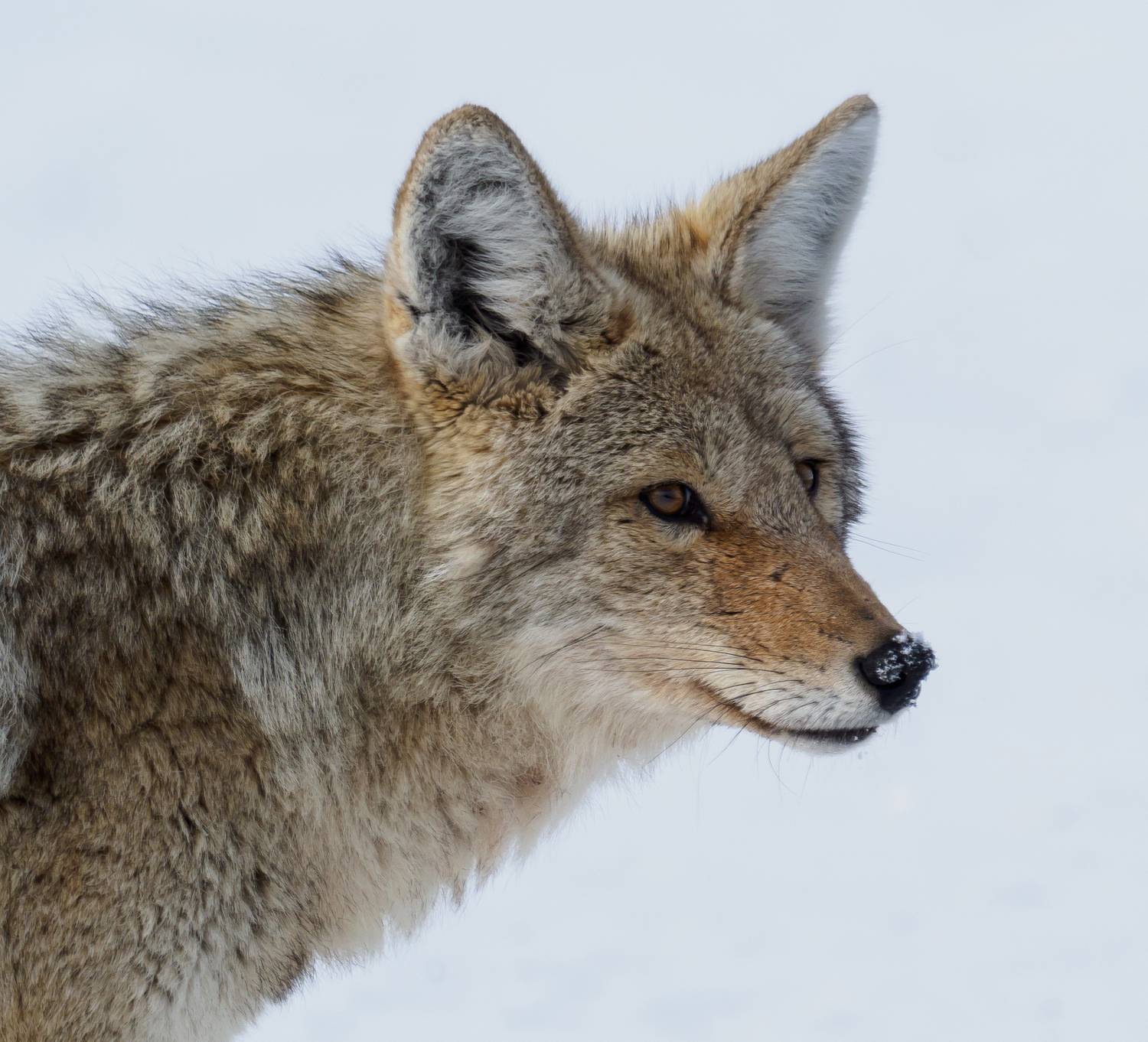 Lamar Valley is a big place, and unfortunately the animals can be quite far away. I was shooting at 840mm FFE which was one of the longest lenses of anyone in the group, and most of the animals were way too far away. About the only thing you could do was get an image that could determine if it was a wolf or a coyote; the image wasn't useful for much else. I think there may have been one or two people shooting with the Tamron 150-600 with an APS-C sensor giving them a bit more reach at around 900mm FFE.

One of the things I considered was getting a spotting scope and attaching my camera to it; usually termed digiscoping. Digiscoping makes it possible to get FFE values beyond 2000mm. But there is no auto focus, the f-stop is usually pretty high, and you have to use a pretty stiff tripod. But I ultimately decided not to make the investment, largely due to space constraints. BTW, this is an area where a smaller camera often works better than a larger camera because of how digiscoping works.
Day 3 – Monday
On Monday we headed into the Old Faithful area, with detours to see if we could spot some wildlife. Normally the snow coach ride from the pickup area to Old Faithful is around 4 hours, we did it considerably slower. I think we spent close to 8 hours out shooting and found a fair number of animals. But first we had a landscape shot to make. We drove out onto an open area where there is a nice view of what I believe is Sepulcher Mountain. This was shot using the 40-150mm f/2.8 at 95mm.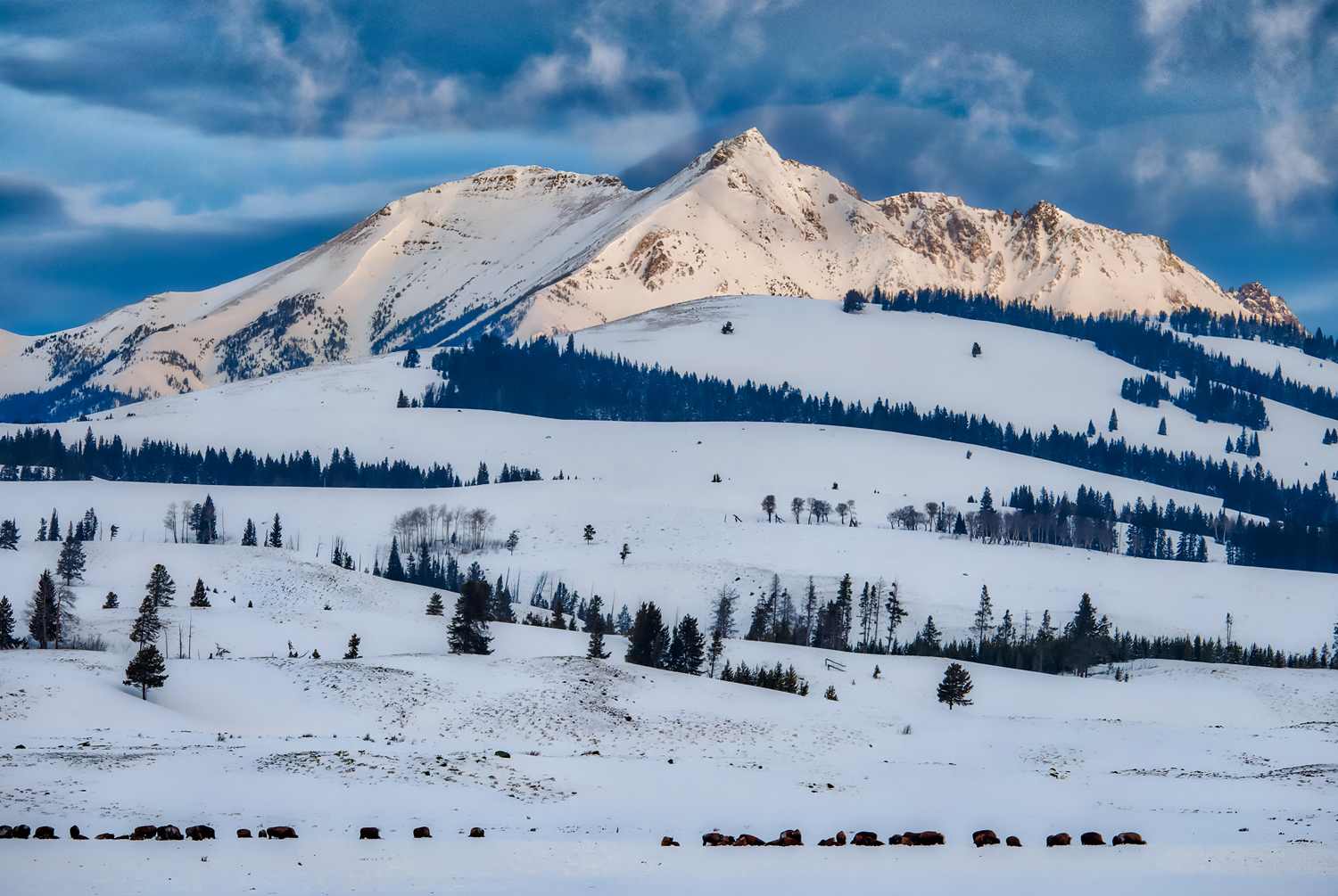 Along one of the rivers is a pair of coyotes that are referred to as the fishing coyotes because they have figured out how to fish. We didn't see them fishing, but we did see a BBC videographer setup in case they came his way. I don't think he got anything that day, other than some quality time sitting in a hole in the snow. We however did get quite a few shots of one of the coyotes, they were just a bit far out, but close enough to get usable shots. Most of these are at least 25% crop or more. Remember I said 840mm is too short. This guy moved up stream on the other side of the river. Because of where we were, the shot was at least 50 yards out.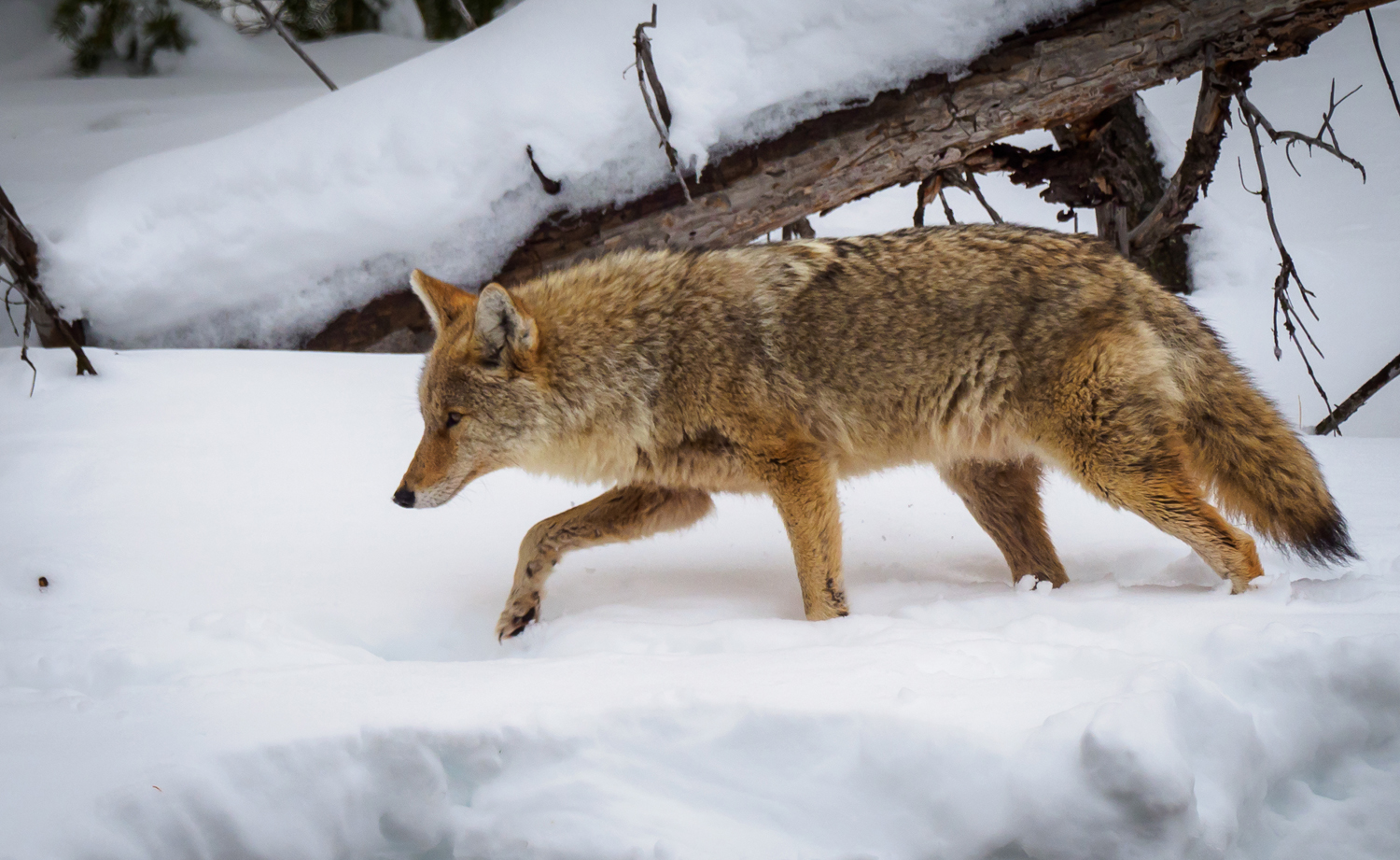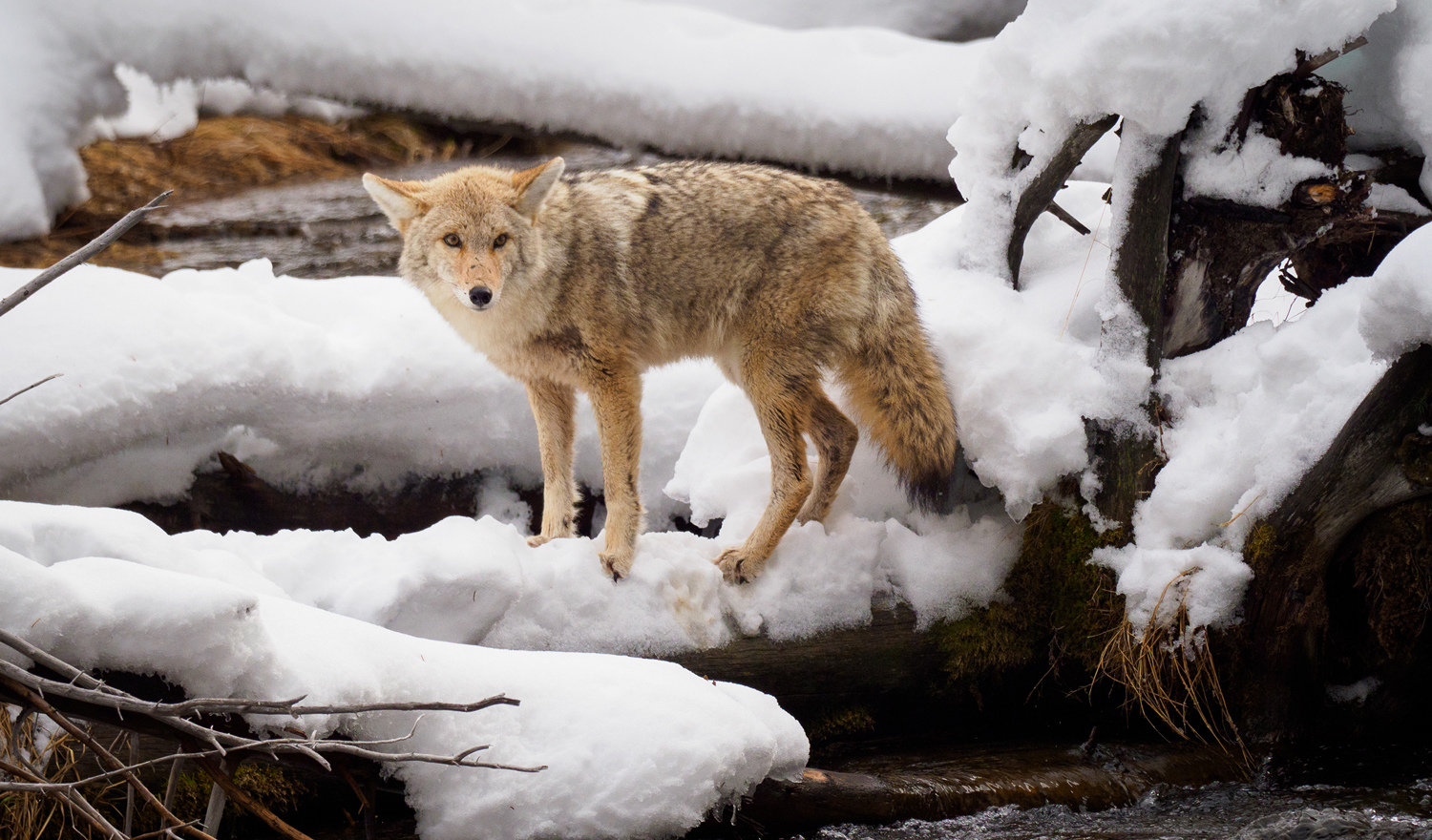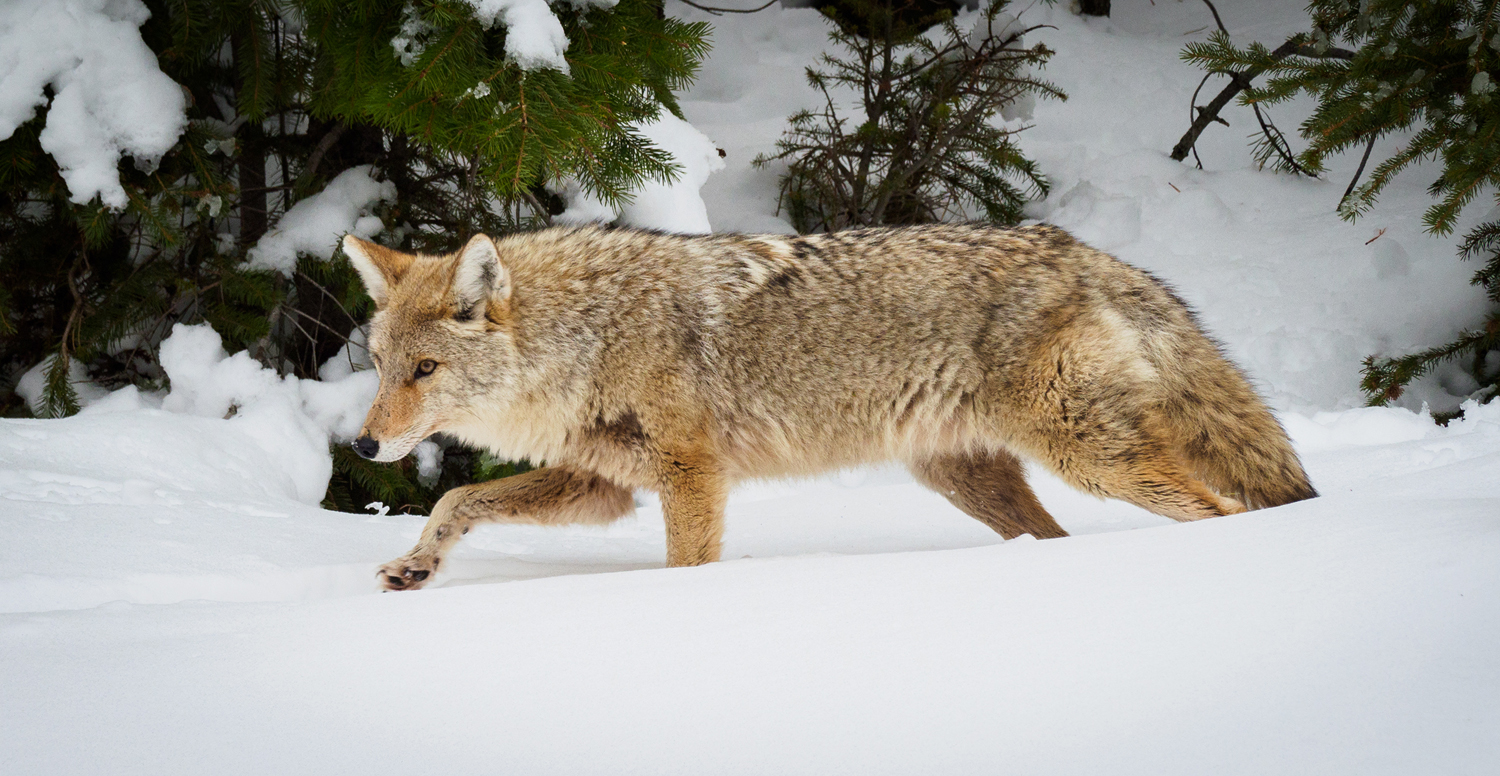 We also stopped at an interesting thermal feature. I don't remember the name of it unfortunately. When I first looked at this it wasn't very spectacular and I was thinking more along the lines of capturing the water flowing. So I used a 10 stop NiSi ND filter to slow the water down. I shot it with two exposure times, one for the water and rock, and one for the snow. When I merged them in Aurora, something quite surprising popped out. Now I have no doubt that the software enhanced this quite a bit, but it was so cool looking that I kept it. I've had this happen before, what looks like a meh set of brackets turns out to be a spectacular image when processed, that's why I'll often go through the effort of doing the HDR processing just in case.
We also found a few other things in the river. Including a couple of snow geese, an elk, and a bison. Did I mention the bison are everywhere. There were two of these bison in the river, I believe they found it easier to get at some of the grass along the edge of the bank. I didn't test the water, but it didn't look all that warm.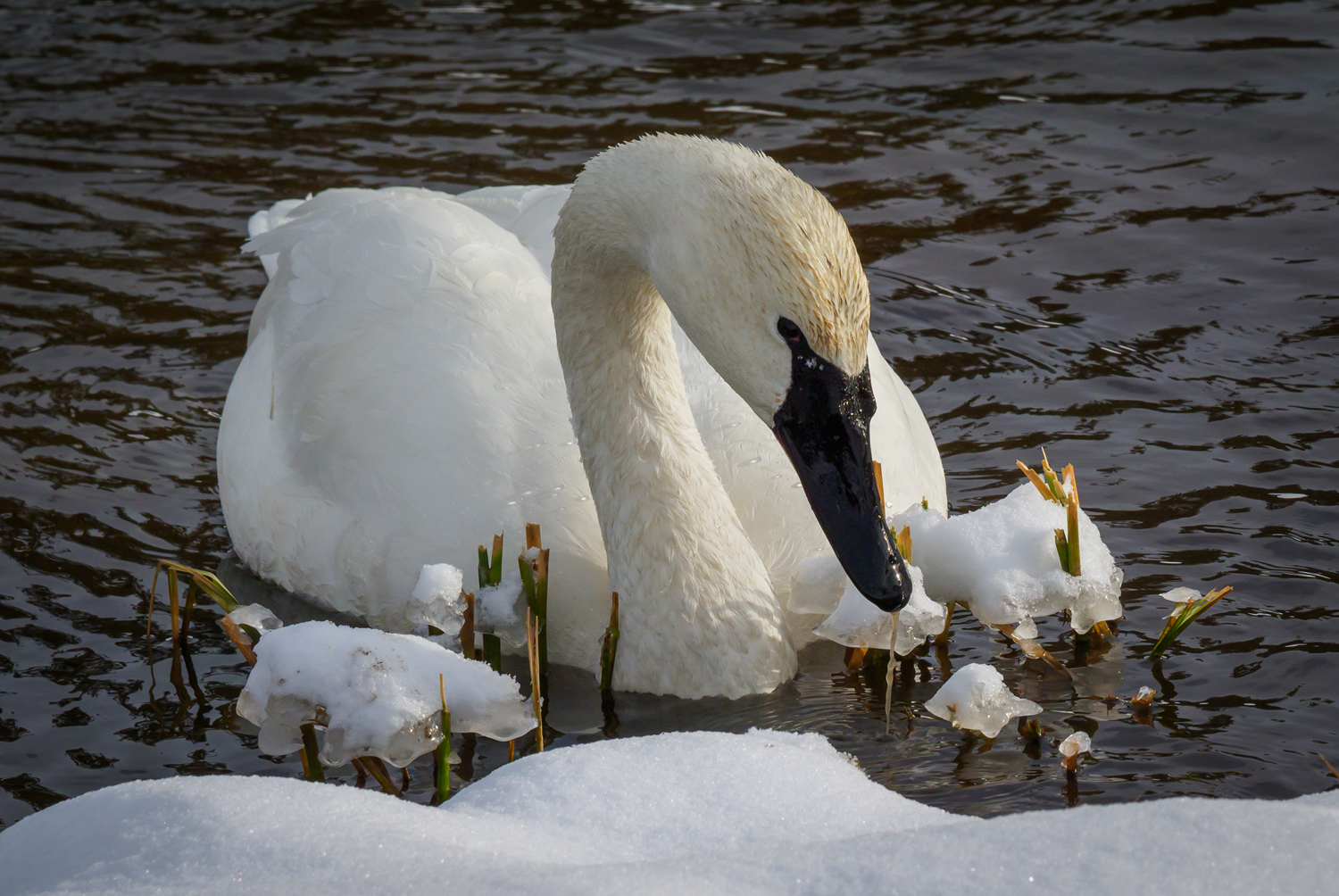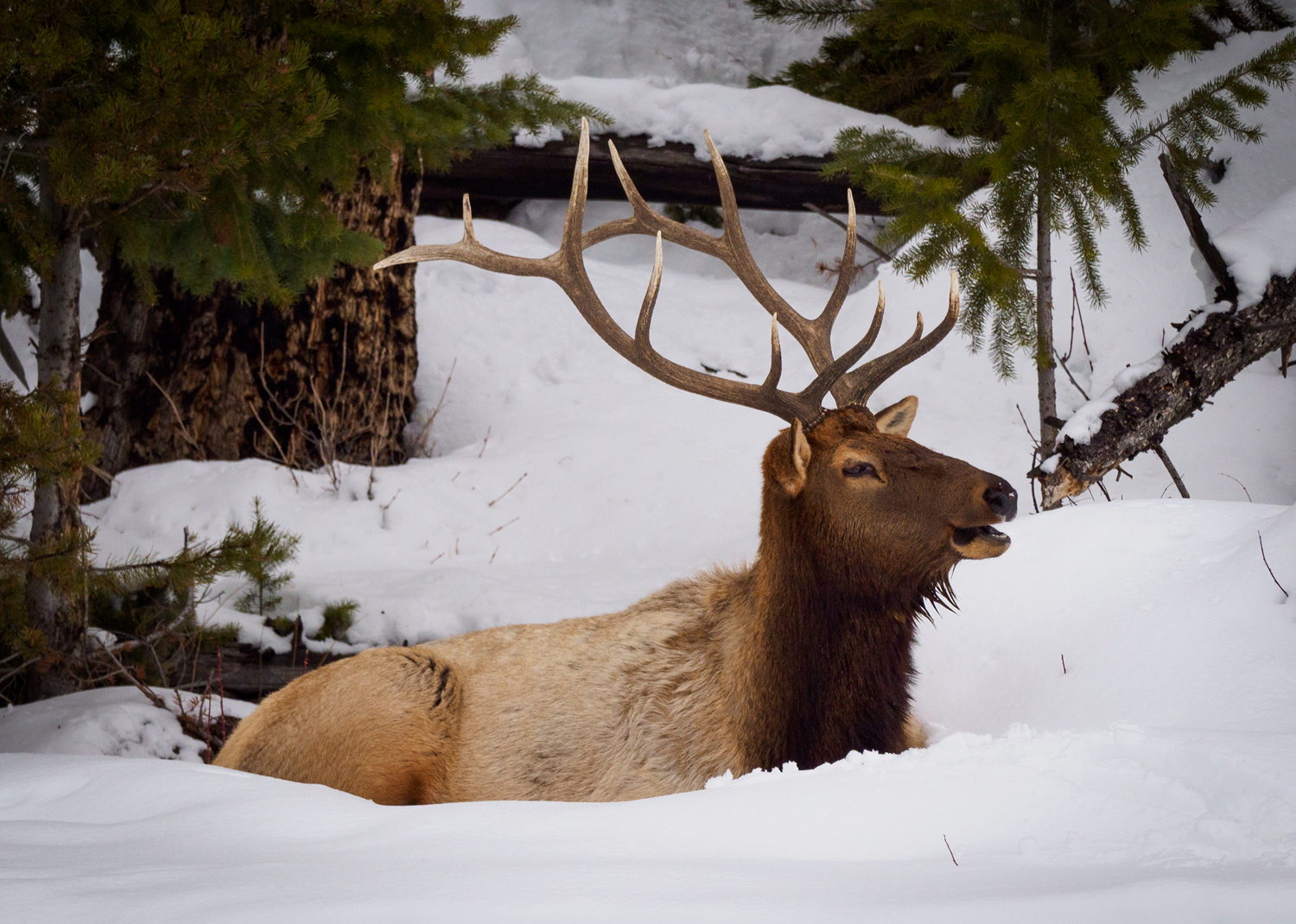 Towards the end of the day we pulled off at a turn out and noticed a herd of bison were running towards us. They were out a way so we just watched and waited. We suspect that a wolf pack might have spooked them, but we never saw any sign of wolves. One of the young bison was feeling frisky. He and another youngster decided to play a bit, which included splashing through the river. Kind of fun to just watch them play.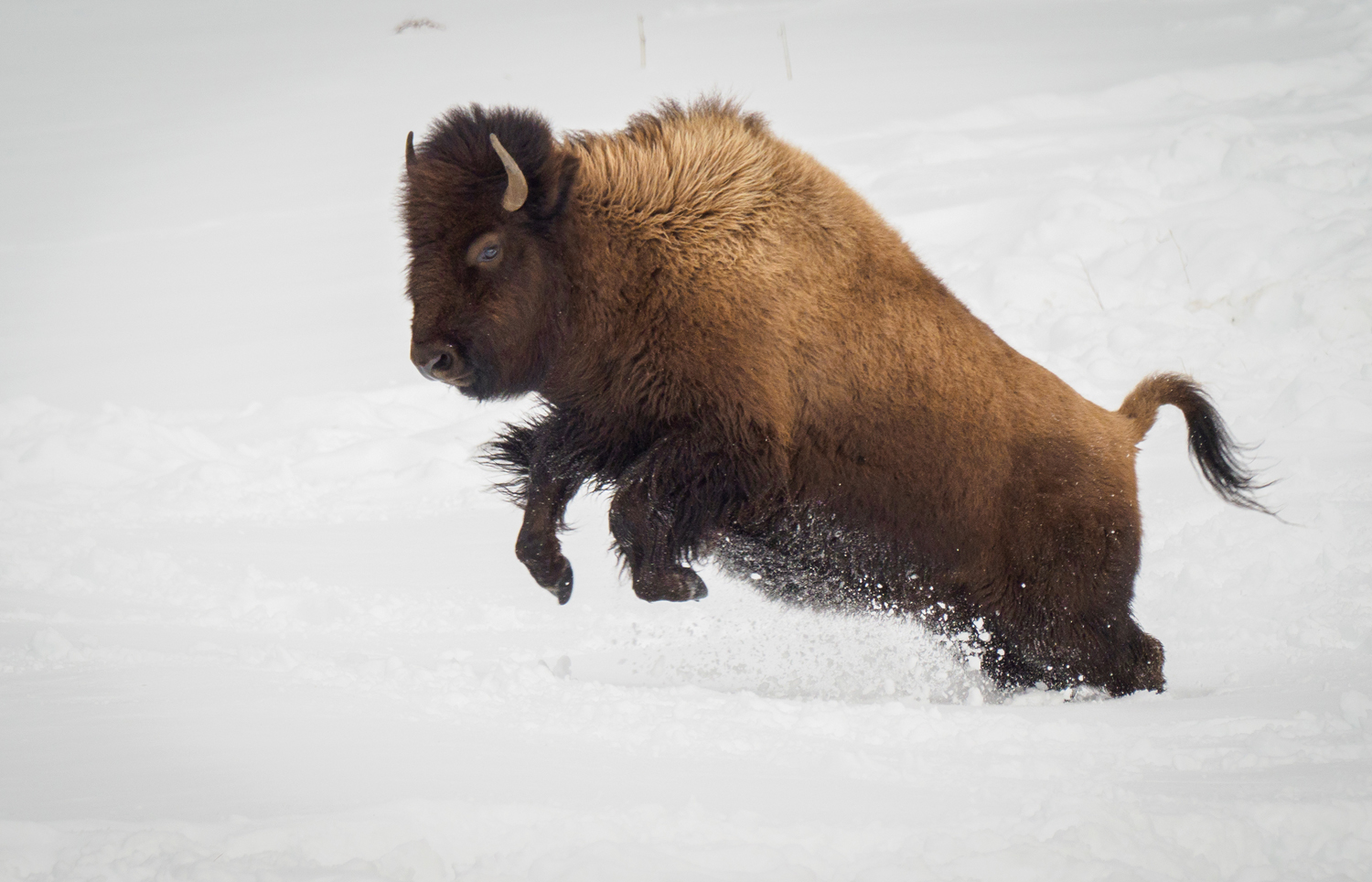 One last stop for some landscape shooting at Grand Prismatic Spring and Excelsior Geyser Crater. Both of these are in the same boardwalk area, and we probably spent a good hour shooting here as the sun was starting to go down. Unfortunately, the skies had been overcast most of the day. Still I managed to get a few good shots. Here's a hint for you, sometimes the best shot is to tilt out your rear display and get low down and shoot, it gives you a very different perspective. Also consider raising your camera up high. This is one area I would really love to have been able to use a drone. But alas National Parks are no fly zones for drones.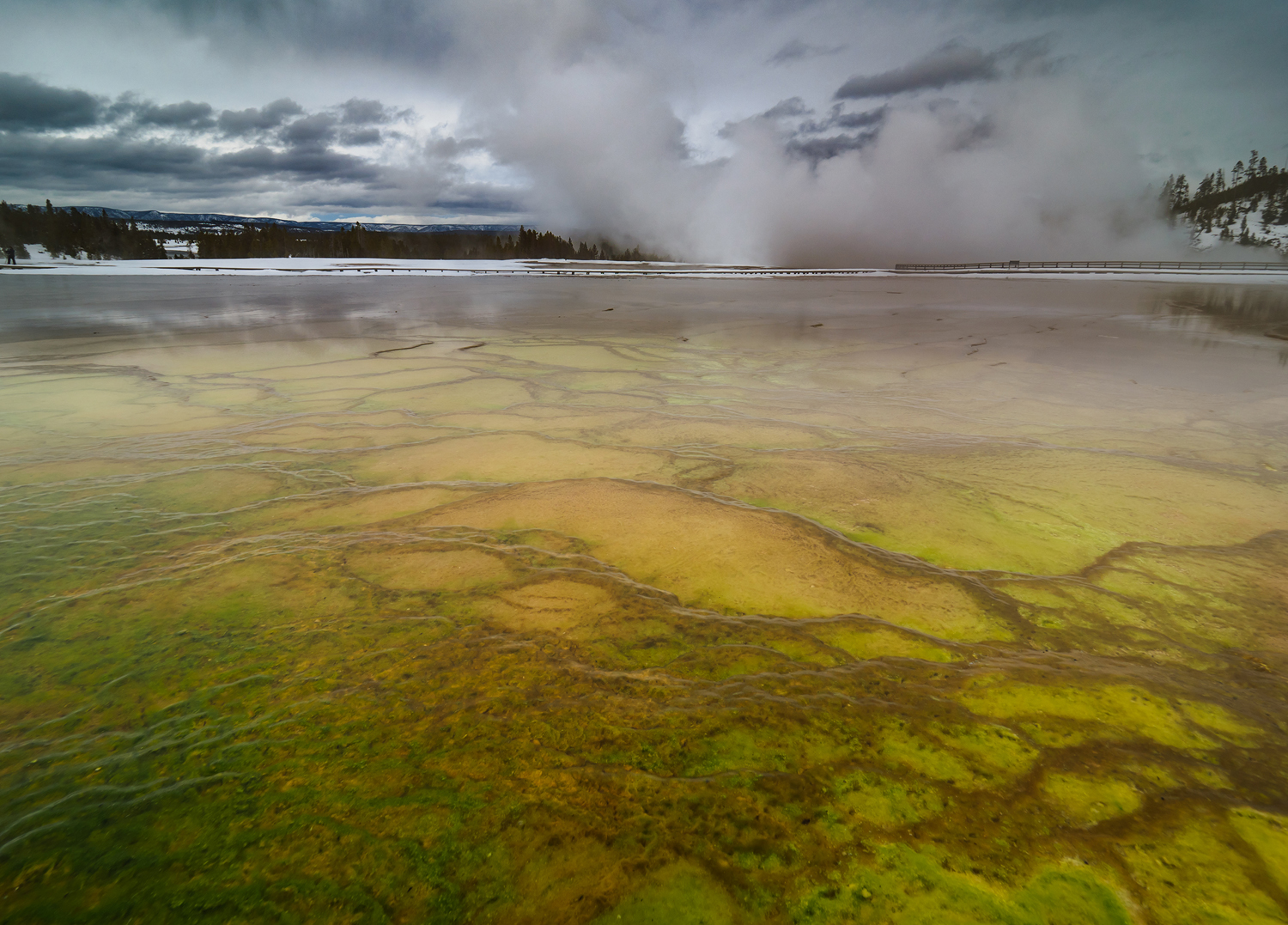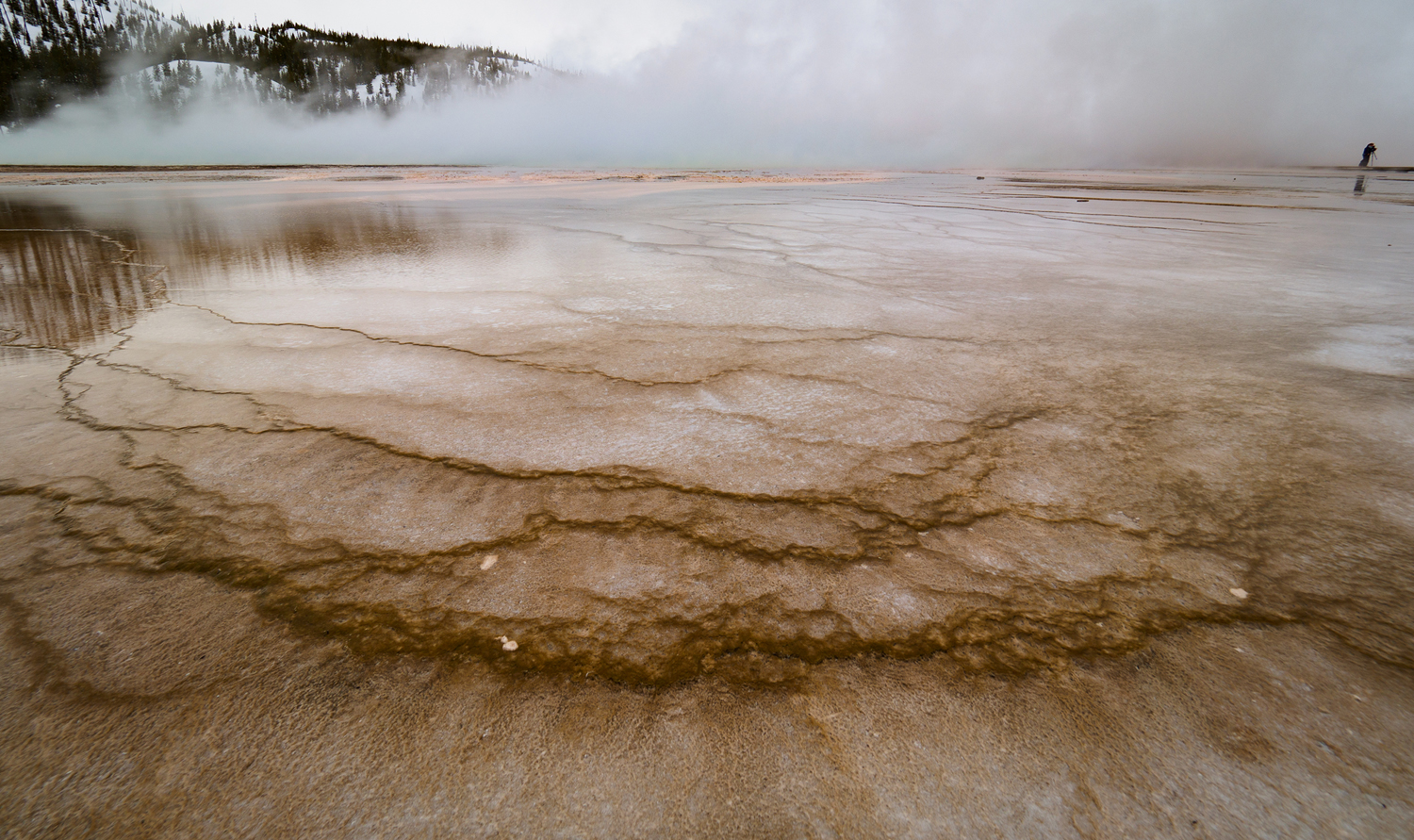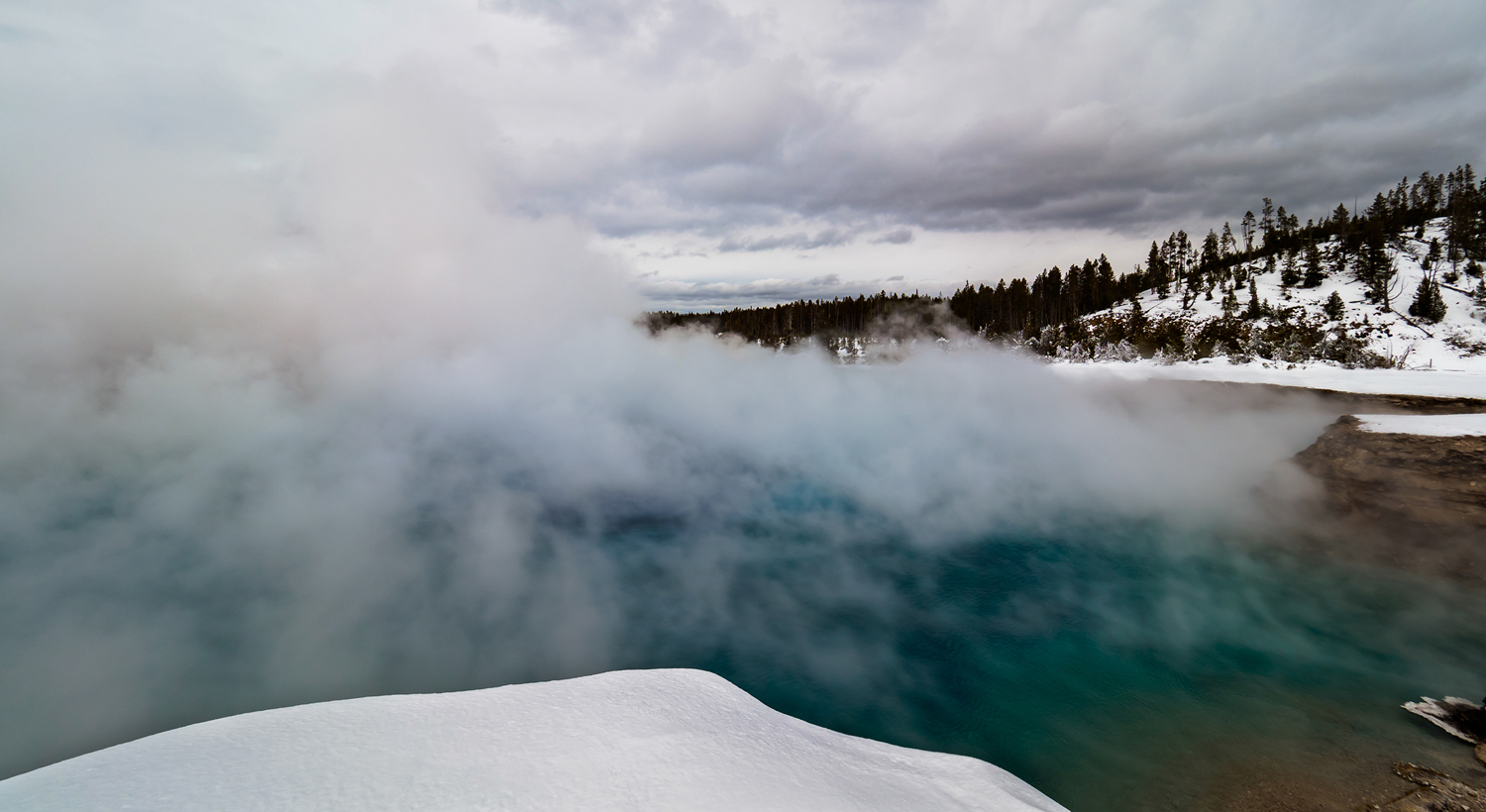 After this we headed to the Old Faithful area to the Winter Lodge. The Winter Lodge is a good size place, with a pretty good restaurant. We ate most of our meals there until we left, which worked out to be two nights. As I understand it the company that runs the lodge messed up on the reservations, and Russ had to get it all straightened out. Which is one of the reasons I went with him on the workshop so I didn't have to do it. I ended up in one of the cabins, which is kind of a bit misleading. They are actually four rooms in a single building. They were quiet and comfortable, with a lot of space. The only downside was the walk to the main building, and no WiFi. The lodge did have WiFi that you had to pay for, it wasn't included.
Day 4 – Tuesday
The plan for the day was to wander around the geysers and make some images. Crystal had researched all the times estimates and kept checking for updates. We managed to chase and catch six geysers going off in a period of about 5 hours. But that meant hustling to get to them. To the tune of about six miles that day, and did I mention the altitude there is over 7000 feet. Needless to say this fat old man was out of breath and exhausted. Worst part, once you've seen one geyser go off, they all look about the same. On top of that, if its a grey cloudy day, don't bother chasing geysers. White steam on grey clouds isn't impressive, as a result I'm not going to bother showing you any of the images. The image at the top of the post was shot on Day 5 when we had some blue sky.

I did manage to get some shots of features in the area though. In hind site I would have preferred to have just wandered around shooting the features. For planning purposes, the area with the geysers is something you can plan on shooting over the course of about 4 or 5 hours at most. Which gives you a chance to go have some lunch without a lot of hassle.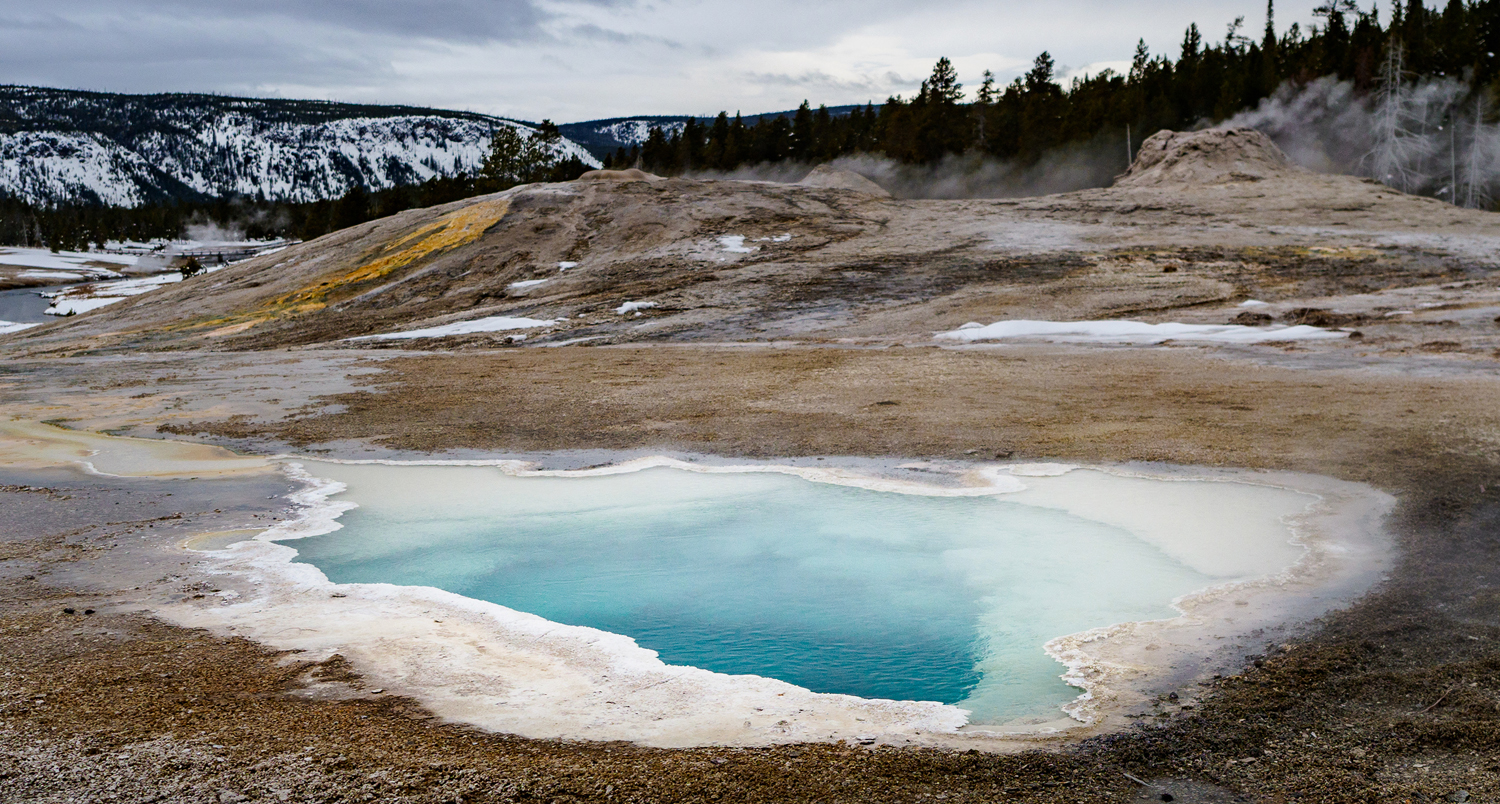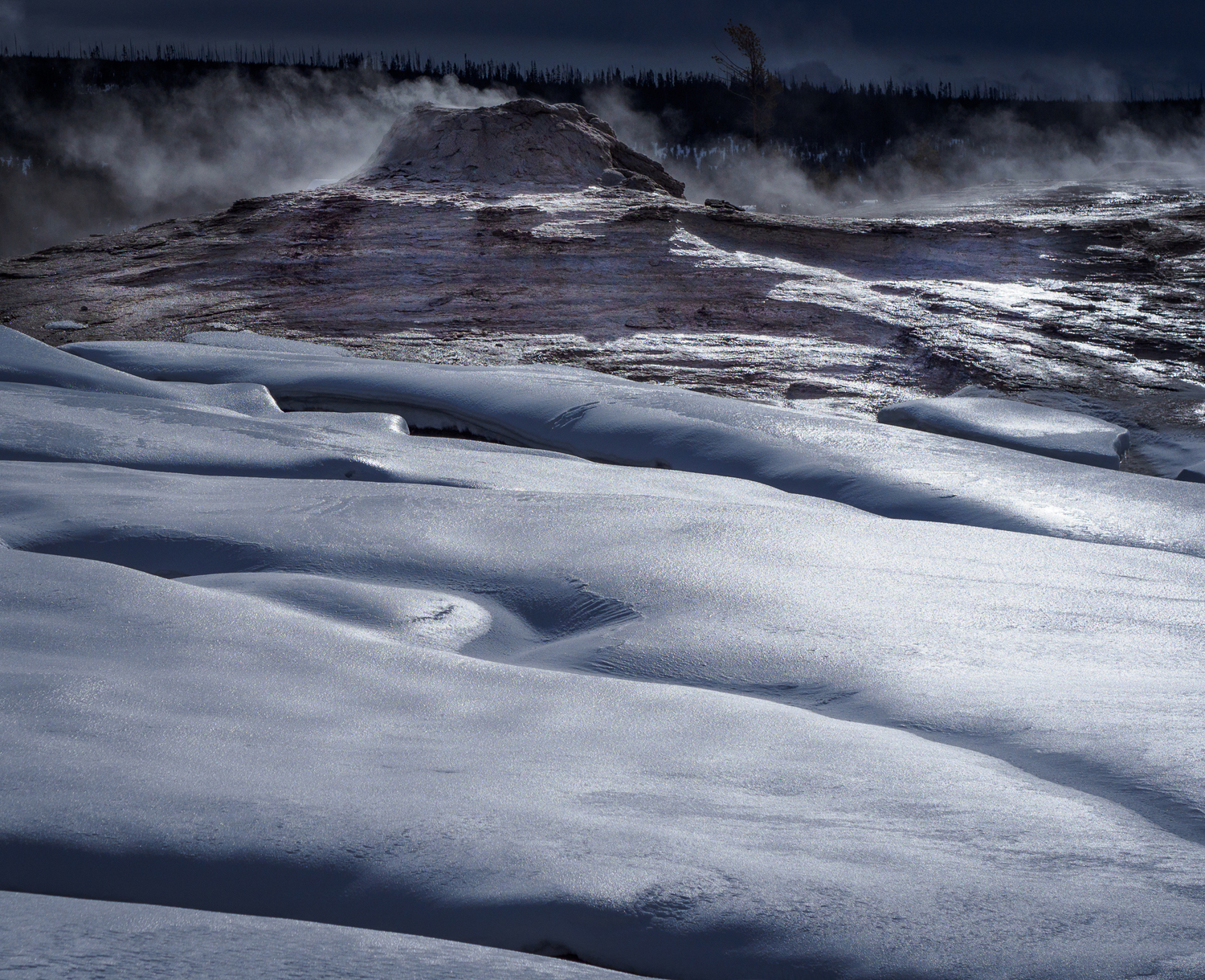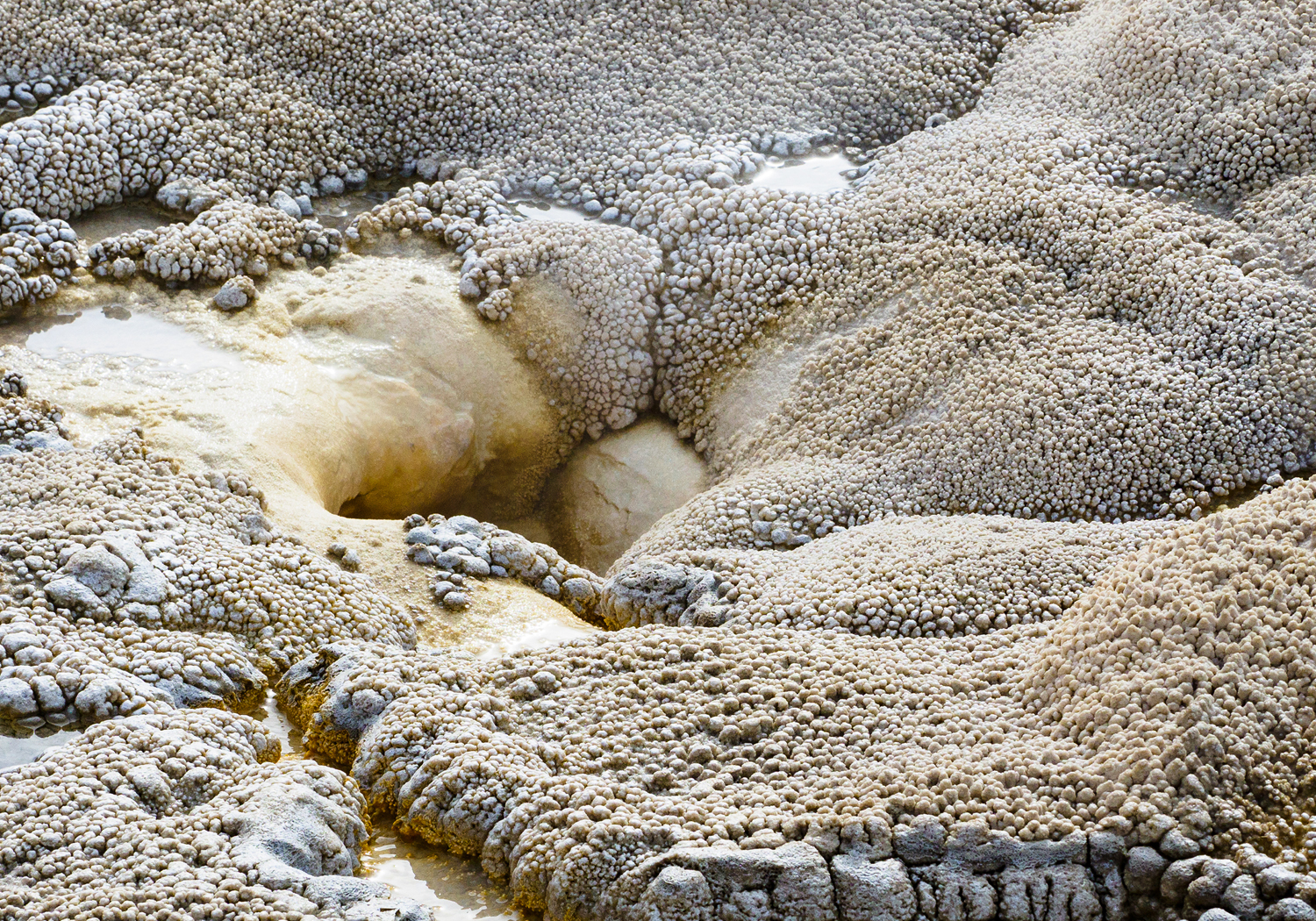 We also had a visit from one of the area coyotes, apparently this is an area he frequents. I'm not sure what he finds to eat, but obviously he does.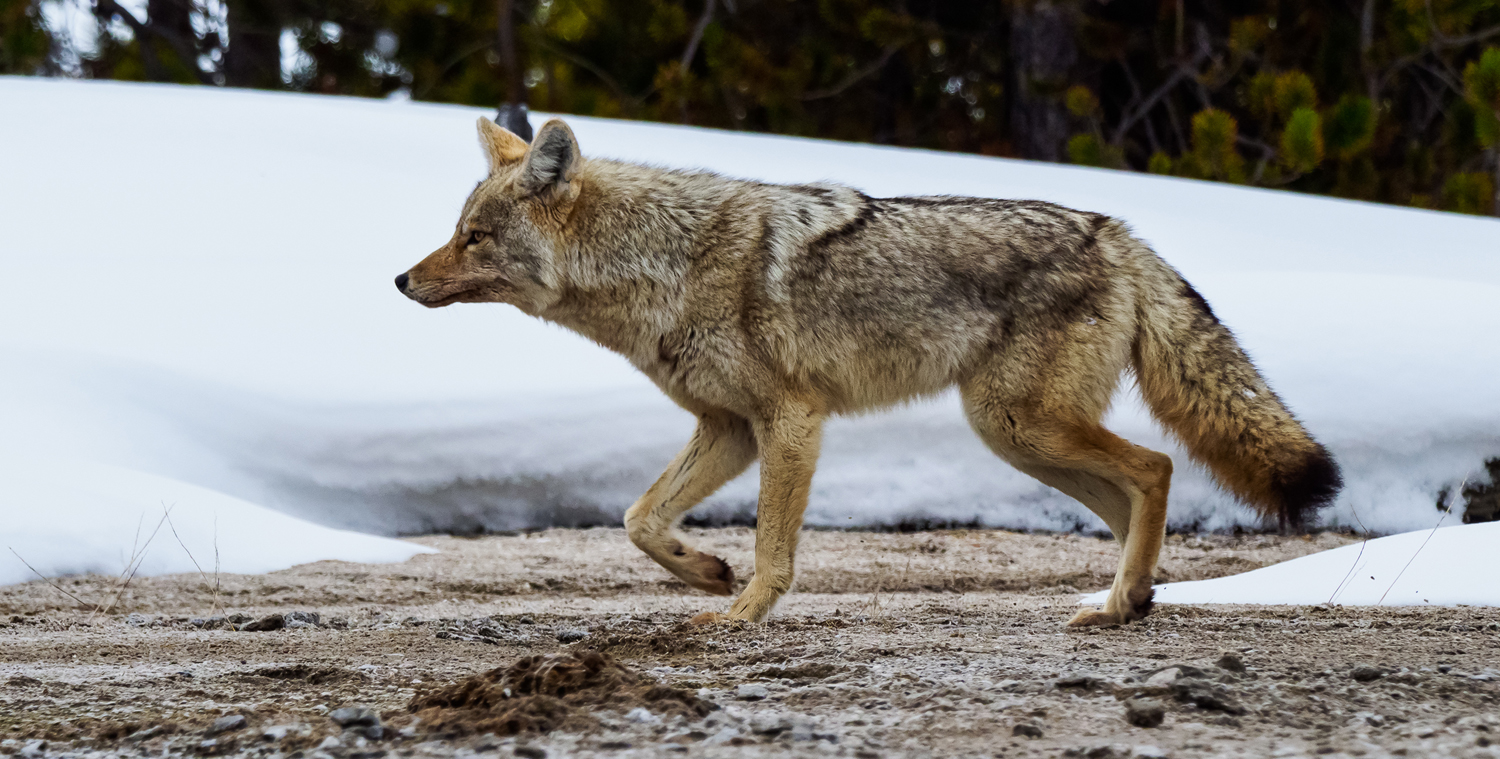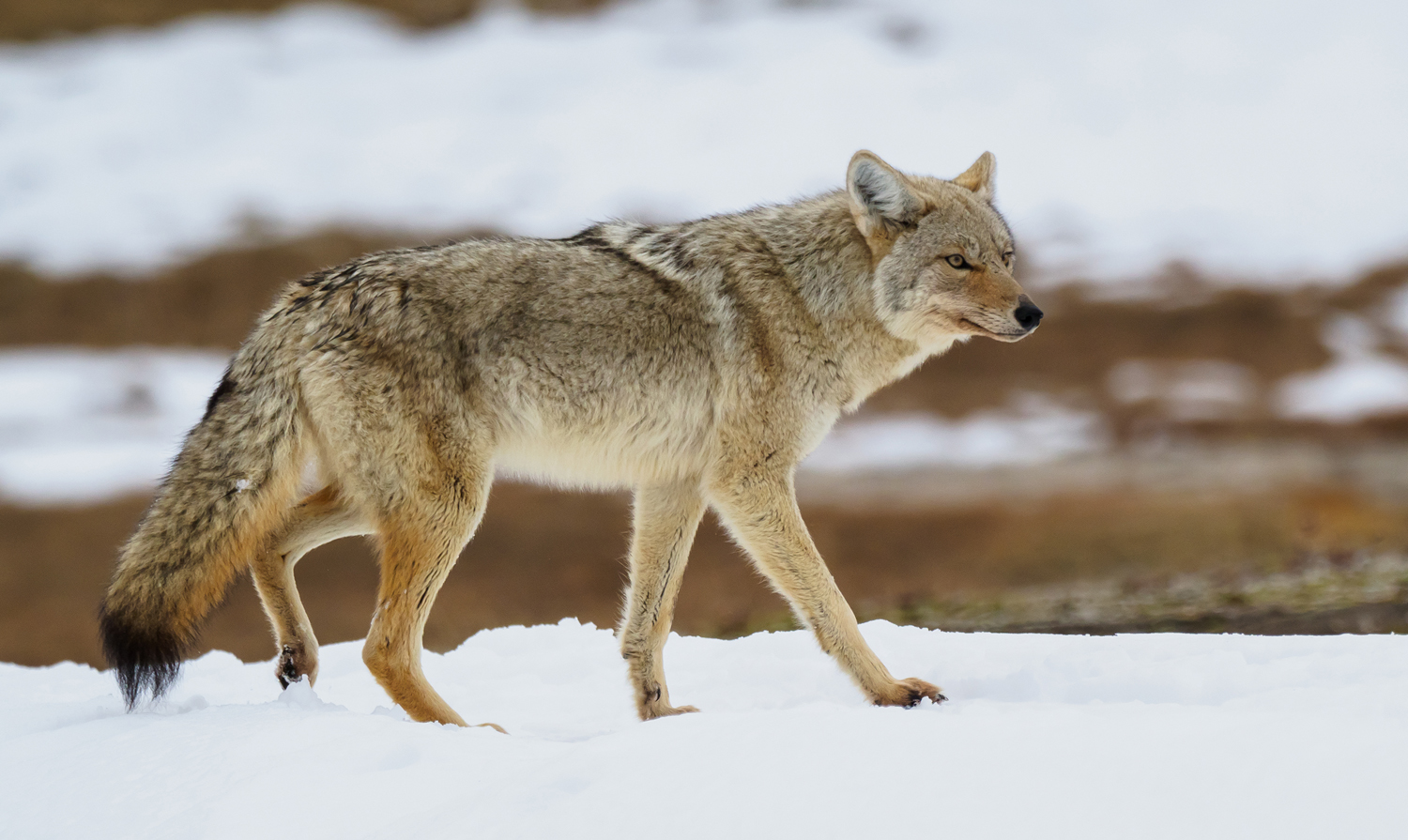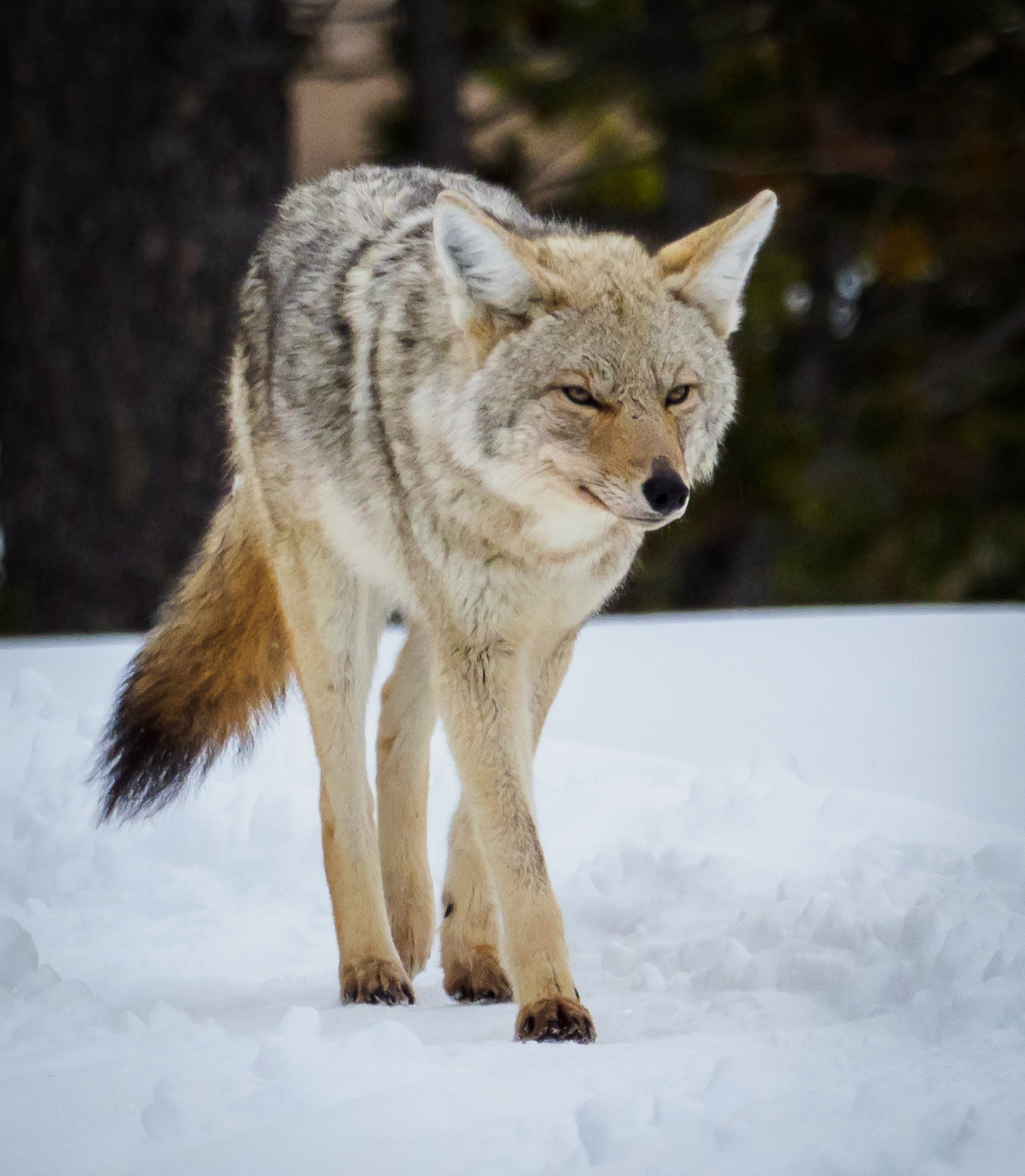 Day 5 – Wednesday
The plan for Day 5 was to snowshoe out to a geyser. I think they figured the distance was over six miles. Me and two others decided not to go. I honestly think Russ was relieved, he wouldn't have to help haul me back after I had a heart attack. Honestly, if they had done it cross country I would have gone for it, even though I haven't skied in decades.

So instead of that the three of us went our own way and shot around the geysers in the same place we were the day before. It was very nice being able to slow down and shoot. I should mention there weren't many people around. Russ did suggest taking a polarizer, and I wish I had done so, some of the reflections were a bit of a challenge without one. After lunch I did go back and get it, but a bison decided to have lunch right next to the trail back, so I took it easy for the rest of the afternoon instead. You do have to keep situational awareness with the bison and other creatures. They may look docile, but they aren't. It could be very easy to be trapped out there if the bison decided to move through.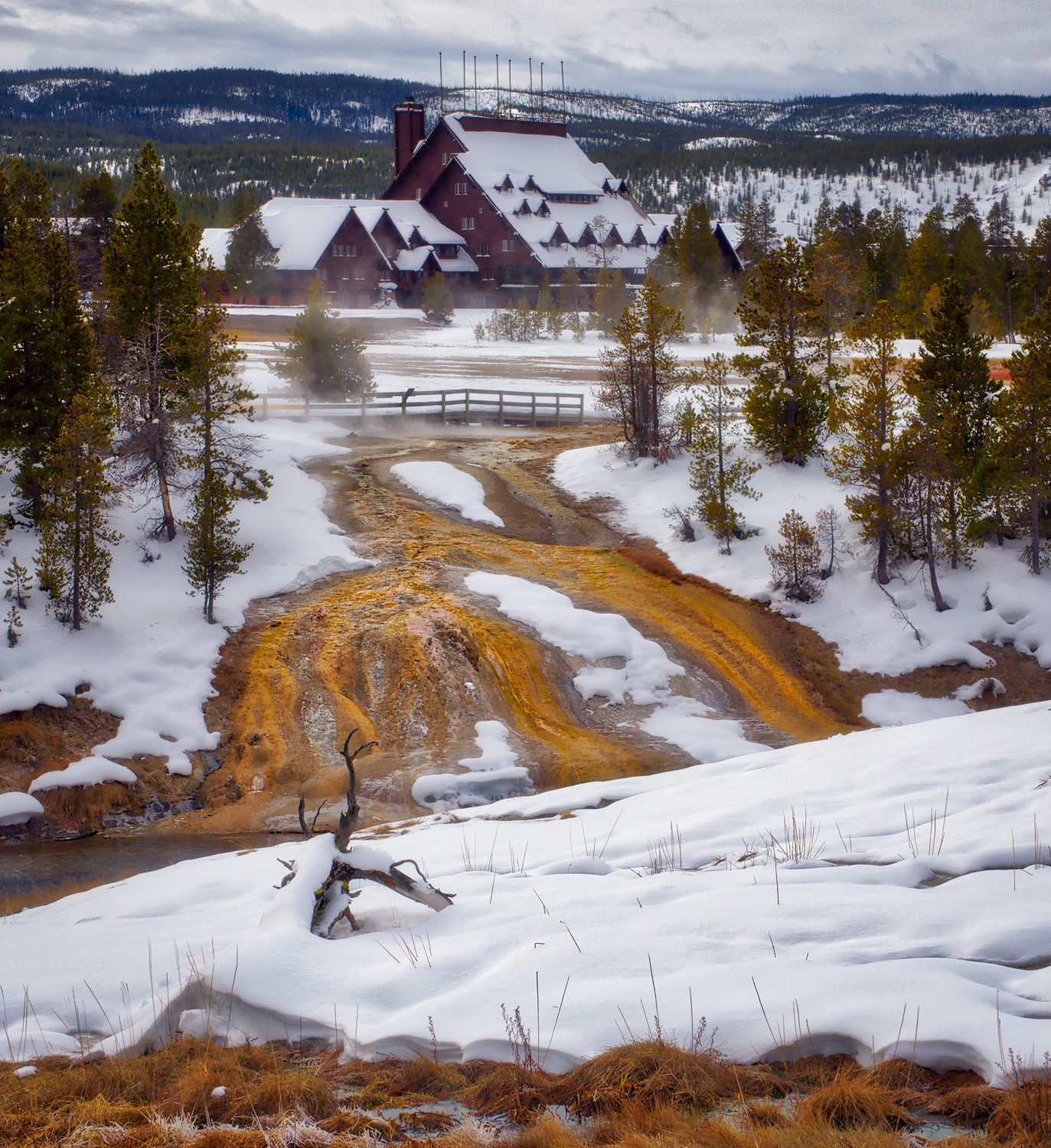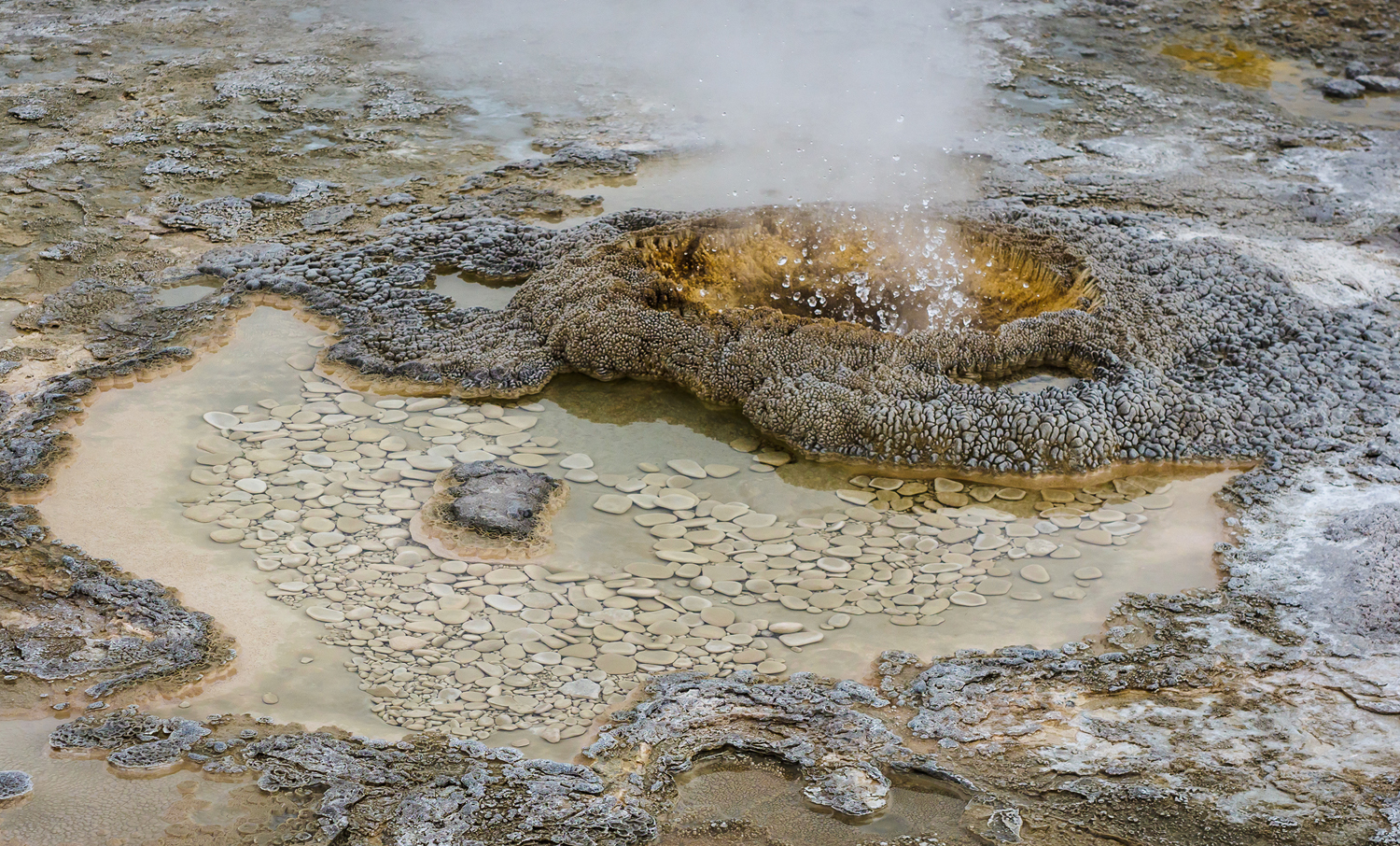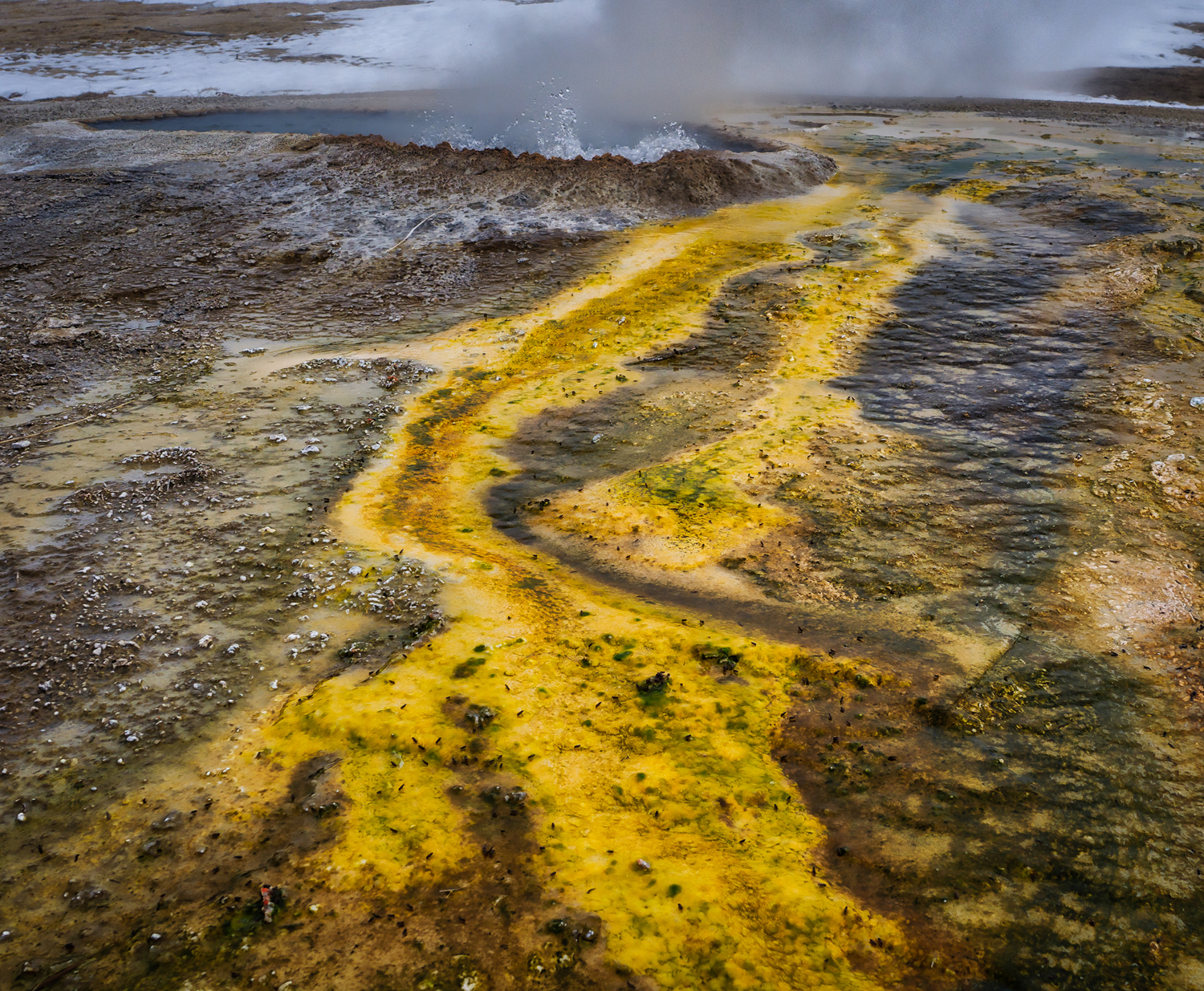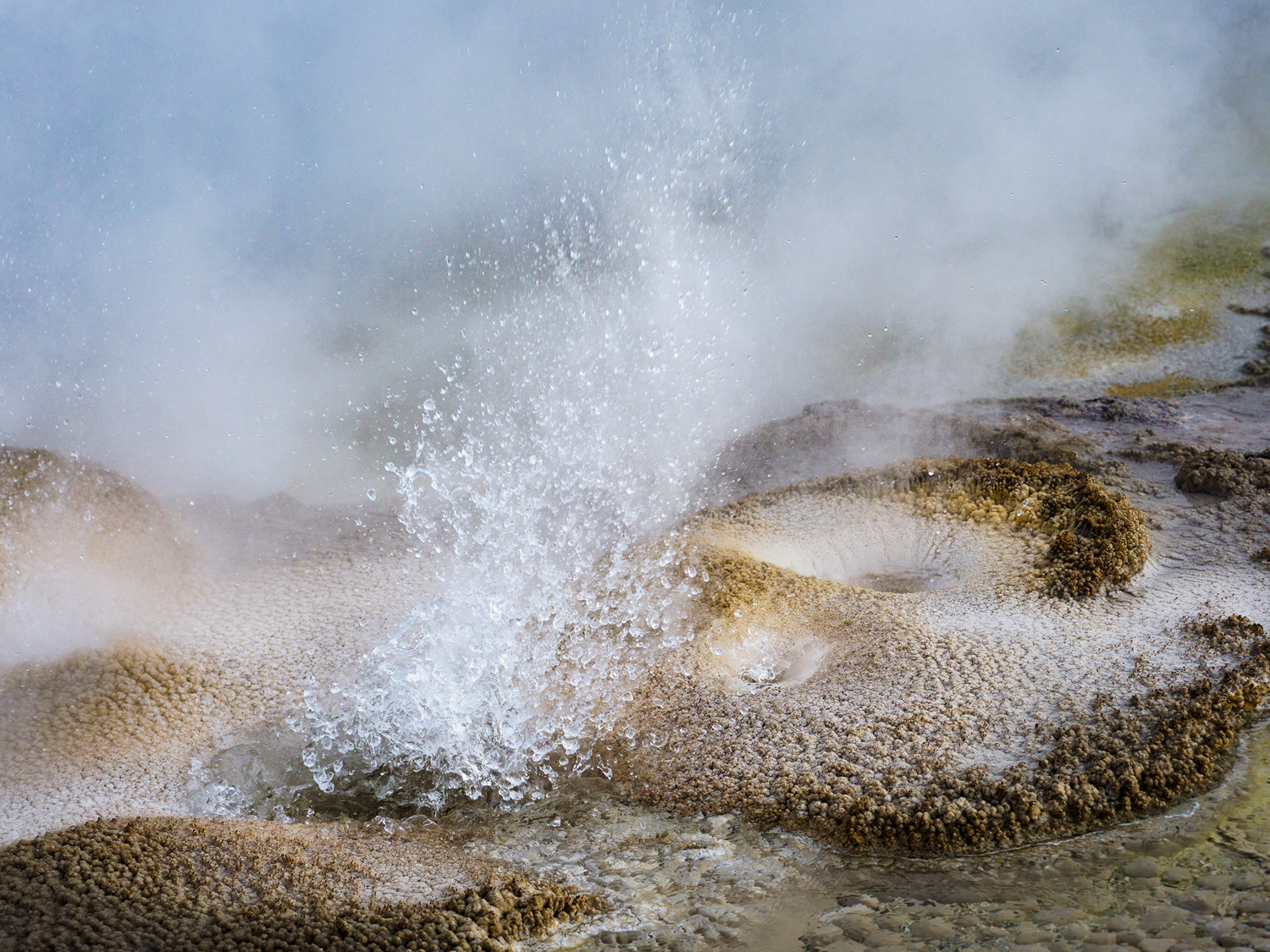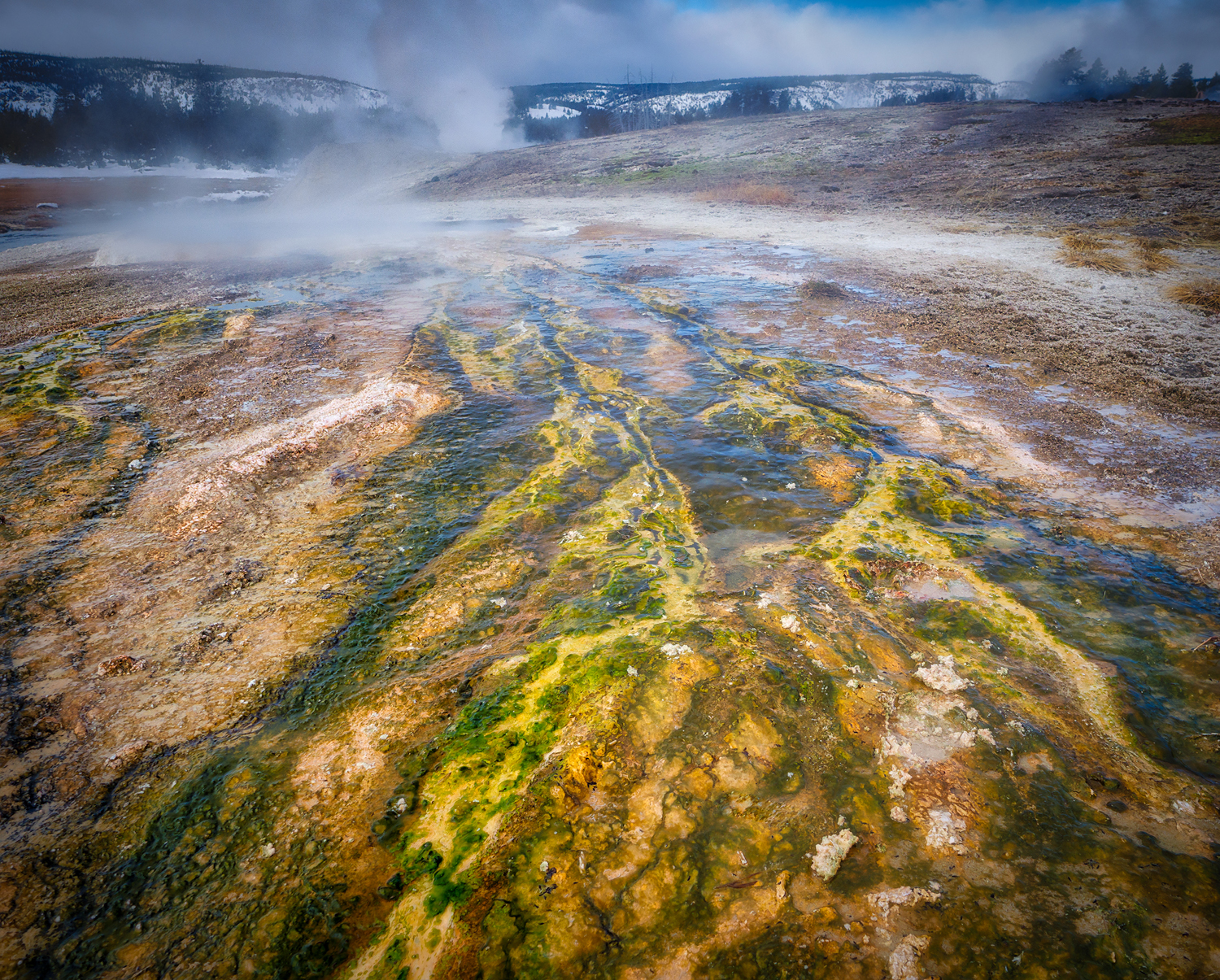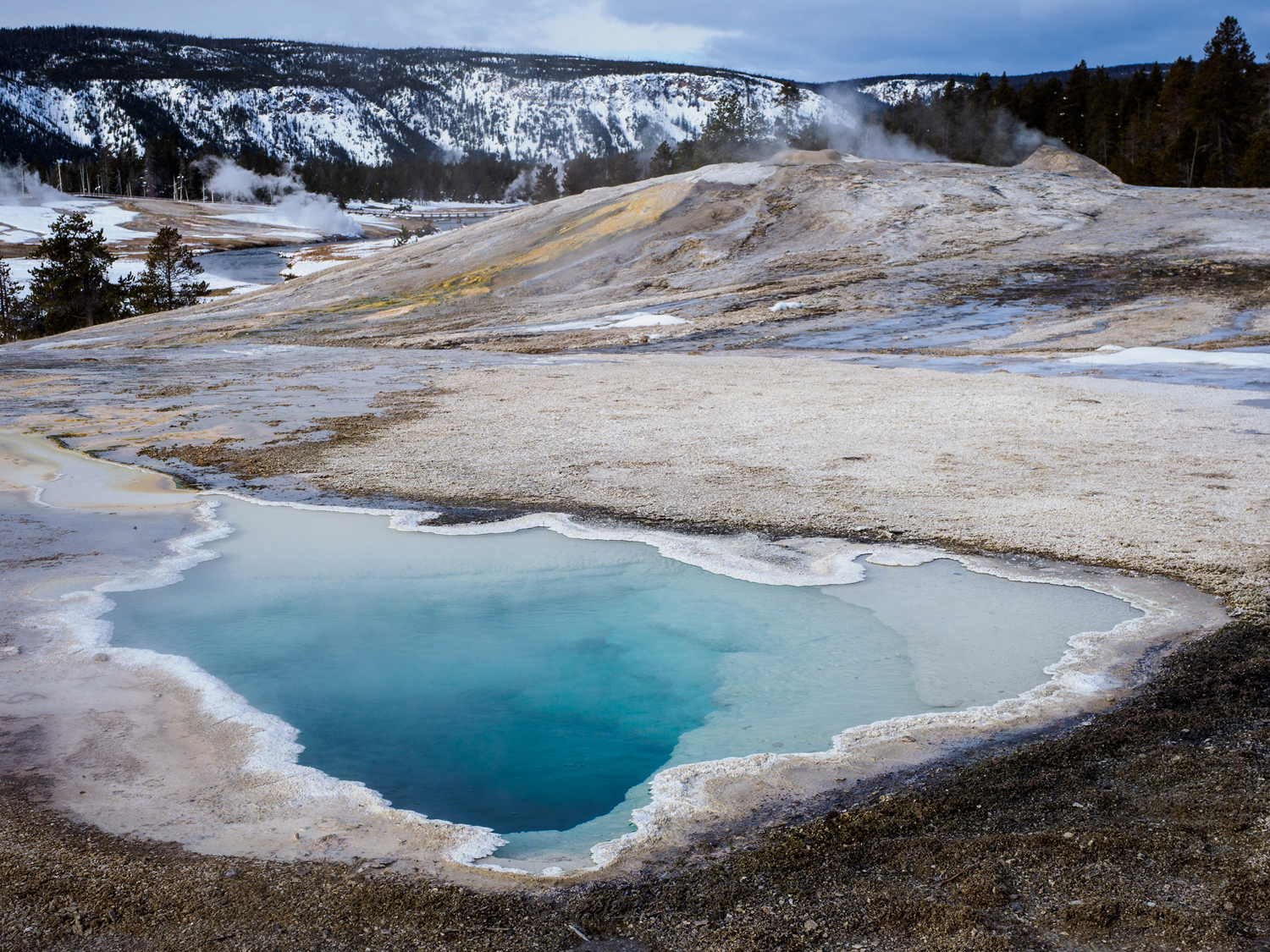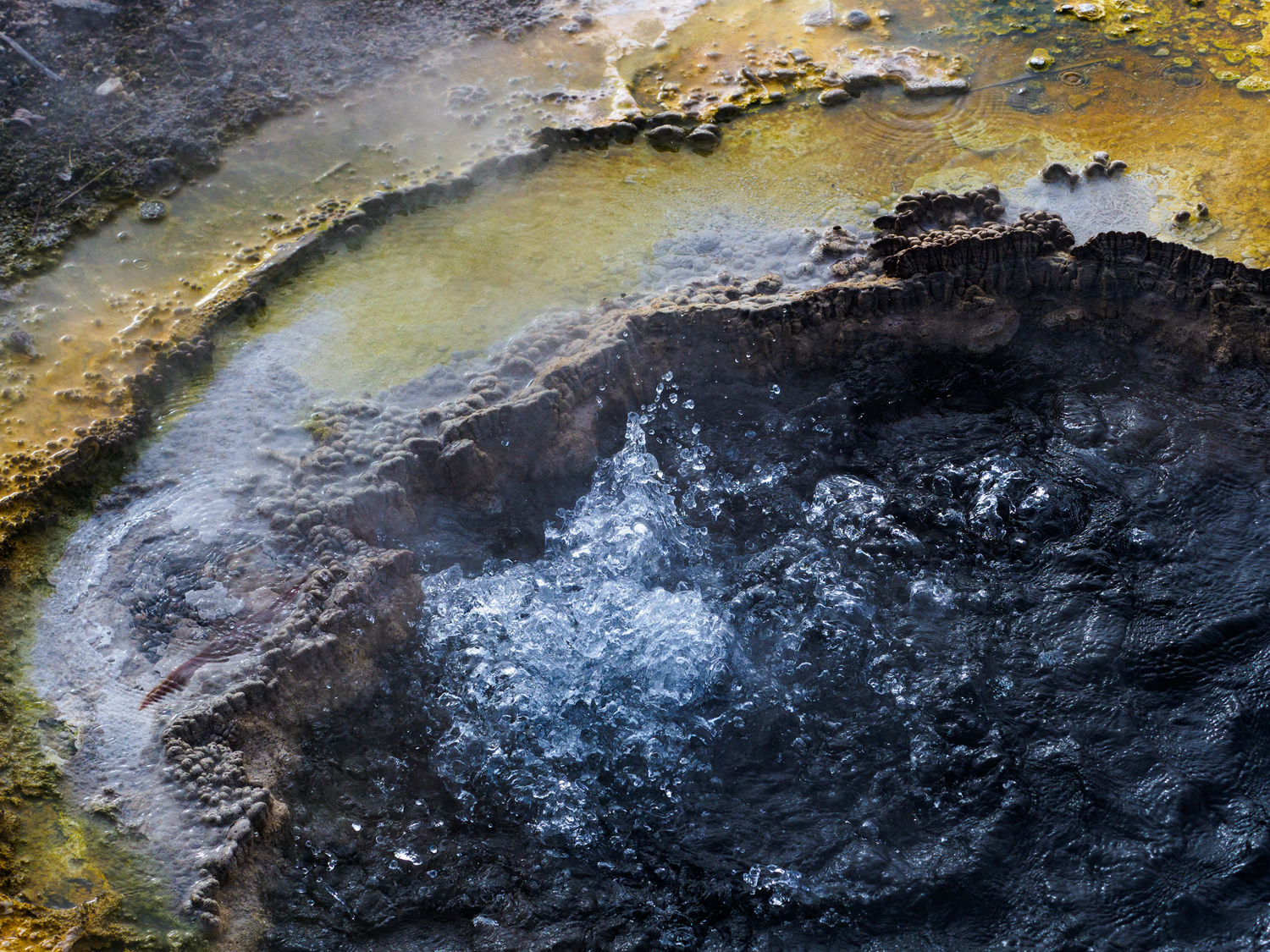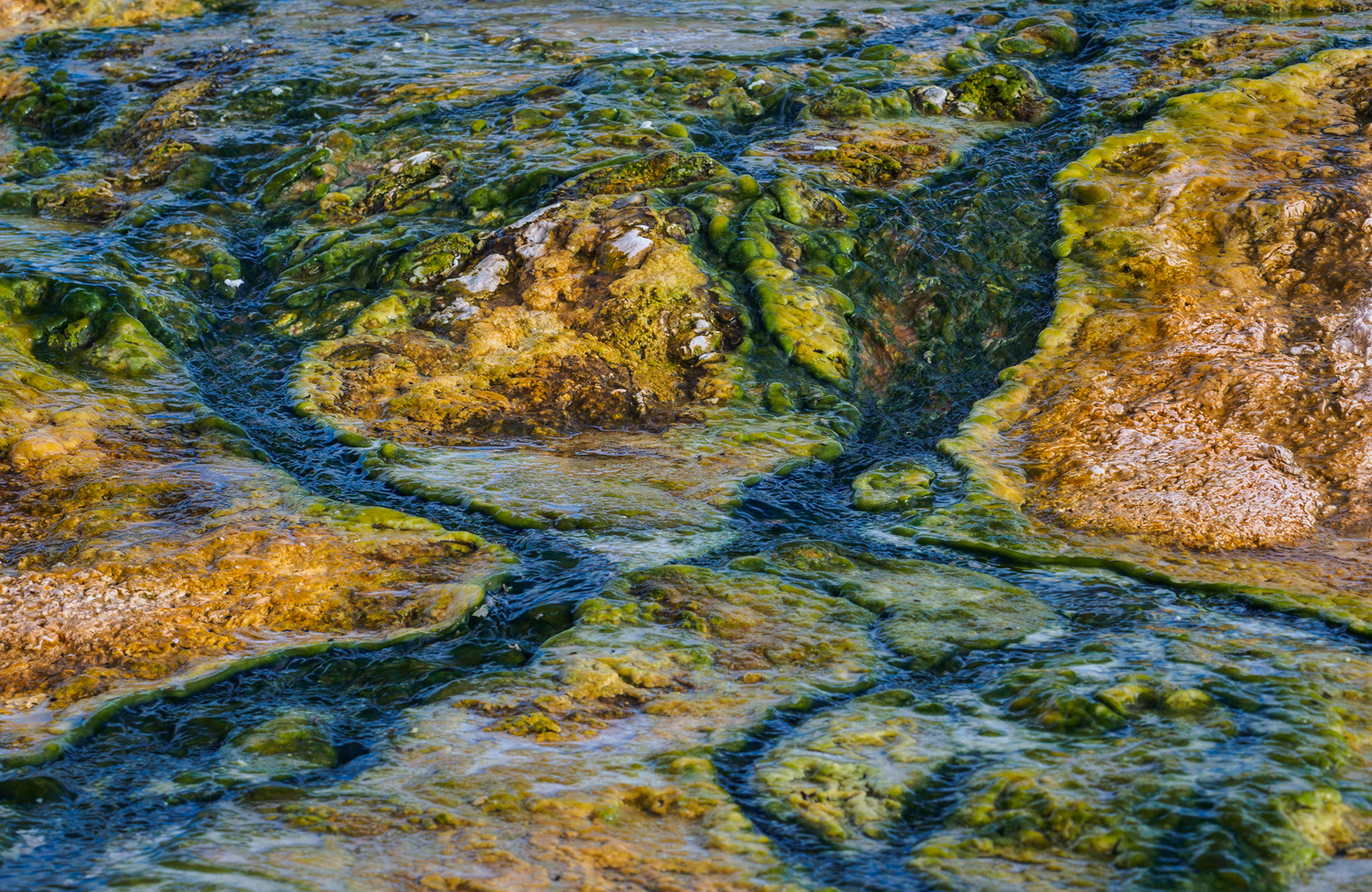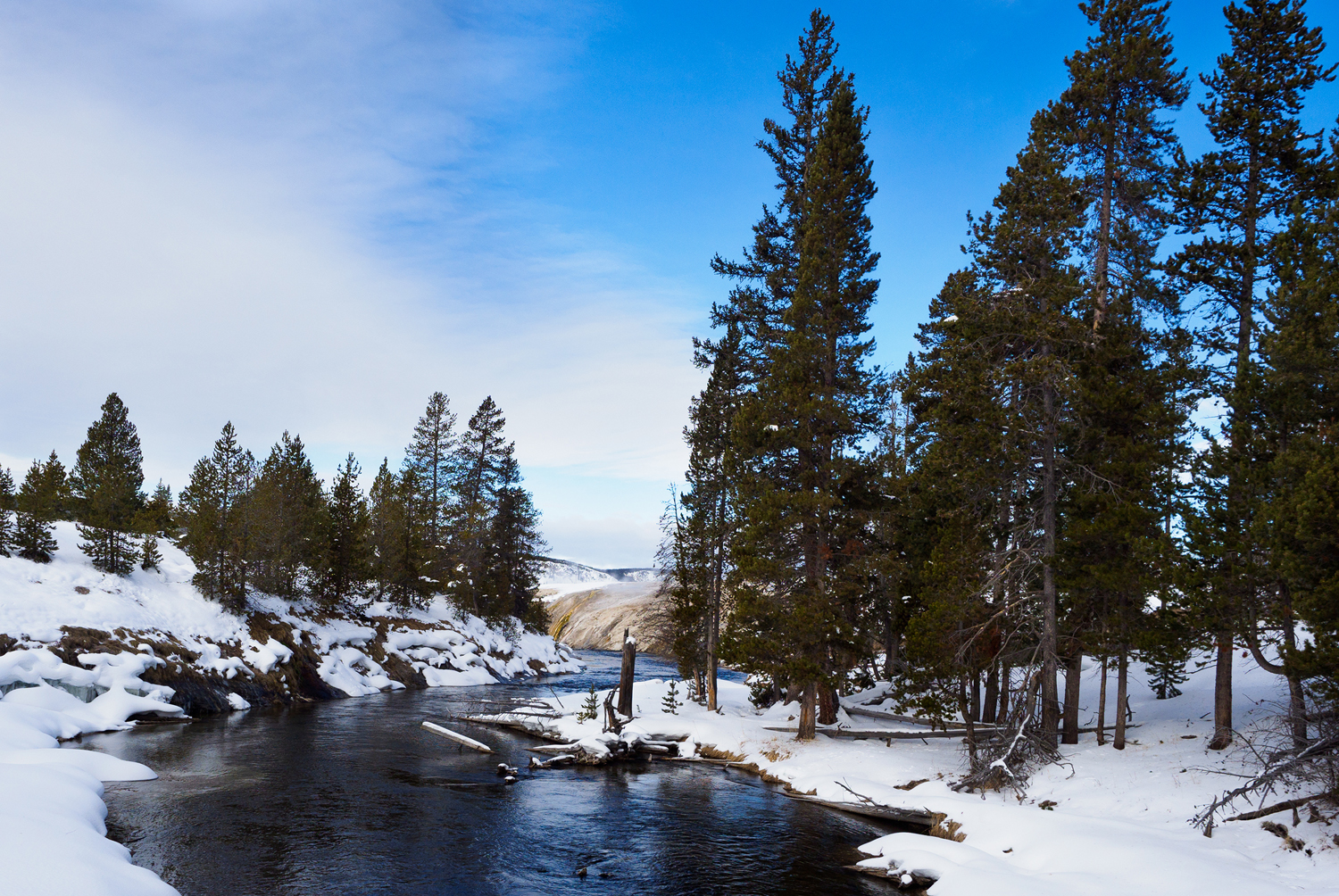 Day 6 – Thursday
We left the lodge dark and early, well before dawn. We headed out deeper into the park in the snow coach to look for animals and a trip to Yellowstone's Grand Canyon. Its impressive, but trust me it doesn't have anything on the Grand Canyon. Still it was fun to shoot for an hour or so. We shot from a vantage point that was quite some distance away, apparently the other access points are closed during the winter. I have to admit it felt weird shooting landscape with my 40-150 lens.

I decided this was a good opportunity to do some high res photography using the E-M1ii high res mode that takes 8 shots with half a pixel movement between shots. What it generates is a 50 MP JPG, or a 80 MP RAW file. I of course shoot RAW. I have to tell you even after a year of shooting like this, the high res mode is impressive. All the shots I took were great, but this is the one I liked best. This was a three shot 2 stop bracket, processed in Aurora, Luminar and Lightroom.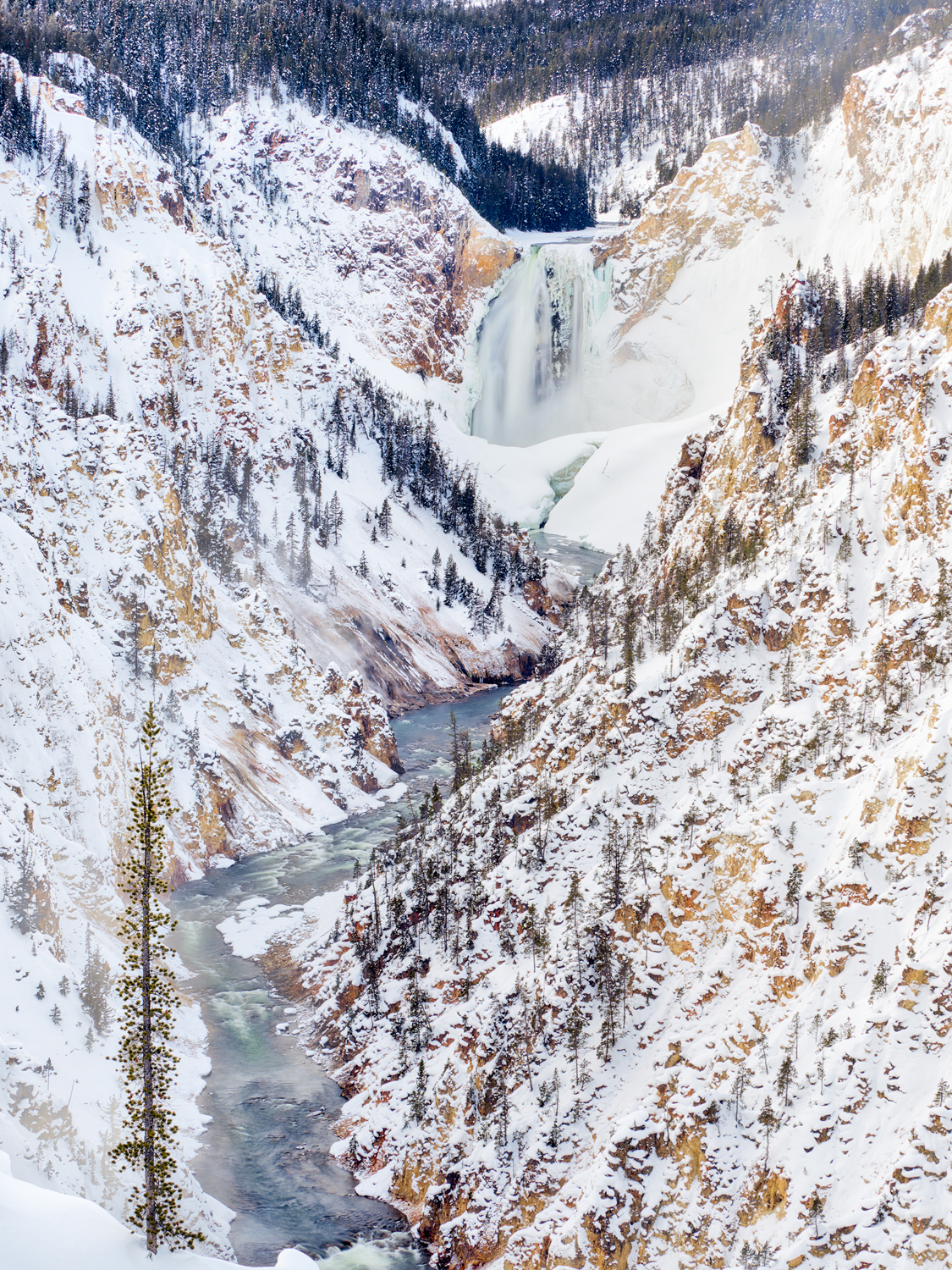 We saw more coyotes and other wildlife, but most were just a bit too far out. I did find a few things to shoot though, including a Bald Eagle, more bison, and some other stuff that caught my eye.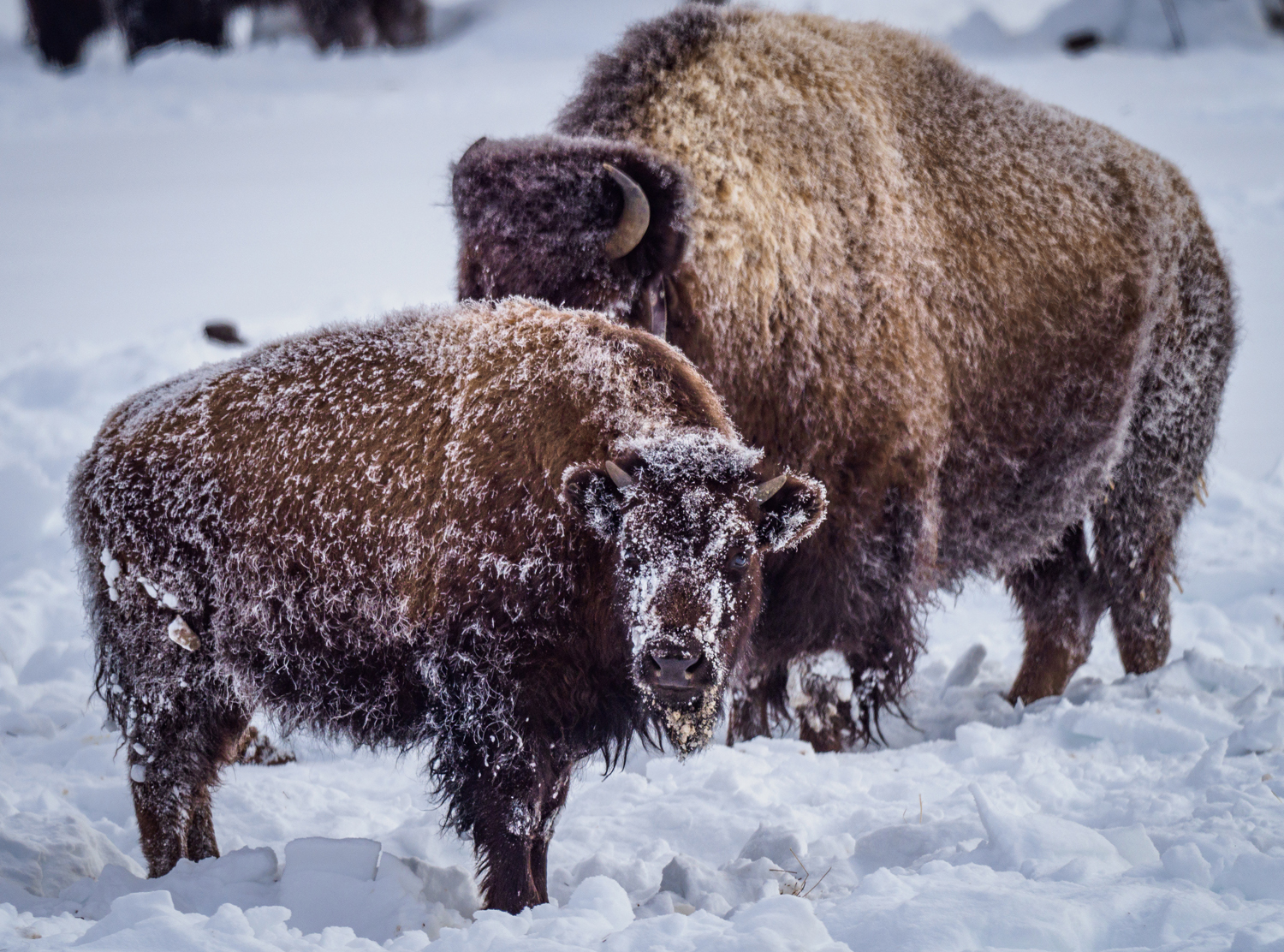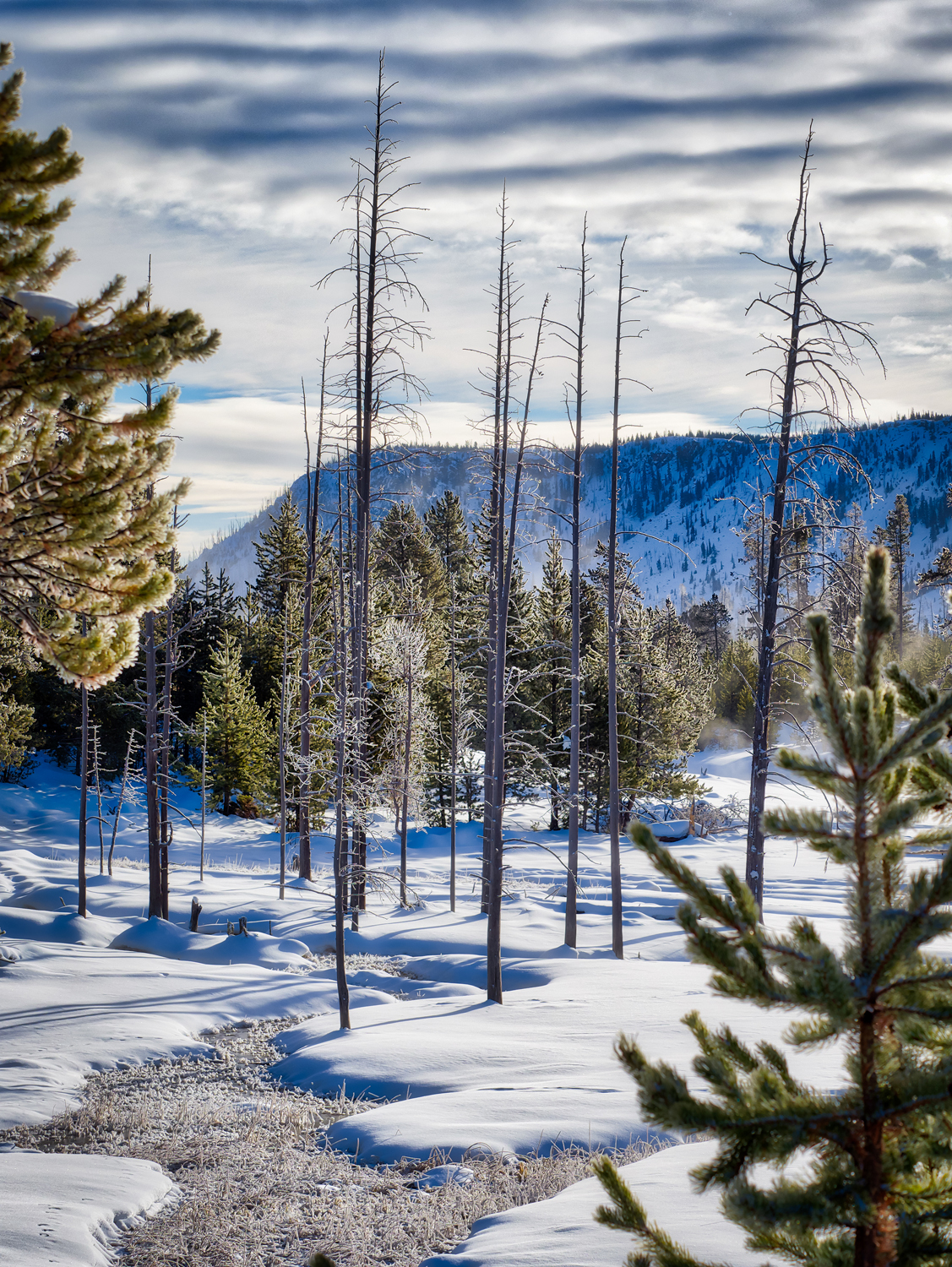 We tried to find the wolves, we know they were in the area, there had been some reports. But we never found them. So eventually we headed back to the cars and our luggage. I should explain how the lodge did this. When we first got on the snow coach at the Albright Visitor Center we dropped off our luggage. The luggage was loaded up in a truck, also with big tires, which then dropped it off at our rooms at the lodge. For the return they picked up our stuff at our rooms and dropped it off at the visitor center. From there we loaded back up in the black SUVs and headed for Cody. By this point it was getting dark, we stopped for a few shots, but we didn't get anything worth mentioning.

Cody is a bit of unusual place, it caters to the snow mobile crowd in winter and dirt bikes in the summer. Its just a few miles outside the park entrance. In winter the road dead ends at Cody, the pass closes for the winter. Cody has a few restaurants, a couple of hotels, a gas station and not too much else. Neither hotel is all that fancy, but they were warm, reasonably clean. It had WiFi, but it wasn't too fast, and absolutely no cellular for anyone. Its main virtue for us, it was 15 minutes from Lamar Valley; the next nearest place to stay is well over an hour from the entrance to Lamar Valley.
Day 7 – Friday
This day we basically drove the length of the road, doubling back a few times looking for wolves. We found moose, elk, and bison; all but the bison were really too far off to get good shots, particularly under the heavy clouds and snow. That doesn't mean I came away totally empty handed. Here's another bison, and a couple of shots of some big horn sheep. The shots of the sheep are cropped, as I said 840mm is too short. Still it was cool seeing them. They were up on a hill to the side of the road, it was pretty steep, a few people went up but they didn't get very far. None of them were from our group.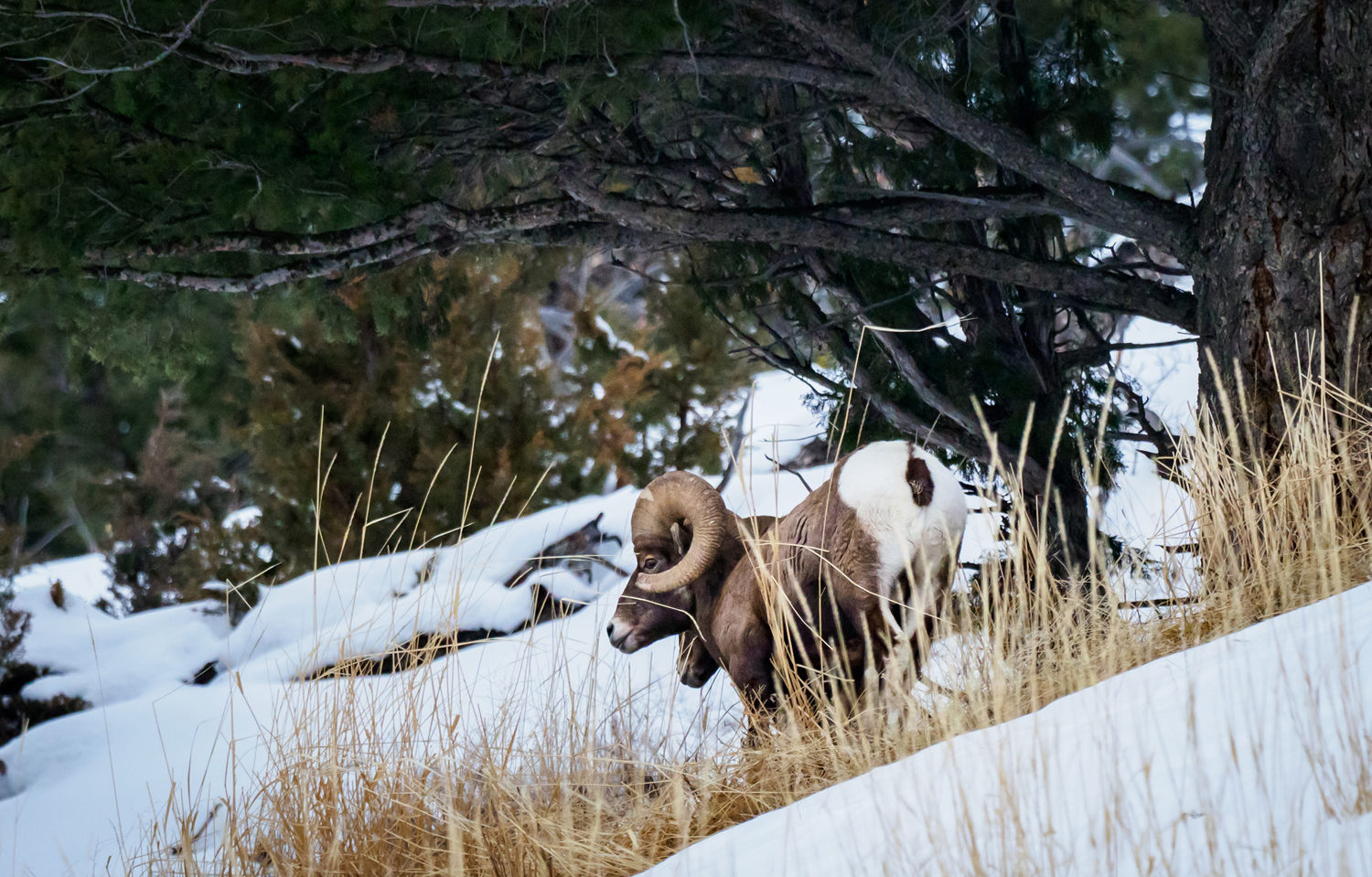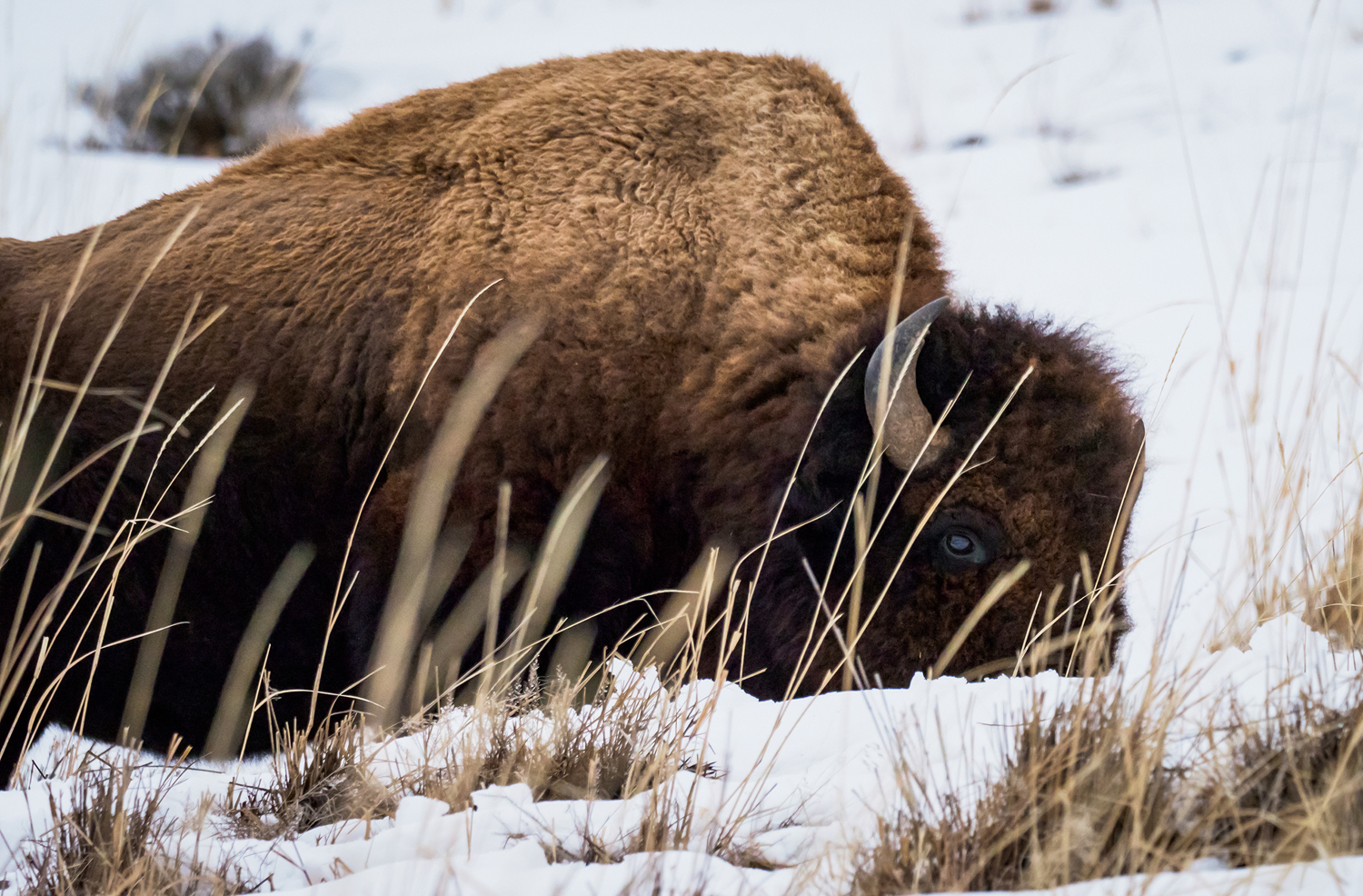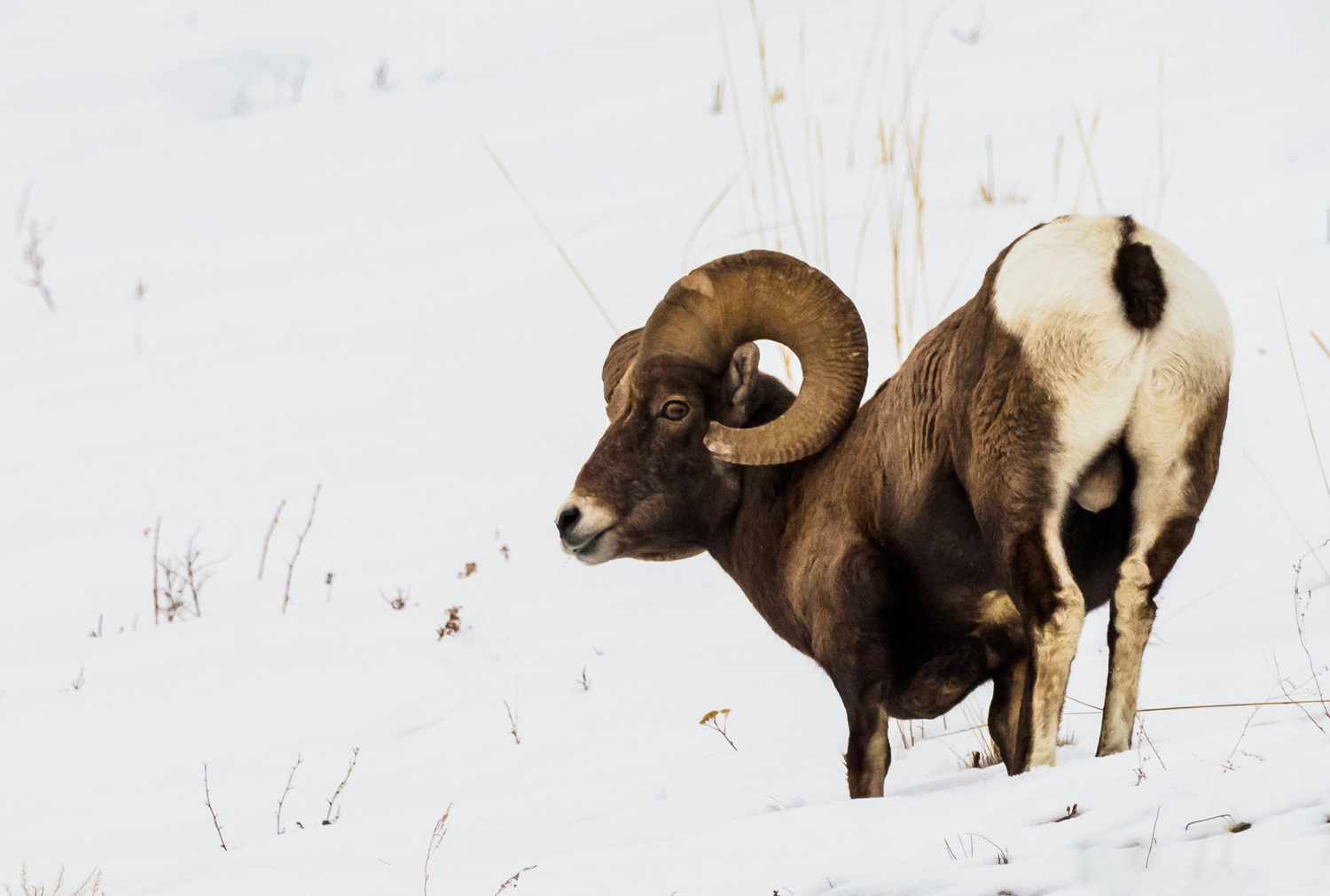 Day 8 – Saturday
This was our final day, we got up early, packed loaded up and headed out to see if we could get anything more. Naturally, this was the best day of the week for animals and we had to be back in Bozeman to catch flights. Still we managed to get a good four or five hours of shooting in.

We did see one wolf, and we listened to the rest of the pack calling for close to an hour. The one wolf we saw was on one side of the road, the rest of the pack was on the other side, way back in the tree line. Our lone wolf went up the side and cut across the road and out onto the flats. Did you know a wolf can move a lot faster than a fat guy can. Needless to say I got one shot of the wolf, but it was too far to do more than prove it was a wolf. Remember what I said about 840mm being too short, yeah there's a theme here. I think one of our group who was farther up the road may have gotten a shot as it crossed the road but I'm not sure.

We did get another opportunity with big horn sheep, and yet another coyote came through. I know the hunters don't like them, but to me they are pretty animals. We were all paying attention to the sheep, when someone turned around and spotted the coyote. He ran along the road and I got a nice close up for a change, and then he headed across the stream. I don't think he liked the cold water, but he hustled right across. And of course the big horn we were concentrating on.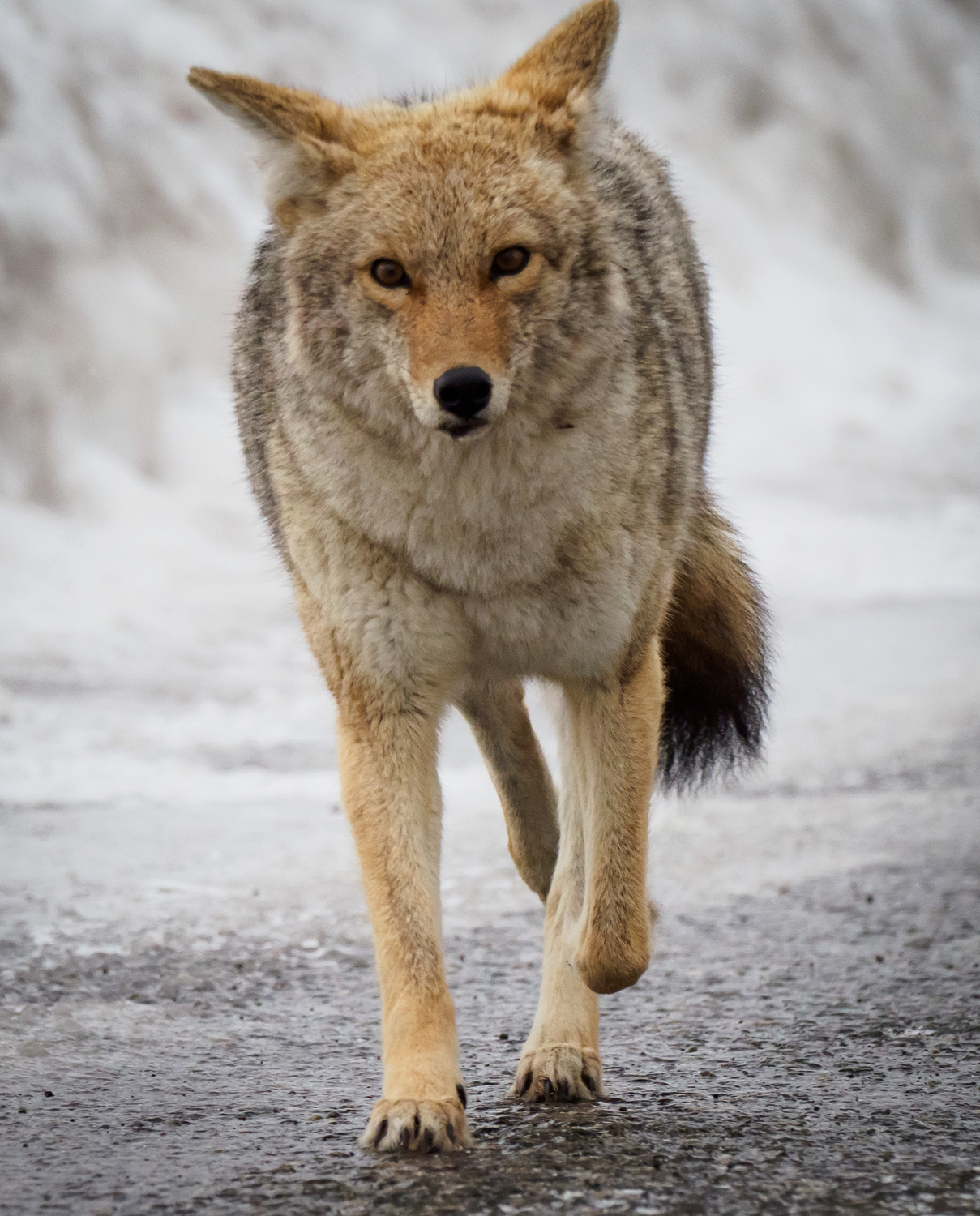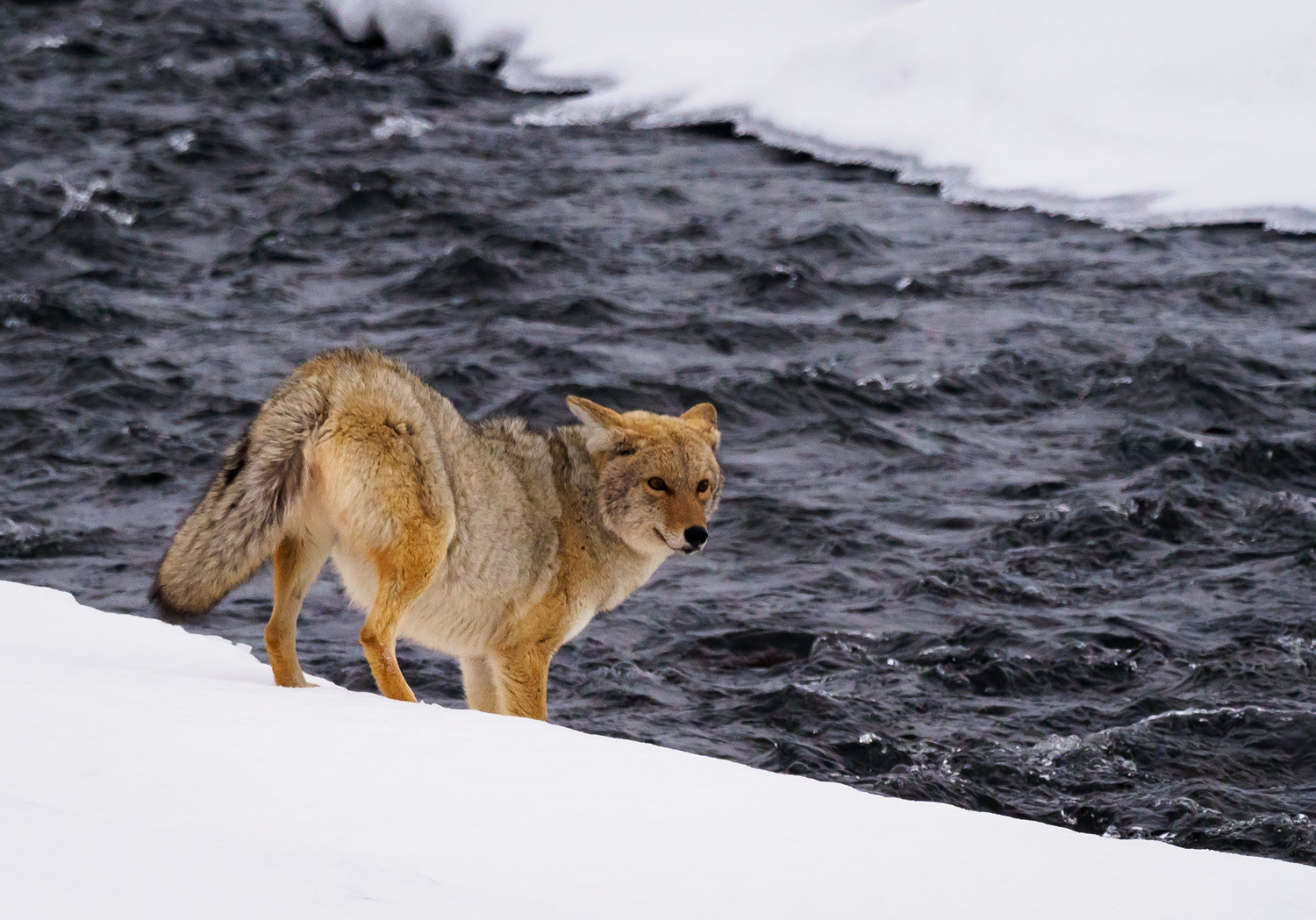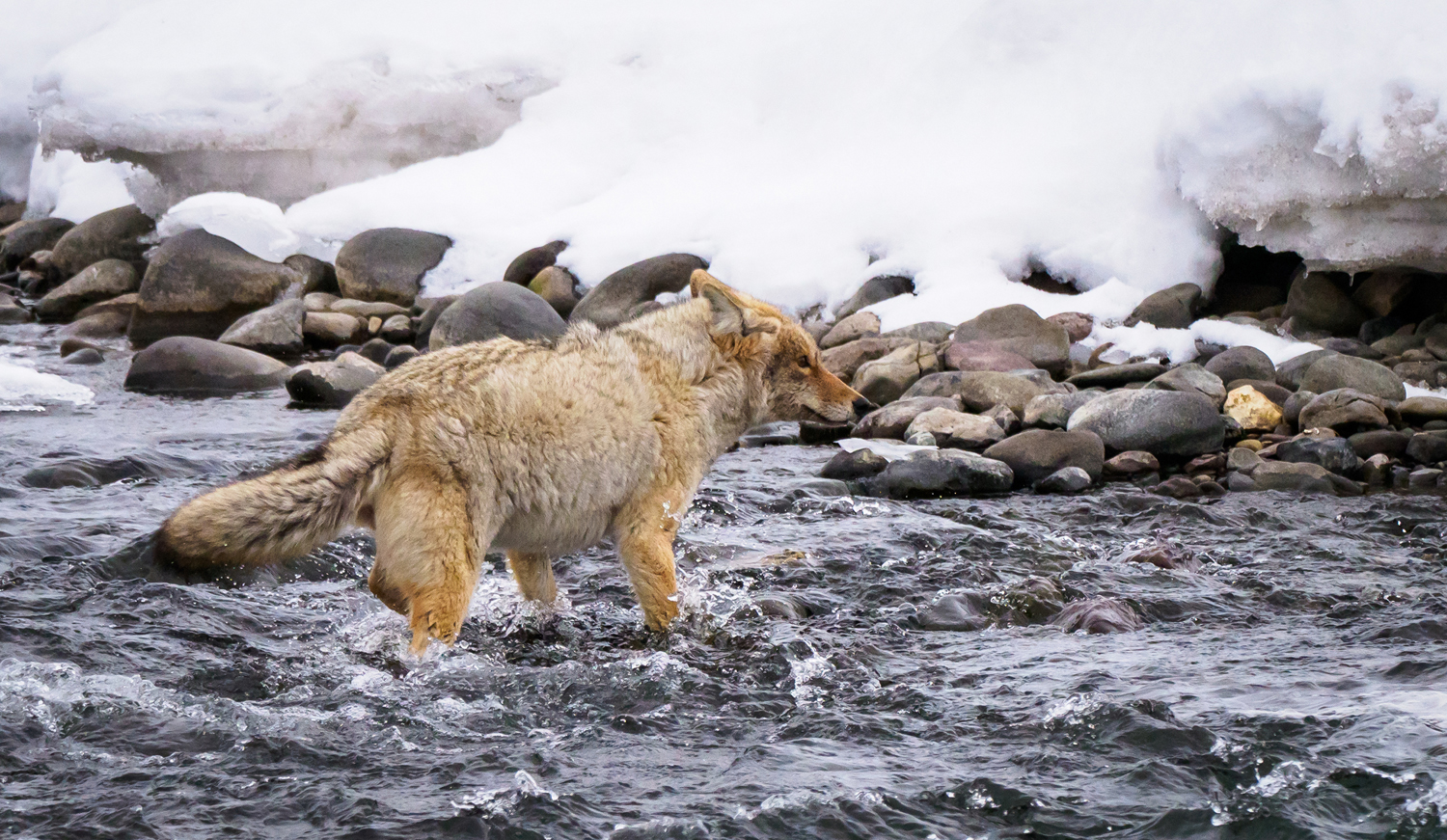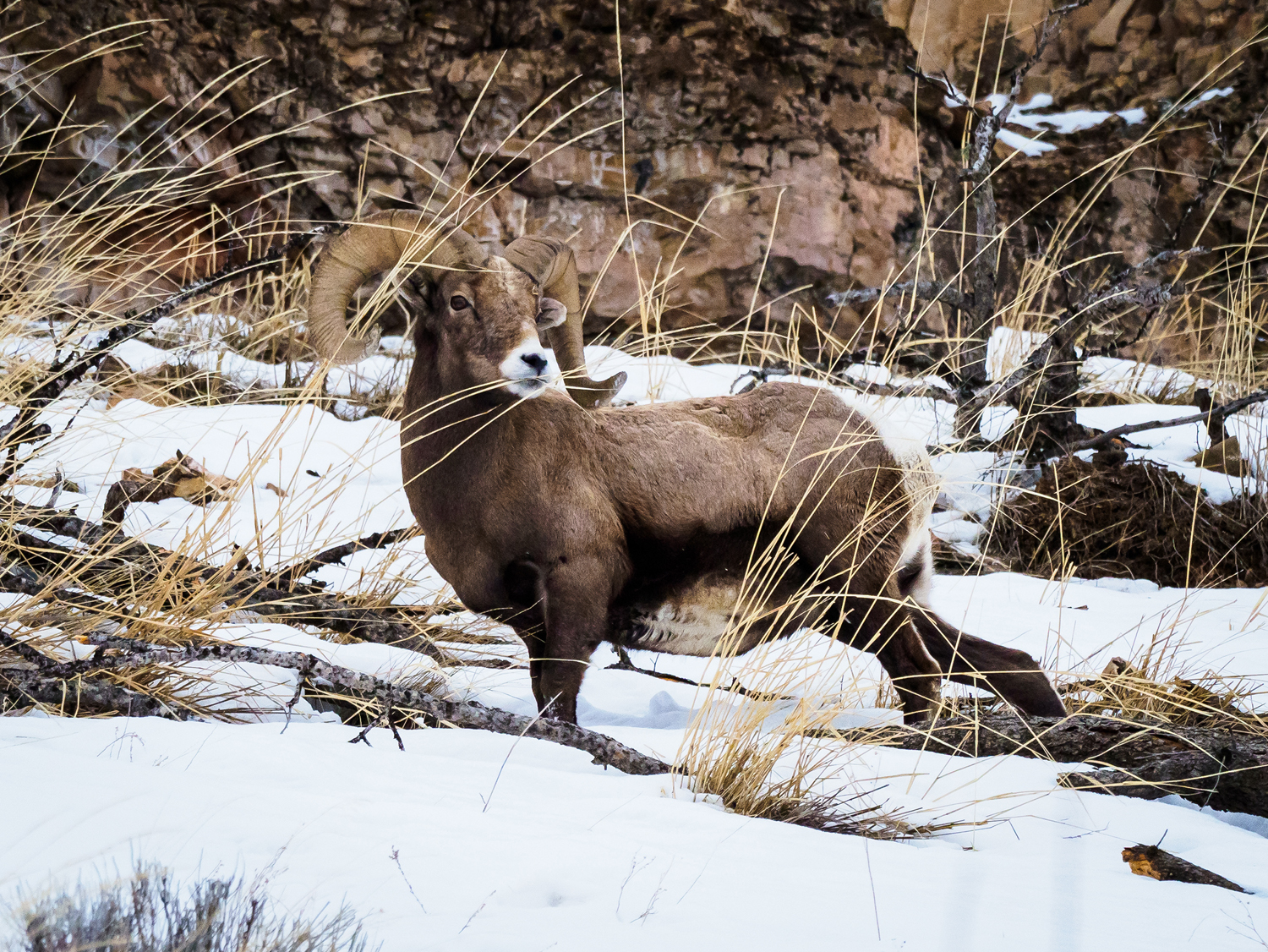 One of the advantages to not being the driver and sitting in the passenger seat is that I can take some pictures. These were taken over the last two days. Nothing great but not too bad.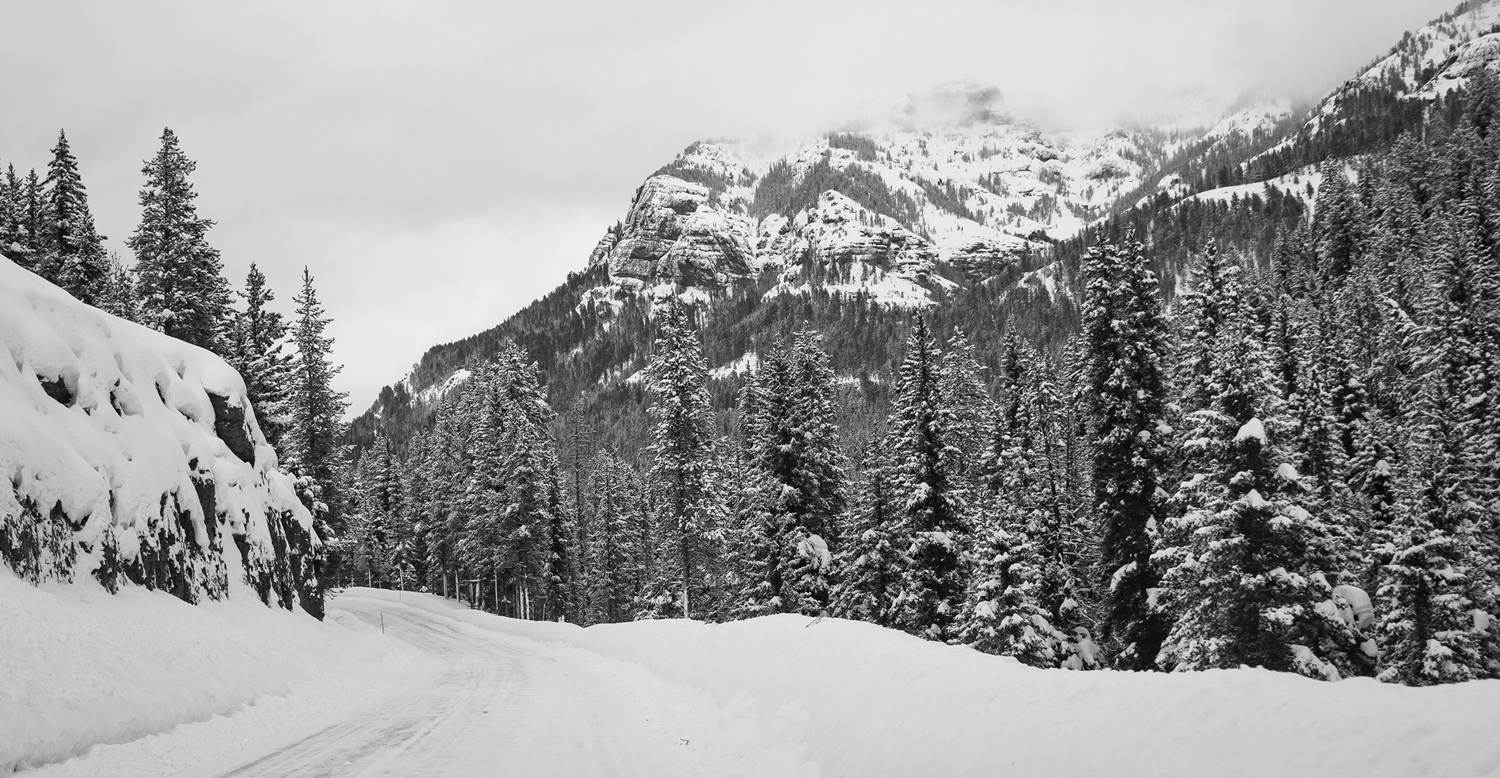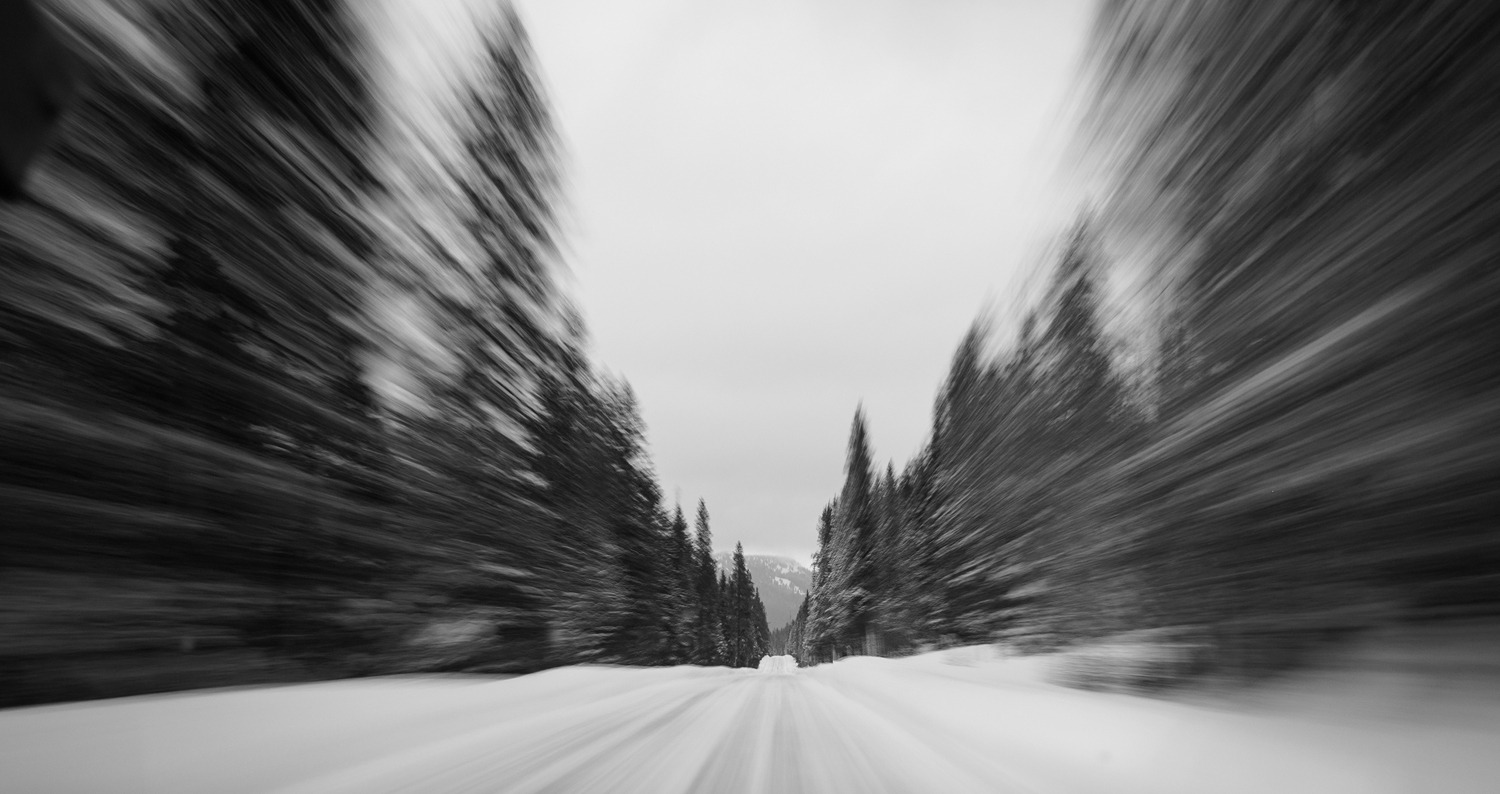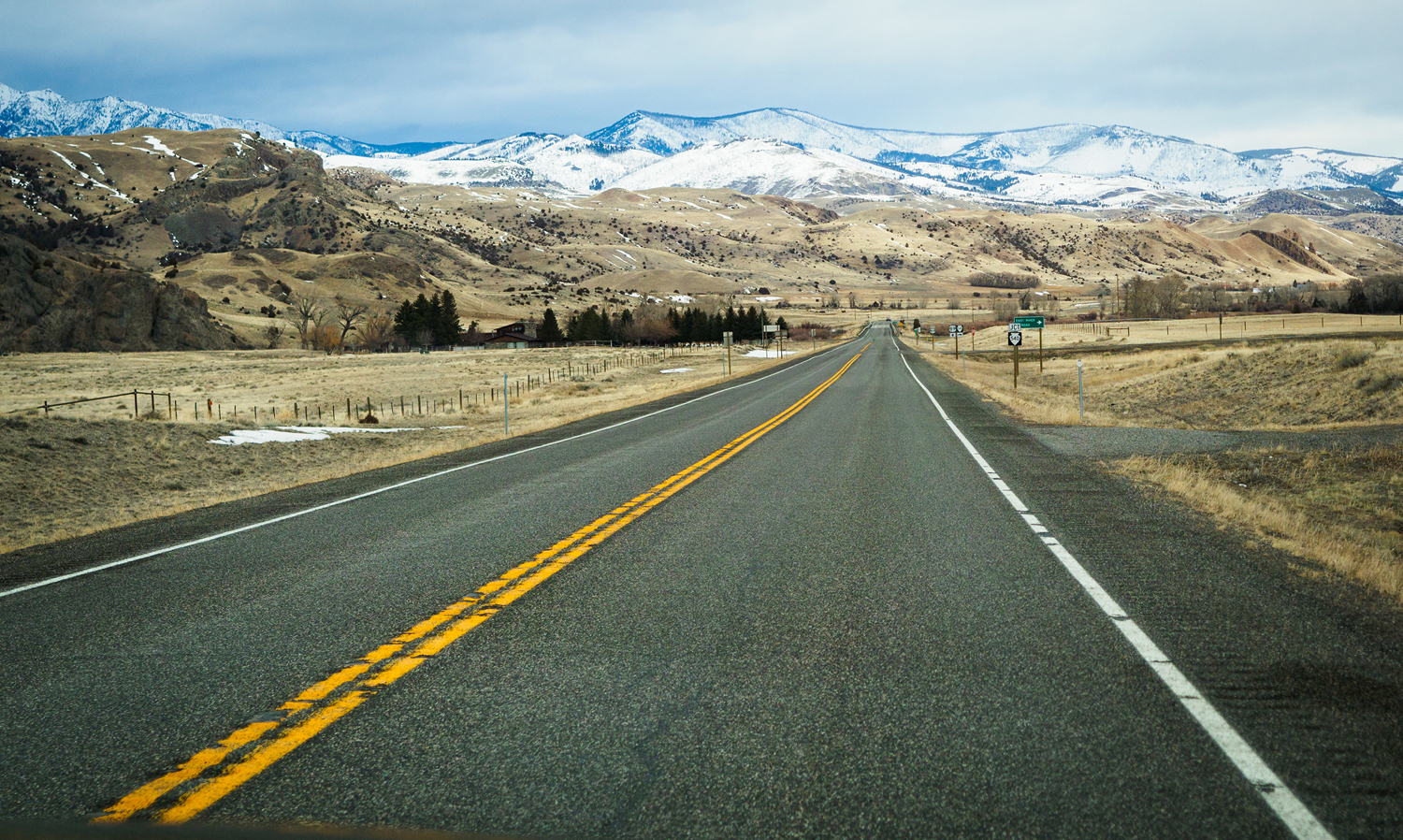 Lessons Learned
So what did I learn on this trip, actually not all that much, but I confirmed quite a few things that I knew.
840mm FFE is still too short, unfortunately going beyond that is expensive and heavy. I keep hoping Olympus will release a 500mm f/4, that with a 1.4x would have been very cool with a FFE of 1400mm. Of course at that length even Olympus shooters will be using a tripod and gimbal. I don't really want to think about what the price would be.

Those cool shots you see of animals in Yellowstone were largely made by people who spend weeks out there shooting. Studying the behavior of the animals, working with naturalists and biologists. Planning where they will be. Yeah, every now and then you get lucky, which is what I was hoping for. But the reality is, your chances aren't too good with wolves or fox. Obviously bison and elk are pretty easy to get shots of, coyotes weren't that tough either. It's all a percentages game, if you put yourself in the right spot at the right time with the right gear; your chances go up, but luck still plays a part.

My gear performed admirably. I actually got a chuckle out of everyone with their lens covers and stuff to protect their cameras and lenses. In all fairness some of the gear wasn't weather sealed, but others were shooting weather sealed gear like the D500 and 150-500 lens. Those of us who shoot Olympus Pro gear that is weather sealed trust our gear and our gear doesn't let us down.

I brought a tripod, but I only used it a few times. I trusted to the image stabilization, and honestly I think it worked out great. I'm pretty sure that the people with big tripods, heavy lenses and gimbals were all not too pleased with me. I got a silent chuckle about a couple of them wanting to stop at the post office to mail back their gimbals because they were too big and heavy to haul on the plane.

Traveling with a group of photographers is frustrating. When you're ready to move on, there's someone always dragging behind. Or when you've found something interesting, they want to move on. There is also the difference in skill levels, a surprising number of the group were still trying to get exposure right. In this case logistics made traveling in a group worth while. And of course there is the safety thing where you want at least one or two people with you. But for the most part, I'll continue to shoot on my own or with a few people with similar skills and interests.

Going to a workshop you'll learn new things. In my case I learned a bunch of things about how the animals behave, at least in Yellowstone. Does that mean I'm ready to become a naturalist. Nope, but it gives me the starting point.

One thing I didn't realize, while Yellowstone is pretty in its own way, it doesn't have the jaw dropping beauty you find in most of the Rockies. I think a large part of that is the fact that it's a caldera, and the mountains have been blasted away. So you go to Yellowstone is mostly for the large animals, sure there is other landscape stuff and I expect in the spring flowers and such.

One advantage of a full frame with a comparable lens is they are going to be able to crop tighter than m Olympus can. Russ was shooting with a 50MP Canon 5DS R and a 600mm f/4 lens. I'm fairly sure his cropped shots probably looked better than mine. But for as often as I do this, I can't really justify the much higher price.
Thanks for taking the time to read, if you have any comments, please leave them on my Facebook page:
https://www.facebook.com/BobPanickPhotography/

I've also posted all these pictures at my web site Bob Panick Photography.
---
---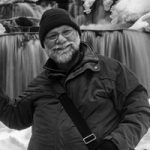 "My name is Bob Panick, and I started taking pictures back in the late 70's in high school and then in college, then life happened and I drifted away from it. About 10 years ago I picked it up again and started shooting with a Nikon D80, and upgraded for the next few years. I finally got to the point where I felt Nikon was holding me back and I started checking out Micro Four Thirds (MFT). I bought one of the first E-M1 mark I cameras, and about two years later sold off my Nikon gear and I've been shooting with Olympus since then. I live in Southeastern Michigan, not a real great area for landscape, wildlife (other than birds). We do have people, urban decay and cars. So I shoot cars when I can, and landscape and wildlife when I go on trips. I have no inclination to ever go pro, and I've never sold an image, my day job pays quite a bit better than photography could; it's nice being the only one I have to please. Now if I weren't such a harsh critic."