The Beginner's Guide To Underwater Photography – with Olympus Tough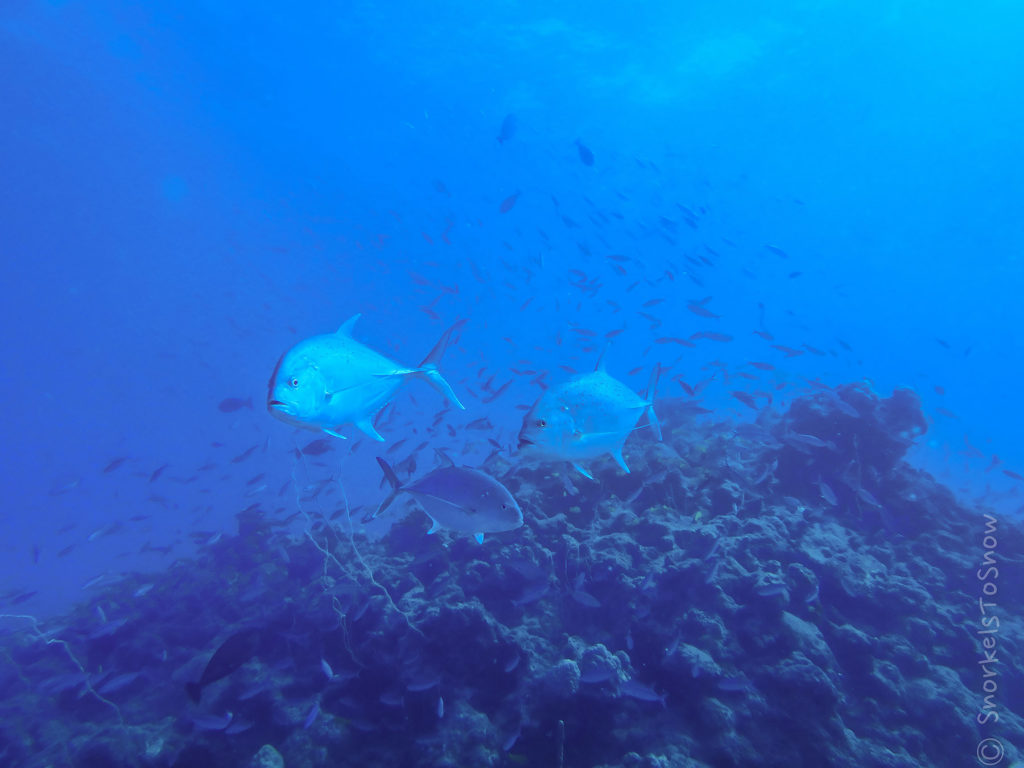 Buoyancy control is everything at this precise moment.
I watch John float further towards the moray eel. It had nearly completely slithered out of its cave to investigate the foreign being in its territory.
Oh my, he's inching closer to it.
OF COURSE he's getting closer, that's John, my husband, Chief Adventurer, Afraid of Naught. He'd give Bear Grylls a run for his money, so I call him Jonny Grylls.
The eel glares with its mouth open just wide enough to get a glimpse of its fangs.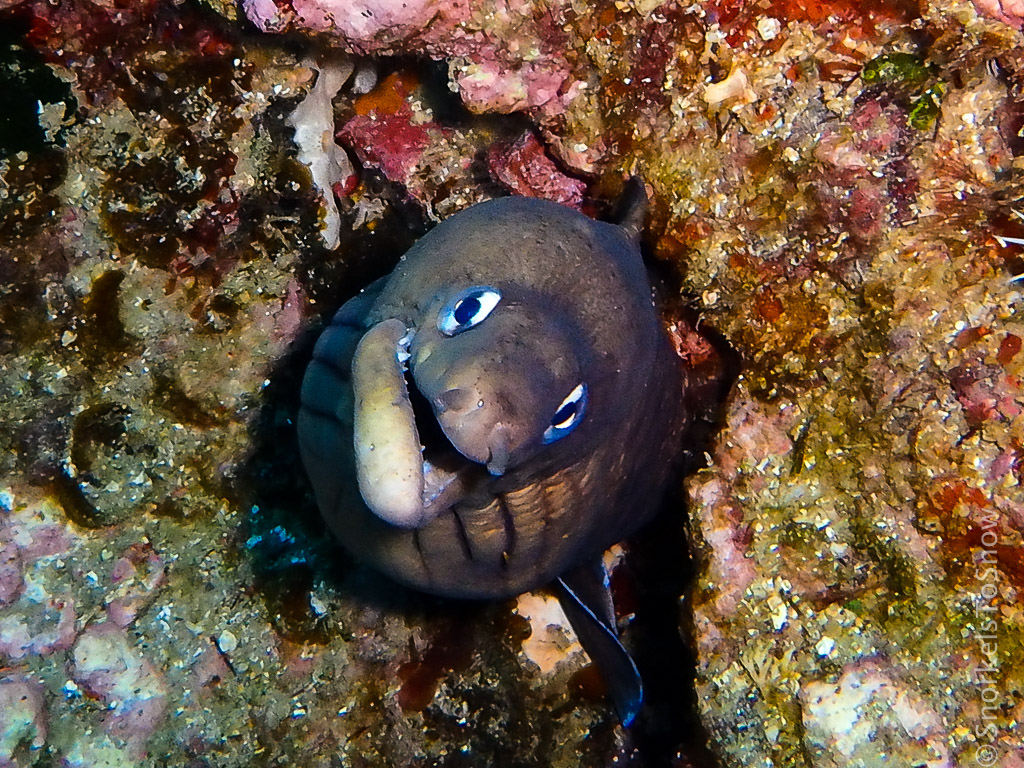 I shudder.
Moray eels are not something I like to get too close to. My spine tingles as if bubbles of cold water are trickling down the back of my wetsuit.
Since getting into underwater photography, John makes it his goal to try and get as close as possible to any marine life in order to capture a colourful nudibranch, a stingray – or in this case, a moray eel.
Our Equipment
On nearly every underwater photo we post to Instagram page, someone asks,
"What camera do you use?"
Fair enough – we ask others the same!
We'd love to say we have a nice big flashy DSLR set-up with housing worth the same as a deposit on a small house, but the truth is far from it!
We use the Olympus Tough TG-860 with the Olympus PT-057 underwater housing:
Which is great news if you're a budding underwater photographer and want a little more flexibility than a simple point-and-shoot or a GoPro but don't want to invest all your inheritance!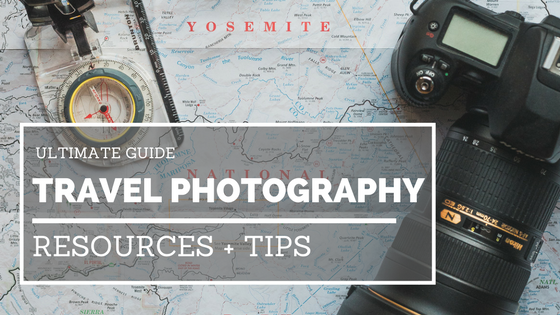 RELATED: Travel Photography Resource Guide + Tips
That's the challenge with underwater photography – starting up is expensive. Even if you already have a decent DSLR, the underwater housing will hit you hard in the pocket and potentially cost more than the actual camera. Then you've got the add-ons such as external strobes, arms, dome ports and different lenses.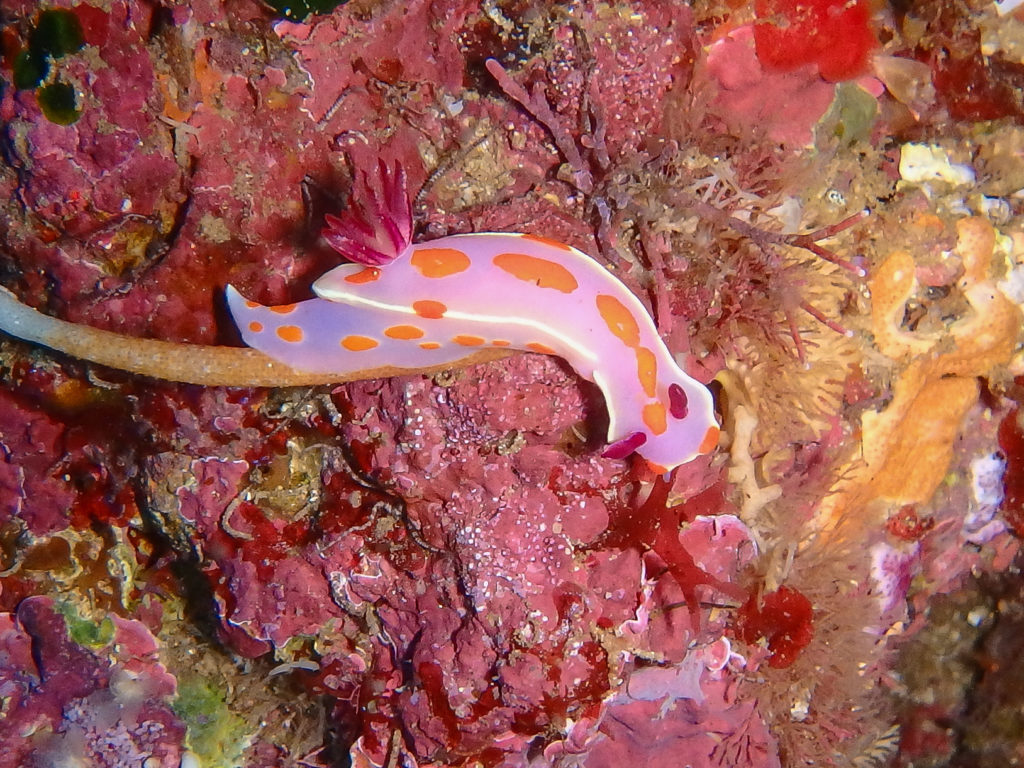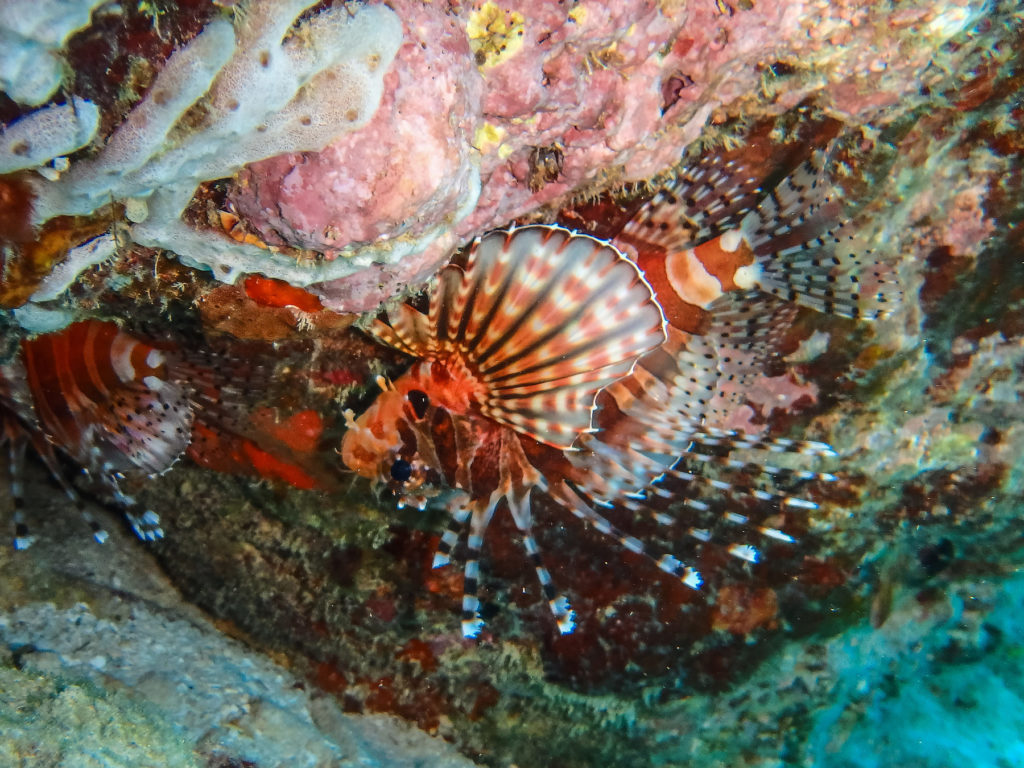 The Olympus Tough range is known as a rugged camera, meaning they're designed to withstand a range of weather conditions or being dropped. The Olympus Tough TG 860 is shockproof to 2.1metres, freezeproof to -10°C and crushproof to 100kg.
It's already waterproof up to 15metres – which might be fine if you're only snorkelling. But as scuba divers we need to be able to bring it down deeper on our dives.
We purchased the Olympus PT-057 underwater housing, which makes it now waterproof to 40 metres (also compatible with the newer TG-870).
For a compact camera, we are impressed with the quality of photos from this lightweight and travel-friendly camera. All our underwater photos on our blog were shot with the Olympus Tough. That includes our Fiji scuba diving trips, Poor Knights Islands, Goat Island, even our shark dive in Fiji: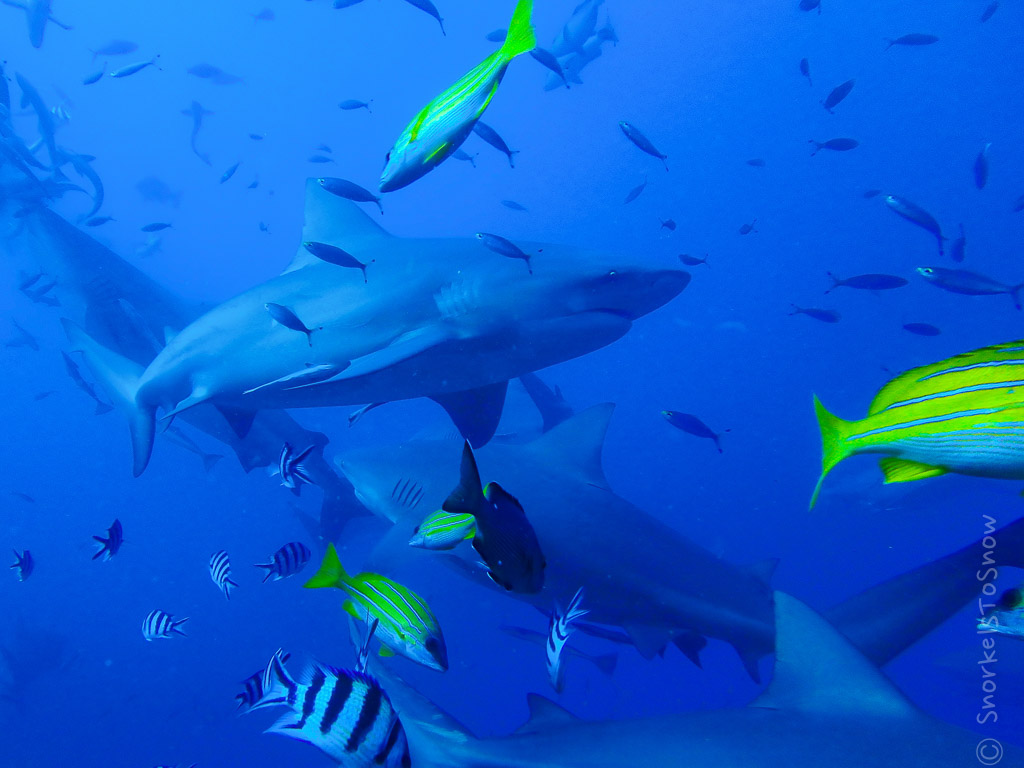 And with a little assistance from Adobe Lightroom, we can get this: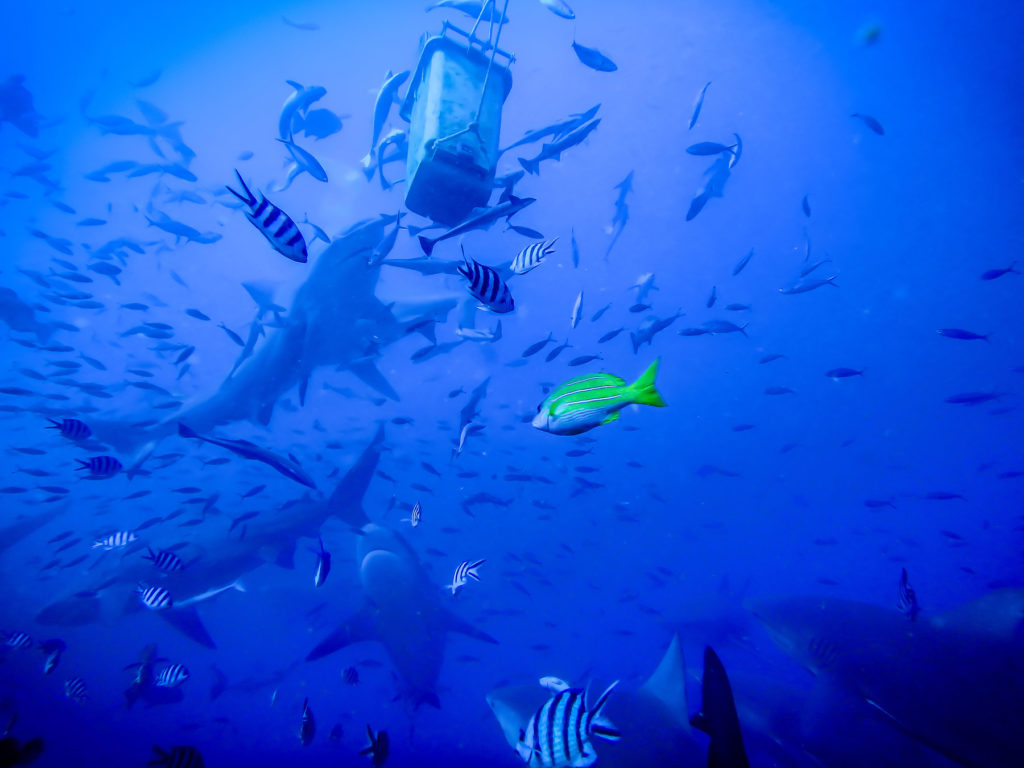 For a compact camera, The Olympus Tough range offers a lot of flexibility with a huge range of settings and art filters, as well as being able to adjust compensation, white balance and ISO.
Because of its wide angle lens, be aware that photos shot from the Olympus Tough TG 860 will get some distortion around the edges: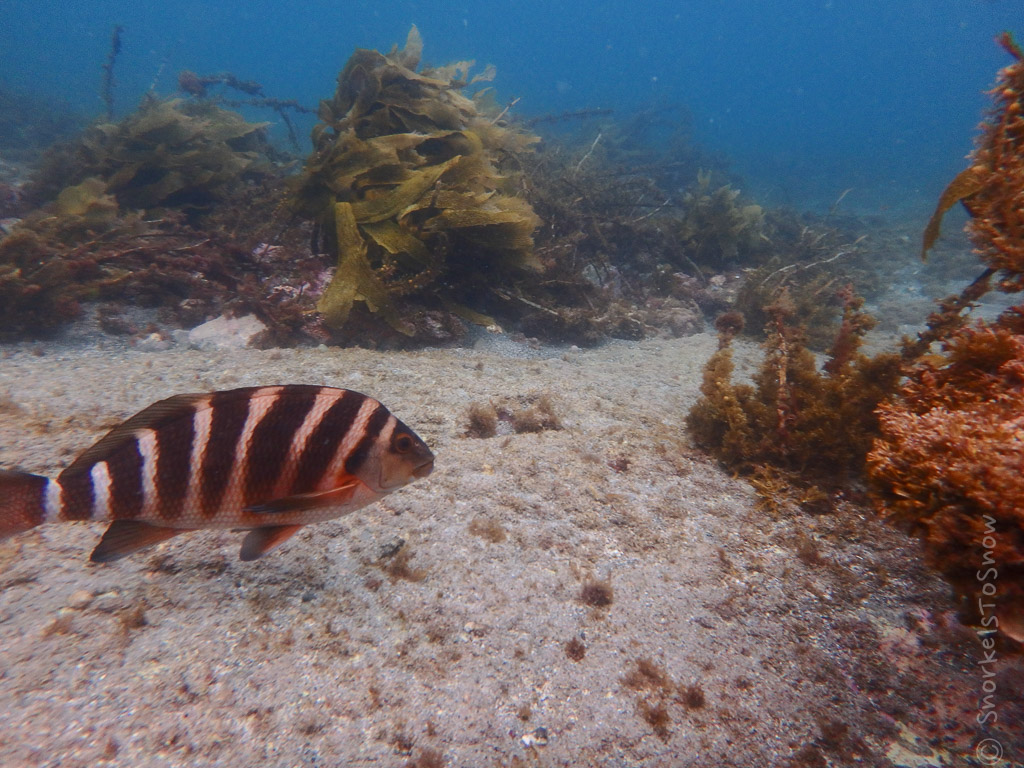 The TG 860 doesn't shoot in RAW, but some of the other Tough versions do. Although you cannot control aperture and shutter speed with the TG 860, there are a number of presets and art filters available, including three underwater settings. That's what makes this camera one of the best compact cameras for scuba diving in our opinion.
As with all underwater photography, there's always a risk of backscatter as a result of using the built-in flash. Backscatter is the speckled effect you can get when particles in the water are lit up in front of the camera. There's a great article on how to reduce it at Underwater Photography Guide.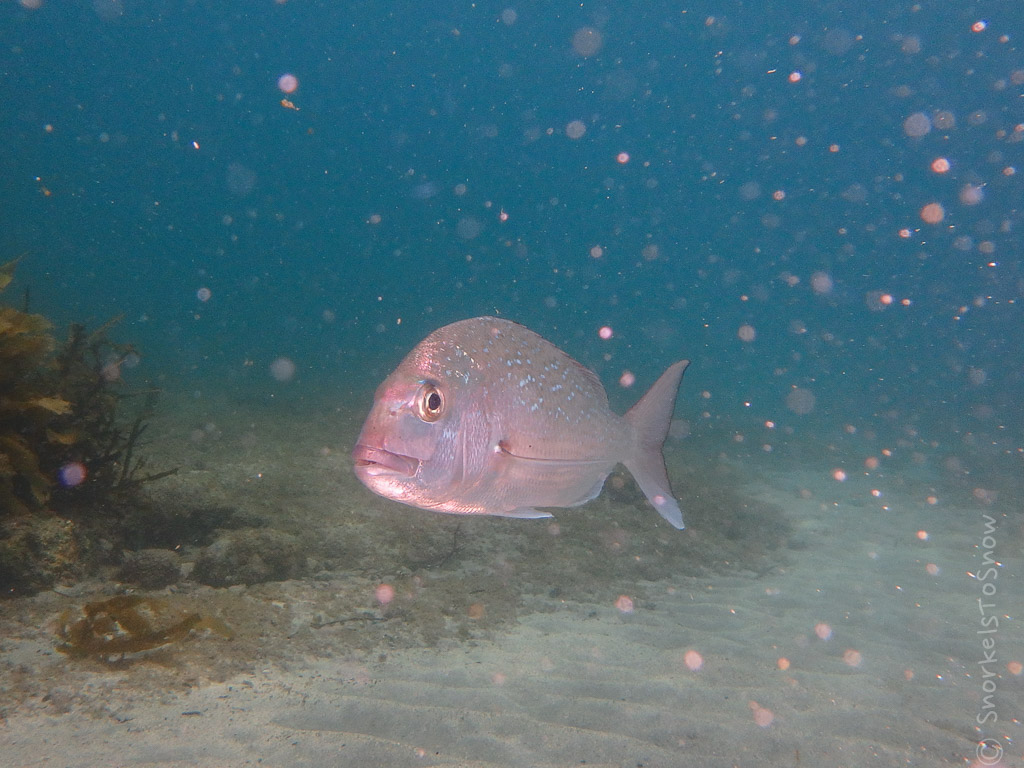 We also have an external strobe, the Olympus UFL-3, which will help avoid backscatter and bring greater clarity to our underwater photos.
Fortunately, with a little bit of help from Photoshop, you can remove some backscatter post-production, but it's a timely process and best to avoid it in the first place! Andy Davis from Scuba Tech Philippines has a quick 5-minute editing guide to removing backscatter & editing underwater photos through Photoshop.
And of course the Olympus Tough range take great videos too. You can see the colours clearly in this video from our Fiji shark dive:
Why use a compact camera over a DSLR?
A DSLR with appropriate underwater housing will offer the best photography underwater – but the major drawback is of course, the cost. We worked out the cheapest housing option for our Nikon D3100 and found out that the underwater housing alone (excluding arms, strobes and all other accessories) would cost THREE TIMES the price of the camera!
There's also the risk of damage. Broken seals, saltwater corrosion – you need to take extreme care of your underwater photography equipment to avoid flooding it and effectively throwing thousands of dollars into the ocean.
Compact cameras like the Olympus Tough range are an affordable entry level camera into underwater photography, are extremely lightweight and portable which makes them ideal for travel and are a great way to understand the basics of underwater photography and light. The best part of course, is the quality of photos – you can still produce great quality underwater photographs to print out or promote online, just like all the underwater photos you see on our blog.
Tips for using Olympus TOUGH CAMERAS underwater
Use the camera's underwater settings. There are usually three in the Olympus Tough range – macro, landscape and action, which allow for a more true colour underwater
Adjust exposure compensation depending on light conditions
Shoot subjects less than a metre away
Use the built-in flash for close-up subjects, but turn it off for landscapes
ALWAYS wash saltwater off as soon as you can after taking it in the sea. Saltwater is extremely corrosive so follow all instructions carefully on how to properly care for your camera after each use.
Here are our top tips for getting started with underwater photography: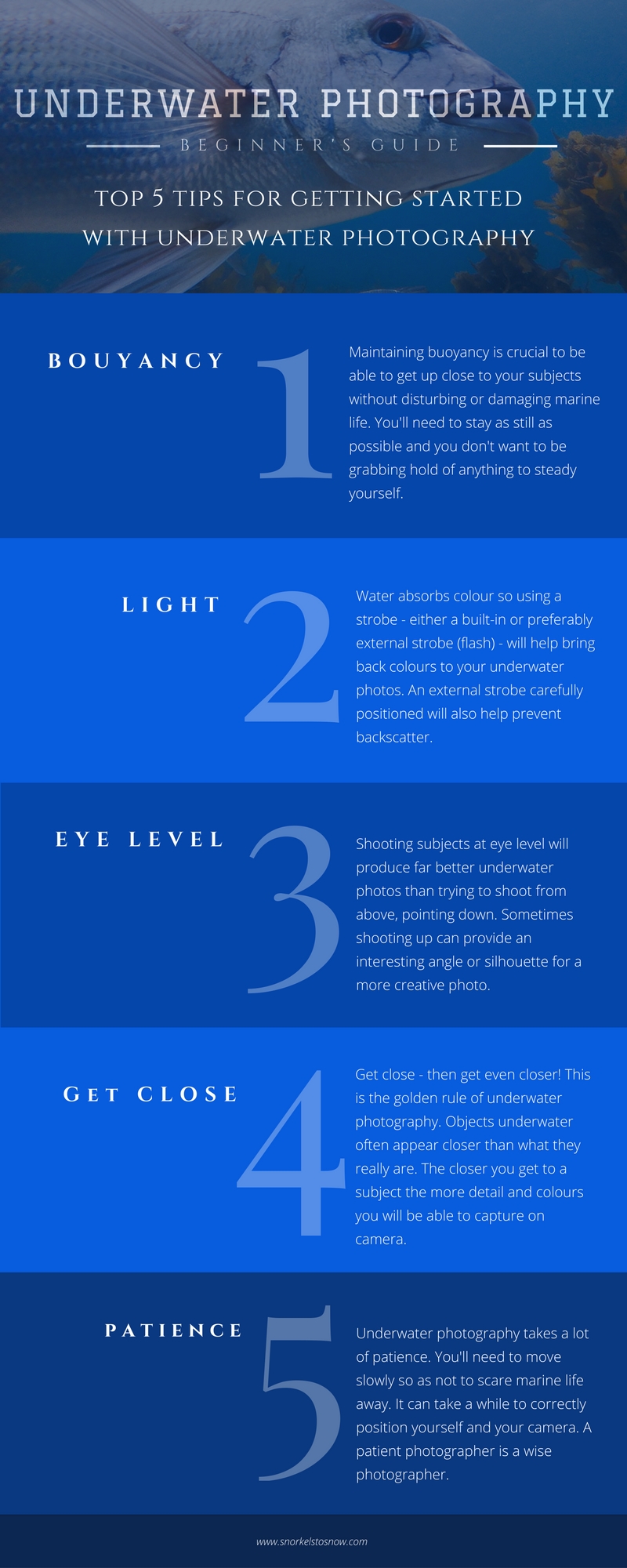 ---
---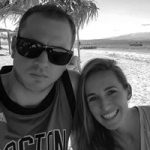 "Hi! John & Juliette here. We are a young, adventurous couple on a mission to travel the world from snorkels to ski fields! We spent 8 months living in Fiji before moving home to New Zealand."