Printed magazine – Issue 5
One more year is finishing. Time flies, isn't it? We leave 365 days behind and get another new 365 ahead to get that photograph that has been escaping us for a while.
For those of you who choose to use this printed magazine as a kind of guide for your next photographic adventure, Olympus Passion Issue 5 is filled with stories, ideas and inspiration from nine spectacular photographers who use Olympus cameras to develop their work.
Take some time for yourself, play nice smooth music, grab a cup of tea and immerse in this new printed edition. Get involved in each story, slowly view each image, and feel the moment as if you were there… living the adventure and taking those photographs!
This magazine is produced on print-on-demand and shipped from the US or UK, so you may need to pay customs duties if you are an EU customer. Please take this as an important note when purchasing your magazine.
Pages: 140 | Size: 17 x 24.4 cm (approx. 6.7 x 9.6 in) | FREE Shipping Worldwide
All customs costs are supported by the client
Sample pages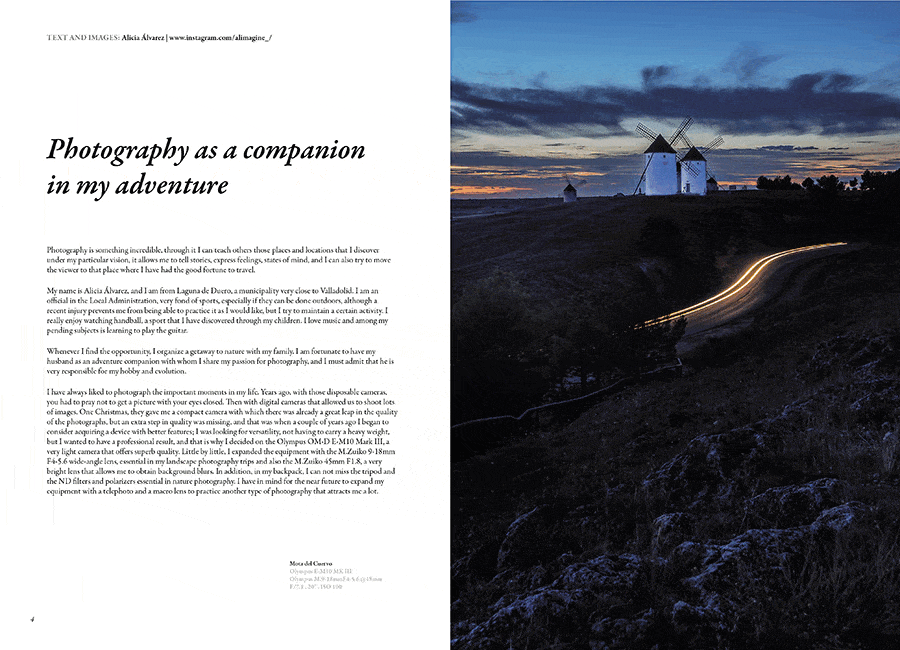 What you will find inside:
Alicia Álvarez Prieto
Photography as a companion in my adventure
Damian Hedinger
Photographing on the way
Heinrich Lischka
It doesn't matter which camera you use
Javier Carrasco
Learning to Observe
Julien Romano
Travelling with the Olympus PEN-F
Kevin Hugo
Shoot locally and be creative!
Mikael Svensson
The more you're out, the luckier you'll get
Tian Li
Olympus E-M5 Mark III, my daily camera
Wolfgang Hempell
Inspiration right outside your doorstep
* All customs costs are supported by the client
* Please allow 3 to 7 business days for processing prior to shipping
* PO Boxes are not allowed.
* Delivery times vary by destination
* This magazine is produced on a print-on-demand basis, that is, each issue is made individually. For this reason, there may be minor print defects, so we will replace the copy if these appear in a large number and clearly disturb the reading of the text or do little to dignify the author's work. Our services will evaluate each case.