A wide path of photography – My journey from smartphone to the ownership of a photo studio
Thank you so much, Adrian, for all your availability for this interview. Would you like to start by introducing yourself to our readers?
Hello! To start with, I would like to thank you for inviting me to this interview, it is a great honour for me. My name is Adrian, and I am 25. I come from Szczecin (Poland), I was born, and I live here. I am an IT specialist by education, and currently, I am doing my best to finish my management studies.
June has been a great and game-changing month as I opened my company – pixeLOVEnia – mainly related to photography and a modest photo studio. I am a self-taught photographer, and I gain my knowledge all the time, for instance, from podcasts, YouTube, blogs or photo magazines.
About your interest in Photography, could you tell us how it all started?
My photographic journey began with getting my first smartphone for my birthday – as you probably know, the best camera is the one we have with us. Then I set up my first Instagram account, which initially was dominated by the pictures of sunrises and sunsets taken on the way to and from school and my selfies.
Currently, on my landscape account (
@mr.stejku
), I upload at least one post every single day, without a break since 01/01/2020, and I always try to find interesting information to create a story behind the taken picture. In the descriptions, I present to my followers the circumstances in which the picture was taken, what it reminds me of, what is the history of a given place or something about the photography technique.
Do you still remember your first camera? How important was it to your passion for photography?
My interest in photography was noticed by the family from whom I received my first camera after graduating from high school and passing the final exams – it was Nikon P900, which I still have in possession. It was perfect for moon and bird photographing because of the huge zoom. Nevertheless, it was quite large, and I still preferred to use my smartphone.
The breakthrough was my promotion at work to the Sales Representative position, where I had to travel to various Polish cities every day. I started taking my camera with me, sharing the places I discovered and appreciating the better quality of photos and greater versatility than the phone. However, I was still shooting in AUTO or SCENE mode.
After all this time photographing landscapes and city views, how was the decision to dedicate most of your time to portrait photography?
I have never abandoned landscape photography. I still love nature and the city, especially the golden hours! Still, in order to develop, I believe that you should try new things, open up to new ideas, move on and keep looking for inspiration. At the beginning of 2019, looking for new photographic challenges, I decided to try my hand at portraits. The decision forced me to develop myself and to fully control the camera settings.
In February 2019, I set up a portrait social media (
@photostejku
), and I made the first photo session. It also allowed me to make interesting acquaintances in various cities not known to me. Instead of sitting in a hotel, I preferred to schedule TFP sessions. The Nikon P900 had a portrait mode, but the manual mode was inconvenient. It had no RAW format or interchangeable optics. Initially,
I retouched my photos in free applications on my phone. But I expected something more. In May 2019, I borrowed a Nikon D90 and the basic Nikkor 18-105mm and Nikkor 70-300mm from a friend of mine. Originally, I used the former for portraits.
But only the purchase of the Nikkor 50mm 1.8G lens in October 2019 and the purchase of the Adobe package made me notice a leap in the quality of pictures and how these helped me to get a professional look. In February 2020, I even had the pleasure and opportunity to show my works at an exhibition, together with other participants of the photographic meetings organized in my city.
Natural or studio lights for portraits – What is your preference and why?
I like to try not only new types of photography but also different techniques. As I mentioned before, I believe that you have to try many things in order to develop. My goal for 2021 was to take more black and white pictures. I had a problem with this kind of photography because I prefer colour, I see the world in colour.
If someone showed me the same picture in 2 versions, in my opinion, 99% of them would be better in colour. However, in June, I managed to take the first black and white portraits, a bit in an analogue style, and honestly speaking, I am really happy with them because after this session, you contacted me with an interview proposal 😉
When it comes to light, I started with natural light. Later on, I bought a 60cm round photography reflector. At first, I was afraid of the flash, so I bought Yongnuo YN-168 constant light lamp, which in fact, is not very powerful, but made a difference in closer portraits. In the meantime, I bought a second, larger, oval photography reflector.
In June 2021, I started my adventure with flash, and although I had already "shot" a few times with the reporter's flash attached to the hot-shoe, I would not count this episode. For one of the photo sessions, I used Nikon SB-26 flash on a tripod with a small softbox on, and I triggered it by using a photocell. I have just purchased two RGB photo lamps for my newly opened studio, but the main light is Quadralite Reporter 200.
I cannot answer the question explicitly as I would like to limit myself to the minimum equipment during the photo session. Nevertheless, I can see the difference that a right light makes. I truly believe that you should choose the light depending on the type of photo session, but you should also try different types to develop.
Could you share some tips on how to direct the models and make them comfortable before starting a photoshoot?
Before each photoshoot, I try to prepare a folder with inspiration, what effects I would like to achieve or how the model should pose. What is more, I always send a contract that includes all terms of our cooperation. In addition, I usually help in choosing the outfit. This can help to get in touch with a model and to know each other better. I also answer any questions or doubts so that no one gets stressed during the photography shoot.
What reasons led you to switch to Olympus, coming from your previous camera, the Nikon D90?
I bought a new camera in October 2020. With the Nikon D90, I was bothered by the few autofocus points. The camera very often could not focus. The equipment began to constrain me instead of helping me to take pictures. I wanted to use eye detection, Live View in the viewfinder or a silent shutter. I spent many days watching and reading tests and reviews.
I dreamed about Full Frame, but as you can guess, the choice fell on something completely different. I bought an Olympus OM-D E-M1 Mark II, and it happened because of two factors. Most of all, I like gadgets, and modes like Live Composite or Pro Capture are just brilliant! Secondly, I got a great offer to the set E-M1 II + M.Zuiko 12-40mm 2.8 PRO, I got a free Battery Grip HLD-9 and an M.Zuiko 45mm 1.2 Pro!
That sure was an excellent deal! Could you describe your current complete setup?
My main photoset currently consists of the following items:
• Body Olympus OM-D E-M1 Mark II – I just love it for the additional creative features that I have mentioned earlier, great stabilization, efficient AF, good battery life and being ready to work in all conditions. It also fits my hand perfectly and is very secure;
• M.Zuiko 12-40mm F2.8 PRO – very universal zoom, my basic lens for walks, although I also had a chance to work with it during a concert. I often use it for portraits in the studio. I once used it outdoor and surprisingly it created a satisfactory bokeh;
• M.Zuiko 60mm Macro – because I like to try new types of photography, this lens was a must-have in my bag. I successfully use it for macro photos, beauty portraits or product photos;
• M.Zuiko 45mm F1.2 PRO – my basic portrait lens. Very sharp from f/1.2. It is not afraid of photo sessions even during wet snowfall;
• M.Zuiko 40-150mm F2.8 PRO – I have this lens for only a few days, so I will not say much about it, but after the first walk, I feel that it will be my basic lens for trips outside the city. I like narrow landscapes and wild nature. However, I plan to try my hand at sports photography and more concert reportage;
• MC-20 – speaking of wildlife, I bought a teleconverter together with the above lens, which will ensure a safe distance from the photographed objects;
• The last lens in my bag is Laowa 7,5mm F2 – I have not got a chance to take any pictures using this lens but I will certainly use it soon, for instance during summer astrophotography.
I also had to test the M.Zuiko 12-100mm F4 PRO for some time. If I had to choose one lens for a vacation or a walk, it would probably be this model despite its size. I used it very well.
To conclude, what would you say are the advantages of the M43 system for the kind of photography you do? What do you like the most about your equipment, and what would you like to be improved?
It may be weird, but I really want to write that what I like the most in the M43 system is… its users! There are many photo groups on Facebook in Poland, where there are users of various systems, but you do not feel any connection there, and users can offend each other for no reason at all. It is totally different from the group devoted to the M43 system.
There is a live event organized every week, from which you can learn a lot, get answers to bothering questions related to photography and the system, or just meet other users. There are also many Polish Olympus ambassadors who share their works and comments. Since October, I have met many inspiring people who are willing to help you with any matter.
Finally, I would like to thank my girlfriend – Ania – for her help and time spent on translating this article. Do not be afraid of experiments and new types or techniques of photography. I wish you good light and beautiful photos!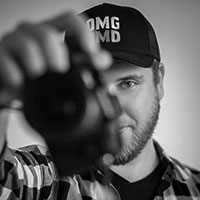 "My name is Adrian Stejka. I was born in Szczecin (Poland) in 1996, and I still live here. My passion for photography began with the first smartphone and continues to this day, taking more and more time, leading to the opening of a photo related company and my own studio in 2021. I am eager to discover new types and photography techniques, but my speciality is landscapes and portraits. "