Photography as a perfect retirement companion
Hello. My name is Ersun Bayraktaroglu. I am an Istanbul-Turkey based amateur photographer and professional tax advisor who loves his profession as well as travelling and taking photos… But, not sure whether I love taking photos while travelling or love travelling just to take photos 😊
I have been in the tax advisory business for more than 35 years and about 6-7 years ago started to think about my retirement days. (I am planning to retire when I am 60 -it means in the coming 4 years!) Although I have some other hobbies such as travelling, listening to music, writing articles, reading…I believe photography can be a perfect retirement companion for me since it also covers most of my other hobbies: Travelling, reading and feeling good notes while taking photos!
So, for this purpose, and frankly with the help and power of Instagram, I have started taking photos with my mobile phone and sharing it at IG about 6-7 years ago… Then, in 2016, I bought my first camera: the Olympus OM-D E-M5 and two M.Zuiko lenses: 12-40mm F2.8 PRO and 40-150mm.
Since my photography knowledge was much more limited in those days, I have asked my friends for suggestions regarding the camera's choice. And mirrorless cameras and especially "Olympus" were suggested by several friends at that time due to the size and capabilities of the camera and the brand.
As mentioned, I love travelling. According to my records, I have visited 35 counties for business and leisure purposes, and travelling has changed its character for me after I started taking photos. Travelling for photography has become my passion. I have visited Iran, Morocco, Norway and Nepal just for photography. Also, I have started joining photo tours in Turkey, as well.
Living in Istanbul provides valuable opportunities for photographers. The city has everything for photography: Different cultures, history, nature, architecture, religions and people. I feel fortunate not only for the photographic opportunities of this ancient city but also the opportunities regarding the different photography communities in Istanbul. I have met many good photographers and established very sincere friendships just with the help of photography.
Istanbul is my playground, and most of my photos are from here. But, I also love travelling to different regions of Turkey: Kayseri/Cappadocia, Trabzon-Artvin coastal line of the Blacksea region and Kars-Ardahan are my all-time favourites.
I have travelled to those destinations several times in every season to see and capture Mother Nature's generosity for the people and especially the people with a camera at hand 😊Unfortunately, due to travel restrictions during the pandemic, I was unable to travel in Turkey and abroad, and I started to travel around Istanbul.
I can say that during those difficult days, I have discovered the beauty of landscape photography and Istanbul's other face: Natural wonders of Istanbul (seashores, lakes, farm fields, forests etc.) achievable in just around an hour or so driving.
Since the beginning, I am using Olympus OM-D cameras: As mentioned, I have started with E-M5, then I bought E-M5 Mark II and E-M1 Mark II. I also have an Olympus TG-860 in my pocket to capture quick shots… My best lenses are the M.Zuiko 12-40mm F2.8 PRO and the 14-150mm. The E-M1 Mark II with the 14-150 is almost every time with me at my car. I also have 7Artisans lenses: 7.5mm Fisheye, 25mm and 12mm. Tripods, monopod for sure, are the fixed travellers in my car.
Most probably due to my personality, I am not very good at taking portrait/close up photos of people, so most of my photos are landscapes and, from time to time, I try the so-called "street photography". While taking photos, my preference is selecting aperture priority mode, which I feel more comfortable, quick and safe. If I am working in low light conditions, I switch to manual mode depending on the capacity of my lenses.
I also prefer shooting in RAW format to capture most of the data for the shot. I also love using Olympus' composite mode to capture star trails and light trails without hassling with burdensome post-processing workflow! I also like long exposure photography and try shooting long exposure photos with different light conditions and/or with ND filters.
I am a member of Polarbears Photography Group ("Kutupayıları Fotograf Grubu" in Turkish). We are all amateur photographers in the group and follow the principles of the founder and more importantly the leader/teacher of the group -deceased- Mr. Arel Kalender- RIP. It is very simple: Try to shoot and finish photos at the site without the need for detailed post-processing.
Make all decisions at the site in order to transfer your real feelings into the photo while pushing the button. So, my post-processing mostly covers only small touches, and although I respect the choice of all photographers, I never used post-processing for "making" a new photo…
I use Olympus Viewer and Lightroom for transferring, filing and post-processing my photographs. I am also using Lightroom mobile and Snapseed while travelling. Using mainly Instagram for sharing my photos. But, I also have accounts at Flickr and 500px.
Knowing by heard that photography is a very important and difficult profession and respecting all professional photographers, in the end, as being an amateur photographer, photography is not only a passion and hobby for me today but also and maybe more importantly, will be a tool for keeping my days and brain busy – and, hopefully healthy, during my retirement days in the future.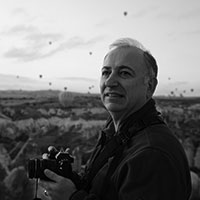 Ersun has been a tax practitioner for more than 35 years and currently a tax partner at PwC Turkey. After having his BA degree in Business Administration at Ankara University, he obtained his Master of Arts degree in Economics at Western Michigan University in the USA. Ersun is the author of several articles in business dailies and real estate magazines. Also, he is a speaker in several domestic and international panels, discussions and conferences and a guest lecturer in several universities. He loves photography. He has been travelling, shooting and sharing photos since 2005.