Don't forget to discover your passions
First of all, I would like to thank you for giving me the opportunity to share my work and, in general, what I enjoy and what makes me me.
I'm Anna, and I come from a small town, which is an entrance to the national park Bohemian Switzerland. Until May 2020, I thought I would not leave my hometown because I have my family here, friends and also the most beautiful nature I could see. But the year itself brought many changes, so a new era began, namely the era in Prague, where I still live.
From an early age, my siblings and I were led to music, faith, sports, love of nature, and also to madness and playfulness. My parents knew that it was important to develop in all possible directions, for which I am more than grateful, and it still bears fruit.
Now I can't imagine that in my life I would not have a regular supply of music, singing, dancing, sports, walks, whether through the city or nature, alone or with friends, faith in God, but also rest, which I sincerely neglect #honesty.
As I wrote, my parents, especially my mother, are such wanderers. She loves to go out into nature without a plan and goes exactly where her legs lead her. I inherited this quality from her – thanks, mom!
After a period when I refused everything #puberty, the second year of high school came, and I woke up with the desire to walk more in nature, to explore more.
I reserved Tuesdays and Thursdays for that, and right after school, I set off, always without a plan. I just told myself the direction. Summer came, the first brigade and with it the first compact. Having a camera has been my dream since elementary school, but there was never enough money for it to come true, so I knew where the first earned money would go.
And so my trips changed from just Anna's trips to Anna's trips with a camera.
My enthusiasm for photography was very strong and intensified during college, when I received my one and only Olympus OM-D E-M10 Mark II. The year was 2018.
It was nice to have only a compact with a fixed lens, but to have a compact from Olympus and interchangeable lenses. I was in paradise.
I took pictures of everything that came to my hands, and I really enjoyed it — nature, details, flowers, food here and there, lots of sunshine and again nature. I was kinda annoying, I need to admit. My little Olympus become my faithful partner, thanks to whom I can capture moments to which I can return and remember in a year, two, twenty years.
At that time, I followed Pinterest a lot, and I always admired the moody portraits, and I thought I would like to try it too. So I did it.
I'm a person who has very high demands on me, so my comb fell a little when I took the first portraits with my friend at sunrise. I was just learning what proper aperture, shutter speed and ISO are. Which was obvious, because after that photoshoot I noticed that I had ISO 2000 all the time and the face is not in focus. Instructed!
Thanks to this photoshoot, I realized how much I enjoy photographing people, how much I enjoy capturing that moment and, above all, documenting the emotions that are in a given person. And since then, I have focused mainly on photographing people.
After trying studio photography with the Olympus and street photography, I found that taking portraits in nature suits me best. The light is great, but nature itself offers so many possible elements that I can incorporate into a photo and give it the right mood. Then it is not at all difficult to correct the models.
I always try to make the model feel good in front of the camera. I don't like adjusted poses that don't draw a person into a photo. So, in addition, we talk, joke, listen to good music and also try to add natural movement, whether it's ruffling your hair, turning around, trampling. It will enliven photography and add dynamism.
I focus a lot on the emotions in the photo, like I said, where facial expressions and working with the arms are important.
I probably don't have any tips and advice on how to take the right portrait and under what light the photo will work best. I'm still learning in this, too. But thanks to some videos on YouTube, advice from photographer friends and, above all, my own experience, I know that the best light for me is just after sunrise, just before sunset and just after sunset, especially in the Summer.
But as soon as I have to say my favorite conditions for photography, then it would be either a cloudy sky, from which a lot of rain will start, or a mysterious fog in Autumn.
Overall, it's very individual, and something different suits everyone.
But the reason why I chose Olympus is simple. I had the opportunity to try it through a friend of mine, who is familiar with cameras and had an Olympus OM-D E-M10 and was more than happy with it, so it was clear. It was a good choice for a person who knows nothing about photography but desires to learn. And as a bonus, its retro design.
Overall, it fits in my hand because it's small and light. The price-quality ratio is also great, and the performance is great in most cases.
Of course, the fact that the camera is small and compact also carries its pitfalls, especially in low light conditions, when it is necessary to raise the ISO, which will affect the final photo. Having a Micro Four-Thirds chip also greatly impacts the depth of field, so if a wide aperture lens is not available, it is harder to get the bokeh in portraits.
During the whole time I have the Olympus, I had the opportunity to try a pair of faster lenses, namely the M.Zuiko 12mm f2, 12-40mm f2.8 PRO, 17mm f1.8, 25 mm f1.8, 45mm f1.8 and the 7-14mm f2.8 PRO. But so far, I only have a 14-42mm kit lens at home, which is a very useful range of focal distances for me, and the M.Zuiko 45mm f.18, which I most often use for portraits.
I would definitely like to move a little further into the future and buy a 12-40mm f2.8 PRO, but there is no budget for that yet.
Honestly, it's hard to answer whether I would just go into zoom or prime lenses. Each lens fits into a certain situation. But if I should still choose, then I would choose the 12-40mm, because it is such a universal focal length, thanks to which both the landscapes and portraits can be recorded.
Before the actual shooting and editing, it is important to think about the photo, how I want it to look like, what I want to say with that photo and what mood do I want. If I have some kind of plan, then it is time to shoot. I used to shoot so many pictures, but since I've tried to think about it more, my storage is much happier, and I have fewer pictures to go through.
I use Lightroom primarily for editing. But, honestly, when I started editing, LR was like a puzzle to me. Not that I am there now, but I still somehow know where to reach, what to cut, what to add.
Back to edit. I upload the files to my library and then go through all the photos. It is clear that there is a lot of waste, but those that are good and I like, I mark them number one, thanks to which I can then filter them out.
I go through the presets in the first place, and then I adjust them as needed. Then, after editing, I'll go through them one more time, mark the final ones, and rate them with number two. Then I just export and hand them over to the world.
For the first two years, I played a lot with colors, shadows, and light in general, so I was so colorless. I edited each photo separately and gave myself time for it. The playing continues to this day, but now I have some of my presets, which I created thanks to the playing, which will fit most of my photos. But I am a little lazy about it, so I edit photos mostly in bulk, with smaller individual adjustments after.
This looks like a very nice story without the slightest mistakes or setbacks, but the opposite is true. Photography is constant learning for me because every time I have a camera in my hand, I find that I don't know much. How much anger has fallen, how much deletion it has taken, how much dissatisfaction lies in it, but I still really enjoy it.
Last year I had such a small unwanted break from photography, but thanks to this article and overall, thanks to the inspiration and opportunities I have around me, it gives me the strength and desire to start creating again.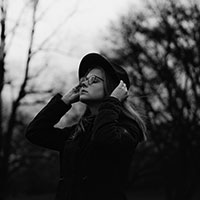 "I am Anna Skrivankova, 24 years old girl from a little town called Děčín who loves to explore everything.
I try to catch most of the things with my eyes, but most of the time, my eyes are behind the viewfinder, and they are finding the right angle and composition for a good photo, haha.
Now I live in Prague, where I work in the coffee industry, which is also one of my passions.
So, if I am not with the camera and I am not taking pictures of people or some other crazy things, I'll be somewhere nearby with a coffee mug or dance, sing or laugh.
Overall my little buddy is my true friend, which captures the highlights and beauty, and I am still impressed like in the beginning.
This is a never-ending story, and I am so grateful for that."