The Nordic photograph
I have always had an interest in film and photography. Ever since I was only 8-9 years old, I was very interested in film, how things were made. Anyway, the interest was just with me, in my mind. I completed my education, worked as a cook and had little free time, as I worked a lot.
After I moved from the city back to the countryside, I bought a camera. Now I'm not sure what camera it was, but I started exploring it with photography. I started taking pictures of friends and the nature around me.
As soon as it was foggy or raining outside, I was there with the camera. I was 20 years old and had no idea about shutter speed, ISO and the technical stuff. Or I was not so into books, so everything was self-taught, failing and succeeding.
I got some pictures printed out. I remember a special picture from the fog in the landscape that I had taken in black and white, and I was very proud of that picture. After a while, the interest grew, and I started to explore a little more with a camera. Sold, bought and sold. I had a Sony camera, then Olympus. After a while, the interest became just a little hobby, and it just disappeared little by little.
There was a move to the city, a job, a breakup with my girlfriend, more work. And then I ended up buying a gaming PC, so I spent most of my time playing, streaming on Twitch and making YouTube videos. I became actually very popular on that front.
There was quite a bit of gaming and video editing of my gameplay. Oh, it took a lot of my time. I managed to get a girlfriend, and it turned out that she was moving to the far north of Norway due to her education and job. Hammerfest, the northernmost city in Norway.
We became very fond of each other and decided to have a long-distance relationship. I flew up to visit her and discovered that nature up there was absolutely beautiful. Massive mountains, sea as far as one could see, winter that could last for 8 months, midnight sun was also quite new to me, and in the winter, we could only have a few hours of daylight.
Nature was absolutely crazy beautiful, and it could be really hard weather with storms up to 35 m/s. After a while, my girlfriend got pregnant, and I decided to move north to Hammerfest with her. I sold the PC and bought a camera. I hadn't photographed in a few years, but I decided to take some time to do it again.
My girlfriend's sister has photography as an interest, and she is very good at it. Pretty sure that was one of the reasons why I bought a new camera, and of course, the wild nature that I found in the north. I bought a Nikon D3200 and some lenses for the PC stuff I sold.
Since the day I got the camera and moved north, I have not seen myself behind. I have photographed so much in the last 3-4 years. Nature, portrait, northern lights, photo jobs where I have been hired as a photographer, restaurant jobs. It all ended up with me having to upgrade to a new camera.
Now I knew quite a bit more about photo grading, and everything ended up with a Sony A7 and a good deal of lenses. The pictures evolved, I spent a lot of time on Lightroom to create the mood in my images. In addition, I spent a lot of time on YouTube, where I learned from other photographers.
After using my Sony a lot, I found that I was missing something on my camera. Timelapse and 4K were features that did not exist in that model. For video assignments, I had to have 4k, I thought. I searched a bit around the internet. So many cameras to choose from.
Should I continue using Sony? Or should I try Fujifilm with so many tough lenses? Or?? It was so much to think about, and I ended up watching a video on YouTube from Robin Wong and Peter Forsgård. The OM-D cameras looked very stylish and had everything I needed. They had things that I have not heard of either. Pro Capture, to lots of other features that I dreamed of.
After many reviews, I sold all the Sony equipment and bought the Olympus OM-D E-M5 Mark III with the 12-200mm lens. An incredible lens, and with a 2 times crop factor, I had an incredible 24-400mm lens. Madness, I thought. I'm so incredibly happy with the camera.
The autofocus speed, the sharpness of the images, the colors and tones became a whole other world. The Sony A7 was a full-frame camera, but with the quality that Olympus gave me, I don't regret one day of switching the camera system. In addition to the 12-200 lens, I needed some low light lenses, so I ended up buying the 45mm f1.8, which is one of the cheapest and completely wildest lenses I have used.
It is so perfect and sharp for portraits, and I also use it for street photos. I feel that people do not notice me when I come with that camera and lens. It captures the best. I also bought the Sigma 30mm f1.4, which I am very happy with.
When I had Sony, the most commonly used lenses were the 85mm for portraits and the 50mm for landscapes and nature. With the Sigma and the M.Zuiko 45mm, I feel that my needs are met.
The lens on my wish list now is the M.Zuiko 75mm f1.8, and I am looking forward to the day I have it. Now I, my girlfriend and our 2-year-old son have moved south in Norway to Skien. A very beautiful city. We moved closer to friends and family, and I work as a freelancer and try to market myself in the city and surrounding area as a photographer.
I am now working on getting cinematic emotions into my pictures. Whether it is street pictures, nature or portraits. I want my customers to see the mood in my photos, with beautiful tones. Thank you very much for being interested in my story.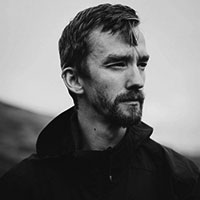 "My name is André Hofland, and I am 35 years old. Originally from Trønderlag but having lived in Finnmark in recent years.
Now I live in Norway's most beautiful city, Skien. A self-taught photographer, I have been involved in photography for the past 15 years. Making people happy with my photos makes me love my job.
I have always loved nature and having the pleasure of photographing outdoors with the most beautiful motifs.
My image style has a cinematic look, with evocative tones that make my style stand out. I do most of my assignments outdoors, considering the beauty we have around us and the natural light that will make the pictures look more natural and deserving a nice space on the wall."