In the land of Fire and Ice
Ladislav Skála was born in the Czech Republic, and he has been living in Iceland for almost 7 years, working as a glacier guide. Combining work with his passion for photography allows him to photograph Iceland's most beautiful ice caves.
The size of the lenses for his DSLR was the deciding factor that made him move to the Olympus' mirrorless system. And the weather-sealing of his E-M1 Mark III gives him the confidence he needs to venture out, even under the harshest Icelandic weather conditions.
---
Thank you, Ladislav, for all your availability for this interview! Could you please start by introducing yourself?
Hello, I'm very happy to have this opportunity to share a little bit about myself and my passion for photography. Photography started for me as a curiosity in 2007 when I purchased my first DSLR camera from a friend. With my first photos, I realized a whole new world of expression opened up and I was able to capture moments in a way that was unique to how I saw the world.
As for me, my name is Ladislav Skála, and I was born in the Czech Republic. I've been living in Iceland for almost 7 years. I've been working as a glacier guide, which is a job that I love. I'm often able to combine my passion for photography with the glacier tours I do, especially the tours which allow me to take photos in Iceland's most beautiful Ice Caves.
How was your passion for the outdoors and travel born?
Growing up in a small town tucked into the mountains basically meant that I had the outdoors in my blood. Ever since I was a child I would spend as much time in nature as possible, and found it a place of both peace and also a means for me to be creative and capture beautiful images. Some of my most favorite images come from the time I spent admiring nature and all it has to offer.
Why did you decide to move to Iceland?
After finishing my studies, I did what many do and started working behind a desk. Day after day, this career choice was sucking the life out of me, and I made a decision that would change my life; I decided to quit. After leaving this desk job, I wanted to explore the world and find something that I was passionate about. I've heard about Iceland from some friends, the land of Fire and Ice, as it is referred to. It was a landscape carved by time, with ancient eruptions pushing it out of the sea. A landscape that felt as though it was a movie set. I knew I had to go there and experience this for myself.
When I first arrived in Iceland I worked at a hotel/restaurant, which was a job that allowed me to live just a few kilometers from Europe's largest Icecap. It was here that I had a whole new perspective about what was possible and my images started to reflect that.
After moving, what has life been like in Iceland, among so many beautiful and diverse landscapes?
Life is always filled with uncertainty and living in a new land brought about that feeling. When I arrived in Iceland, I initially settled in a place just 60km East of a town of Höfn, in South East Iceland. I later moved to Höfn which is where I currently reside once I took up guiding as a career. One iconic moment for me was early in my stay in Iceland when I took a trip to the glacier lagoon.
As I was driving there, there were these white flows of Ice spreading out in front of me. The opportunities were endless and I saw so many things I wanted to capture. From that day, having returned probably over 100 times, that area, nestled in between Öræfajökull and Breiðamerkurfjall is an area that captures the photographic imagination. One thing that I think is very ironic is that I know this country better than I know my own. It has become home for me.
All this natural beauty around you, further boosted your passion for the outdoors?
As I said before, Iceland is such an amazing and varied place, offering both beautiful trips in the alpine as well as in the lowlands. A vivid memory I have about my time in Iceland was when I did my first glacier hike. This was my first time ever walking on Ice and again, as when I first came to Iceland, it opened up a whole new creative world.
I was not only able to see things like Ice Caves and Moulins from afar but now I was able to see them up close and even use a rope to go inside them. As my passion for the glacier progressed I was eventually offered a dream job in the outdoors by the owner of a local glacier guiding company.
Where did you learn your trekking skills to move around the mountains and glaciers?
Growing up in the mountains as a kid gave me the initial passion and some basic skills for safe travel in the mountains. When I came to Iceland, I was always exploring all the peaks I could see. This was especially true when I went to collect the sheep in the mountains at a festival called "Réttir". It was there that I really had to be careful as the sheep always seemed to like very steep and exposed places.
Your interest in Photography, how it all began?
Since 2007, starting with my first camera I saw photography as a way to capture my unique creative vision and share it with the world. I would go on a hike and say to myself "I need to share this with others" and it was then that my camera came out.
And how did you deepen your knowledge?
Interesting question as I feel that we grew up in a generation that used the internet, as compared to a traditional school-based education, to learn new skills and hobbies. Although I did not visit any in-person workshops, I still gained a solid grasp of various techniques from YouTube and also studied the photos of my favorite photographers on social media. One of the biggest pushes to become the photographer I am today was because of working at the restaurant.
Because Iceland was and still is a top photo destination, many famous photographers would bring their tours to Iceland and to the restaurant I worked. I often found time to chat with them and many times was invited to spend the day with them. It was in these moments that I was able to see the masters work and really honed my skills.
What's your current camera setup, and what reasons led you to choose Olympus?
When I went home on my first short vacation from Iceland, I was able to see the Olympus OM-D E-M5 Mark1 which my friend had purchased at the time. I was fascinated by how they can fit so many features into such a small package. Upon my return to Iceland, I continued to think about this small Micro Four Thirds camera as I was getting ready to purchase lenses for my larger camera system.
As I started to shop for lenses for my DSLR, I was surprised by the size of the lenses compared to the ones for mirrorless cameras. I asked myself "Why do I need lenses that are so large?". The answer, of course, was that I did not. It was then that I shifted my perspectives to the mirrorless world.
When I was thinking of either going full-frame or the Olympus cropped sensor, I had decided that the main consideration was both the size and possibilities the lenses would offer. I wanted to find a sweet spot between size and focal range, and I feel as though I did with the Micro Four Thirds system, so I went with the Olympus OM-D E-M1 Mark 2. After some wait and customs delays, I was able to get the Olympus OM-D E-M1 Mark3, and I'm loving every day with it.
What's your current lenses setup?
When I started in photography, I had no idea how many lenses I should have. When I had my DSLR, I purchased one lens. I continued this trend when I purchased my first Olympus, and had the M.Zuiko 12-40mm F2.8 Pro. Although I have not used this lens often, it holds a special emotional place in my heart being my first lens for this type of camera system. When I purchased my first telephoto, I was conflicted between the Panasonic 100-300mm and the M.Zuiko 75-300mm, but my local shops and other sellers I talked to recommended the Panasonic so I went with that.
When I shoot astrophotography or for waterfalls, I use the M.Zuiko 7-14mm F2.8 Pro. This lens is a true workhorse and I find myself using it very often.
In regards to other lenses, when I purchased the E-M1 Mark2, I decided to purchase it as a kit with the M.Zuiko 12-100mm F4 Pro. Similar to the M.Zuiko 7-14mm Pro, I find myself using this lens often as it has a great reach, and also able to get some wide-angle shots. Furthermore, it also has some great stabilization and is ideal for traveling.
Last but not least is the macro lens I have, which is the M.Zuiko 60mm, which was purchased as more of a desire to get into macro photography although I must admit that I have not used it much. I hope to use it in the future.
What items do you usually carry in your backpack (cameras, lenses, accessories, clothes, …)?
So my bag consists of the following essentials: Olympus OM-D EM-M1 Mark3 (no more ND filters needed with this camera), lenses, extra insulating layers, tripod and some microfiber cloths. The extra layers and tripod actually stay in my car full-time, as I use them for northern lights photography.
The "Butt in the nature" project, could you tell us what it is?
Ahhh…yes, the 'Butt in the nature' project. Everything started in Sri Lanka where I made the quick decision to take one photo of myself naked with the butt facing the camera on a beautiful beach. When I returned to Iceland, I decided to do one more 'butt photo' with northern lights just for fun. I showed these photos to a friend who immediately said that I needed to travel around the world and do this.
At first, I realized that I don't have the time nor budget to do this and later thought to myself "what is the next best thing to taking butt photos around the world?" Well, taking them in Iceland of course, and that is where the idea was born. Later that season I took photos in some of my favorite locations and made a calendar.
Ironically, this calendar was very popular with many travelers, and even one solo traveler named Martina who purchased it for her sister; however, we kept in touch and now she is my girlfriend.
What is your wish-list for future Olympus lenses releases (fast primes, telezooms, …)?
Well, it would be fantastic to have the 150-400mm Pro, but I'm also considering the price and size of the lens, which will be fairly large. Another lens I'm looking forward to is the 100-400mm, which will hopefully make its debut very soon. When I think of these two lenses I realize that the quality will come from the 150-400, but when I think about what's most important its size and portability which is why I'm leaning towards the 100-400.
Could you share your experience regarding the behaviour of your equipment under such extreme and harsh conditions?
Well, the weather sealing on this camera and lens systems is fantastic and second to none. I've used this in so many situations where I would never consider taking a non-weather sealed camera like places with sand and water or to the bottom of a vertical ice cave on a glacier. I know this camera will continue to work even in harsh conditions, as it always has.
Have you ever had a malfunction problem with your Olympus equipment in this extreme cold? If so, could you describe it?
This is a great question and something I'm sure I was going to run into, especially since I leave my camera outside for hours in below freezing temps to capture the northern lights. I have to say that each time I did this, and it was done more than I can remember, I never had an issue.
To conclude, could you describe your post-processing workflow, the basic adjustments you do, presets if any?
I keep my post-processing simple and prefer to let the natural colors of the photos tell the story as compared to things like heavy saturation or clarity. The basic adjustments I make are first inside the Camera Raw, and then a little bit in Photoshop which includes light touches in contrast, highlights, shadows and saturation.
Also, I started using the Lightroom app on my phone and have been very pleased with the results, and it makes the workflow quicker, even after trying apps from a few other Adobe competitors.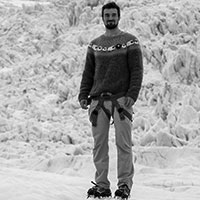 "My name is Ladislav Skála, and I was born in the Czech Republic. I've been living in Iceland for almost 7 years. I've been working as a glacier guide, which is a job that I love. I'm often able to combine my passion for photography with the glacier tours I do, especially the tours which allow me to take photos in Iceland's most beautiful Ice Caves."