Chasing the light
Hi, my name is Sati. I am 39, and I live in İstanbul. I have two great models that help me when I need – My husband and son. I work as an accounting manager in a private company. I also am an amateur photographer who takes photos, even in my dreams. Travelling, getting to know new people, reading books and listening to music are some of my hobbies. I actively participate in some photographing clubs in İstanbul. I graduated from the photography department this year.
I primarily take photos, which is a great passion, for myself. I enjoy sharing the beauties I see whether it's nature, people, animals or sights with my loved ones. Travelling a lot and my will to discover new places, new lives and sharing them pushed me to buy a camera. After I got my camera, my passion for photography continued nonstop.
When I think of it, photography was in my life for a long time. Even before I had a camera, I took pictures of good images in my mind. My choice is for taking documenting pictures of emotions and lives that contain people. The country I live in provides diverse images of people and streets. My photographs are mostly from cities and villages all over my country.
When I arrive at the place which I will photograph, I usually prefer to meet, talk and spend some time with the locals before I start taking photos. When communication is sincere and done correctly, taking pictures doesn't become an issue. But sometimes, in order to keep the naturality of the photos, I first take it then ask for permission. Again if you are sincere and kind, it doesn't bother people.
Nowadays, as technology keeps improving, a lot of photos are being taken. Sometimes this situation makes me feel hopeless. As a photographer, I question if there is something out there remain unphotographed or am I repeating myself. I ask myself, why should I keep taking pictures. The answer is quite simple. Every worker, kid, woman and street hasn't been pictured by me yet. I want people to see hardworking workers, horses running freely in nature and the innocent beauties of children from my perspective.
I have been taking pictures professionally for nearly 5 years now. My biggest and only regret is that I didn't start earlier. Because there is nothing that makes people happy than doing the job they love.
I started taking pictures using an Olympus EM10 Mark II with recommendation. I still use this body. As for the lens, I use the Olympus M.Zuiko 12-40mm f/2.8 Pro and Olympus M.Zuiko 40-150mm f/2.8 Pro. Soon I intend to start using the Olympus OM-D E-M1 Mark II.
The reasons I started and still am using Olympus are its light and retro design that reminds me of past cameras, the practicality of the menu, it is possible to take pictures and videos from different angles with the articulated LCD screen. This is really helpful, especially for taking street and sight pictures where different angles add strong meanings to the photos. Also, the in-bode stabilisation system makes handheld shooting much easier, and jpeg print quality is high. On the other hand, one downside would be its low battery life.
I can use the Olympus Share app, which instantly transfers photos thanks to built-in wifi. The color saturation and sharpness are perfect, so I usually don't need to edit my photos a lot, but when I do, I use Adobe Photoshop.
Photography is a big passion for me. I think of taking photos as teaching, explaining and witnessing history. Also, photography is an international language, and as well known photographer H.C.Bresson says "Taking pictures is lining human's heart, eyes and mind. It's a life form".
This article was originally published in issue #43 of Olympus Passion magazine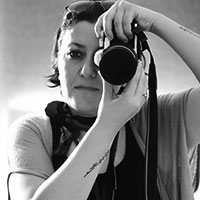 "Hi, my name is Sati. I am 39, and I live in İstanbul. I have two great models that help me when I need – My husband and son. I work as an accounting manager in a private company. I also am an amateur photographer who takes photos, even in my dreams. Travelling, getting to know new people, reading books and listening to music are some of my hobbies. I actively participate in some photographing clubs in İstanbul. I graduated from the photography department this year."