Our common languade is photography
My name is Battal Kaya, I'm 53 years old and I'm from Istanbul, Turkey.
I've been interested in photography since I was 16 years old. In 1983, I bought some photography books and a Zenit-E, which were my introduction to photography. Zenit-E was a functional device compared to its price in those days.
I gained quite a good experience with that camera. As my passion for photography grew, my camera equipment also advanced. At first, I started to take photos only to collect my memories and take some landscape photos of my city. Since the time I bought my first camera, I have been carrying a camera with me everywhere I've been.
I live in Istanbul, which has 16 million residents, and it has many layers that contain different cultures and people aside from the layer which I live in. I like hearing those people's stories, talking to them, and taking their pictures. I think Documentary Photography is a powerful way of delivering a message because It has value as a document, and it has a direct message which is forceful. The city and its residents change every day, I believe I can transfer the change by photographs to the next generation.
Daidō Moriyama, Josef Koudelka, Salgado, Ara Güler were the photographers who influenced my vision of photography.
I prefer my camera to be black, small, and fast focusing in street. I always use wide-lenses 24 mm prime lenses in the street, because with wider angles more stories can be fitted into a frame. The hard part of using a wide lens on street is that you need to put the subject into the middle of the frame.
I make the people feel that I'm going to shoot them but I try not to be too intimate to make them pose. So people neither feel scared photographed by a stranger in street nor change their natural activity. Sometimes I explain what I'm doing by a couple of words after I shoot them.
I used Canon AE-1, Minolta X-700, Ricoh KR-5 in the analog age. When the digital age started, I bought a Nikon D300 first. Then, besides the analog cameras, I used Nikon D3, Fujifilm X-Pro1, X-Pro2, and since 2016 I've been using the Olympus Pen-F. I love to use rangefinder cameras in street. My reasons to choose the Olympus Pen-F are a quality camera body, its fast focus, and sharp image quality.
I use it with the M.Zuiko 12 mm F2 lens. It's really small and portable but it gives the high-quality outcome I want. Its battery lasts longer than the other brands and It supplies me the time I need in street. Also, with its retro design, It gives the nostalgia of the old times. I think its design stands out compared to the other similar models on market.
I think documentary photography should be black and white because the colors make it hard for people to give attention to the main subject. Black and white are important in the process of making a photo purer for me, also, it appears more remarkable in the colorful world we live in.
I use Adobe Photoshop and Silver Efex to edit the photos. I only use them to convert the photos to black and white and to give them basic touches.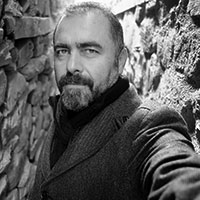 "My name is Battal Kaya, I'm 53 years old and I'm from Istanbul, Turkey.
I've been interested in photography since I was 16 years old. In 1983, I bought some photography books and a Zenit-E, which were my introduction to photography. Zenit-E was a functional device compared to its price in those days. I gained quite a good experience with that camera. As my passion for photography grew, my camera equipment also advanced. At first, I started to take photos only to collect my memories and take some landscape photos of my city. Since the time I bought my first camera, I have been carrying a camera with me everywhere I've been."