How Instagram brought me back to Ballet and inspired my photography all at once…
Photography, in a way, is what got me back into Ballet later in life. I danced for many years off and on when I was younger but never seriously. When I moved out of state for a job and was living alone I was scrolling Instagram and was blown away by the photos of Ballet dancers that I came across. I was looking for a hobby to get into since I was bored and lonely in my new city.
These photos made me see Ballet in a way I never had back when I used to dance. They made me see new potential for my dancing and Ballet and I wanted so desperately to have beautiful photos like those for my own Ballet. So I enrolled into a local dance school and thus, my successful adult Ballet Instagram (@Allie_On_Pointe) was born. It was shortly after this that I bought my first Olympus OM-D E-M10. I was drawn to the camera first by seeing it in an Instagram photo and falling in love with the vintage silver design.
I had been using my Nikon D7100 with ok results for a few years and was not expecting how dramatic the difference in my photography would be with this new camera. Not only because of its small size, which made it easier to bring along in my purse everyday, but just the incredible image quality and color tone. I started off mostly taking photos of myself doing Ballet for my Instagram page, which was fairly easy with the E-M10 using the self-timer as well as the remote shutter option.
I also started taking Ballet flatlays of pointe shoes and accessories. I soon learned that people really love photos of pointe shoes and my Ballet Instagram took off. A few years later and I had amassed 13K people following along on my journey back into Ballet. I also started experimenting with astrophotography around this time as well using my Panasonic 20mm f1.7 lens. I also eventually bought the Panasonic Lumix 42.5mm f1.7 and the Olympus 40-150mm lens.
Later that year I moved back home and kept up with Ballet and my Olympus photography and then I saw the Pen E-PL9 advertised in a beautiful white color (I am a sucker for anything with a white, pink or rose gold aesthetic), so I bought the camera and fell in love with the pancake style kit lens that came with the camera. It made it even more portable to always have in my purse.
Then in 2019, a lot changed at once. I was about to leave for a 2 week trip to England, where I was planning to take tons of photos and I had an accident with a can of coke and my beloved E-M10. Even though it was expensive, I couldn't imagine going on my trip without my camera so I bought the E-M10 MarkII, which I have been very pleased with (especially the upgraded 5 axis image stabilization).
Shortly after returning from England, we started up Nutcracker rehearsals at my new studio, De La Dance Center in Cincinnati. This studio has a small professional company of fantastic dancers and uses students from the school (like me) to supplement the extra rolls in the ballet. When we got to dress rehearsals, I asked the directors if they'd like me to take any photos during the rehearsal to use for marketing, etc. They agreed and that was how my Ballet performance photography started.
My first run taking rehearsal photos are definitely not my best. I was still getting familiar with the choreography so I would know the best moments to capture. I was also trying to work out the best settings to use as there aren't a lot of guides on how to photograph Ballet performances. Once the shows started I could only take photos from the audience for the 2 shows I wasn't cast in and the silent shutter was a godsend. (I learned later on that the strange banding on my photos was from using the silent shutter) I also learned that with the silent shutter it is much better to use the low sequential shutter mode.
For the shows I was performing in, I decided to start taking photos from the wings for a more unique/backstage look. Since I was almost always in the battle scene, I was able to grab my camera quickly after running off stage and start snapping photos of the beautiful snow scene that comes next. I found that the Panasonic 42.5mm f1.7 lens was just the right focal length and gave me the best images from this location. The spotlights on the sides of the stage helped provide a unique look to the photos as well.
Most of the time I found using ISO 2000, f1.7 and 1/200-1/320 sec worked the best for photographing from the wings. At the time, I was mostly holding the shutter down and praying one of the shots would capture just the right moment in time. More often than not I'd get a shot just after or before a leap or arabesque. And sometimes I would get the perfect shot… but it was completely blurry.
I usually ended up with a few thousand photos each show that then took hours to upload to my phone (I use Lightroom mobile for all of my editing) I had so many photos and the lighting was so crazy that I didn't even edit any of these photos before I sent them out to the dancers. An important thing to note, dancers are insanely picky about their photos since Ballet is all about the lines of the body.
(Legs need to be straight, feet need to be arched and pointed and not turned in, dancers on pointe need to be fully on top of their pointe shoe, shoulders down, long necks, turned out legs, soft and elegant hands and arms) Thankfully, being a dancer myself helped immensely since I had to be very critical in deciding which photos to keep and which to trash, something I still struggle with today. After the shows I gave everyone access to the photos and they seemed to really like them. I had never done anything like this so I wasn't entirely sure how they would be received.
I ended up photographing the February show as well right before Covid and one of my photos has been featured as an ad for the studio in a magazine and on social media. I decided I wanted to get more serious about this for future shows and bought a used E-M5 MarkII and a used Olympus 12-40 f2.8 Pro lens. During the next 6 months, I tried to familiarize myself with my new gear in hopes of capturing more Nutcracker images.
We started rehearsing for Nutcracker in September (with a lot of changes due to Covid) and as we got to the final rehearsals and the first dress rehearsal, I started photographing from the front of the stage. I found having a pro zoom lens made it so much easier to adjust the focal length and follow the dancers as they moved quickly from one side of the stage to the next.
As we didn't have an audience yet I used the normal shutter with high sequential mode and tried to better anticipate when to take photos so I didn't have as many to sort through. I also ended up doing a lot more editing with this round such as cropping and building a custom Lightroom preset based on the lighting in the studio.
I was very impressed that even when cropping the photos, the image quality held up. Sadly, as we prepared for our opening weekend, the studio had to make the decision to shut down the show this year. I am hoping to find ways to continue photographing dancers on and off stage as that is my true passion in photography.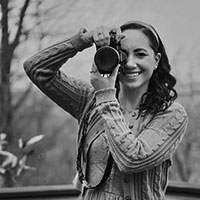 "My name is Allie Armstrong, I am an amateur/ hobby photographer from Cincinnati, Ohio (USA). I work full time in marketing for a grocery chain, but in my spare time, I do a lot of ballet, musical theater and photography. I bought my first DSLR, a Nikon D3400, in 2012 and began experimenting, but it wasn't until I bought my first Olympus OM-D E-M10 in 2016 that I really started to enjoy photography. Since then, I have done mostly landscapes, flatlays, still life and ballet performance photography."