Lives captured in parts of a second
My name is Cliff Harvey. I'm a 77 year old American expat, living in England.
My first 'proper' camera was a Pentax Spotmatic with the standard 50mm lens. I bought this back in the mid-60s when I was stationed at RAF Chicksands in England during my time with the United States Air Force. I was immediately interested in 'people' photography, and that time period in England was dominated with quirky fashion and a new era of music; London and Liverpool were the places to be! This exciting time gave me ample opportunity to begin to learn the craft of photography!
When my service with the USAF was complete, I moved to Boulder, Colorado, USA. There, with my British wife and two small children, I found work to support us and was always looking around for photo subjects. There's a vibrant student population at the University of Colorado at Boulder, so was able to pursue model brochure work and fashion photography with local clothing retailers. I'd joined the Boulder Fire Department, so working shifts I had plenty of off-duty time to pursue photographic avenues.
More model brochure work and fashion photography followed, along with a 3-year stint as the official photographer for the Denver, Colorado Playboy Club. By this time I'd upgraded to more professional equipment, purchasing a Hasselblad 500C, several lenses and filters, and a proper tripod! I had a Nikon F with several lenses as well.
My 27+ years with the fire department also introduced me to arson and crime scene photography; suffice it to say that my exposure to various types of photography was widespread!
Upon retirement, I moved to the Pacific coast of Oregon, USA. I joined the local camera club there and won several Honorable Mentions and Awards of Merit while a member. I built a home which had an unobstructed view of the Pacific Ocean, so sunset photos were an everyday occurrence. As well, the wildlife there (small herds of elk traipsing through the back garden, bear, fox, lynx, deer, all types of birds and sea life) was abundant.
But one can only make so many sunset or bird images before getting bored with it, so when my family situation changed, I moved back to England with wife #2, and am living in an idyllic location, next to a river at the edge of a village. I now have the enviable opportunity to expand my photographic pursuits on an entirely new canvas – the United Kingdom!
I enjoy seeing stunning images from all genres, but now my photographic interests have solidified into four general areas; portraiture, monochrome, architecture and 'street'. I belong to the Bedford (UK) Camera Club, have served in various positions on the Committee (including President), and have done well in competitions. I'm also a member of the Royal Photographic Society. Being a member of groups such as these allows me to discuss ideas, meet like-minded people and exchange opinions.
And I read. I read rather a lot, actually. Photography books, coffee table books, photography magazines, whatever I can get my hands on. I study other people's photography and read about how they 'see' their world. I talk with local photographers whose work I enjoy, learning about their particular visions and how they go about capturing their images I'm drawn to.
Further afield, and just to name a few, Ansel Adams, Don McCullin, Steve McCurry, Terrence Donovan, Terry O'Neil, Bert Hardy, Martin Parr and John Bulmer are all 'friends' of mine, as are photographers Sally Mann, Peter Zelewski, Dawoud Bey, Tish Murtha, Ria Mishaal, John Downing, and of course William Albert Allard; the list goes on and on.
All are well represented on my bookshelves, as are many, completely unknown photographers, published by small publishing houses like Hoxton Mini Press. The opportunities for personal growth by seeing what others are doing with their photographic eye, are clearly endless. Using all this knowledge, I compare it to my own life experiences, and by doing so I'm able to better define and fine-tune those several photographic 'styles' I feel comfortable 'wearing'.
I used to work with Nikon equipment, most recently the stellar D810. But after several years of carrying the camera and several lenses and other paraphernalia around, this soon became hard on my shoulders and back. Some of my friends were using Olympus kit, so I followed suit, and have never looked back. My current kit bag contains:
One, E-M1 Mark II body, and one E-M1 Mark III body
M.Zuiko Digital ED 12mm f2
M.Zuiko Digital ED 17mm f1.8
M.Zuiko Digital ED 12-40mm f2.8 PRO
M.Zuiko Digital ED 25mm f1.2 PRO
M.Zuiko Digital ED 40-150mm f2.8 PRO
M.Zuiko Digital ED 45mm f1.2 PRO (My favorite lens!)
M.Zuiko Digital ED 75mm f1.8
M.Zuiko Digital 1.4x Teleconverter MC‑14
Three Legged Thing carbon fibre tripod
I can carry all this kit, all day long, and my back and shoulders don't hurt one bit, a win-win situation for any photographer. My D810 had a larger sensor, but the quality of the Olympus kit is as superior as any kit I've ever used. It meets all my needs and produces pin-sharp prints up to and including A3+ sizes, so what's not to like?!
At the end of the day, I am far more interested in producing images that portray 'life' as I see it, rather than creating a stunning, technically perfect image that is, in a word, boring. This is certainly what draws me to the 'street' genre.
Monochrome. I love this medium. When I work in black and white, it's for very specific reasons. The subject of course, but also the lines and textures and expressions and shadows and details are all as important. When they all come together, I believe I have a solid image, one worthy of printing.
I believe that to capture a good monochrome image, I need to find the essence of the subject, what makes the subject – whether it be a portrait, an architectural scene, or even a successful 'street' image – truly worth capturing. What was I 'seeing' and 'feeling' when I released the shutter? The final image needs to encourage a viewer to linger, to explore the image and find the reasons it's caught their attention. If it nearly forces the viewer to explore and learn from the image then, to me, it's a successful capture. And it can be a worthy, highly successful image, yet not be technically perfect. This is, really, the essence of who I am as a photographer.
I use Adobe and NIK software products, and I've begun to work on some external distinctions. I've asked people I trust to guide me along the path to get what I consider to be the perfect representation of the subjects, what I saw and felt at the time of capture. My images will be as technically perfect as I feel they need to be for the image I'm capturing, and I hope the judges will feel that commitment.
Cliff Harvey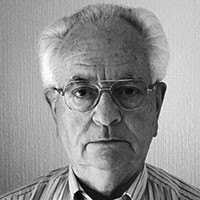 "I am Cliff Harvey, retired American firefighter living the expats life in England. My interest in photography began in the mid-1960s when I dabbled in everything between fashion and crime scenes, model brochures and nudes, and between wildlife and landscapes. In retirement, though, my preferred genres are street, portraiture, architecture and monochrome."