Traveling with Henri From Helsinki
Hi there, I'm Henri Kallio from Helsinki, Finland. Known as Henri From Helsinki, a passionate photographer and world traveller. As long as I remember I have been into photography, mostly taking tons of photos during our family trips back in those days. I think my parents still have a huge pile of albums full of printed film shots somewhere in their garage.
My first cameras were all pretty basic compact cameras, I was not that into technology, more like documenting the world and those memories through my eyes. I think it might even go in the family since both my grandfather and mother are passionate photographers documenting life and events.
After studying and working years in a field totally different to photography, finance and administration, I think I started to miss something a bit more creative and visual to balance the analytical and sometimes highly stressful work. Long meditative walks were always a part of my weekly or sometimes daily routines and someday I just realized that I actually do live in a gorgeous city.
I just needed to slow down a bit and thanks to that, I started to see all those amazing details that are surrounding us in our everyday lives. Soon I began to admire them even more and more, and started to capture them first with my cell phone but then quickly with my newest Olympus gear.
Pretty soon I also needed some place to share those captures and started my new Instagram account showcasing Helsinki and quickly also travels through my lens. This moment 5 years ago was definitely one of the steps I started taking photography more seriously.
Back in the days, I had just recently upgraded my gear after photographing years with different compact cameras, hybrid cameras or powershots to Olympus OM-D E-M10. I was planning a longer trip to Southern America and I decided that I finally needed and deserved a proper camera to create better memories from the adventures.
And yes, Olympus was a perfect choice for that trip and for all the countless travels after that. Perfect in size, extremely stylish, powerful, easy to use for non-professionals (I am still learning every day), and affordable. Afterwards, I have upgraded it into other Olympus models but I could still highly recommend the E-M10 as the first proper camera for photography enthusiasts.
Architecture, architecture details, cityviews and landscapes. These are my favorite topics to shoot. I have been lucky to travel quite a lot and capture the beauty of our world through my lens. And this is something I hope I can still do as much as possible.
These days I travel a lot more in my hometown Helsinki and on its gorgeous streets and neighborhoods. Trying to capture, document and share its details from my perspective and with my style. To me, photography is capturing the beauty surrounding us in our everyday lives or in our adventures, creating the visual with my own eyes, what I think is beautiful.
My photography is maybe not that much inspired by others but instead, I trust my own eye for the detail. Most of the locations I find randomly when wandering around the streets of Helsinki or foreign cities, best locations are often found when getting lost.
Olympus is a perfect mate when it comes to travel photography. Light and comfortable to carry around, fast and powerful to capture moments and details. Best captures are often created when wandering the streets solo; your friends are still sleeping or having a drink at the bar.
As photography requires patience, only another photographer can understand how long it sometimes takes to create that one perfect shot. I'm not a morning person or an early bird but mornings and afternoon golden hours are my favorite moments for photographing when traveling.
Always when city tripping my goal is first to find the best viewpoints, rooftop bars or other vantage points, the best views to admire the city from above and get the full picture before continuing with the detail hunting. I look for the prettiest facades, doorways and windows, cutest alleys or courtyards, symmetry and those gorgeous and small everyday architecture details. My favorite places for travel photography are definitely Marrakech, Croatian Islands, Istanbul, Lisbon, Havana and Seoul. And yes, Helsinki.
Flights are my time to read, reflect on travels and life but also edit pictures taken on journeys. I try to keep my style coherent and only edit the photos softly with Lightroom. Photoshop is not my kind of a tool.
Photography is also a way of meditation for me. It requires patience, time and concentration. Your eyes and state of mind both influence what you see through the lens and how you create the shot. But it requires strictness sometimes just to forget your camera and enjoy the moment without it as well. My motto in travels is to be a tourist in my own town and travel like a local in a foreign city.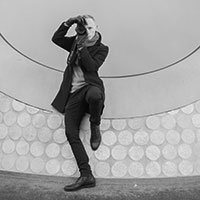 Helsinki-based architecture lover, traveler and Olympus photographer. Works within financial management but is always dreaming of new adventures and always in search of the most amazing staircases, prettiest doorways or best flat white in town. Wants to be a tourist in his own town and travel like a local in a foreign city.