Less is more!
Hi, all! My name is Arvydas. I'm a construction engineer currently living in Oslo, Norway. All my life, I was a numbers guy: complex calculations, problem-solving, a lot of different computer software, rendering, and reading the drawings. I felt like I need some break from mathematical life.
Digital photography became a perfect hobby for me, where I could change my scene from the digits to the creation while holding myself close to the numbers at the same time. In 2007 I bought my first digital camera, the Olympus E-510. Later, in 2016, I decided to upgrade my equipment to the mirrorless system and got myself an Olympus OM-D E-M1 camera, which I'm currently using.
Why I chose Olympus? Well, I have never been a massive enthusiast of famous brands. If I'm buying equipment, I should never be afraid to use it. I don't think it's smart to spend 10K Euros on gear and then to be worried about using it. Also, I like to hike, and I didn't want my camera and equipment to weigh me down. Later I discovered a bunch of other benefits to taking the pictures with the Olympus system.
First of all, it's a superb support for the users — technical and educational. Olympus Lietuva provided test gear, which I chose, and I could try it outdoors at my peace. I think nothing can beat gear reviews better than hands-on tests. I'm not sure about the warranty service since I never had any technical issues with my camera.
I also like how Olympus educates its users – from tips on particular topics to Visionaries program. Olympus Trailblazer Peter Baumgartner has a significant impact on my philosophy of landscape photography. I studied his work to get a better understanding of composition, light, and creativity.
I didn't copy his style or particular pictures, but I tried to notice how brilliantly Peter uses light, landscape, or human elements to tell the story. How he composes and frames the image. Little by little, I developed my style, my approach to landscape photography. Of course, there is also a lot of other fantastic landscape photographers from all around the world: Tom Ormerod form the UK, Sean O'Riordan from Ireland, Diego Garin Martin from Spain, etc.
Also, people are frequently overlooking that smaller brands have an artistic community, where you can truly feel like a part of the family. I have been inspired by the remarkable shots of fellow Olympus users many times. And if I have any questions on a picture or technique, people are happy to help with the advice and further information. Everyone is very supportive, which is an enormous thing for the beginner photographer.
And when I started to use my Olympus gear occasionally, I noticed a lot of technical advantages for landscape photographers. Of course, people from the mirror system points at a depth of field of mirrorless cameras. There is a lot of speculations about not shallow depth of field. I don't know how about portrait or wedding photography, but for landscape photography, it's a huge advantage because I can set my aperture to 5.6 or an even smaller number and not be worried about the sharpness throughout all the frame.
The second colossal disadvantage should be sensor size. But I did find that 16 or 20 MP sensors are perfect for landscape photography. They generate way smaller files which are less demanding for my computer in post-process and file managing. And if I need 50 or 80 MP monster files for billboards, I can always use a high-res mode on the latest Olympus OM-D cameras.
One more hidden gem of the micro four-thirds system is its aspect ratio. A lot of legendary landscape photographers agree that the perfect aspect ratio for landscape photography is 5:4, and native 4:3 sensor size ratio of Olympus cameras is way closer to the considered ideal aspect ratio. Plus, I have an opportunity to choose the frame ratio of preprogrammed 4:3, 3:2, 16:9, and 1:1 presets in the electronic viewfinder or back screen of my camera. The RAW file will be in full size, but those presets are very handy when composing and pre-visualizing the shot.
I should also mention Olympus PRO lenses, which are just fantastic. Sharp, light, small, sealed from the elements, fast, and bright. Often I meet photographers with expensive and bulky gear photographing in the rain or on the beach with the strong wind blowing from the sea. They have to wrap cameras and lenses into plastic bags, cover with an umbrella, or do some other stuff to protect the gear.
They are paying much more attention to the equipment than to the landscape itself. And that was never issued for me. I just put my camera on the tripod, set up for the shot, and I'm good to go. Of course, I need to clean the front element of the lens, but I don't need to worry about weather-sealing my camera, and I can give my complete attention to the landscape and fast-changing conditions.
I don't know how the guys in the Olympus development department are working their magic, but they are doing an exceptional job! Those tiny cameras just filled with the creative innovations for landscape photographers from the bottom to the top – live composite, live-bulb, art filters, different stacking modes, focus assistance, built-in ND filter, starry sky focus assistance, out of this world image stabilization, etc.
Last but not least reason why I do use the Olympus system, is that I like a personal challenge. Because of a lot of famous brands, users are almost laughing when I'm telling which system I do use. They are so confident in their high megapixels equipment that they often forget the simple truth – the photographer is responsible for the great picture and not the gear. That is the reason why I am still taking photos with the camera designed in 2013.
I know the limitations of my equipment, and I had to develop my approach to landscape photography to achieve great results. I must arrive early to scout the location and find the composition which I'm going to shoot. Then I set my camera and its settings, fine-tune the frame, and start to photograph. Usually, I begin to take pictures at the golden hour, throughout the sunset and blue hour.
In case if I want to take some astrophotos, I stay during the night. When I'm saying "taking the pictures" I mean I take up to thousand frames of the same composition in the course of the couple or ten hours. Later I will use only 1, 2, or 3 frames for the final image, but that is the price I have to pay to get a flawless and noiseless result.
And I'm happy with that. It gives me plenty of time to enjoy the landscape. Of course, I have my ways to help myself to pass the time: in-field brewed coffee, tent, and a cosy sleeping bag. Often I shoot in remote places, that is why I have to ditch my smartphone and grab a book instead.
To polish the look of my final pictures, I had to get comfortable with Photoshop. Most people hate post-processing, but for me, it opens a lot of creative possibilities. In this stage, I can apply my artistic vision to the landscape and the final picture. There is no camera which could capture the world as we see, that is why post-process is an essential part of photography.
To conclude my story, I would like to share an essential photography tip. Don't put the gear on top of everything. Enjoy yourself when you are out there shooting. Feel the warmth of the last sunrays of the setting sun, breathe the smell of the summer meadow, hear the wind whispering in the top of the trees. Soak in what nature is offering, be a part of the surrounding landscape, and suddenly you will feel the creativity flowing inside you. Now press the shutter!
Gear:
Olympus OM-D E-M1
M.Zuiko Digital ED 12-40mm 1:2.8 PRO
M.Zuiko Digital ED 7-14mm 1:2.8 PRO
M.Zuiko Digital ED 60mm F2.8 Macro Premium
100mm Lee filter system (0.6 medium GND, 0.9 hard GND, 1.2 medium GND, 10 stop ND, Lee Polariser)
Sirui T-025X tripod
"F-stop Ajna" camera bag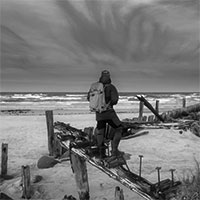 "I'm Arvydas Rupeika, thirty-eight years old hobbyist landscape photographer from Lithuania. Dad and husband most of the time, but before sunrises and sunsets, sometimes I turn myself into a photographer. Every photo of mine reminds me of some story, some funny accident, some inspiring adventure, or some epic failure. These precious memories motivate me to get out of bed at midnight, crawl trough bushes, step barefoot into ice-cold water in the wintertime."