Lofoten: The Untamed Islands

Biography
About 35 years ago, I bought my first camera, a Minolta X700, and started photographing. After lots of experimenting in those early years, the results improved. A meeting with an advertiser changed my life forever; he 'discovered' my work and I grew into the role of a professional photographer.
My focus was on travel photography, an interesting and satisfying discipline. There were enough assignments and the whole planet became my field of work. With a backpack full of Canon's, one Mamiya 645 and a lot of lenses, I moved from city to city and country to country. The economic crisis around 2010 put an end to that. Out of disappointment I stopped photographing completely.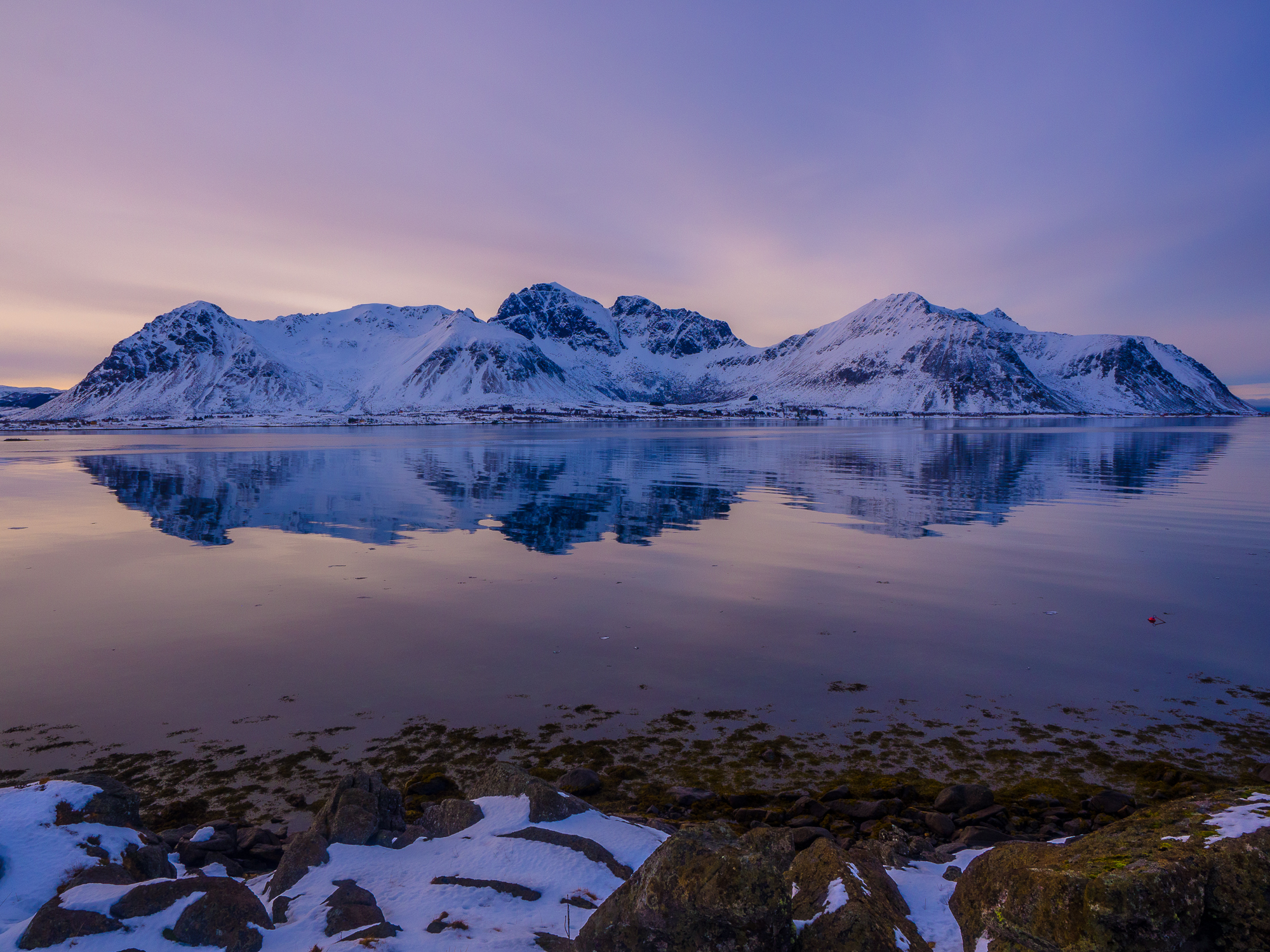 Back on track with Olympus
Slowly, I got into it again. But where to start, I had sold all my equipment. Looking for a new system I discovered Olympus. The start was with the OMD EM10, just for try-out, and given the attractive purchase price no big risk. The Olympus system proved to be excellent; it's compact and handy and even more important is the low weight.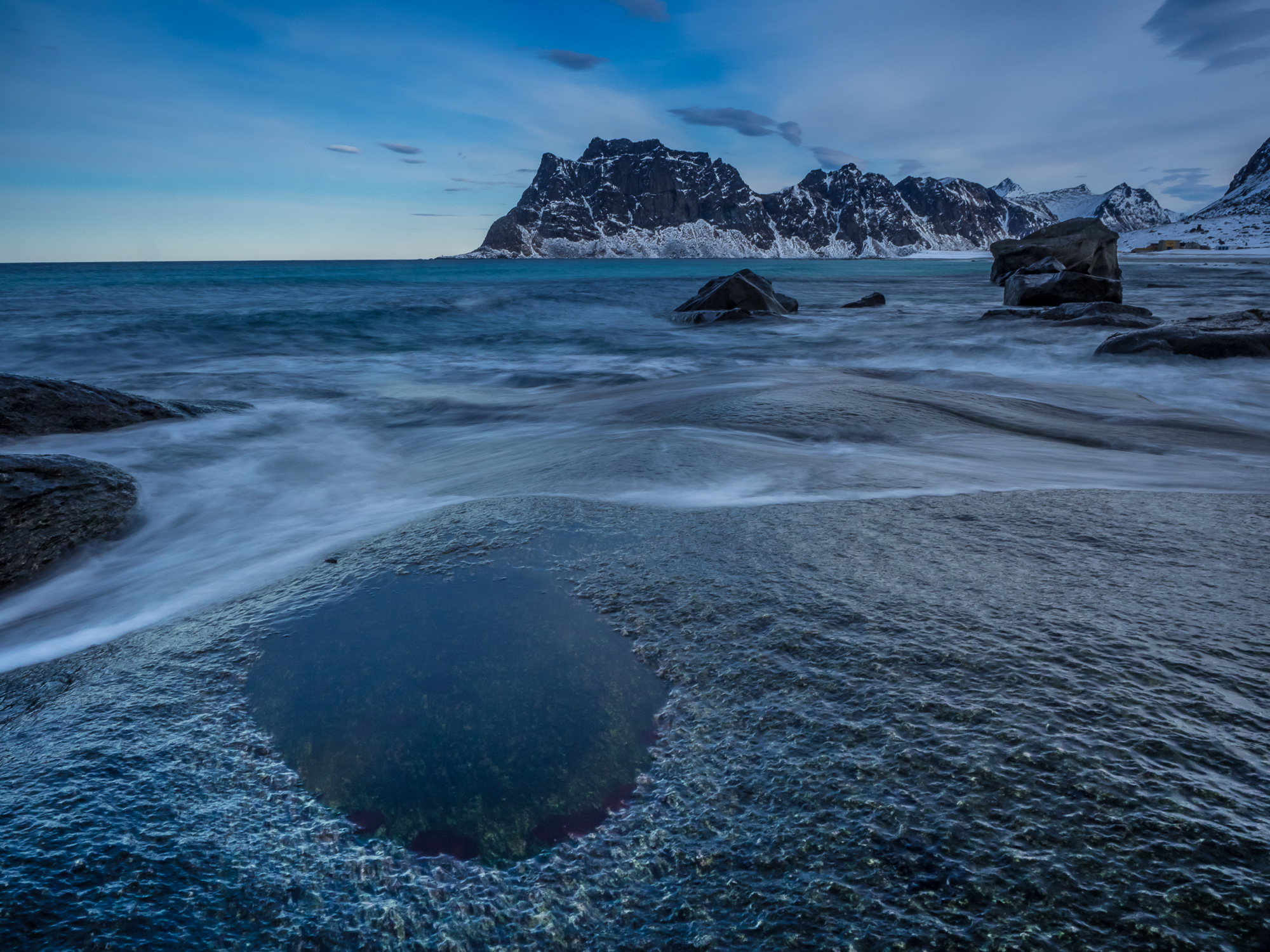 However, in the meanwhile, my equipment kilos have increased again due to the acquisition of OMD EM1 and various Pro lenses such as 7-14mm, 12-40mm, 40-150mm and 60mm Macro. Not to be missed is the Lee filter 100 system with special adapter that also fits 7-14mm. The Big and Little stopper and ND soft grad 0.3 + 0.6 + 0.9 and Landscape Polarizer ad a lot of possibilities for attractive pictures.
Necessary batteries and sufficient Lexar SD Pro cards from 16 to 32 GB complete the equipment. And all that fits perfectly in the LowePro Protactic 350. My carbon tripod of Velbon with Gitzo head can nicely be attached to it.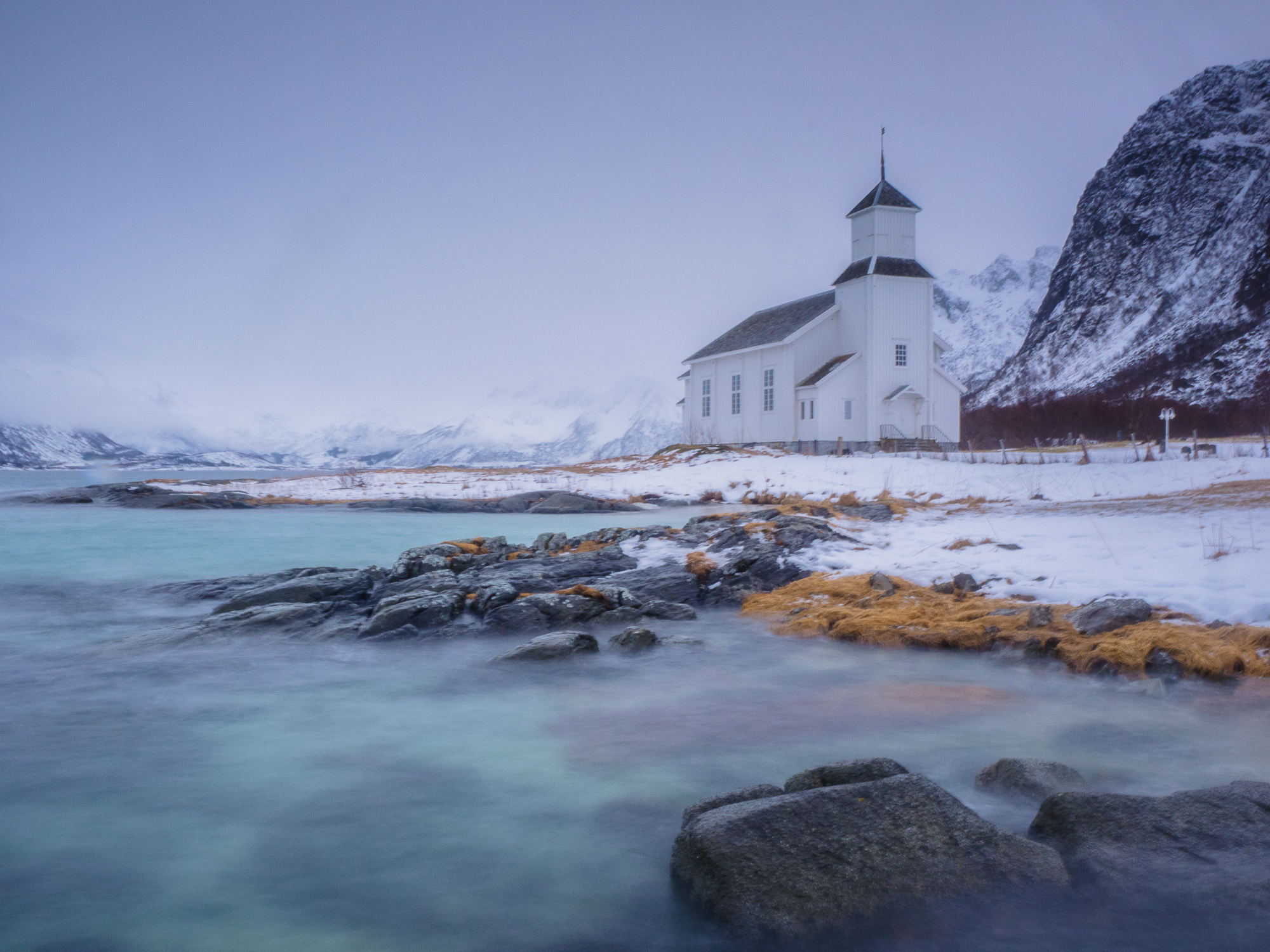 Traveling the Lofoten
In March a long cherished wish came true, travelling through the Lofoten and seeing the spectacular northern Lights. It was on my bucket list for many years. I had been in Norway before, as the country has a great appeal to me. If you live in a busy and industrialized land or area, Lofoten is a relief. The vastness and beautiful nature will touch you, will bring you peace of mind.
Together with my travelling companions I went to the most famous places on the Lofoten, such as the beaches of Uttaklev, Unstadt, Haukland and Skagsanden.
From a photographic point of view, there is so much to experience. The ever changing lights appeals to your skills. And change of weather can be very challenging as you can be overtaken by sudden rain or snow showers.
It is a great place to experiment with long shutter speeds and filters, as well as live time and live composite. I always photograph in M ​​stand and Raw, and edit my pictures at home. After a day of shooting, I'll start preselecting and delete the worst images. My tip:
Bring a cleaner to brush the sea salt and water splashes of your filters with you.
Getting up early
Hamnøy is the place to be to photograph at sunrise. After getting up very early, we drove via snow-covered two-way roads to get there in time.
The view is impressive from the bridge, it's the perfect spot to capture the iconic picture of the village with that colossal mountain as a backdrop. We were lucky as it was quite clear that early morning. But from the ocean the clouds were already floating along the horizon. The colors in the sky vary from cool blue to beautiful soft rose. Here too we use all sorts of techniques to shoot the ultimate picture. Afterwards, up to Reine. There is nothing wrong with this place, except that just after installing our cameras on tripods, the beautiful light has disappeared.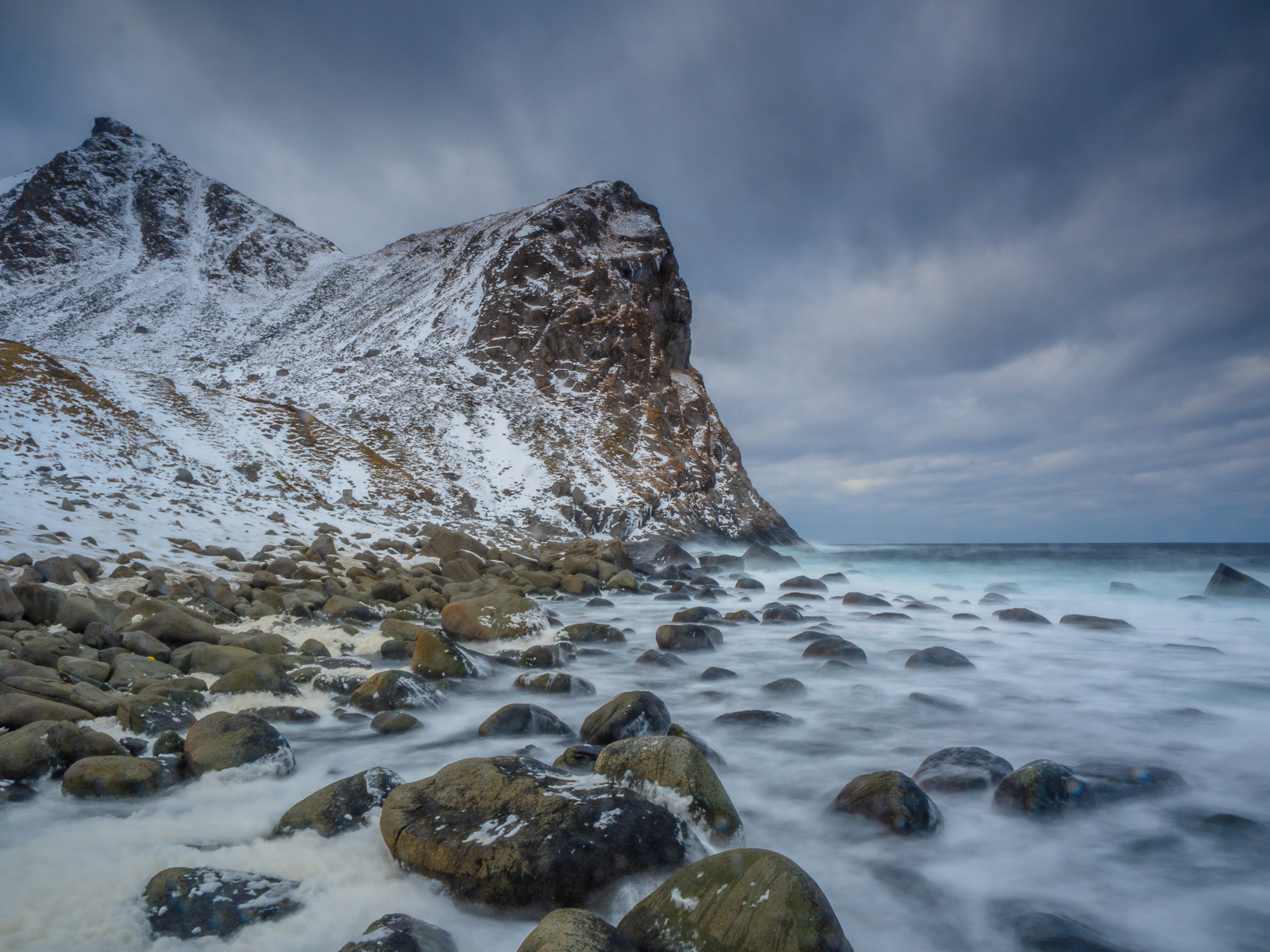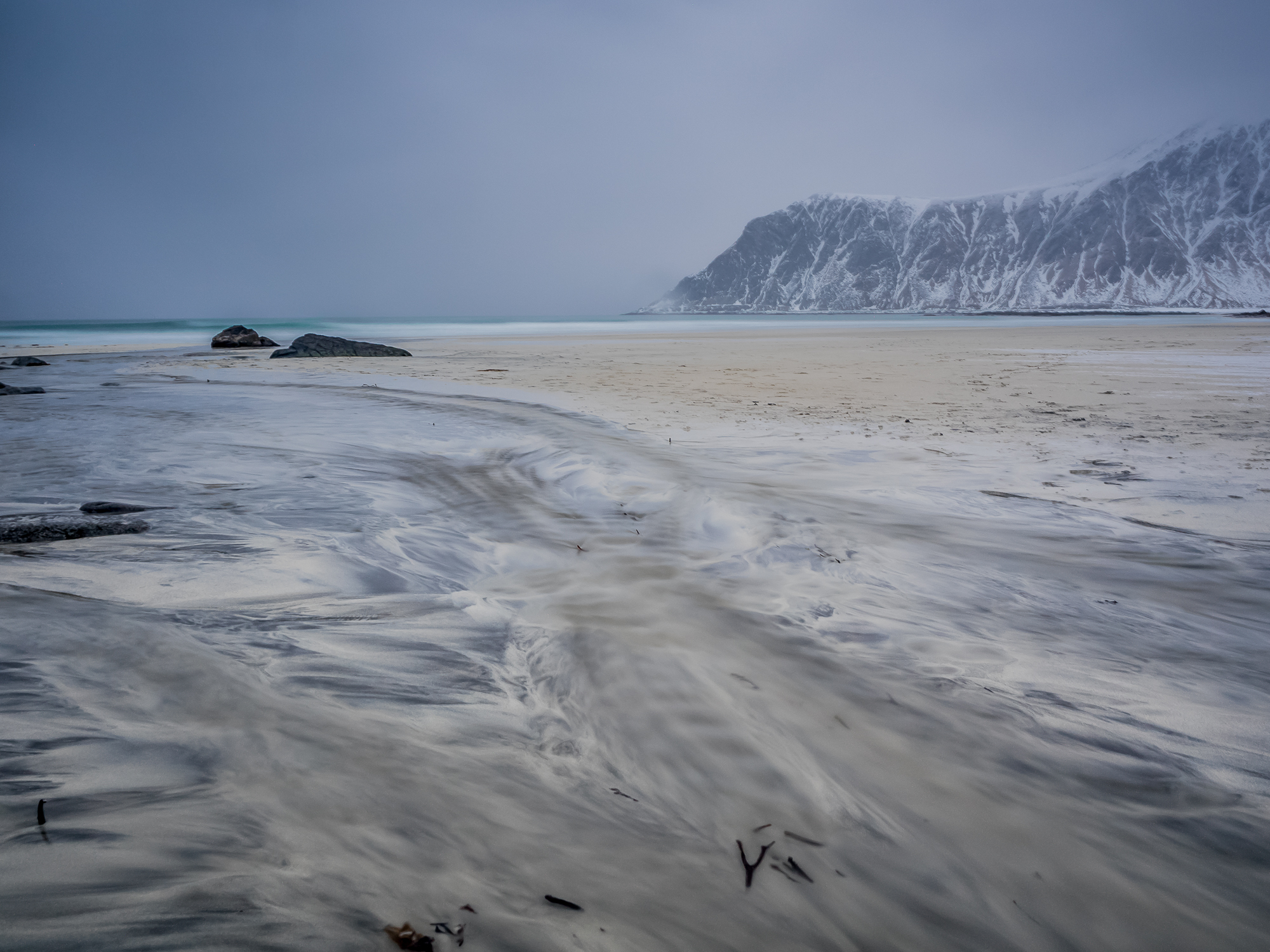 Time to go to a small town for a coffee break, hopefully awaiting the next weather change. In the afternoon we go to A, the village furthest away on the Lofoten. There, heavy rain and snow showers are bursting out above the ocean and the island of Værøya with the village of Sørland. A great opportunity to capture the beautiful roughness of nature.
Not only Northern Lights
As with many things in nature, luck and weather define if you are the guy to whom the green spirits of the air will show themselves. Already the first evening after our arrival the northern lights treated us on a magnificent show of dancing and waving green lights.
It was pretty fierce that night, but for a very short time. After about five minutes the clouds sliding in from the ocean, spoiled the fun. We managed to make some pictures quickly, however unfortunately the live-composite could not be tested that time.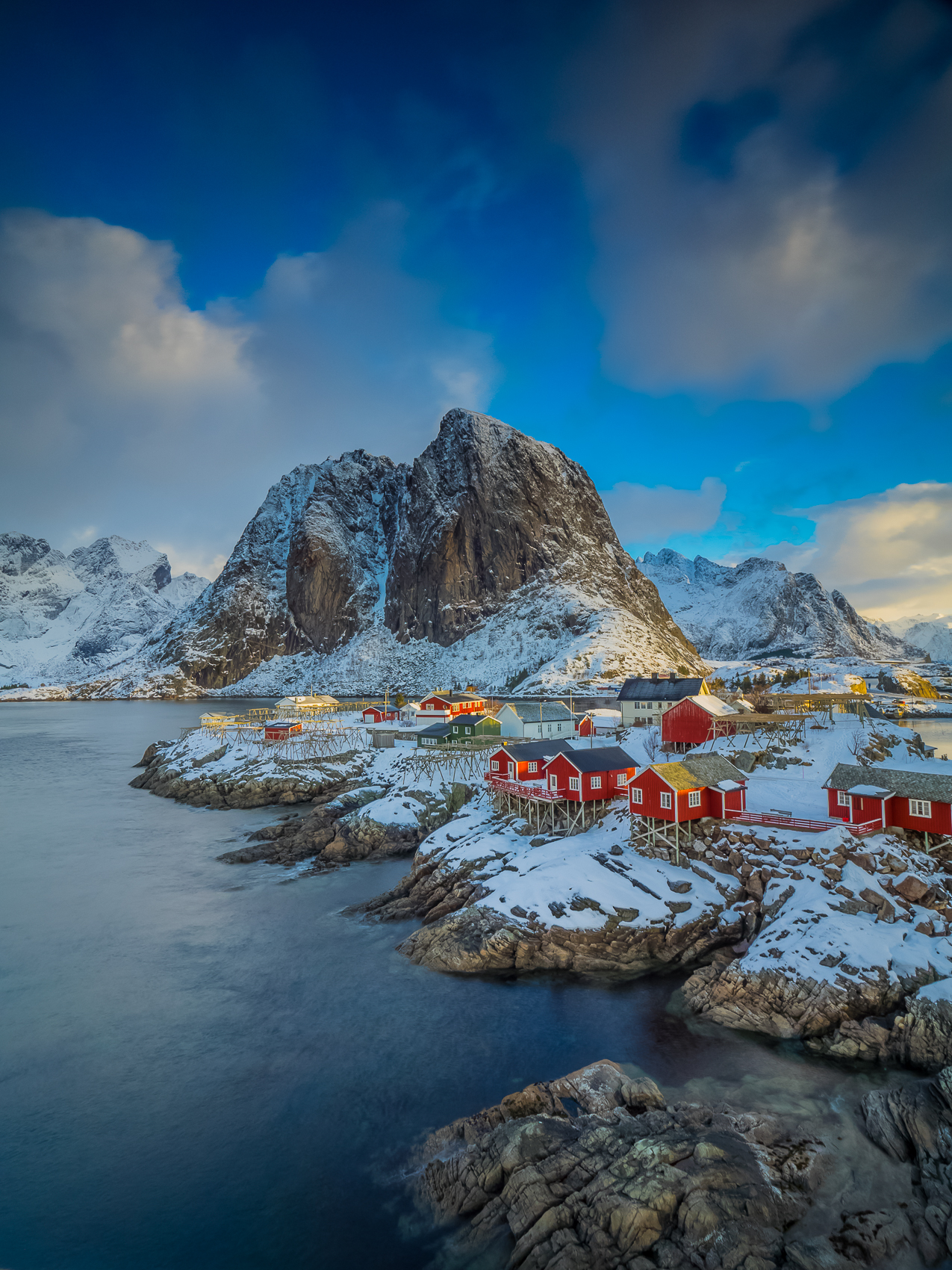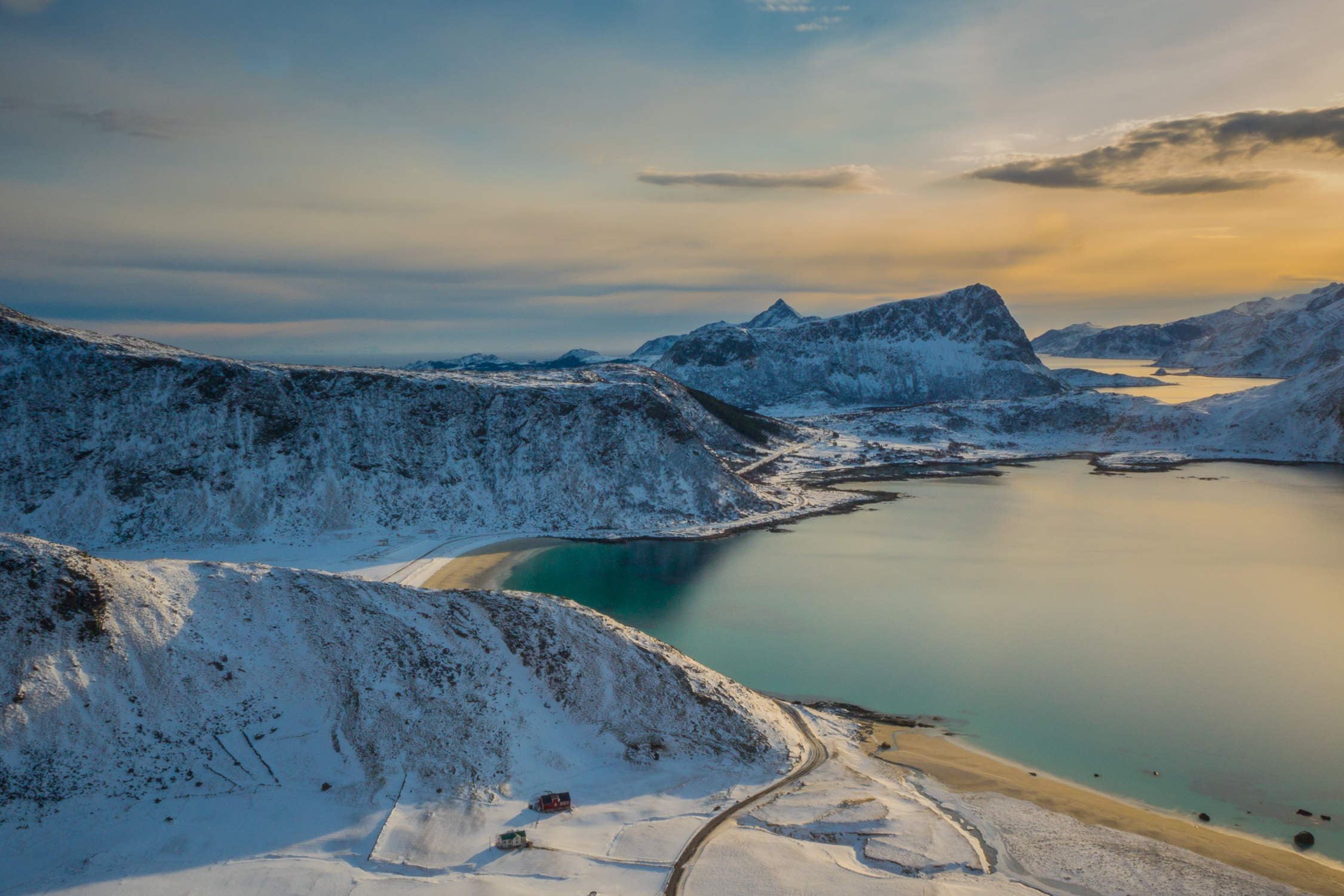 Other beautiful lights came when visiting Sundklakkstraumen, where sunset was our goal. Here the sky opened with a beautiful view on the opposite mountain rug. Some clouds were moving along the sun, just to slowly disappear behind the mountain.
On the spot lies an abandoned boat on the rocks, which serves as a wonderful decor piece. Together with the mountains and air mirrors, it proves to be a good object for creating beautiful images. Both normal and backlights will create pictures with soft pastel tones. The Little Stopper and the Landscape Polarizer are both very useful here. In fact here we experienced the most beautiful light of this trip. In combination with the surroundings and ambience, you'll get the feeling of mindfulness. No distraction, just being quiet and enjoy feelings of happiness; landscape photography in optima forma.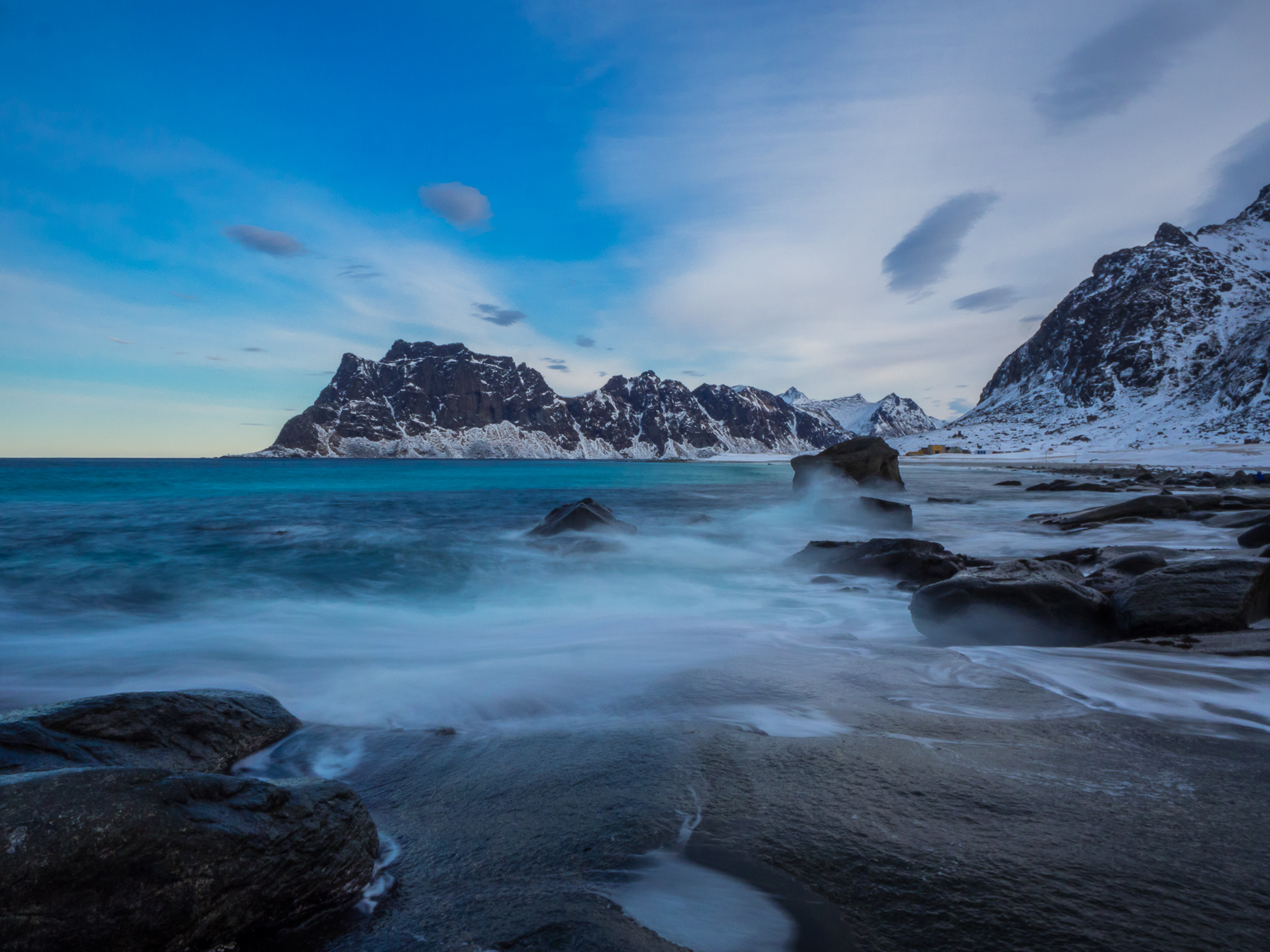 White, Gray, and White again
Sometimes, the circumstances seem to be by far not ideal for making interesting pictures. Snow, rain showers, haze or cold fog are tempting you to stay inside. But there are always opportunities, plenty topics or themes that will satisfy you whilst shooting pictures.
Just go and look around with open eyes and mind. And then there it is… that little red house in the landscape or that interesting tree that makes your composition better and more interesting. Discover how ice skots on the bank of a lake can impress you, being the main topic in a world of whites, grays and more whites. Or walk the Mannen's hike; a goat path uphill at Haukland beach that leads to a frozen lake or a viewpoint.
Experiment with filters and long shutter speeds, challenge rain and snow. Use the roughness of the surroundings as a frame for a strong image.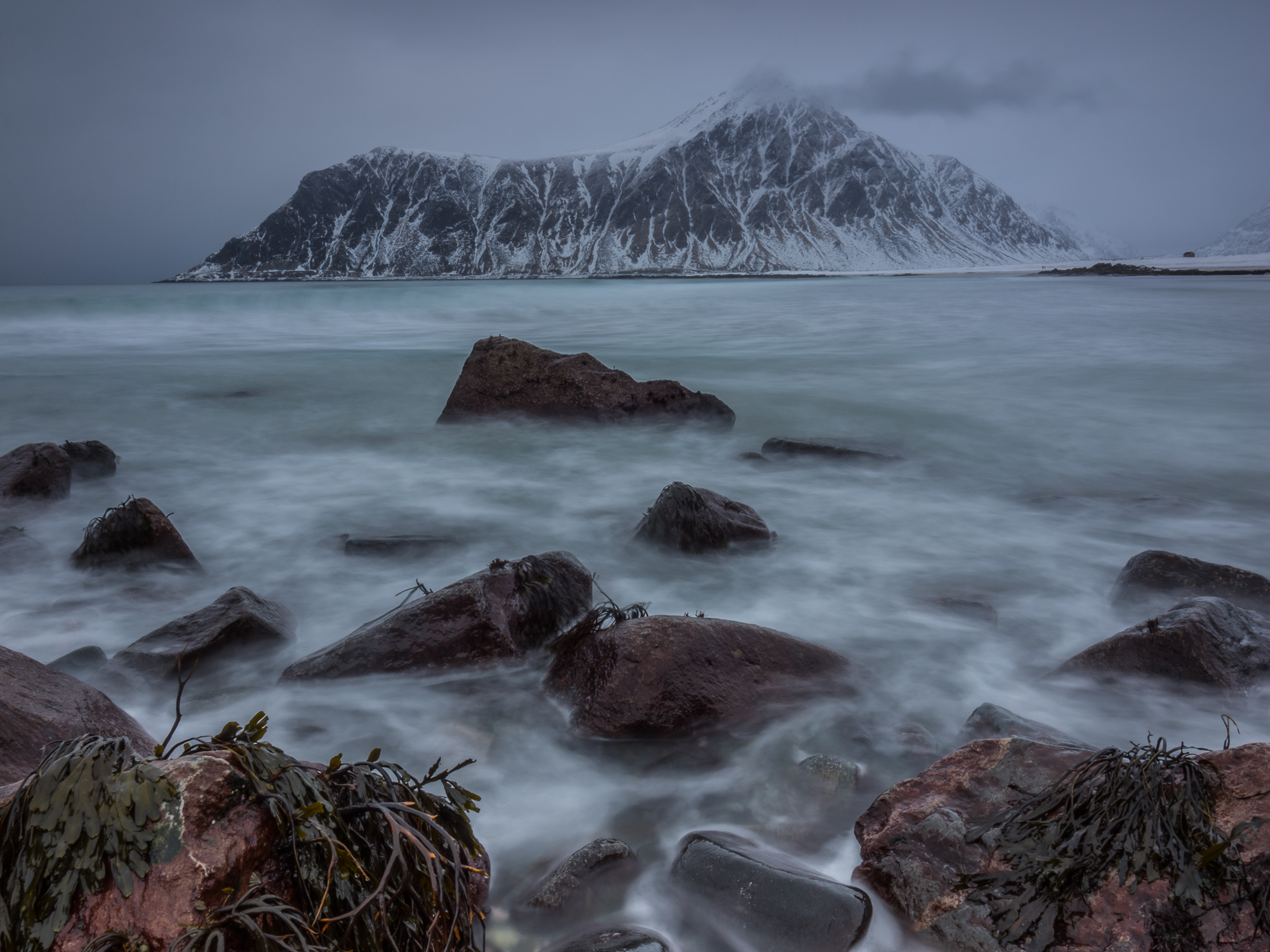 At last
A picture will say more than a thousand words…Landscape photography in general, but especially on the Lofoten, will remain a challenge. Lights are changing rapidly, weather is not always stable, but being there and photographing is an experience in itself.
It's definitely a place I hope to come back to, and hopefully it will be in 2018. Don't want the hassle of arranging tour's, overnight stay etc. yourself? Travel with a specialized agency.
You'll find a young company that organizes accompanied photo tours to 'rough' areas like Lofoten, Iceland and Isle of Skye at www.fototrips.eu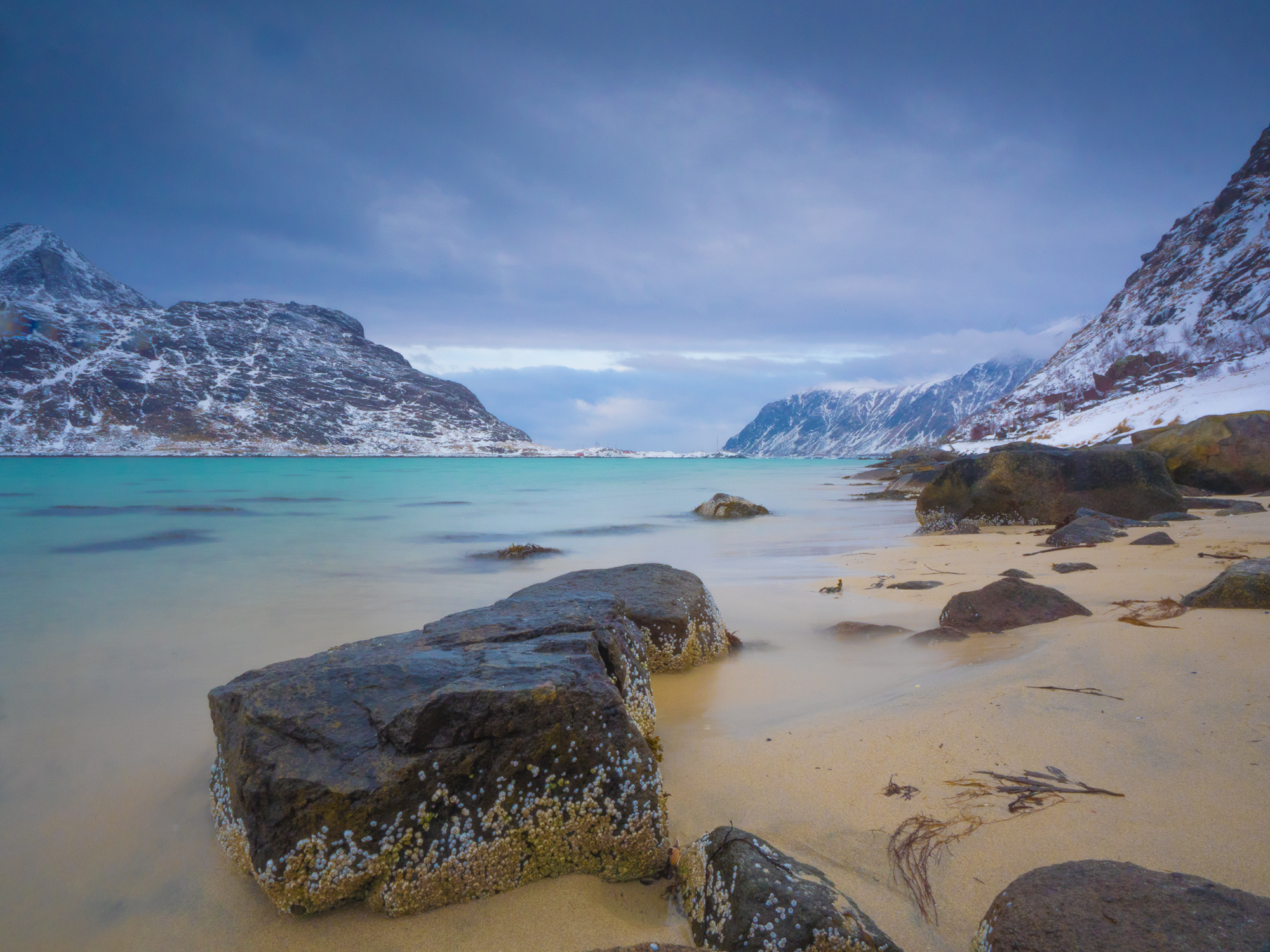 To me landscape photography is not something that you are only 'doing', but also an experience which you undergo during the time you are on a site. And that makes it interesting and fun to do. Undergo it. Feel one with what you are doing. This also gives you more awareness about what we should leave untouched and unspoiled. Let nature just be nature.
Interesting links
www.fototrips.eu
https://www.visitnorway.com/places-to-go/northern-norway/the-lofoten-islands/
---
---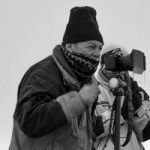 "I am Henk Goossens, a great lover of nature and photography, living in the southern part of the Netherlands. About 35 years ago, I bought my first camera, a Minolta X700, and started photographing. After a career as a travel photographer, I now focus on photography just for a hobby. I try to create images with a specific appearance. Graphics, architecture, travel, landscape and macro are the disciplines I like most."