Olympus 25mm F1.2 PRO Lens Review
If you've read any of our reviews of Olympus OM-D cameras and their accompanying lenses, you'll know we're big fans. Having spent some time with M.Zuiko 25mm F1.2 PRO Lens recently, it's proved to be no exception.
Being the brand's first pro level prime lens, it has many expectations to live up to. Despite only being a few months old, the lens has already developed quite a following amongst photographers, which is always a good sign.
Build Quality
Being a pro lens, the 25mm F1.2 features a very solid metal body construction. It's actually quite a thing of beauty, with a distinctly premium look and feel.
It is pretty weighty, at just over 400 grams, although we never found it to be uncomfortable when carrying it around for extended periods of time. Much like the M.Zuiko 12-40mm F2.8 PRO Lens, this prime lens feels really nice to use on the E-M5 Mark II.
However, it's on the new flagship E-M1 Mark II that it really feels at home. The formidable pairing is a match made in heaven. They balance each other out beautifully, and their resulting photos are razor sharp. If you're looking to step up to Olympus' PRO level offering, this combination is a great place to start.
The 25mm F1.2 PRO lens is constructed to be dust proof and splash proof. The top of the range OM-D camera bodies are weatherproof as well, so if you tend to shoot outdoors a lot, Olympus has you covered.
Shallow Depth Of Field
The background blur / bokeh that this lens delivers is utterly sublime. Images taken at F1.2 are super sharp at the focus point, with a smooth and creamy background, resulting in stunning subject isolation. Previous to the release of this lens, Olympus' best offering was F1.8.
If you think that the difference between the two apertures would be so negligible that it wouldn't warrant an entirely new lens, in many scenarios you'd be mistaken. F1.8 still does a great job, but an aperture of F1.2 is a fantastic feature to have in a lens, not only for shallow depth of field shots, but low light conditions too.
Image Quality
The Olympus M.Zuiko 25mm F1.2 PRO Lens lives up to high expectations when it comes to image sharpness and quality. Not that we ever doubted its capabilities to take a high-quality photo, as Olympus has decked out the lens with a host of special elements that reduce things like spherical and comatic aberrations that lower the image quality.
As mentioned earlier, the images that the lens produces are super sharp, even at the full F1.2 aperture. Subjects all have a very deep, dynamic, and true to life quality. This lens would work well for portrait photography, best for capturing half-body shots.
While the 25mm F1.2 PRO Lens is by no means a macro lens, it can capture some pretty decent close-up shots. Its closest focusing distance is 30cm, which can be enough for some shooting situations.
Speed
Like the other Olympus lenses we've tried, the autofocus on the 25mm F1.2 is extremely fast and accurate. Olympus has used an inner focusing system with a single lens. This helps to limit aberrations that may occur while focusing. The lens also allows for manual focusing, via the very simple method of clicking back its focus ring.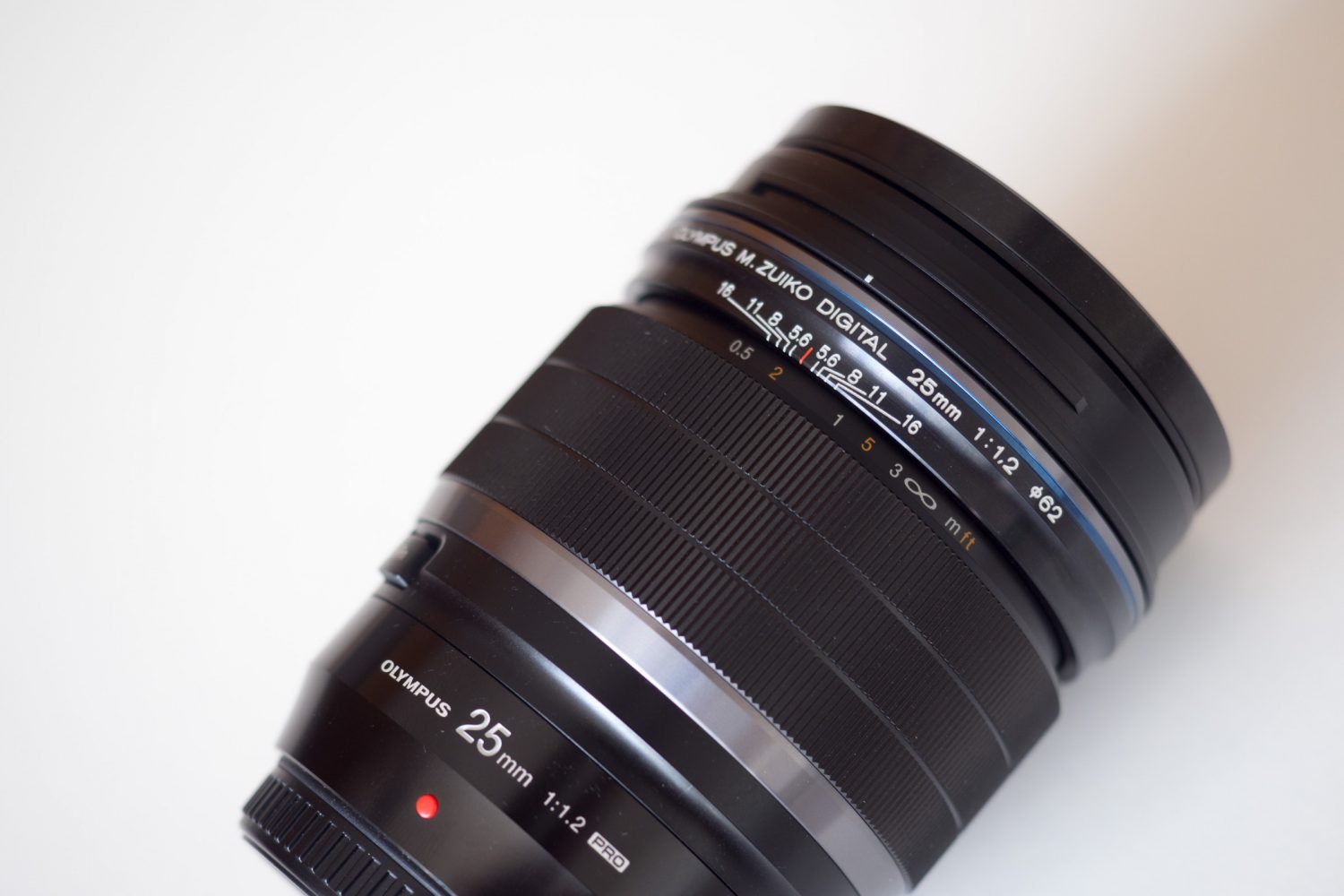 The Wrap-Up – Olympus 25mm F1.2 PRO Lens Review
The Olympus M.Zuiko 25mm F1.2 PRO is a fair step up price-wise from their 25mm F1.8 lens, but if you're serious about taking exceptionally high-quality images with ultra-smooth bokeh, it's entirely worth it and you'll get hours of enjoyment from this PRO lens for years to come.
---
Support us by shopping at Amazon. Thanks.
[easyazon_link identifier="B01LW4IFUI" locale="US" tag="mhmedia07-20″]M.Zuiko 25mmF1.2[/easyazon_link]
[easyazon_link identifier="B00S6DBMOQ" locale="US" tag="mhmedia07-20″]Olympus E-M5 Mark II[/easyazon_link]
[easyazon_link identifier="B01M4MB3DK" locale="US" tag="mhmedia07-20″]Olympus E-M1 Mark II[/easyazon_link]
[easyazon_link identifier="B00EY3YGBS" locale="US" tag="mhmedia07-20″]M.Zuiko 12-40mmF2.8[/easyazon_link]
[easyazon_link identifier="B00HWMP0XG" locale="US" tag="mhmedia07-20″]M.Zuiko 25mm F1.8[/easyazon_link]
---
---
Nick Vodicka is the editor of Hey Gents, a men's lifestyle publication focused on exploring products and experiences that can enhance your life. In addition to a biannual print magazine, there's new online content published daily, covering the latest in fashion, technology, homewares, travel and more.